by LetsRun.com
August 10, 2016
Few athletes in any event can rival the dominance displayed by Colombia's Caterine Ibarguen in the women's triple jump over the last four years. After earning the silver medal four years ago in London, she immediately embarked on an epic 34-meet win streak that finally came to an end on June 5 in Birmingham, when she lost to Kazakhstan's Olga Rpyakova — the same women who beat her out for gold back in 2012. But Ibarguen bounced back from that setback with a win in Monaco on July 15 and the two-time defending world champ enters the first Olympics to be held in South America as the favorite, with the world's farthest jump this year (15.04m/49'4″). Should she prevail, it would mark Colombia's first-ever gold medal in track & field.
There's another South American jumper in the field looking to make history — 20-year-old Yulimar Rojas of Venezuela, who has PR'd by over two and a half feet this year. Rojas surprisingly won World Indoors in March and though she hit a mid-season lull outdoors (4th Rome, 7th Rabat), she was second to Ibarguen in Doha and Monaco and unleashed a 15-meter monster in Madrid on June 23. Like Ibarguen, a gold from Rojas would be Venezuela's first-ever in track and field — in fact, it would be Venezuela's first women's Olympic gold of any kind.
Of course, Rypakova, now 31, will be in with a chance as well as she finished 3rd, 2nd and 1st in her first three Diamond League events of the year before struggling in her last one in Monaco (6th in 13.97). America's hopes are led by the University of Georgia's Keturah Orji, who broke the American record at NCAAs in June. Unfortunately for Orji, that mark was only good enough to put her ninth on the 2016 world list — the U.S. simply isn't very good at the triple jump historically. Indeed, only one American woman — Sheila Hudson — has made the Olympic final since 1996, the first time the event was held at the games. Orji has a chance to top Hudson's 10th-place finish but a medal would require another American record and then some. It's just not happening.
Ibarguen has been the undisputed best in the world since the last Olympics and should win in Rio, but anything can happen in a one-off meet. If she doesn't deliver on Sunday night, there's no consolation medal.
Event Time and Date:
Qualification – 8:40 a.m. ET Saturday, August 13
Final – 7:55 p.m. ET Sunday, August 14

2016 World Top 10
2015 Worlds Top 5
Gold: Caterine Ibarguen, Colombia 14.90m
Silver: Hanna Knyazyeva-Minenko, Israel 14.78m
Bronze: Olga Rypakova, Kazakhstan 14.77m
4. Gabriela Petrova, Bulgaria 14.66m
5. Kimberly Williams, Jamiaca 14.45m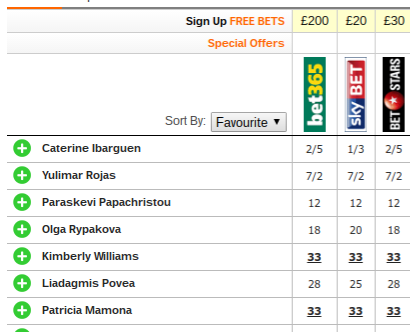 Track and Field News Top 3 Picks:
| | |
| --- | --- |
| 1. Caterine Ibargüen (Colombia) | 15.31 | 50-2¾ ('14) |
| 2. Yulimar Rojas (Venezuela) | 15.02 | 49-3¼ ('16) |
| 3. Olga Rypakova (Kazakhstan) | 15.25 | 50-¼ ('10) |
LRC Picks: 1. Ibarguen 2. Rojas 3. Rypakova
Ibarguen has been too good for too long to falter now, and she gets the one title she's missing in Rio. Rojas gained valuable experience at World Indoors, and she'll put that to use here, while Rypakova, who was third in Beijing last year, gets up for another Olympic medal.
For more on the women's triple jump, check out the IAAF preview here.