by LetsRun.com
August 9, 2016
"No cheering in the press box." It's one of the few rules that journalists are supposed to abide by. But since it seems as if that rule is being thrown by the wayside in Rio as members of the press yesterday were seen taking selfies and cheering for Usain Bolt yesterday, we'll join in on the lack of objectivity ourselves.
We don't know who will win the men's discus at the 2016 Olympics, but we know who we'd like to win it: Germany's Robert Harting. We want Harting, who in addition to being the reigning Olympic champ won world titles in 2009, 2011 and 2013, to win because he puts on an amazing celebration when he wins.
Here is video of Harting celebrating the 2009 world title he won in his native Germany where Harting included the favorite mascot in LetsRun.com history, Berlino, in the celebrations:
Article continues below player
Here is Harting celebrating after his 2012 Olympic win.
The first celebration was so epic that Harting was sued for "insulting the German state" by one irate fan who thought that when Harting ripped his German singlet he was basically ripping the German flag.
Harting missed last year's Worlds with a knee injury, and in his absence, Piotr Małachowski of Poland won his first global title after three global silvers. Małachowski comes in to Rio as the world leader and European champ. He's also earned DL victories in Doha, Rabat, Birmingham and Monaco this year. But he has lost twice this year including once to Christoph Harting, the world #2 who is Robert Harting's little brother (Christoph was only 4th at Europeans), and once in Rome, which was won by fellow Pole Robert Urbanek, who won bronze last year.
The future of the event may belong to Belgium's 25-year-old Philip Milanov, who was second last year and was second at Europeans this year (Robert Harting didn't do Europeans) or Jamaica's 22-year-old Fedrick Dacres, who has the 4th-best throw this year.
Event Time and Date:
Prelims – 8:30 a.m. ET (Group A) & 9:55 a.m. ET (Group B) Friday, August 12
Final – 9:50 a.m. ET Saturday, August 13
2016 World Top 10
1 68.15 Piotr Małachowski POL 28-May
2 68.06 Christoph Harting GER 27-May
3 68.04 Robert Harting GER 19-Jun
4 68.02 Fedrick Dacres JAM 23-Apr
5 67.62 Victor Hogan RSA 15-Apr
6 67.6 Martin Wierig GER 15-May – not on Olympic team
7 67.45 Sam Mattis USA 19-Mar – not on Olympic team
8 67.26 Philip Milanov BEL 6-May
9 67.16 Daniel Jasinski GER 15-May
10 67.13 Zoltán Kővágó HUN
2015 Worlds Top 5
1 Piotr MałachowskiPoland (POL) 67.4
2 Philip Milanov  Belgium (BEL) 66.9
3 Robert Urbanek  Poland (POL) 65.18
4 Gerd Kanter  Estonia (EST) 64.82
5 Daniel Ståhl  Sweden (SWE) 64.73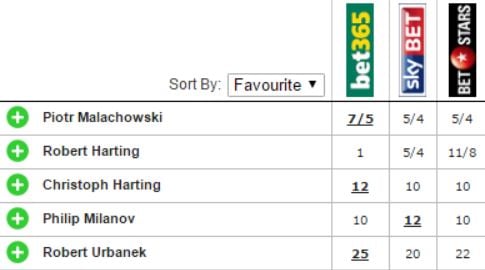 Track and field News Top 3 Picks:
| | |
| --- | --- |
| 1. Robert Harting (Germany) | 70.66 | 231-10 ('12) |
| 2. Piotr Malachowski (Poland) | 71.84 | 235-9 ('13) |
| 3. Philip Milanov (Belgium) | 67.26 | 220-8 ('16) |
LRC Picks: Harting told the IAAF he views Malachowski as the favorite: "In 2012 I was at a totally different, much higher level. I have to accept that. I am no longer the hunted, now I'm the hunter, but I like that."
Based on recent results that's true, but Harting owns a 54-19 lifetime record against Malachowski and Harting is younger than Malachowski, 31 versus 33. So we're going with Harting.
Robert Harting
Piotr Malachowski
Philip Milanov
If you want more info, check out the IAAF preview of the men's discus here.