What: Men's High Jump
When: Preliminary round – 7:30 p.m. ET Sunday, August 14
Final – 7:30 p.m. ET Tuesday, August 16
2016 World Top 10
1 2.4 Mutaz Essa Barshim QAT 11-Jun
2 2.39 Gianmarco Tamberi ITA 15-Jul – injured and not at Olympics.
3 2.38 Derek Drouin CAN 17-Jul
4 2.37 Bohdan Bondarenko UKR 15-Jul
4 2.37 Donald Thomas BAH 18-Jul
6 2.36 Majed El Dein Ghazal SYR 18-May
7 2.35 Erik Kynard USA 5-Jun
7 2.35 Ivan Ukhov RUS 28-Jul – not in Olympics due to Russian ban
9 2.33 Zhang Guowei CHN 8-May
9 2.33 Wang Yu CHN 8-May

2015 Worlds Final
1. Derek Drouin  Canada (CAN) 2.34
2. Bohdan Bondarenko  Ukraine (UKR) 2.33
2. Zhang Guowei  China (CHN) 2.33
4. Mutaz Essa Barshim  Qatar (QAT) 2.33
5. Daniil Tsyplakov  Russia (RUS) 2.29
Betting Favorites as of Aug 10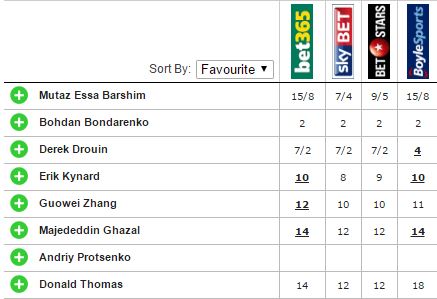 Track and Field News Top 3 Picks:
| | |
| --- | --- |
| 1. Bogdan Bondarenko (Ukraine) | 2.42 | 7-11¼ ('14) |
| 2. Mutaz Essa Barshim (Qatar) | 2.43 | 7-11¾ ('14) |
| 3. Derek Drouin (Canada) | 2.40 | 7-10½ ('14) |
Want to make your own picks? Enter the LetsRun.com Running Warehouse $200,016 Rio Prediction Contest. It's free and Running Warehouse is giving away hundreds of dollars in gift certificates in prizes.
The 2016 Olympic men's high jump could be won by a number of men as the top six jumpers are separated by just four centimeters (1.6 inches). The bookies say that 2016 world leader Mutaz Essa Barshim of Qatar is the favorite but we don't agree. Barshim was only 4th at World Indoors and has lost his last two meets – one that was won by Italy's Gianmarco Tamberi (who is injured and out of the Olympics) and one that was won by reigning world champ Derek Drouin of Canada. If Tamberi were healthy, he'd be the favorite as he won World Indoors and then Europeans and Monaco in his last two meets.
US champ Erik Kynard, who won silver in 2012, has been first or second in all of his outdoor meets. Ukraine's Bohdan Bondarenko also has been first or second in all of his meets outdoors but we like him better as he won in 2013 and got silver in 2015 and has jumped higher this year. He's our pick.
LRC Picks: Gold: Bondarenko Silver: Drouin Bronze: Kynard.
Want more info? Check out the IAAF event preview.