Book Review: "Endurance: The Extraordinary Life And Times Of Emil Zatopek" By Rick Broadbent Offers A Compelling Look At Zátopek, His Competitors, And The World In Which He Lived
By Jonathan Gault
July 27, 2016
Call it the Summer of Zátopek. Two months ago, I reviewed Today We Die A Little!, Richard Askwith's fine biography of the legendary Czechoslovak runner Emil Zátopek. On the same day that book was released back in May, another Brit, Rick Broadbent, put out Endurance: The Extraordinary Life and Times of Emil Zátopek. And just yesterday, Pat Butcher, author of The Perfect Distance, which detailed the Steve Ovett-Sebastian Coe rivalry, published his own Zátopek tale, Quicksilver. To do justice to the men that did justice to the man, I'm reviewing all three Zátopek books this summer. Today's choice: Endurance.
Article continues below player.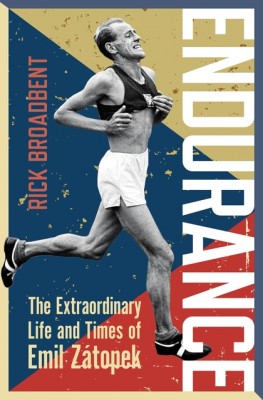 Rather than a race or epic training session, Broadbent's story opens at an airport in Prague in 1966 with an anecdote about Ron Clarke. Clarke, the late Australian runner who, like Zátopek, broke over a dozen world records, was in town to run a race, but more than anything, he wanted to meet Zátopek. Upon landing, the man himself greeted Clarke on the runway and proceeded to show the 29-year-old Clarke the time of his life. Clarke won his race, and afterward, the two runners trained together and swapped stories in the woods north of Prague. On Clarke's final day, Zátopek took him shopping in the city, where Zátopek parked illegally in front of a store. Instead of giving him a ticket, the policeman — upon recognizing Zátopek — acted as a valet, parking it elsewhere and returning it after Zátopek whistled for him. The story ends with Zátopek sending Clarke off with a gift wrapped in brown paper. Only once he got on board his return flight did Clarke find out Zátopek had given him one of his four Olympic gold medals.
The story encapsulates the kindness and generosity of spirit that, for those that knew him, came to define Zátopek just as much as his running ability. And the way that Broadbent tells it — sharp writing, heavy on backstory — sets the tone for the rest of the book.
Though Broadbent dedicates a significant portion of the book to "the Zátopek story," his version is not as comprehensive as Today We Die A Little!, which at 377 pages is 76 longer than Endurance. But that's quite all right — especially for someone interested in both books who doesn't feel like treading over the same familiar ground. Rather than focus solely on Zátopek's life, Broadbent spends many pages writing about the men Zátopek's life touched. It's an approach that works splendidly. Broadbent incorporates the supporting characters seamlessly, and in doing so uses them as a lens to examine the world in which Zátopek lived and competed. Broadbent uses Jan Haluza, who mentored a young Zátopek before becoming a political prisoner, to discuss the horrors committed by Czechoslovakia's brutal communist regime (some of the details here are haunting). The story of Zátopek's British rival Gordon Pirie shows the impact of Zátopek's high-volume interval training — inspired by Zátopek's dominance, Pirie employed a similar approach. Alain Mimoun, the Algerian-born Frenchman who took the silver in Zátopek's first three gold-medal runs, serves to show the respect and kindness Zátopek showed to his rivals while also recalling Mimoun's struggle for acceptance as an Algerian in France. After Mimoun finally won Olympic gold in the marathon at age 35 in 1956, he stood waiting in the infield for Zátopek to finish before embracing his competitor and friend. All of these portraits — and others — don't just provide interesting stories; they give the reader a better sense of Zátopek's place in the world.
Politics played a major role in Zátopek's later years. It's often assumed that several of the beliefs he supposedly stood for were merely a case of Zátopek signing whatever piece of paper a higher-up passed on to him. But he took stands as well, none of which impacted him more than his demonstrations against the Soviet occupation of Czechoslovakia during the Prague Spring of 1968. After representing the army throughout his career, Zátopek was stripped of his ranks and forced into exile from Prague, working a series of sometimes dangerous manual labor jobs — the only work he could find. Overall, Broadbent distills Zátopek's belief system thusly: "He had a basic sense of right and wrong and lived by that. Sometimes, in such an aggressively black and white world, that made him malleable."


Where you stand on Endurance vs. Today We Die A Little! depends on what you want from a book. Askwith's Today We Die A Little! is painstakingly researched; every claim made about Zátopek is backed up with evidence in an extensive notes section, and for anything Askwith can't confirm, he explains why.  Here, Broadbent's  is content to trust his sources, which like Askwith, include Zátopek's widow, Dana. With a longer page count and narrower focus, Today We Die A Little! is for those who want to know anything and everything about Zátopek. Endurance caters more toward the fan interested in Zátopek's place in the running world and the backstories of the champions he succeeded and the challengers he defeated. Either is a fine choice to add to your reading list.
Four out of five stars (Editor's note. That's the same # of stars that Gault gave Today We Die A Little!).
Below, you can purchase Endurance or  Today We Die A Little! and support LetsRun.com in the process (or you can wait until we've had time to review the third Zatopek book later this summer).
---
Previous book reviews by LetsRun.com can be found here.