LetsRun.com's Weldon Johnson Returning To Competitive Racing; Will Chase Men's American Over-50 Marathon Record
by LetsRun.com
April 1, 2016
We at LetsRun.com are proud to announce that the famed LetsRun.com yellow racing singlet will soon be back in action. LetsRun.com co-founder Weldon Johnson (a.k.a. "Wejo") announced today that his 12-year mini-retirement is coming to an end and he'll soon return to serious running. He plans on re-writing the masters record books in the men's over-50 category. Back in his prime, Wejo was famous for going from college scrub (Wejo: Why I Sucked in College) to finishing fourth twice at the U.S. Championships in the 10,000m, one of the those times running a PR of 28:06.58 and beating Olympian Abdi Abdirahman. But unfortunately, Wejo's career was de-railed by injuries and he retired from the sport in 2004.
Article continues below player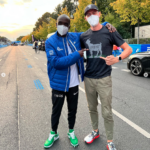 Kipchoge loves the 1:59:40 Shirt Get Yours Today
What a legend!
Now 12 years later he has caught the running bug again and says he's going to train full throttle with the goal of breaking the U.S. men's over-50 marathon record of 2:29:11 by Norm Green in 1984. Wejo is "only" 42 years old now, but says he thinks the over-50 category is where he'll be able to do some damage. "With Meb [Keflezighi], Bernard Lagat and Deena Kastor running so well, I know there is no way I can make waves in my 40s," states Wejo. "I figure, though by the time I'm 50, they'll have quit and that's when I'll make my move."
The men's U.S. over-50 record might seem ambitious, but Wejo hasn't spent the last 12 years completely sedentary. He's made some brief comebacks to racing, running a sub-5-minute mile while in Eugene for the 2012 Olympic Trials and last year he ran 2:58:53 at the Cowtown Marathon in his hometown of Fort Worth, TX. He says he wasn't even training when he ran those efforts, just playing "pick-up soccer" so knows he can run a lot faster if he actually tries.
Wejo explains, "I set my 2:18 marathon PR when I paced Paula Radcliffe to her world record at Chicago (Radcliffe ran 2:17:18 at the 2002 Chicago Marathon). I wasn't even racing, and jogged it in at the end. I know I could have run a lot faster if I wasn't pacing Paula, so the 2:29 time doesn't intimidate me. I'm not even completely ruling out go for the over-50 world record of 2:19:29 (by Titus Mamabolo of South Africa in 1991).
"Thanks to my friendship with David Epstein, I know a lot more about pharmacology than I did 12 years ago. Back when I was competing, I was naive enough to think that all I needed was high altitude training and triple-digit weeks to get the job done. My Yale education was very theoretical – it didn't give me the street smarts I have now from being around the elite level of the sport the last 15 years. I now know I need at least three medically questionable prescriptions to be my best. I'm sure I have some allergy or thyroid problem that was undiagnosed."
As he was in his elite running days, Wejo will be guided by LetsRun coaching guru John Kellogg (JK). JK, who is known for his high mileage, low racing training philosophy, says that even though Wejo's big goal is more than seven years away, they need to get started as soon as possible if he wants to be ready by the time he's 50.
Kellogg said, "Seven years is actually just enough time to get him back in the shape he needs to run 2:29. That gives him time to get fit, lose motivation and quit for a year or two, and still have time to come back for 50. If he were 46 right now I'd tell him not to even bother."
Back in 2011, Kellogg amazingly predicted that they would run the marathon world record at the Boston Marathon and he says that will play a major part in Wejo's sub-2:29 strategy. "I figure once he turns 50 we'll start running Boston every year and cross our fingers for a big tailwind," said Kellogg. "That's his best shot."
Someone who is very excited for Wejo's comeback is his twin brother and LRC co-founder, Robert Johnson (Rojo). Rojo, who has a 2:23 marathon best, says, "Weldon is my identical twin, so it's pretty easy to live vicariously through him. I can get a great sense of achievement without having to put in any effort at all. It's great."
Asked if there was any sibling rivalry between the two and if he'd make his own bid to beat Wejo to the record, Rojo responded vehemently no. "Some people think I'm like Eli Manning being jealous of Peyton, but our relationship isn't like that at all. I'm like the third Manning brother, just happy to get some of the limelight. I got to be a college coach at Cornell for 10 years for simply being Weldon's brother" (Editor's Note: The last time Rojo and Wejo raced, it wasn't too pretty for Rojo.).
So there you have it. A man, a goal, and possibly seven years to do it. We'll of course keep LetsRun.com visitors informed on Wejo's progress but Wejo surprised us by stating he may actually make a record attempt in 2019. "I'm actually 47 years old. Back in 2000, when I got good, I had a friend of the family whack five years off my birth certificate. We all know it's not hard for presidents to do that. Apparently the guy that did mine also did Obama's. I did it so I'd appear younger and maybe get a shoe sponsor. No shoe company wants to sponsor a 28-flat 27-year-old, but I thought they might want to sponsor a 28-flat 22-year-old. Thankfully, no one fell for it and LetsRun.com was born. But I'm not sure if I want to do that. The dating scene is way better for the younger guys."
---
From The LRC Archives: