You Have More in Common With Meb Than You Think (Sponsored)
by Generation UCAN (sponsored)
February 22, 2016
Meb Keflezighi did it again, leaving everyone wondering how and for how much longer? At the age of 40, he made his 4th Olympic team, outshining several marathon runners who are just a little over half his age along the way.
Did you know you have more in common with Meb than you think?
Article continues below player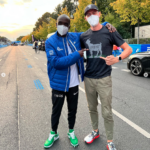 Kipchoge loves the 1:59:40 Shirt Get Yours Today
What a legend!
As he gets older, Meb also has to work hard to manage his weight just like the rest of us. He can no longer afford to gorge on sugars and carbs and expect to burn them off quickly. He has to make his calories count.
It starts with conditioning his body with the right nutrition. "When you're 25, you can get away with eating anything," says Meb. "I'm definitely more aware of my nutrition and calorie intake now than I was before."
Fueling his body to maximize his energy output without adding weight is a balance that he has discovered very successfully. His secret weapon – Generation UCAN's revolutionary nutrition.
Here are three ways Meb uses UCAN:
UCAN FOR FITNESS: When Meb isn't in peak training mode, he has to pay close attention to his calories. "My metabolism has slowed as I get older," say Meb. "I have to be more careful with my diet and UCAN has been perfect."
"When I'm between races, I make a lot of appearances and don't run a lot. People always tell me I look very lean and ask if I'm training hard, but it's my nutrition that helps me keep my weight in check. I use UCAN as a snack to help me control my craving for sweets and to stay lean when I'm on the go. The results speak for themselves."
Meb makes sure he always has a packet of UCAN in his car or bag, especially when he's traveling.
UCAN FOR RECOVERY: After a hard workout, the first thing that goes into Meb's body is UCAN with protein. This gives him the dual benefit of efficient recovery while keeping him satiated until his next meal.
"UCAN has been a game-changer with recovery," says Meb. "I don't feel the soreness or the aches and pains after a hard run. It allows me to recover so I can train hard consistently. I can go a few hours before I have to eat."
UCAN FOR ENERGY: When Meb needs the insurance of steady energy for his training and races, he incorporates UCAN into his pre-run routine.
"If I don't have time to eat breakfast before my run, I'll have a UCAN shake," says Meb. "UCAN gives me 2-3 hours of sustained energy without any stomach problems. You never feel the crash."
"After my workouts, I just have water and UCAN and I'm not in a rush. I can go to the gym, go to therapy, things like that, and the sustained energy is just amazing."
*Click here for UCAN samples ($10 value). Pay just $1.95 to cover shipping