Predictions For The New Year: Will Mo Farah Win Double Gold (Again)? Will Tirunesh Dibaba Win Triple Gold? Will Kenenisa Bekele Even Compete?
by Letsrun.com
January 6, 2016
With the New Year here, some members of the LetsRun.com staff are making some predictions for the year, debating amongst themselves what's going to happen in 2016. We share the debate between Robert Johnson (Rojo), Weldon Johnson (Wejo), and Jonathan Gault below.
Wejo: Ok, onto day 2 … On day 1 (where we looked at how many distance medals the US would win at the Olympics) we forgot to give a hat tip to Nicholas Thompson and Malcolm Gladwell of The New Yorker for their back and forth on the World Champs this past summer. It was excellent reading and an inspiration for this back and forth on LetsRun.com (Editor's note: Wejo seems to have forgotten that we did debate ourselves last year whether Mo Farah was the GOAT, so who knows who inspired who).
Article continues below player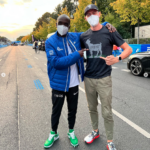 Kipchoge loves the 1:59:40 Shirt Get Yours Today
What a legend!
We ended day 1 with Rojo saying in Day 2 we'd address: "1) Does Mo Farah win double gold? 2) Does Tirunesh Dibaba win a 3rd 10,000 crown? 3) Does Kenenisa Bekele even compete in the Olympics?"
Maybe this harks back to the days of me spending four years of my life trying to make the Olympics, but when I look ahead to 2016, my first thoughts on what I anticipate most are who is going to make the US Olympic team. But we can discuss that later.
I'll just take a quick stab at your questions with almost no analysis.
No. Mo doesn't get double gold. At some point he has to stop winning and with Geoffrey Kamworor in the mix, I think this might be the year. However, Mo might be like Meb Keflezighi. I keep writing him off and he keeps exceeding expectations.

No triple gold for Dibaba. You have to be healthy to win Olympic gold.

Dibaba missed 2015 to give birth to a baby boy

, and didn't run a track season in 2014. Maybe the year hiatus to childbirth will help her get healthy, but just as easily she could struggle to find her old form.

No Bekele will not run the Olympics. He'd have to get healthy enough to run a marathon this spring to make the Ethiopian Olympic team first. Making the 10,000m might be easier, and there was some talk of that, but would he show up and run the 10,000m if he didn't have a shot at gold? His best 10,000m days are behind him.
Now that I've emphatically said no, no, no, I realize the answers could easily be yes, yes, yes. Who has a a little more insight than me?
Jonathan: Weldon, you said people keep writing Farah off. Who exactly would that be? The most common refrain I've heard is that the distance races are boring at Worlds now because everyone knows Farah will win. I will admit that I point out Farah's age in most of my previews because we've never seen a guy dominate the 5k/10k in his 30s like Farah has. But he's coming off a year where he ran 3:28 for 1500 and 59:22 for the half marathon.
I do think this is the most vulnerable he's been in some time though. At some point, age will catch up to him (he will be 33 in Rio). But the biggest reason is the competition: there are some studs chasing him. Caleb Ndiku took the silver in the 5k last year after not racing until July due to injury. Then he came back, got spiked in Lausanne and missed more time. He has 3:29 speed and dominated the world in 2014 while Farah was recovering from the London Marathon. Yomif Kejelcha ran 12:53 as an 18-year-old last year and is only going to get better. And Kamworor is only 23 himself; he'll be a year stronger in Rio as well.
With that said, if you give me Farah vs. the field, I'm taking him in both races. He's close to Bolt-level for me: assuming he's healthy, I'm picking him until he loses. And he hasn't lost at Worlds/Olympics since 2011.
I'm with you on the other two though. When healthy, Dibaba is amazing but she hasn't raced on the track since August 2013. That's a long time between races. Does she even view herself as a track runner anymore? I say Vivian Cheruiyot is the favorite right now, but if the Ethiopian federation allows Almaz Ayana to run the 10,000 at the Olympics, I may change my pick.
I don't see Bekele running the Olympics either. He said in this interview that he's been banged up since 2010 and though he has put together some good performances since then (2:05:04 in Paris, 4th in the 10k at the '12 Olympics), he has raced just once since October 2014. And that was in Dubai in January, where he dropped out due to an injury he still hasn't overcome.
I know that Dibaba and Bekele — two of the greatest runners the world will ever see — shouldn't have to prove anything to anyone. But at this point, I need to see something from them before I back them in 2016.
Do you have anything else to add Robert? What about the other events? Is Genzebe Dibaba utterly untouchable in the 1500? Can she pull off the 1500/5k double, something no woman has ever achieved at the Olympics? Does David Rudisha defend his title in the men's 800?
Rojo: I'm in agreement with you all sadly in terms of Bekele. It's weird when he was in his prime, I wasn't a big fan as he put an end to the guy I idolized when I got into watching the professional side of the sport – Haile Gebrselassie – but I've been rooting for a Bekele comeback for some time now. Then when he decided to get coached by Canova it became even more fascinating to see a star realizing he needed to change things up. That doesn't happen much. Farah did it before he was on the top of the world and I don't think enough people give him credit for that – moving continents to become a champion – and Bekele did it after he had fallen from the top.
In terms of Farah, like Jon says, it's utterly foolish to bet against him, but like Weldon I will. When a star is in his prime in any sport, it's hard to envision that ultimately, sadly, your last image of them in competition will be one you want to try to erase from your memory bank – whether it's watching Tiger Woods struggle to make cuts now, Michael Jordan banging shots off the rim for the Wizards or a formerly unbeatable track star failing and getting beat.
But at the same time, it's logically hard for me to think that Farah is going to complete the double twice when Gebrselassie and Bekele never did it once at the Olympics (Editor's note: Bekele did win both in 2008 and as well at 2009 Worlds). Of course, it's a lot easier now as one only has to run three races versus five when Gebrselassie was in his prime (yes they used to have heats of the 10k and three rounds of the 5k) but it almost seems wrong if it does happen. Ndiku is a monster talent. What he did last year on such limited training is unreal. If Farah pulls it off over a fully healthy field, then he'll have my utmost respect as no one can knock the quality of Kamworor and Ndiku.
Speaking of "it almost seems wrong", it does seem wrong to me that you guys are writing off Tirunesh Dibaba. Why? Memo to the world, Dibaba is undefeated for her life at 10,000. 11 races. 11 wins. 5 global titles.
She gave birth to her boy way back in March (he's an American citizen by the way; can anyone say 2040 Olympics?) so she's had eight months since then and still another seven to the Olympics. So 15 months to get ready. That's plenty of time. And she's young – just 30. Vivian Cheruiyot, who by the way won gold this year 20 months after childbirth, is 32. Head to head, Dibaba leads Cheruiyot 16 to 3. Dibaba FTW. Although maybe we should reach out to her agent Mark Wetmore for an update as we haven't heard anything about a return to competition (Editor's note: We emailed him last night but haven't heard back).
Wejo: Is this where we interrupt things to discuss anchor babies and Donald Trump's chances?  Oh never mind. Continue on.
Rojo: As for Genzebe Dibaba, she did run 3:50 last year so she's the heavy favorite but I don't view her as untouchable. She's gotten her peak wrong one too many times in the past for me and Faith Kipyegon ran 3:56 at age 19. Still, how does a 3:50 woman lose? She doesn't so I think Genzebe will win.
Rudisha? Now that's a tough one. He's not as good as he once was but neither are his chief rivals – Mo Aman and Nijel Amos, although I guess Amos did run 1:42.45 in 2014 and 1:42.66 this year. That's not quite 1:41.73 but it's still pretty damn good and he's still just 21.
I want to think about this one. What do you guys think? Here is a stat to chew on: the only two times Amos has ever lost to David Rudisha according tilastopaja.org were this summer at Worlds (where Amos failed to make the final but was in a different heat than Rudisha) and at the Olympics in 2012. The six times they raced between, Amos won every time. So he's 6 and 2 lifetime against Rudisha.
Wejo: The 800 in its entirety is the best distance race of the Olympics because there can even be suspense in the semifinals as Amos going out at Worlds last year showed. Conventional wisdom is it is hard for front-running favorites to win championship races but Rudisha has done it three times  in a row now (2011, 2012, and 2015; he missed 2013 Worlds with injury) in moderate, fast, and slow races respectively. Let us pause and appreciate the greatest 800m race of all time from the 2012 Olympics. Click here to watch it.
Rudisha has to be the favorite, I just like the field's chances better. I like Mo Farah's chances better in the 5000 and 10,000 respectively better than Rudisha's in the 800 but I thought Farah would lose one, so I think Rudisha will come up short.
As for Dibaba, I know a woman ran 3:50 22+ years ago, but I still can't wrap my head around a woman that fast losing, even if she's not on caterpillar fungus.
And we haven't had any talk of the men's 1500. I'll throw objectivity to the side and just say I want Asbel Kiprop to win the 1500. I think he will win. He's the most majestic 1500m runner I've ever seen. Plus like with all things Paula Radcliffe, I'm allowed to throw my objectivity to the side.
I think we should have a LetsRun.com rule: if you have a meal with an athlete, you're allowed to root for them. You guys may not know this but I had a meal with Asbel and Kip Keino and others at Kip Keino's place after the 2007 World Cross Country Championships.
There will never be an event like the 2007 World Cross Country Championships. It was the most unbelievable thing I have ever seen. If you haven't read my recap of it, it is here. Of course I have zero mention of Asbel Kiprop, who won the boys junior 8km race, and I had no idea he would be the next great miler. There were tens of thousands and fans, people watching from trees, and athletes passing out in the heat. It was total chaos and awesome.
Who says cross country can't be popular:
Which reminds me, world cross country is in Uganda next year. We should organize a LetsRun.com trip.
Jonathan: I am totally down for a trip to Uganda. And Weldon, I agree with you on Kiprop — to a point. I think majestic is the perfect word to describe him. When he unfurls those long legs in the final 100 meters, it's simply beautiful — he looks like he's gliding along on cruise control while everyone else is hammering away at the throttle trying to reach a higher gear. Few runners are more enjoyable to watch.
My journalism degree says I shouldn't root for any one athlete over another, so I can't echo your comments in saying I want him to win in Rio (though it would only be fair considering drug cheat Rashid Ramzi stole his moment of Olympic glory eight years ago). But I don't think it's wrong of me to say I want him to get the world record, right? Perhaps I'm getting ahead of myself — there are so many world records under threat next year they probably merit their own discussion. But I want to live in a world where a human being has run 3:25 for 1500, and I think Kiprop's the man to do it.
| | | |
| --- | --- | --- |
| [gravityform action="polls" id="305″ mode="poll" cookie="1 month" show_results_link="false" display_results="true" percentages="true" counts="false" ajax="true"] | [gravityform action="polls" id="304″ mode="poll" cookie="1 month" show_results_link="false" display_results="true" percentages="true" counts="false" ajax="true"] | [gravityform action="polls" id="303″ mode="poll" cookie="1 month" show_results_link="false" display_results="true" percentages="true" counts="false" ajax="true"] |
Rojo: Since I'm the official LetsRun.com World XC point man as I was the only who went to Guiyang last year, I'll let you two know if I'll add you to the guest list.
Let me end this session with a hypothetical. Right before I hopped in bed last night, I thought to myself, 'If one of the men's track distance gold medallists from Beijing tests positive in 2016, which one would bother you the most/least?' So either Rudisha, Kiprop, Kemboi, or Farah goes down. Which positive would bother you the most/least? I don't know why I came up with that depressing thought, but when I think about track nowadays and who might win and lose, I often think (particularly on the women's side), 'Is there a potential doper that could really upset the event?' Trying to be objective, I thought, 'Well what if one of them is dirty?'
For me, obviously the most shocking/upsetting would be Kiprop or Rudisha, and I think it's Kiprop. I might as well just hand in my fan card forever. He just looks like he has a genetic advantage like he's a prototype that should have been on the cover of The Sports Gene. Those super skinny long legs remind me a swimmer with huge arms. But then again if Rudisha went down, then we lose the best moment of the 2012 Games.
Please don't misunderstand me, I'm not suggesting I've ever heard anything suggesting either is on drugs – it just was a stimulating, albeit depressing, intellectual exercise for me.
A positive by Farah or Kemboi wouldn't destroy my world view of the sport. With Farah, he didn't use to be a world beater and he's coached by Salazar so it's not like I'd be blindsided and Kemboi has had some off-the -rack issues over the years and he's maddeningly inconsistent of late on the circuit.
MB: Daily debate: If Rudisha, Kiprop, Kemboi, or Farah tested positive – which one would upset you the most? The least?