by ESPN/TrackTown USA Press Release
November 3, 2015
LetsRun.com Note: There will be a new TrackTown Summer Series next year with the final meet of the series broadcast on ESPN.  Full press release below. We reached out to TrackTown USA's Director of Communications Curtis Anderson congratulating TTUSA for getting a meet on ESPN and trying to  find out more details on the series and Anderson wrote back, "Thanks for the support. Track and field on TV is a good thing. At this point, we honestly don't have any further details. We're thrilled that ESPN has agreed to televise the inaugural TrackTown Summer Series championship meet on July 29 at Hayward Field. Everything else is still being worked out. We will make that information available as soon as it's finalized." We at LRC agree "Track and field on TV is a good thing." For the sport to grow it has to get on major TV and its a testament to TTUSA that they got a meet on ESPN without the details being worked out. The Portland Tribune had an article on the concept of the TrackTown Summer Series this summer that is worth a read. 
EUGENE, Ore. – ESPN has signed a multi-year agreement with TrackTown USA to televise the launch of the TrackTown Summer Series beginning in 2016.
The TrackTown Summer Series is a new and innovative domestic circuit of scored track and field meets featuring competition between top teams of elite athletes in cities on both the East and West coasts. The Series will culminate with a championship meet at historic Hayward Field on July 29, to be televised on ESPN or ESPN2.
"This is outstanding news for our sport," TrackTown USA President and 2016 U.S. Olympic Men's Head Track & Field Coach Vin Lananna said. "We look forward to continuing to explore fresh and creative ways to spark interest in track and field in the U.S."
Article continues below player
Added ESPN Senior Director of Programming and Acquisitions Doug White: "ESPN is proud to work with TrackTown USA and to televise the new TrackTown Summer Series, which will showcase some of the best athletes in the sport."
The TrackTown Summer Series was designed to give American track and field athletes world-class competitive opportunities on U.S. soil during the summer. The agreement with ESPN will shine a spotlight on those athletes and provide viewers with a spectator-friendly window to watch their extraordinary performances.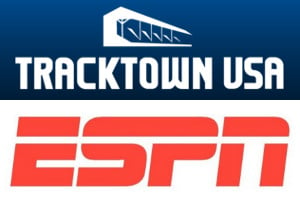 Allyson Felix, one of the most decorated female sprinters of all-time, was enthusiastic in her praise of both the TrackTown Summer Series and the broadcast agreement with ESPN.
"I am always looking for great ways to connect and engage with the fans of track and field," Felix said. "To be able to do that at home is incredibly special and I'm excited to see more track televised in the U.S."
"I'm really excited about this new series of meets," added Oregon Track Club Elite's Ben Blankenship. "Besides the obvious advantages of being able to compete in the U.S., the fact that ESPN has agreed to televise the series is truly amazing for the sport of track and field."
The idea for the TrackTown Summer Series first surfaced with a trio of High Performance meets at Hayward Field (2006, 2007, 2008) leading up to the 2008 U.S. Olympic Trials. It was followed by the highly successful Run TrackTown High Performance meet held in conjunction with the 2014 IAAF World Junior Championships.
"We are excited about providing expanded competitive opportunities in the U.S. during the summer for our high-end athletes as they peak for major global championships," Lananna said. "This kind of national exposure is hugely valuable for our athletes, fans and the entire sport."
About TrackTown USA:
TrackTown USA, Inc. is a non-profit organization committed to setting a standard of excellence in the sports of track and field and running by hosting premier events, creating a supportive environment for elite athletic performances, improving facilities, being a leader in sustainability and inspiring the next generation of track and field athletes and fans. The organization is responsible for organizing the 2014 IAAF World Junior Championships, the 2015 USA Track & Field Outdoor Championships, the 2016 IAAF World Indoor Championships in Portland, the 2016 U.S. Olympic Team Trials—Track & Field and the 2021 IAAF World Championships.
On the web: http://gotracktownusa.com/
About ESPN:
ESPN, the world's leading sports entertainment company, features more than 50 assets – eight U.S. television networks, ESPN International, ESPN Radio, ESPN.com, ESPN The Magazine, and more. ESPN is 80 percent owned by ABC, Inc. (an indirect subsidiary of The Walt Disney Company) and 20 percent by The Hearst Corporation.
---
Advertisement
The 1:59:40 GOAT shirts are here