Book Review: "Fast Girl" By Suzy Favor Hamilton Fails To Make The Redemption Podium
By Jonathan Gault
October 21, 2015
It's said that you shouldn't judge a book by its cover, but in the case of Fast Girl, Suzy Favor Hamilton's salacious new memoir co-written with Sarah Tomlinson, it's safe to ignore that advice. The cover features a leggy, high-heeled escort sitting in the shadows and the majority of the book deals with the year Favor Hamilton spent working as a high-priced call girl in Las Vegas. If those sort of details intrigue you, then by all means, buy yourself a copy. But Fast Girl isn't for everyone.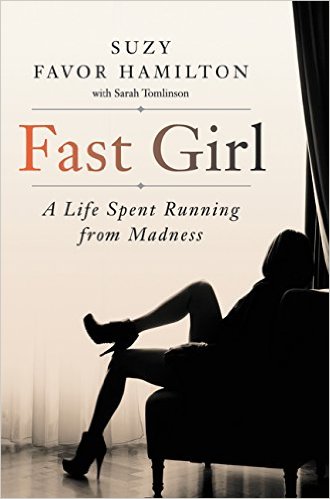 Favor Hamilton, of course, was a three-time Olympian (twice in the 1,500, once in the 800) and until The Smoking Gun revealed the details of her life in Vegas in December 2012, she was best known for her record nine NCAA titles and her fall in the 1,500 final at the 2000 Olympics in Sydney. Yet those looking for details about Favor Hamilton's running career will be disappointed. She offers some important nuggets — struggled with bulimia while at the University of Wisconsin and was implicitly urged to take drugs by a major meet promoter after running 3:58 in Monaco in 1998 — but despite Favor Hamilton's success, her athletic accomplishments are marginalized, sometimes carelessly so.
Article continues below player
Favor Hamilton describes the anxiety she felt before major races, but exaggerates her failures. She writes about how she finished last in her prelim at the 1992 Olympics (she was 11th out of 15) and at the 1996 Olympic Trials (in reality she was 13th out of 14). Describing her fall at the 2000 Olympics, she says, "one by one, the other runners passed me until there was no one left but me," despite the fact that she was still in sixth place when she went down. She also writes of a $100,000 bonus in her Nike contract for breaking 4:00 in the mile in 1998. She then claims she accomplished the feat in Monaco, running 3:59. Even if you forgive Favor Hamilton for confusing the 1,500 and the mile (though no one who spent 14 years as a professional runner would ever do so), she didn't even get the time right: she ran 3:58.38 in Monaco. These are sloppy, easily preventable errors and they're a turnoff to anyone wishing to learn about Favor Hamilton's running career.
That's not the book's purpose, however. Ostensibly, Fast Girl is about Favor Hamilton's struggle with bipolar disorder. And while italicized messages about the disease are sprinkled between chapters — Favor Hamilton also discusses the suicide of her brother, Dan, who was also bipolar — she seems more interested in vicariously reliving the highs she experienced while cavorting around Vegas in the company of high rollers. These anecdotes can be entertaining for the reader, and they also offer a glimpse of what it means to be an expensive call girl, something you won't find in many other places. There is value in tracing the slow transformation of Suzy into Kelly (her Vegas alter ego), but it becomes repetitive. Suzy goes to Vegas for the weekend. She experiences a new high. That's not enough for her, so she pushes it even further on her next Vegas trip. Rinse, repeat.
The book's greatest shortcoming is its ending. One would think that, based on the words Favor Hamilton dedicates to mentioning the disease and its ill effects on her, she would spend several chapters documenting how she overcame bipolar disorder.
"Being diagnosed wasn't enough to turn off my mania," Favor Hamilton writes. "The year that followed my diagnosis [in January 2013] was actually the most challenging of all, for my family and me."
Yet Favor Hamilton glosses over her recovery, only addressing it (broadly) in the four-page epilogue. For someone willing to share so many private details of her life, it's a disservice to the reader that Favor Hamilton elects not to dive deeper into how she was able to bring the disease under control. Favor Hamilton should be commended for her honesty and openness about her former life and her struggles with bipolar disorder. But if she's truly looking to help others battling the disease, she would have done better to focus less on how bipolar affected her (her exploits in Vegas) and more on how she was able to overcome it.
---
You can purchase Fast Girl on Amazon (and support LetsRun.com in the process) by clicking here.
Other book reviews by LetsRun.com can be found here.