TV/Streaming Information for 2015 USATF Outdoor Championships
By LetsRun.com
June 18, 2015
The meet is over. To watch on-demand race replays for free, go to USATF.TV at this link.
The 2015 USATF Outdoor Championships were held June 25-28 at Hayward Field in Eugene, Oregon. NBC's family of networks had live TV coverage for the final three days; USATF.tv offered a live webcast of non-televised events.
Article continues below player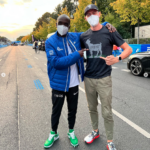 Kipchoge loves the 1:59:40 Shirt Get Yours Today
What a legend!
Here is the broadcast schedule, per USATF (televised content in bold; all times PACIFIC):
Thursday 6/25
10AM-9PM PT – All Events – LIVE on USATF.tv
10PM PT – THE COOL DOWN – on USATF.tv
Friday 6/26
9:15AM – 7PM PT – All Events – LIVE on USATF.tv
7PM – 9PM PT – LIVE on NBCSN [Check local listings] (Field Events will be LIVE on USATF.tv)
10PM PT – THE COOL DOWN – on USATF.tv
Saturday 6/27
7:30AM PT Racewalk – LIVE on USATF.tv
10:15AM – 12:30PM PT – All Events – LIVE on USATF.tv
1PM – 3PM PT – LIVE on NBC [check local listings] (Field Events will be LIVE on USATF.tv)
3PM – 6:30PM PT – All Events – LIVE on USATF.tv
8PM PT – THE COOL DOWN – on USATF.tv
Sunday 6/28
7AM PT – Racewalk – LIVE on USATF.tv
10:45PM – 12PM PT – All Events – LIVE on USATF.tv
12PM – 1PM PT – LIVE on NBC Sports Network [Check local listings] (Field Events will be LIVE on USATF.tv)
1PM – 3PM PT – LIVE on NBC [Check local listings] (Field Events will be LIVE on USATF.tv)
4:30PM PT – THE COOL DOWN – on USATF.tv