By Jonathan Gault
January 8, 2015
Bernard Lagat, Chris Derrick, and 2014 Diamond League champs Jairus Birech (3k steeple) and Silas Kiplagat (1500) are among the big names that will gather at Holyrood Park in Edinburgh, Scotland, on Saturday for the Bupa Great Edinburgh XCountry event. The day's biggest three races — the men's short race (4k) and the men's (8k) and women's (6k) long races will all be streamed live on Saturday morning on USATF.tv (and BBC One for those of you in the UK). Check out the details below, followed by what you should be watching for if you feel like getting up early on a Saturday.
What: Bupa Great Edinburgh XCountry
When: Saturday (men's short race at 8:06 a.m. ET, men's long race at 8:30 a.m. ET, women's long race at 9:02 a.m. ET. There also is an international mixed gender 2 x 1 km relay as well as a junior boys and girls races which won't be shown on tv. You can access the entries for those races here – via a document we found on http://www.albertostretti.org/)
Where: Holyrood Park, Edinburgh, Scotland
Article continues below player
How to watch: Stream it live on USATF.tv (link here); replay available later in the day on USATF.tv. For UK viewers, the event will be shown live on BBC One starting at 1 p.m. GMT.
Men's short race entries (individual elites):
The entries are as follows (via Alberto Stretti):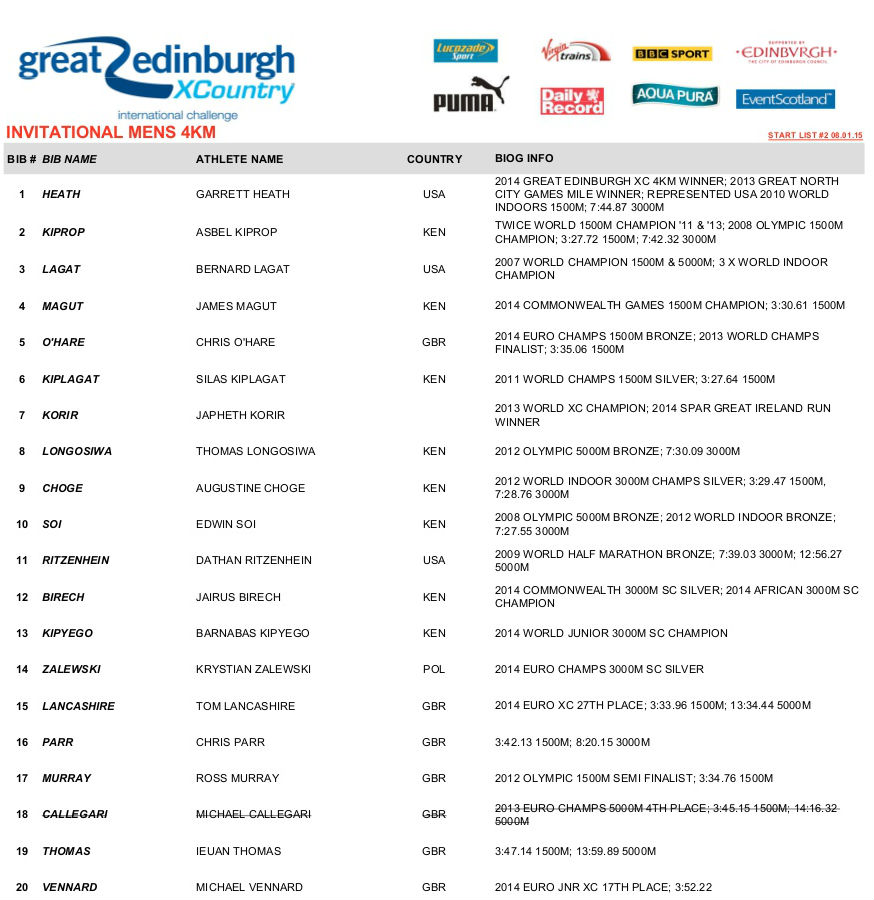 Men's long race (team scoring):
The teams are as follows (via Alberto Stretti):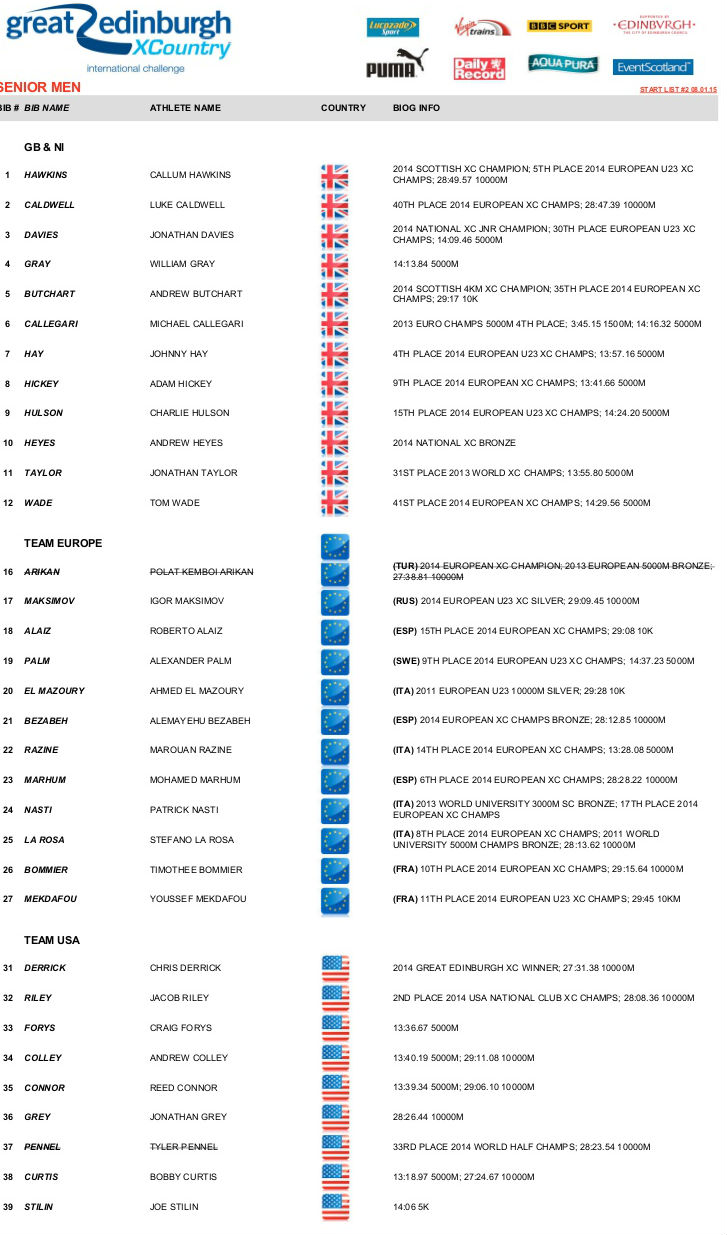 Women's long race (team scoring):
The teams are as follows (via Alberto Stretti):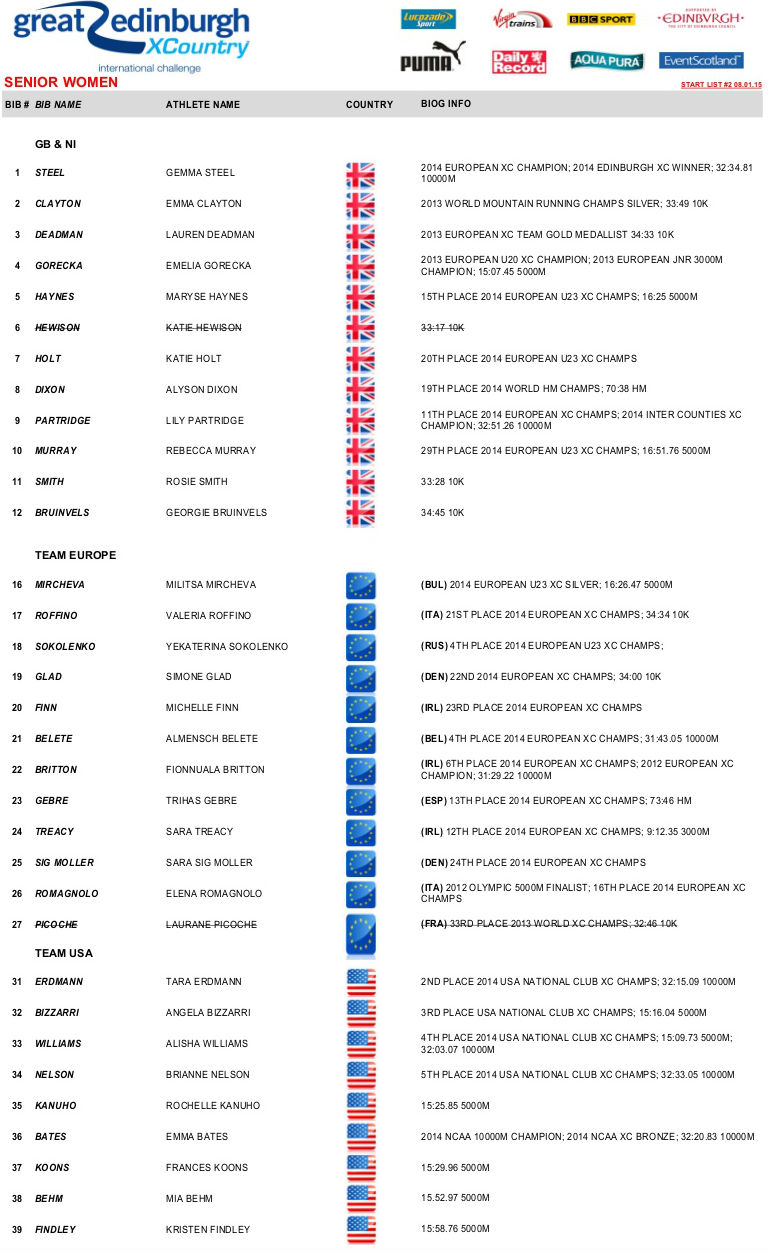 6 Thoughts About The Races
1) The men's short race is by far the best race of the day.
The great thing about cross country is that it unites runners from several different distances. That means we get to see milers like Asbel Kiprop and Silas Kiplagat square off against ace steepler Jairus Birech and 5k studs like Thomas Longosiwa and Edwin Soi. 2013 World XC champ Japhet Korir will also be there, as will 2014 World Junior 5k champ Yomif Kejelcha.
From an American perspective, the race is appealing as Bernard Lagat will race for the first time as a master (he turned 40 on December 12) and Dathan Ritzenhein will look to follow up Tuesday's victory at the Campaccio Cross Country meet in Italy with another strong performance.
Normally I try to handicap the field prior to a race, but that seems a futile task for this one. Most of these guys haven't raced for months and everyone is at a different point in their training. Some of the athletes will be taking cross country really seriously in preparation for World XC in China on March 28. Others will have just started hard training again and are using this race as a rustbuster. Last year, it seemed obvious that either Kiprop or Kenenisa Bekele would win the 4k race, but they were just third and fifth behind surprise winner Garrett Heath. Heath will be back to defend his title this year, but it's impossible to say whether he'll be first or 10th.
2) Don't freak out if Ritz has a bad day.
Almost everyone in the short race will be focusing on the track in 2015. Not Ritz, who was announced on Wednesday as part of the elite field at the Boston Marathon on April 20. Ritz has already run one good race on his brief European trip; how he performs four days later in a four-kilometer cross country race will tell us nothing about where he stands marathon-wise. Of course Ritz would like to run well, but his biggest goal should be watching his footing in what could be miserable conditions (it's supposed to rain on Friday and Saturday morning, with a high of 43 degrees on race day). As long as he makes it out of the race healthy, that's a win for Ritzenhein.
3) Sorry, UK fans: no Mo Farah.
Farah was initially scheduled to run the men's long race, but he withdrew from the event earlier this week, citing a bout with the flu over Christmas and New Year's. Last year, Farah withdrew from the Commonwealth Games after passing out in his bathroom while training in Park City, Utah.
4) Can Chris Derrick defend his men's long race title?
Derrick is a fantastic runner on all surfaces, but he has excelled in cross country. The 24-year-old has won the last two U.S. XC Championships (he was 10th at Worlds in 2013) and won this race last year by 10 seconds over the UK's Andy Vernon. He had to miss last month's USATF Club Cross Championships after twisting his ankle but Derrick is good to go in Edinburgh. His main competition figures to be Turkey's Polat Kemboi Arikan, who boasts pbs of 13:05 and 27:38 and won the European Cross Country Championships in Bulgaria four weeks ago.
For the other Americans, this will be a nice chance to see where they stand with the U.S. XC Championships less than a month away. Of course, the U.S. Champs will be a 12k race while this one is only 8k.
5) Gemma Steel is the heavy favorite in the women's race.
Steel capped a tremendous 2014 season (win at Beach to Beacon over Shalane Flanagan, 68:13 half marathon pb at Great North Run) with a win at Euro XC on December 14. Steel took the title last year over Ireland's Fionnuala Britton by nine seconds.
6) Will Emma Bates make it to the start line?
Bates, who still has outdoor eligibility at Boise State but no indoor, is running in the women's long race. At least, that's the plan. Due to bad weather, Bates still hadn't left for Edinburgh as of Thursday afternoon, but it seems like she may end up making it to the race after all.
Trying hard to contain my excitement-but I am just so thrilled to be running in Scotland this weekend for Team USA! pic.twitter.com/tjVFqUifrr

— Emma Bates (@emmajbates) January 7, 2015
Mother Nature does not want me racing this weekend apparently. 2 canceled flights=no Scotland for me 🙁 #alwaysmyluck #ihatewinter #worstday — Emma Bates (@emmajbates) January 8, 2015
About to be on my way again-Bupa race officials worked their magic and may get me there after all! #fingerscrossed

— Emma Bates (@emmajbates) January 8, 2015
More: Alberto Stretti's Blog Entry About Race With Full Race Entries
Full Team USA squads (plus junior teams)
Full Team GB squads (plus junior teams)
IAAF preview
Last Year: 2014 Bupa Great Edinburgh XC Results: Garrett Heath Over Asbel Kiprop And Kenenisa Bekele; Chris Derrick Dominates