41 Year Old Deena Kastor Ready to Take Names on the Street of New York: "To call (running) a job is a joke"
by: LetsRun.com
October 31, 2014
Deena Kastor is the queen of American marathoning in the 21st century with her 2004 bronze medal and 2:19:36 American record.
Now at the age of 41 she'll try to show on Sunday at the TCS NYC Marathon that she's still one of America's best marathoners. She's running better than she has in a long time and is targeting 2:25 in New York, faster than her 2:26:58 debut 13 years ago.
Article continues below player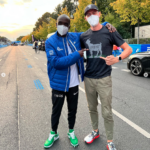 Kipchoge loves the 1:59:40 Shirt Get Yours Today
What a legend!
We spoke to Deena for 13 minutes on Thursday and she had some pretty interesting things to say. Full video at the bottom.
2014 Shines Bright for Deena – "I believe running still makes me a better person on a daily basis"
Deena last ran a marathon last year at the World Championships in Moscow where she finished a respectable 9th in the heat in 2:36:12. At the time she talked like someone whose competitive marathoning days were likely coming to an end saying, "I'd hate to make an emotional decision but I think that was my last one (competitive marathon). It was just a real struggle out there."
Deena wasn't done running as she's a brand ambassador for Asics and president of the Mammoth Track Club. Plus, she wanted to set a good example for her three-year-old daughter Piper. Today in NY, Deena said, "I thought I might want to retire and be a stay at home mom, but realized that leading by example and following your passions with joy is the greatest gift I could give her."
Deena kept training in 2014, making race appearances for her sponsors and trying to inspire others. She ran very respectable half marathons this spring – a 1:11:57 at the Dallas Rock 'n' Roll Half Marathon and 1:11:38 at the New York women's half.
Running is in a very good place in Deena's life now. "To call it a job is a joke," she said, stressing that she focuses on making "running as a lifestyle" and encourages others to do the same. "Its a lifestyle of progress and I think that is why I am still in this sport. Although I don't believe I can run a 2:19 marathon again, I believe running still makes me a better person on a daily basis and continuing to get this out of myself has me continuing to run year after year."
Rounding into the summer, Deena became very fit, surprising herself that she could break five minutes in mile repeats. She acknowledged "consistent training" gave her "some great momentum," but was just as quick to credit her mental state for her resurgence in the last half of the year. "I'm in a really good place mentally. I love my teammates, I love the Mammoth Track Club, where we're going. I love the energy in the group," she said.
Deena's mindset shifted to doing a competitive fall marathon. Now a master's runner at age 41, that meant turning some heads if she performs as she's capable. Deena's lone race this fall in the buildup to New York was the Philadelphia Rock 'n' Roll Half Marathon in September. On a humid day in Philadelphia, she clocked a master's world record of 69:36. Her attention then turned to New York.
As impressive as Deena's run in Philadelphia was, Deena said today she wanted to go faster in Philly. She thought she was capable of running 68 something, but she got a little too aggressive early when she stayed close to the leaders, and it was a very humid day. With better weather and better pacing, it's not unreasonable to think Deena could have run 68 something. (Molly Huddle is the US leader in the half this year with a 69:04).
Deena Ready to Go For It In NYC
Deena's 69:36 is equivalent to 2:36:29-2:28:46 in the marathon on various conversion charts. Deena has said her time goal for New York is in the 2:25s. When we asked her what she thought she could run on a flat course unlike New York, she said a couple minutes faster.
Deena however is not in New York to run a certain time (the master's world record is 2:24:54 set by Germany's Irina Mikitenko) she's here to race. Her training has gone very well. No longer does she run the 140-mile weeks she once did, as she's now capped out at 110, hovering "around 100 a week," focusing on long tempos and long workouts "to build marathon strength." She got help from some of the men in the Mammoth Track Club on some of her workouts and by all indications is more than ready to go for Sunday.
She'll use her watch as a governor in the first half of the race not wanting to get carried away like she did in the early miles of Philadelphia. Then she'll be off to the races, with the chance to be the first American (only Desi Linden is better than her on paper) or make history (Colleen De Reuck has the American master's record of 2:28:40).
No doubt Deena will factor Sunday's run into her future plans, but she talked today much more optimistically about her competitive running future than she did one year ago after her ninth place at the World Champs. Deena said she'll figure out over Mai Tais in Hawaii after New York which competitive spring marathon she wants to do, and will also think about the Olympic Trials which are in early 2016 in LA.
Up first for Deena is 26.2 miles in New York on Sunday.  (Full video below)
*****
Deena's accomplishments on the road are so great that we often don't think of her as a cancer survivor but she is a skin cancer survivor, having beaten melanoma three times. She talked about how running in the sun and heat of Moscow was stressful for her last summer saying, "I was born with terrible skin and my profession is in the sun. It's something I have to take care of."