Deena, Paula, German Fernandez And Andrew Wheating Are All Back (To Different Degrees), A New High School Star, Some Free Coaching Advice And More
The Week That Was In Running – September 15 – September 21, 2014
by LetsRun.com
September 24, 2014
Previous versions of the Week That Was can be found here.
Questions? Comments? Email us.
****
Performance Of The Week
Deena's Kastor's 69:36 half marathon at the Rock 'n' Roll Philadelphia Half Marathon certainly was the performance of the week last week. It was a thing of beauty. The 41-year-old Kastor talked big before the race, telling Competitor that her workouts reminded her of her pre-2004 Athens form. Kastor then went out and backed up the talk with a 40+ world record.
Article continues below player.
After her WR, the talk is officially, "Can Kastor possibly give herself the ultimate early 43rd birthday present and make the make the 2016 US Olympic team in the marathon (the trials are on Feb. 13, 2016 and Kastor turns 43 on Febuary 14)?"
Before the race, Kastor said her training was going so well, she was contemplating trying out for the 2016 US Olympic team.
Here are out thoughts.
1) Barring injury, Kastor will definitely try out. She's got financial ties to the LA Marathon (her husband is an LA Marathon coach and her sponsor, Asics, is an LA marathon sponsor).
| | |
| --- | --- |
| Overall | |
| Comfort | |
| Cushioning | |
| Durability | |
| Appearance | |
| Value | |
2) Kastor making the team at age 42 and 364 days isn't out of the question.
Consider this stat:
69:04 – time run by Molly Huddle in New York in March this year for 13.1 , the #1 American time on the year.
69:36 – time run by 41-year-old Deena Kastor in Philly last week, the #2 American time this year and a new masters world record.
69:44 – time run by Shalane Flanagan in Chicago in July, the #3 American time this year.
Now to be fair, not every marathoner runs a half marathon all out in a given year. But here's another way to evaluate Kastor's chances. Kastor's 69:36 converts to something between 2:26-2:28 in the marathon (John Kellogg's conversion chart says Kastor's run is equal to a 2:28:46 marathon, McMillan converts it to a 2:26:29). Only two Americans have run faster than 2:28 in the marathon in 2013 or 2014.
Top US Women's Marathon Times For 2013 and 2014
1. 2:22:02 Shalane Flanagan – Boston '14
2. 2:23:54 Desiree Linden – Boston '14
3. 2:28:01 Serena Burla – Amsterdam '13
4. 2:28:11 Kara Goucher – Boston '13
5. 2:28:48 Lauren Kleppin – LA '14
6. 2:28:59 Annie Bersagel – Düsseldorf '14
7. 2:30:41 Becky Wade – CIM '13
That list looks about right. If Flanagan and Linden are healthy, no one in America is touching them at the 26.2 distance. No one else in the country is anywhere close to being a sub-2:25 performer right now.
After those two, it's wide open for spot #3. If Kastor is in the form she is in right now in 16 months, she's got a real shot to battle it out for the 3rd Olympic spot. But the body can age a lot in 16 months at age 41. When the body goes, it goes fast.
****
51-Year-Old Woman Runs 18:38 5k to Win Race for 21st Time
Deena definitely gets the performance of the week but 51-year-old Marissa Sutera Strange not only ran 18:38 for 5k to win the Dutchess County Classic Road Race, but she won the race for her 21st time. It definitely deserves a mention.
Streak Continues: Marissa Sutera Strange, 51, won #Dutchess5K for the 21st time (15th in a row) 9/21, most wins in one USA race in history.

— David Monti (@d9monti) September 22, 2014
****
An Encouraging Result For German Fernandez and A Sighting of Andrew Wheating
At the US 5k champs at the CVS 5k in Providence, the runner-up was world junior mile indoor record holder German Fernandez in 13:57.0. Given our "talent doesn't go away" mantra, we scour results for Fernandez weekly hoping for an encouraging sign. This result is indeed a little bit encouraging.
Yes, given his prowess a senior in HS and freshman at Oklahoma State, a few years ago one might have expected the 23-year-old Fernandez to be battling for the win on the DL circuit at this stage in his career, not the US road champs. Yes, the times in the road 5k weren't fast.
But the past is the past and we don't really care about the times. It was important for German to get some momentum. After he ran 3:38.11 for 1500 on July 5th, his track results in Europe weren't encouraging but he kept racing. We wonder if his handlers thought he was capable of a strong result or if they just wanted him to have a full season after his less-than-consistent last few years.
Regardless, Fernandez can at least head into the off-season with an upbeat feeling, haven taken the scalp of Matthew Centrowitz among others. Here are the five guys that finished behind Fernandez in Providence:
3. Maverick Darling (13:27 pb, 13:36 this year).
4. Brian Shrader (13:44 this year)
5. Jimmy Spisak (13:43/29:02 pbs)
6. Trevor Dunbar (13:26 this year)
7. Matthew Centrowitz (13:20 this year)
Centrowitz wasn't the only NCAA champ that Fernandez beat in Providence. Miles Batty, the 2011 NCAA mile champ, and Josh McDougal, the 2007 NCAA xc champ, ran 14:35 and 14:38.7 respectively.
Has their talent gone away? Comparing them to Fernandez is like comparing apples to oranges. McDougal (29) and Batty (27) are much older than German.
###
Speaking of talent never going away, besides German Fernandez, another name we are always scouring results looking for is Andrew Wheating.
This year, in his first and only track race of the year, Wheating ran 3:38.53 to win the Portland Track Classic and then declared, "I'm back, baby," as he said new coach Mark Rowland had "transformed (him) into a monster."
After those bold statements, Wheating proceeded not to race all summer as the injury bug popped up again. The good news is he did race again last weekend. We've found him in the results of the less-than-prestigious Bubba Gump's Run Forest Run Front Street Mile, held in Lahaina, Hawaii.
Top 3 Results
1. Jordan McNamara, 27, Eugene, OR       3:55 CR* $300
2. Andrew Wheating, 26, Eugene, OR       4:02      200
3. Riley Masters, 24, Seattle, WA         4:07      100
We're glad to see that he is healthy enough to race again while getting a little R&R in Hawaii.
Wheating, a 1:45.03 performer and US Olympian at age 20, and a 3:30.90 1500 guy in 2010 at age 22, has certainly struggled in recent years.
Most runners aim for a consistent progression of their PB, year by year. Wheating's been consistent of late, but in the opposite direction.
Seasonal 1500 Bests for Andrew Wheating
2010: 3:30.90
2011: 3:34.89
2012: 3:35.89
2013: 3:37.03
2014: 3:38.53
Wheating, who turns 27 in November, has to be incredibly frustrated by the last four years as everyone in running, whether it's an Olympian or a high schooler, dreams of PRs, not slower times each progressing year.
The good news for Wheating is he is still dreaming big. Wheating's bold statements in June look a bit premature now considering he missed basically the entire rest of the season, but it's big dreams that motivate and inspire runners. A talent the size of Wheating must dream big.
If we were coaching Wheating, we'd strongly consider having him do a few indoor races in 2015 as he's barely raced the last few years. Do we think it will burn him out? No. The lack of structure does far more harm to pros than too much racing. The best season of Wheating's life was 2010 and he was running 1:46 in February of that year, 3:30 in July and 1:44 in August.
****
A New Favorite For Foot Locker?
Did you know that one of the top juniors from an African country at World Juniors showed up at US high school two weeks ago and is now running for Heritage High School in Leesburg, Va.?
No, we're not talking about the four Ethiopian athletes who went AWOL in Eugene. We believe many of them signed pro contracts. We're talking about a different athlete, Weini Kelati of Eritrea. Kelati, who ran 9:12.32 and was eighth in the girls' 3000 in Eugene, is now attending Heritage High School in in Leesburg, Va., where she lives with her cousin, Amleson Teklai.
Teklai is an American citizen who finished last at the 1997 Foot Locker finals before going on to run at Stephen F. Austin, where he was a 2-time All-Southland Conference selection in cross country.
So how good is Kelati?
Well we've got to disagree with Dyestat's Doug Binder who wrote, "The impact caused by Kelati's arrival is still hard to predict."
It's not too hard for us to predict.
The 17-year-old Kelati, who doesn't speak much English and is only a freshman academically but a junior athletically, is instantly a contender for Foot Lockers.
Consider this.
Kelati's 3000 time converts to 9:56.42 for 2 miles.
The #1 time in the nation last year from a returning runner was the 9:55.05 put up by Connecticut's Hannah DeBalsi.
Unless Kelati is just too homesick or emotionally distraught from suddenly living halfway across the globe in a country where she doesn't speak the language, we don't see how she's not a major factor for the girls' individual national title.
Virginia XC runners might get used to seeing this:
https://twitter.com/007TrackFan/status/514394688246538241/
More: Weini Kelati enrolls at Virginia HS 2014 – DyeStat
****
Email of the Week/Appearance Money Revealed
Last week, we talked about how running the 5th Avenue Mile might have cost Jenny Simpson, who could have won $30,000 at the Continental Cup, some major cash.
One current US pro, who wishes to remain anonymous, wrote in with a great email stating that he or she didn't think the decision for Simpson to run 5th Avenue over the Continental Cup was as financially damaging as it might appear. While the first place prize money at 5th Avenue was just $6,000, our emailing pro thought Simpson easily could have received an appearance fee in the $10,000 range which would mean she'd have made $16,000 for the weekend (first was $6000), which would be more than second-place money at the Continental Cup. The email from pro appears below:
I like that you guys are talking the money side of things because it is not brought up enough in the sport of running. Wanted to shed some light on my thoughts why Jenny ran 5th ave. Yes, she only won 5k, but I guarantee she received 10k min. as an appearance fee. Problem is many times they have a non-disclosure so appearance amounts can't be discussed. I am sure Jenny's husband was being gracious in his response to you guys and said the main reason for going was family and running in front of US crowd. Jenny probably figured if she didn't win Continental Cup she'd be guaranteed more money at 5th ave, plus it would get more USA press and would probably be a lot more entertaining and fun weekend judging by the stands in Morocco. My guess is Jenny walked with $15k plus from 5th ave if not 20k plus.
NYRR is one of the best in the business with appearance money and understanding running can be a profession and treating it like a profession. I've known several athletes at or even below Jenny's level that have received $10,000 plus for 5th ave or Dash to the Finish 5k (note, they are not bringing in the field they have done the last two years). 
I think in running appearance fees aren't made public because for some reason everyone thinks running has to be all about fun, and trying to make money is a bad thing. So I think appearance money is kept secret to give the general public the idea that we all do it only because we love it. Don't get me wrong I love that I can run for a living, but making money is part of it. 
Hope you guys find at least some of this interesting. 
Do you have an interesting appearance fee story you want to share with us? Email us as we think the readers would love to know about the back-room dealings.
***
Stat of the Week I
5:45.8 – pace per mile that 40-year-old Paula Radcliffe averaged for 10k in her return to racing last week at the Worcester City 10-K where she ran 35:49.
5:43.2 – pace per mile that Paula Radcliffe will need to average in April if she is to accomplish her goal of a sub-2:30 clocking at the Virgin London Money Marathon.
5:10.7 – pace per mile that a 29-year-old Radcliffe averaged when she ran her 2:15:45 world record in London in 2003.
***
Stat of the Week II
57% – percent of marathon runners that were male in 2013 in the US according to Running USA.
87% – percent of marathon runners that were male at last week's Moscow Marathon. (3487 male finishers, 528 female finishers)
****
Stat of the Week III
2:16:14 – winning time put up at South African men's marathon champs (Sanlam Cape Town Marathon) last week by Desmond Mokgobu.
2:41:49 – winning time put up at South African women's marathon champs (Sanlam Cape Town Marathon) last week by Zintle Xiniwe.
29:53.6 – winning time put up at Canadian men's 10k road champs (Oasis ZooRun 10-K) last week by Eric Gillis.
33:09.4 – winning time put up at Canadian women's 10k road champs (Oasis ZooRun 10-K) last week by Rachel Hannah.
For the record, those slow times didn't earn a lot of money. The men's marathon title paid just over $1,250 and the women's just more than $2,145. Gillis and Hannah won more than $2,720 for their 10k wins.
To be fair, there were plenty of slow times earning money in US-citizen-only prize money as well. Diego Estrada won $8,500 for running 13:56.4 in winning the US 5k championships in Providence, and at the Great Cow Harbor 10k, Americans Aaron Braun and Brianne Nelson won $3,500 for running 29:01 and 33:06 respectively.
Seeing those times, we're sure Kenyans like Cybrian Kotut, who only won $2,000 for running 59:59 for 13.1 miles in Philly, were thinking, "If only I was born in the USA."
****
Free History Lesson/Stars Have Been Avoiding Each Other For 50+ Years
Doesn't it suck that the stars of track and field are constantly avoiding each other? It's just not right when Meseret Defar and Tirunesh Dibaba will run the same meet but one will be in the 3000 and one in the 2 mile or that Justin Gatlin and Asafa Powell will run in the same meet but in different sections of the 100.
Track and field would be so much popular if only the stars would race each other more often, right?
Well it wouldn't hurt, but we officially have proof that stars have been avoiding each other in track and field for much longer than most of the people reading this piece have been alive.
Check out this excerpt from the Scorecard section of the March 26, 1962 edition of Sports Illustrated, bemoaning the fact that two distance stars ran in the same meet but different events:
LET THE TWAIN MEET
When two fighters who would make a good match avoid each other there is the NBA to pay. But when the same situation occurs in distance running no one seems to mind too much. At the Los Angeles Times indoor meet last month two of the world's fastest milers, world-record holder Peter Snell of New Zealand and Jim Beatty of the U.S., ran in different events. In a race that was scarcely competitive, Snell set an indoor record in the 1,000-yard run and Beatty won by 75 yards in indoor track's first sub-4-minute mile. Now it seems that at the Coliseum Relays in Los Angeles on May 18 we are to be treated to a program in which Beatty will drop down to the half-mile while Snell goes up to the mile.
All of this gives the impression that the boys are avoiding each other, but one must suspect that it is not so much the boys as their coaches who are responsible. Coach Arthur Lydiard, asked why he was ducking memo a mono competition with Beatty last month, sniffed that "Snell's program calls for no miles just now." Coach Mihaly Igloi, asked much the same question about the Coliseum meet in May, replied that "My plans for him are to run his first hard mile at Modesto on May 26."
When it is convenient, the coaches tend to argue that their athlete's training program is inviolable, not to be altered by a yard. Still, a month ago we saw Snell drop everything to run a sub-4-minute mile as a favor to hometown friends (SI, March 5); and two weeks ago Beatty ran a sub-4 mile in Chicago one night, then did a fast 1,000 yards in Milwaukee the next.
It begins to appear that Snell and Beatty will not meet until the 1964 Olympics in Tokyo. Isn't it time that Igloi and Lydiard dropped the training schedule pretense and let their runners meet in the mile, which is where each of them belongs?
Some things never change, but Sports Illustrated covering indoor track like a major sport definitely has changed over the last half century.
****
7 Quotes Of The Week (that weren't quote of the day)
I – Shalane Flanagan's Goals For Berlin
"I've steered my goals (to) where (if)  it's not my day, maybe running a PR, which could be a 2:22 marathon. Sub-2:20 would be great and maybe the American record if that's in reach. It's a little scary and daunting to put it out there that's what I want to achieve, but I'm giving it a go. If I fall short, I fall short. Now is the perfect storm in terms of my fitness and where I'm compared to people that have made the attempt."
– Shalane Flanagan telling Chris Chavez about her goals for this weekend's BMW Berlin Marahton. For the record, Deena Kastor's American record is 2:19:36.
More: MB Discussion: Flanagan's record(?) attempt
###
II – Geoffrey Kipsang has a different plan for Berlin
"My aim will be simply to win the Berlin marathon; the rest will follow. If I win, perhaps the time may then likely end up becoming my personal best time, or even a world record, but that is not in my mind now."
– World Half Marathon champ Geoffrey Kipsang talking to Justin Lagat about his plans for the Berlin Marathon.
###
III – Quality over Quantity
"I'm not a huge mileage guy, I'm more a really good workouts guy. My coach says, 'Don't worry about the mileage, just worry about the quality workouts.'"
– reigning NCAA cross country champion Edward Cheserek talking last week in a Running Times feature on him. Don't let the quote fool you, Cheserek is doing 80 to 85 mpw, up from the 70 to 80 he was running at this point last year.
More: Informative Q&A With Edward Cheserek, Who Talks About The Oregon XC Team, Including Some Specific Workouts
###
IV – If A Tree Falls In A Forest….If A Runner Doesn't Tweet About A Race….
"This weekend I did my first individual race in almost a year. But no one really knows about it. Why? Because I didn't Tweet, Facebook or Instagram it. Shit the bed. Does it even count?!"
– former UAB runner Kirsty Addy of the UK blogging on Eightlane.org about a recent race.
###

V – Paula Radcliffe on how difficult her comeback has been

"It got to the point where I would pick up my daughter Isla from school and I'd be psyching up to walk there because my foot was going to be that sore. And the school was only 200 metres away. It was horrible. For a long time my ambition wasn't about getting back and competing. It was just trying to get my foot healthy."
"All I could do at first was Nordic pole walking. But one day I thought, 'I am just going to try and run a bit.' I started with a minute jog and then five minutes' walking. A minute jog, five minutes' walking."
– Paula Radcliffe talking to The Guardian about her comeback and her left foot injury. Radcliffe, who is now up to alternating between 90-105 and 70 every other week, had her first race of the year last week at the Worcester City 10-K where she ran 35:49.
More: MB Discussion: Paula Radcliffe is back!!! Aiming to run 35 minutes for 10k this weekend. Thoughts?
###
VI – Eliud Kipchoge Explaining How Unlike A Lot of Kenyans He's Been Able to Have A Long Career
"Discipline summarizes everything. I took up running seriously as my profession. I remained disciplined not only in matters to do with running, but in life generally. It involved making sacrifices and foregoing other pleasures that could interfere with my profession," 
– Kipchoge talking to Justin Lagat of RunBlogRun. Kipchoge, the 2003 world 5000 champ, is still just 29 years old officially.
###
VII – Bio-Rhythms Weren't En Vogue In 1957, You Simply Had A Good Day
"Bio-rhythms hadn't come in in 1957, but retrospectively I think it was a perfect bio-rhythm day for me. And when that happens, and you are also in top shape, it is possible to win as I won on that day…. I was running so well within myself that I had to hold back. I had plenty of energy spillover to watch the people, and wave at Jock, and do the things that some races would preclude, because they would demand every ounce of energy. But 1957 did not demand that. Even when I made my break, it was as if I were holding back. I never did let out. I kind of regret that…..So I never let out everything I had. Had I done that, I could have gone under 2:20."
– John Kelley talking to Toni Reavis in 1982 about his 1957 Boston Marathon win, the first by an American since 1945. Kelley won in 2:20:05. An $87,000 statue of Kelley was unveiled last week in Connecticut.
More: Toni Reavis Remembers The Great John Kelley Who Won Boston in 1957 *$87,000 statue of 1957 Boston Marathon winner John Kelley to be dedicated on Sunday in Mystic, CT Details of ceremony here.
****
Meet Martin Lel's Brother
We learned that five-time world marathon major champ Martin Lel has a younger brother. His name is Cybrian Kotut. He's 22 years old. He seems to really like Philadelphia. Two times is his life, he's broken 60:00 for 13.1. Both times the time was the same – 59:59 – as was the location – Philadelphia. Kotut ran 59:59 at the Rock 'n Roll Philadelphia Half Marathon both last year and this year.
He also has another claim to fame besides being Martin Lel's younger brother. He also was Mo Farah's rabbit at the 2014 Virgin Money London Marathon.
****
NCAA XC/What About The Sport?
We don't have much to say about NCAA cross country other than the early season results remind us why track and field struggles for ongoing popularity. In talking about track, in many ways everything but the national championships and world championships is nothing but practice for athletes and that makes the sport a tough sell. The 'regular season' is basically practice and largely meaningless and that's a tough thing to market to the fans. But that's also in large part why the championship part of track and field is so dramatic and popular. Everything comes down to a single race.
A meaningless regular season is even more true in NCAA cross country. A team's entire conference standing comes down to a single 25 minutes in later October (16-20 for the women). Then your national standing comes down to a single race in November.
In fact, it's even part of the NCAA rules of the sport that nothing before September 26th counts in determining who makes the post-season. Thus, in reality, the meets going on now are nothing but the equivalent of a pre-season game in football.
And teams are now taking the fact that the meets are officially meaningless to the extreme. For example, the #12 Iona men hosted the Brother John "Paddy" Doyle Meet of Champions last week and finished just 11th in its own meet. Two weeks before that, the #2 Oregon Ducks on the women's side hosted a meet and lost to unranked Portland. What happened? Two horrible performances? Two huge upsets?
No. The teams didn't bother to run their A teams. The Duck women were third in their own meet, were absolutely trounced by #3 Michigan State, and yet when the national rankings came out the next time, the Duck women stayed at #2.
It's the theatre of the absurd, but we're not sure there is a real solution to it (if you have a solution, email us). Our only thought is since the meets are meaningless, perhaps the NCAA should refer to them as pre-season meets. It's hard to explain to a casual Duck fan that the Ducks getting killed by Michigan State had no impact on their ranking whatsoever.
***
Weekly Free Coaching Advice From Caleb Ndiku
Athletes and coaches, remember, you can't really control if you win or lose a race in running. You can train your butt off, do everything right and lose to someone who does all of that but is more talented. What you can control is your own desire and work ethic.
We loved this quote that Caleb Ndiku gave to Kenya's Daily Nation, which reminded us of that.
"I always remember that winning is not everything, but wanting to win is what matters."
More: MB: Caleb Ndiku: "I always remember that winning is not everything, but wanting to win is what matters."
****
Others News of Note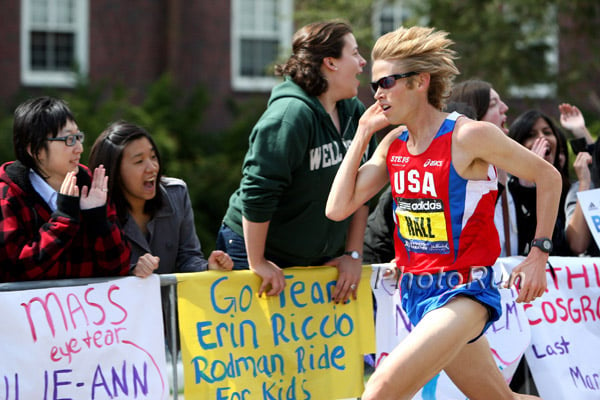 Ryan Hall Announces He's Now Being Coached By Jack Daniels "It has been a fun ride over the last couple of years being self-coached and I have learned a lot, but I feel like I am back in my old 'sophomore self' shoes looking forward to soak up everything Jack has to say." *Discuss *Competitor.com Article
Footlocker champ Grant Fisher has quit playing soccer
EPO cheat Martin Fagan is back … Runs 63:58 to win the Charleville International Half Marathon
****
Recommended Reads
Lengthy, interesting, IAAF profile of Dilshod Nazarov's long and bumpy road to becoming one of the world's top hammer throwers He's been training at the hammer since age 10 in war-torn Tajikistan and is self-coached with a little help from mom.
Grateful Paula Radcliffe to return to racing this weekend, hoping for sub 35 10k, and sub 2:30 in London She'd also like to race New York one last time.
LRC Q&A With Jack And Tim McGowan – The Sub-9 Twins Who Have Gone The DIII Route To Roger Williams University
****
Quotes Of The Day & Last Week's Homepages:
Note: To see a particular day's homepage, click on the hyperlink of the date. The hyperlink below the date on the quotes will take you to that particular article – not that day's homepage.
---
---
---
---
---
---
---
Questions? Comments? Email us.