The Americans are Ready for New York City 2014: Interviews with Meb Keflezighi, Deena Kastor, Desi Linden, Kara Goucher and More
By LetsRun.com
October 30, 2014
NEW YORK — We're three days out from the 2014 TCS New York City Marathon and things have really started to pick up in The City That Never Sleeps. New York Road Runners President CEO Mary Wittenberg opened the festivities this morning by introducing New York City mayor Bill De Blasio, NYC Police Commissioner Bill Bratton, 2009 NYC Marathon champion Meb Keflezighi and 2013 NYC Marathon women's wheelchair champ Tatyana McFadden.
Each described what the NYC Marathon meant to them, with Bratton recalling how he sat in the lead car during his first exposure to the race in the 1980s and Meb describing how emotional it was for him to win NYC in 2009 in a USA singlet after missing the Olympic team in New York two years earlier.
Article continues below player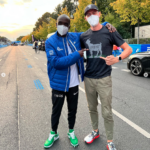 Kipchoge loves the 1:59:40 Shirt Get Yours Today
Shirts are $10 off if he breaks the world record and you order today.
De Blasio said, "This is a case where no one debates we have the biggest and the best marathon in the world." It's not surprising that De Blasio made that claim since he's the mayor of the city, but we'll leave it to the message boarders to determine which marathon is the best in the world.
Keflezighi spoke to the media following the press conference and later in the afternoon we caught up with the rest of the top Americans (Kara Goucher, Deena Kastor, Desiree Linden, Ryan Vail, Nick Arciniaga, Luke Puskedra). We pass on the highlights below.
Men first and then American women.
Meb Keflezighi is cautiously optimistic but wants no part of the CR attempt by Geoffrey Mutai and Wilson Kipsang
Keflezighi said that after some nagging injuries over the summer, his NYC buildup went well. Keflezighi was busy over the summer with media and sponsor obligations as well as a trip to the White House and was still dealing with the after effects of his Boston victory in April. Keflezighi said that if you look at the tape of Boston, his left foot wasn't landing correctly toward the end of the race and he believes that may have led to problems with his hamstring, knee and plantar fascia that limited his training and racing over the summer. He didn't do a tuneup race before NYC (his last race was Beach to Beacon, where he ran just 29:59 for 10k) but added that he didn't do a tuneup before the 2004 Olympics and that race turned out pretty well.
Those problems are behind Keflezighi now, and he is happy with where his body is heading into Sunday — he's done multiple runs of over 26 miles in the past few months. He's not in the kind of shape he was 10 years ago — Meb said that he was at peak fitness in 2004 — but that obviously doesn't mean he can't win on Sunday. The biggest difference in his training now compared to 10 years ago is that his training schedule, once rigid, is now very flexible. If he feels sore after a workout, he'll run a couple of easy 10/4 doubles the next two days and come back on his own terms rather than forcing himself to get ready for another hard workout.
We asked Keflezighi what his thoughts were on Geoffrey Mutai and Wilson Kipsang, who say they plan on attacking Mutai's 2:05:06 course record on Sunday, and Meb said that there's no way he can run that fast and that he planned to let them go early if they go out at 2:04/2:05 pace. Keflezighi said that he'll run as he always does, adapting to the race as it goes. If it takes 2:05 to win, Meb said he'd focus on finishing as high as possible and still putting together a good race. He also noted that it's a little ironic that he's now considered a tactical racer because when he used to race the mile in high school, he was known as a front-runner who would blast the first lap in 59 seconds and hold on for dear life.
Meb spoke to the assembled reporters for some time and the video of his interview is below. The insightful stuff, with details on his buildup and injuries, starts around the 9:00 mark.
Ryan Vail is shooting for top American honors
Vail was the top American last year at (13th overall in 2:13:23) and he's looking to repeat that feat in 2014 and move into the top 10 overall, top five on a great day. Vail said that if he can accomplish that and beat Keflezighi and Arciniaga "that will be enough to put me on the stage and say that I've got a shot [at the 2016 Olympic team]. "
When we spoke to Vail's coach Dave Smith earlier this week, he said that he believes Vail is in the shape of his life and Vail echoed that on Thursday. He said that his workouts are higher quality than the ones he ran before London (where he PR'ed in 2:10:57) and that he also went to altitude for the first time, spending four weeks in Flagstaff (check out all the details about his training on Vail's blog).
Vail is hoping for a big group to run with for the first part of the race after getting caught in no-man's-land last year, and he may get his wish as it seems like Keflezighi and Arciniaga have the same idea. How many guys will be on that group will depend on whether Mutai and Kipsang stick to their plan of going out at course-record pace and whether they can drag anyone else along with them.
Finally, Vail said that Smith — who coaches Vail for free — will be in attendance on Sunday (the first time Smith will have seen Vail race in a major marathon in person), as Smith will be flying out from Kansas right after the Big 12 XC Championships on Saturday.
Nick Arciniaga is aiming high in New York
Arciniaga ran the best marathon of his career in Boston in April (seventh in 2:11:47) and he's looking to top that on Sunday in New York, with a goal of a top-five finish. That would require a bump in fitness. Arciniaga is confident his body is ready, however, as he's done a number of workouts (including half marathon victories at Disneyland on August 31 and Baltimore on October 18) at 2:15 pace feeling really good and his sea-level training — up to 160 miles per week —  has indicated to him that he's ready for a big one.
One area in which Arciniaga believes he has improved is recovery. He said off-camera that he realized the importance of recovering after he ran the Grandma's Marathon in June exactly two months after Boston. In those two months, Arciniaga traveled a lot and may not have paid enough attention to recovery. When Grandma's rolled around, he didn't run awful (2:14:31) but was only ninth overall. We trust that he'll be fresh and ready to roll in New York.
The ideal scenario for Arciniaga is bad weather as that increases the chances that there will be a big lead pack at a moderate pace, hopefully around 1:04 to 1:06 for the first half, he said.
Luke Puskedra and His 1:01:36 Half PR Ready For His Debut
We'll have highlights with Luke typed up later, but the Nike Oregon Project athlete coached by New York City Marathon legend Alberto Salazar is ready for his debut. Luke said Alberto has not discussed any of his own New York exploits with him or given him specific instructions for New York. Luke's plan is to be competitive with the second pack and not focus on time. He likes that he's debuting in New York and not having to focus on time. Luke enters with an impressive 61:36 half marathon debut. Much of his training has been by himself with coaches Alberto and Pete Julian providing assistance on a bike.

American Women:
Kara Goucher is very focused on 2:28. "I know a lot of other people have [doubted that I could get back] but I haven't."
Goucher said that time isn't set in stone as she is aware the forecast isn't for great conditions (26 mph winds according to the Thursday afternoon's Weather.com forecast). With that said, she's not going to worry what the other elite women are doing out there on Sunday. "I'm here for a performance for myself," Goucher said.
"The goal is just a solid performance that shows people I'm back, shows myself I'm back and is a good starting point now for a big year of training," Goucher added. She also would like to make sure she closes strong. "I want my last six miles to be the fastest chunk of the race."
Goucher is pleased with how her training has gone after running 71:41 at the Philadelphia Rock 'n' Roll Half Marathon on September 20. She may not contend for the win in New York, but she remains confident in her chances of regaining her old fitness and making her third Olympic team in 2016.
"I haven't doubted that I could get back — I haven't. I know a lot of other people have but I haven't."
Desi Linden wants to get through 20 miles as efficiently as possible and then start racing
Linden has been focusing on 5:30 pace (2:24:12 for a full marathon) for a lot of her workouts but said that the head-wind in the forecast could mean that 5:30s in New York would feel much harder – much more like 5:20s in terms of effort. If that's the case, she said she would dial it back to make sure that she's running 5:30 effort, even if that's slower than 5:30 per mile. The big goal for Linden is to get to 20 miles efficiently and if she's feeling good, she'll really start focusing on racing and reeling people in at that point. Ideally for Linden, that would mean she's battling for the top five or top three. Linden used a similar strategy in Boston this spring and ran a great time (2:23:54) but was only 10th because the women in front of her didn't die and all hung on to run fast. Perhaps if a few people blow up on Sunday, she'll be able to improve on her place from Boston and notch her fifth career top-five finish in a major.
Can 41-Year-Old Deena Kastor Be the Top American in NYC?
Deena Kastor is the queen of American marathoning in the 21st century with her 2004 bronze medal and 2:19:36 American record.
She's running better than she has a long time in 2014 and is targeting a 2:25 in New York, faster than her 2:26:58 debut 13 years ago. We spoke to Deena for 13 minutes on Thursday and she had some pretty interesting things to say.We recapped them in their own separate article here.
*Separate Article on Deena Here. 
Photo: