Sifan Hassan and Abebe Aregawi Win Heats, Set Up Clash For Women's 1500 Final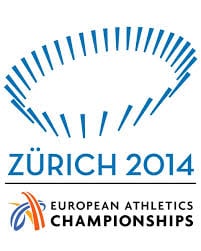 August 12, 2014 to August 15, 2017
By David Monti, @d9monti
(c) 2014 Race Results Weekly, all rights reserved
ZÜRICH (12-Aug) — Europe's top two middle distance runners this season, Sweden's Abeba Aregawi and the Netherlands' Sifan Hassan, easily won their individual heats in the first round of the women's 1500m. Aregawi beat back a nominal challenge from Serbia's Amela Terzic, to win the first heat in a pedestrian 4:11.64 to Terzic's 4:11.75.
"The race was nice, I hope to win the final and I don't mind about the time," Aregawi told European Athletics interviewers. "It will be a good battle with Hassan."
Article continues below player
Hassan won the second heat comfortably in 4:09.55, helped along by the decent pace set by Poland's Renata Plis, who finished second (4:10.33). Like Aregawi, Hassan formerly competed for Ethiopia.
"It's very nice," Hassan told Race Results Weekly in English while a Dutch federation official sought to hurry her through the mixed zone. "I feel confident going into the final."
Also advancing (with medal hopes) were Norway's Ingvill Måkestad Bovim, Britain's Hannah England and Laura Weightman, and Russia's Svetlana Karamasheva. Måkestad Bovim, who is making a comeback from both maternity leave and an injury, looked strong in the final sprint to take fourth in the first heat.
"It felt like I was running a 3-K in the beginning," Måkestad Bovim said of the slow early pace. "But I was strong in the finish."
Not advancing was Britain's Laura Muir. The runner-up at the British Championships this year, who later ran a sizzling 4:00.07 in Paris, got her feet tangled with the Netherlands' Maureen Koster at the bell, nearly falling. She finished sixth in the first heat in 4:14.69.
"I'm disappointed, especially because I'm ranked #3," the soft-spoken Muir told reporters. She continued: "I almost fell a couple of times as I was trying to get past people."
Results
1500 m

Heats

12 August

Heat 1

1
Abeba Aregawi
SWE
5 Jul 90
4:11.64
Q
2
Amela Terzić
SRB
2 Jan 93
4:11.75
Q
3
Svetlana Karamasheva
RUS
24 May 88
4:12.94
Q
4
Ingvill Måkestad Bovim
NOR
7 Aug 81
4:13.02
Q
5
Anna Mishchenko
UKR
25 Aug 83
4:14.24
6
Laura Muir
GBR
9 May 93
4:14.69
7
Maureen Koster
NED
3 Jul 92
4:15.11
8
Sonja Roman
SLO
11 Mar 79
4:16.38
9
Esma Aydemir
TUR
1 Jan 92
4:16.90
SB
10
Margherita Magnani
ITA
26 Feb 87
4:17.19
11
Agata Strausa
LAT
2 Dec 89
4:17.61
12
Isabel Macías
ESP
11 Aug 84
4:17.76

Heat 2

1
Sifan Hassan
NED
1 Jan 93
4:09.55
Q
2
Renata Pliś
POL
5 Feb 85
4:10.33
Q
3
Federica Del Buono
ITA
12 Dec 94
4:10.47
Q
4
Laura Weightman
GBR
1 Jul 91
4:10.55
Q
5
Hannah England
GBR
6 Mar 87
4:10.73
q
6
Diana Sujew
GER
2 Nov 90
4:11.27
q
7
Anna Shchagina
RUS
7 Dec 91
4:11.27
q
8
Nataliya Pryshchepa
UKR
11 Sep 94
4:11.42
q
9
Luiza Gega
ALB
5 Nov 88
4:12.25
10
Lucia Klocová
SVK
20 Nov 83
4:14.77
11
Diana Mezuliáníková
CZE
10 Apr 92
4:15.40
12
Gamze Bulut
TUR
3 Aug 92
4:18.28
13
Liina Tšernov
EST
28 Dec 87
4:25.18
# # # # #
The first distance medals of these championships will be handed out tonight when the women's 10,000m is contested. Medal favorites include Portugal's Ana Dulce Félix (the defending champion) and Sara Moreira, France's Sophie Duarte and Clémence Calvin (the 2014 European Cup Champion), Britain's Jo Pavey (the Commonwealth Games 5000m bronze medalist at 40 years-old), Germany's Sabrina Mockenhaupt, and Ireland's Fionnuala Britton. Two-time TCS New York City Marathon champion, Jelena Prokopcuka of Latvia, has the fastest personal best in the field, 30:38.78, set in 2006.