Women's 10,000m Post Race Reaction: Emma Bates, Elinor Kirk, Julie Bottorff, Erin Finn, Elvin Kibet and Megan Curham Interviews
by: LetsRun.com
June 12, 2014
We've got our full NCAA 10,000m women's recap here with analysis, play by play, photos and post-race reaction.
For those of you just looking for post-race reaction it is below. Videos with Emma Bates, Elinor Kirk, Julie Bottorff, Erin Finn, Elvin Kibet and Megan Curham.
Article continues below player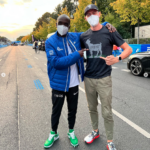 Kipchoge loves the 1:59:40 Shirt Get Yours Today
What a legend!
Bates: "I just wanted it that bad"
Afterwards Bates spoke about the dramatic last lap and battle with Elinor Kirk over the last 150m. She admitted that she had a little self-doubt when Kirk passed her because she didn't think she had anything left, but said, "I just wanted it that bad. I think it was like a mental push that just kind of pulled me to the finish line. And I think that's what I needed in that last stretch, was my self-belief that I could do it."
Asked if when Kirk was moving on her if she was afraid she might have gone too early Bates said definitely not because usually she has the opposite problem and feels she waits too long and loses at the line. Here she was "really proud" that she made the move at 300 and figured, "if anyone was going to beat me they were going to have to really try hard to do it."
Talking about finally getting an NCAA win (she has a four top 5 finishes including runner-up in XC) she said even though people say she's always at the edge of glory she still considers herself an underdog in these races even if it isn't the case, so to say she's excited with this win is an "understatement".
Looking ahead to the 5K she said she just wants to improve on her 7th place finish from last year and feels anything she can do there is icing on the cake.
Elinor Kirk: "Over the Moon"
Runner-up Elinor Kirk of UAB of Wales was "over the moon" with her second-place finish. She said she gave it her all and was quite happy. That being said, when we asked her if she could would run the last lap differently if given a do-over, she admitted that she would. She said after she finished she realized she ran a lot of extra ground on the final turn. Perhaps it would have been better to save ground and wait until the final stretch.
After Saturday's 5,000 final, Kirk will run the 10,000 and 5,000 at the Commonwealth Games.
Bottorff Proud
The third-placer Julie Bottorff of Duke was proud of the effort she gave and not disappointed that she didn't win. She said Duke coach Kevin Jermyn joked with her after the race that she deserved to win given her fitness this year but not in 2011 when she won in a pedestrian 34:25.86 in a year when her pb was just 33:18.45.
Frosh Erin Finn
Even though Michigan freshman Erin Finn faded to 6th, she was happy with her race and was proud to be an All-American as a freshman. She said she had a small foot tendonitis issue that flared up after Regionals and caused her to lose a bit of training time. She felt that plus the long season "took a little bit of the pop" out of her legs today. Asked about taking the lead during the race and if she had feared a fast finish from the women with faster closing speed, Finn said that wasn't it at all because she knows she is capable of a much faster 1500 PR than she has on paper so she wasn't scared of the speed of her competitors. On taking the lead and trying to run a bit faster she said, "I just feel like we're in a 10K, we're not in a 1500, so why race it like a 1500? It's a lot entertaining I think for the crowd when it's faster and it's more satisfying."
Elvin Kibet of Arizona
Arizona's Elvin Kibet was extremely happy with her 4th place finish and was even finding it hard to stop laughing and smiling for her interview. She was sitting at the back of lead group for a long time and said that she missed the move when the top group broke away, but was happy she was able to make up a lot of ground with a good kick at the end.
Megan Curham's Mom Knows Best
We also spoke with Princeton's Megan Curham, who ended a fantastic freshman campaign with an 11th-place showing. Curham talked about how great it is to compete with Abbey D'Agostino and how she was thrilled to have made it to NCAAs in both cross country (All-American, 34th) and outdoors as a rookie.
She said that as she prepared to head off to college her mom, who attended all of her races this year, looked at the schedule and said she'd look into making flight and hotel arrangements for Eugene. Megan told her mom not to get ahead of herself, but in the end, we guess Mom knows best:
Quick Take #1: Even though this ended up as a closer race than last night's men's 10,000 final, it didn't feel as exciting. The women's 10,000 was a great race — you can't ask for much more than a pair of runners going stride-for-stride over the last 100. But compared to Edward Cheserek's electrifying burst of speed in the men's 10,000, it wasn't as exciting. Cheserek's 24.8 last 200 was world-class and he had the added bonus of racing in front of the hometown crowd. With colder conditions on Thursday and no Ducks in the race, there were fewer fans in the stands for the women's race and less crowd noise at the finish. Many of the Hayward faithful left before the start of the 10,000m final with no Ducks in the final.
Quick Take #2: Is Bates the favorite for NCAA XC this fall? Bates still has the 5,000 on Saturday, where she'll face fellow junior Cuffe. If Bates can somehow double back and beat Cuffe (whose 15:11.13 5,000 PR is #3 all-time in the NCAA), she has to be the favorite for the XC title in the fall. If not, the two will likely enter as co-favorites.