Men's Mid-D/Steeple Preview: Mac Fleet And Anthony Rotich Look To Repeat; Indoor Champ Brandon McBride Favored In 800
By LetsRun.com
June 9, 2014
The jewel of the men's mid-d/steeple races at the 2014 NCAA Outdoor Track and Field Championships is Saturday afternoon's 1500-meter final. The race features defending champ and hometown favorite Mac Fleet of Oregon, 3:33 man and 7-time NCAA champ Lawi Lalang of Arizona and four more sub-3:40 guys as well as our darkhorse pick, Peter Callahan of New Mexico. One name missing from that field is UTEP's indoor mile champ, Anthony Rotich, who will instead look to repeat in the steeplechase.
In the 800, Mississippi State's Brandon McBride will attempt to defend his indoor title, while Florida will attempt to pick up important team points as it enters with three of the fastest 10 guys in the NCAA. We break down each event below.
Article continues below player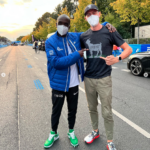 Kipchoge loves the 1:59:40 Shirt Get Yours Today
What a legend!
Men's 800 (Prelims Wednesday 7:30 p.m. ET; Final Friday 8:15 p.m. ET)
| | | | | |
| --- | --- | --- | --- | --- |
| Name | Year | School | PB | Comment |
| Brandon McBride | Mississippi St. | SO | 1:45.35 | Canadian was indoor champ; NCAA leader; SEC champ |
| Eliud Rutto | Mid. Tenn. St. | SO | 1:45.37 | 7th last year; didn't make final indoors; C-USA champ; #2 NCAA |
| Edward Kemboi | Iowa St. | JR | 1:45.98 | 5th in '11 & '12; 2nd indoors; Big 12 champ; #3 NCAA |
| Chris Low | Long Beach St. | JR | 1:47.52 | Big West champ |
| Samuel Ellison | Villanova | SR | 1:47.60 | Didn't make final last year; 6th indoors; 2nd at Big Easts |
| Sean Obinwa | Florida | SR | 1:46.68 | Didn't make final last year or indoors; 6th at SECs |
| Dylan Capwell | Monmouth | FR | 1:47.68 | Had only run 1:49.40 but PR'd twice at prelims to qualify |
| Andres Arroyo | Florida | FR | 1:47.57 | Frosh didn't make finals at SECs or indoor NCAAs |
| Hector Hernandez | Texas A&M | SO | 1:47.73 | Didn't make finals last year; 2nd at SECs |
| Henry Tufnell | Brown | JR | 1:47.99 | Brit wasn't in NCAA top 100, but has PR'd 3 straight races (2x at prelims) to qualify |
| Derrick Daigre | Washington | JR | 1:48.03 | Pac-12 champ |
| Alex Amankwah | Alabama | JR | 1:47.89 | First NCAA appearance; didn't make SEC final |
| Harry McFann | Columbia | SR | 1:47.91 | Ivy champ hasn't made final in last 2 appearances at outdoor NCAAs |
| Boru Guyota | Oregon | SR | 1:47.75 | Ethiopian was 5th at Pac-12s; 8th indoors in '13 |
| Nick Hartle | UCLA | SO | 1:47.51 | 2nd at Pac-12s |
| Keffri Neal | Kentucky | JR | 1:47.57 | Canadian won SEC 1500; won SEC 800 indoors |
| Ryan Schnulle | Florida | SO | 1:47.15 | 5th indoors; 3rd at SECs |
| Patrick Rono | Arkansas | JR | 1:46.49 | Didn't make final last year; 3rd indoors |
| Luke Lefebure | Stanford | JR | 1:48.79 | Ran on DMR at indoor NCAAs last three years; didn't make Pac-12 final |
| Joe McAsey | Illinois | SO | 1:47.73 | Big 10 champ as a soph. |
| Grant Grosvenor | Montana St. | JR | 1:49.02 | Didn't make final last year; only 4th at Big Sky meet |
| Jesse Jorgensen | Washington St. | JR | 1:48.62 | 8th indoors; 4th at Pac-12s |
| Tomas Squella | Arkansas | JR | 1:46.76 | Chilean was 4th indoors; didn't make final last year |
| Otniel Teixeira | Florida St. | SO | 1:48.74 | ACC champ |
The top 800 runner in the NCAA right now is Mississippi State's Brandon McBride. The Canadian's only collegiate loss in 2014 was back in February, when he was second to 400 specialist Brycen Spratling of Pittsburgh in a 500 at the Armory. McBride was also beaten at Mt. SAC in April, but that came against pro runners and McBride still managed to run an NCAA-leading 1:45.35, handily beating one of his chief rivals, Iowa State's Edward Kemboi (1:46.14), in the process. When McBride defeated Kemboi at NCAA indoors, it was viewed as a bit of a surprise. After his win there and his performance at Mt. SAC, there's no doubt about it now: McBride is the favorite.
Never say never in an 800, but apart from Kemboi (who was second indoors), there are only a couple of guys who could threaten McBride. Kemboi, who was second indoors and has the #3 time in the NCAA, is obviously one. There's also Middle Tennessee State's Eliud Rutto, who is just .02 back of McBride's PB at 1:45.37. Rutto didn't make the final indoors, but he was seventh in this race last year. Arkansas's Patrick Rono (#5 NCAA; 3rd indoors) also has a shot.
NCAAs is as hard to make as the final at SECs
One other reason to like McBride: he won the toughest conference meet in the NCAA at SECs. Of the nine guys in that final, seven will run at NCAAs. Two more didn't even make the final but still qualified for NCAAs. In total, nine SEC runners will compete in Eugene, the same amount that ran in the SEC final in Lexington last month. Basically, NCAAs are as hard to make as the final at SECs.
Florida's Team Title Hopes
Three of those SEC runners will have an impact on the team championship: Florida's Sean Obinwa, Ryan Schnulle and Andres Arroyo. Oregon has just one runner, Boru Guyota, in this race, and he's not expected to score. On the other hand, Track & Field News has Obinwa, Schnulle and Arroyo going 5-8-10 for five points in the 800. All three are ranked in the NCAA top 10 right now, and if they can move up to 3-5-8, that would bring Florida level with Oregon at 78 points in Track & Field News' projections (obviously those projections aren't set in stone, but they offer a nice guideline of how the meet will shake out).
So can they move up? Obinwa was 4th indoors in 2013 but his recent history isn't great — he didn't make the final outdoors in 2013 or indoors in 2014. Schnulle was fifth indoors and third at SECs and looks like a good bet to score here. The frosh Arroyo is a huge talent — he's #6 all-time among U.S. high schoolers at 1:47.79 — but he didn't make the final at SECs. As good as the SEC field was, it's even harder to make the finals at NCAAs. Arroyo is definitely one to watch down the road, but any points he gives the Gators have to be viewed as a bonus. Track & Field News seems to be on the money here: expect five points for the Gators in the 800.
This should be a great event over the next couple of years.
The class of 2013 was very strong at 800, with two-time NCAA champs Elijah Greer and Robby Andrews (though he left earlier than last spring) and World Junior silver medalist Cas Loxsom all moving on to pro careers. The class of 2014 isn't great — Obinwa is the only senior among the NCAA's top 11 this season, and there are only four seniors in the field of 24 at NCAAs. But that just makes for some exciting races in 2015 and 2016. Kemboi and Rono are juniors, McBride and Rutto are sophomores and Arroyo is just a freshman. McBride and Rutto have already run 1:45 and they're not even halfway done with their careers. This event will be very hard to score in next year.
Looking for a darkhorse? We've got one for you.
Up top, we raved about the SEC's strength in the 800. Well there is another super talented guy in the field from Canada who has dominated SEC competition this year just like McBride – Kentucky's Keffri Neal. Neal won the SEC indoor title at 800 (Mississippi State doesn't run SECs indoors so McBride wasn't in the race) and then the SEC 1500 outdoors (he doubled back in the 800 at SECs and was only 8th).
In between those SEC championships, he also got our attention with a brilliant run on the opening 1200 leg of the DMR at Penn Relays where he outkicked reigning NCAA champ Mac Fleet in the final 200 and handed off in the lead in 2:53.70. Given that run and given his SEC 1,500 title, we imagine some thought he'd run the 1,500 at USAs. But he's in the 800 fresh and can't be discounted.
LRC Prediction: We're virtually certain an AMerican isn't winning this one.
1) McBride 2) Kemboi; 3) Rutto
More: LRC Archive: Canada's And Mississippi State's Brandon McBride Arrives As The 800′s Newest Collegiate Star
Men's 1,500 (Prelims Thursday 7:30 p.m. ET; Final Saturday 5:18 p.m. ET)
| | | | | |
| --- | --- | --- | --- | --- |
| Name | Year | School | PB | Comment |
| Lawi Lalang | SR | Arizona | 3:33.20 | NCAA leader has 7 NCAA titles. Won Pac-12 1500/5k. Also in 5k. |
| Peter Callahan | JR | New Mexico | 3:40.40 | Won Mountain West 1500; anchored Princeton DMR to win indoors in '13 |
| John Simons | SR | Minnesota | 3:40.56 | 10th last year; 6th in indoor 3k |
| Thomas Joyce | SO | California | 3:41.28 | 8th at Pac-12s |
| Jake Hurysz | JR | Colorado | 3:40.63 | 12th in indoor 3k; didn't make Pac-12 final |
| Izaic Yorks | SO | Washington | 3:42.29 | Didn't make final indoors; 6th in Pac-12 800 |
| Sam Prakel | FR | Oregon | 3:42.30 | Ranked 71st entering prelims; PR'd twice to qualify |
| Mac Fleet | SR | Oregon | 3:38.35 | Trying to become first repeat winner since Seneca Lassiter ('97/'98); 3rd indoors |
| Michael Atchoo | SR | Stanford | 3:39.57 | 3rd at Pac-12s; anchored DMR to win at NCAA indoors |
| John Gregorek | SR | Columbia | 3:42.72 | 6th indoors; 2nd at Ivy champs |
| Rich Peters | JR | Boston University | 3:37.67 | Brit was 4th indoors; didn't make final last year |
| Ben Saarel | FR | Colorado | 3:41.54 | 4th at Pac-12s; 3rd in indoor 3k; 8th at NCAA XC |
| Alfredo Santana | SR | La Salle | 3:43.21 | 2nd at A-10 5k/10k |
| Nick Harris | FR | Washington | 3:42.84 | 5th at Pac-12s |
| Brannon Kidder | SO | Penn St. | 3:38.82 | 3rd in 800 last year; 2nd at Big 10s; #3 NCAA |
| Jeremy Greenwald | JR | Georgia Tech | 3:44.57 | Didn't make final at ACCs |
| Adam Jones | SO | Samford | 3:44.89 | 2nd at SoCon meet |
| Rorey Hunter | JR | Indiana | 3:44.59 | Big 10 champ |
| Sam Penzenstadler | JR | Loyola (Ill.) | 3:43.25 | 7th in indoor mile; 2nd in MVC 1500; won MVC 800 |
| Grzegorz Kalinowski | SR | E. Michigan | 3:41.80 | Pole was 2nd in MAC 1500; won MAC 800 |
| Jordan Williamsz | SO | Villanova | 3:36.74 | Aussie Big East champ was 8th indoors |
| Grant Pollock | SR | Virginia Tech | 3:40.77 | ACC champ; didn't make final last year |
| Joel Hubbard | SO | Syracuse | 3:43.12 | Didn't make final at ACCs |
| Matt Hillenbrand | SR | Kentucky | 3:43.90 | 3rd at SEC; 10th indoors |
Clear your schedule on Saturday at 5:18 p.m. ET because you're not going to want to miss the metric mile final.
Defending champ Mac Fleet of Oregon, who's looking to become the first man to repeat at 1500 since Arkansas' Seneca Lassiter in 1997/1998 and is trying to help the Ducks win their first team title since 1984, will be looking to use his patented big kick to outgun Arizona's front-running Lawi Lalang, for whom the 1500 final will be the last track race in a storied NCAA career that so-far has produced 7 NCAA titles.
Those aren't the only potential winners. If you're looking for a dark horse, why not New Mexico's Peter Callahan? The Princeton grad was rarely healthy outdoors over the past four years, but he's been great in his first year in Albuquerque and could be primed for an upset. One more name to remember: Penn State's Brannon Kidder, a true sophomore who ran 3:38.82 at Mt. SAC.
The Duck
Let's begin with Fleet, the defending champ who was third indoors. Fleet hasn't run super fast this year (3:40.00) but he's only run two 1500s outdoors and he did beat Lalang in the first of them. He's a great championship racer , and was a part of two winning Championship of America teams at the Penn Relays. It's hard to call Fleet a favorite in this race because of what Lalang has accomplished (3:33 PB, beat Fleet indoors), but Lalang will be doubling back from the 5k the night before and won't be fresh for the final.
If Lalang wins the 5k the night before, we say he's the favorite. If he doesn't, we say give how Fleet won last year and beat Lalang earlier this year outdoors that Fleet is the favorite.
The Legend
Win or lose at NCAAs, Lawi Lalang will go down as one of the greatest NCAA runners of all time. He's not completely done (he still has XC eligibility), but Saturday's 1500 final will be his final race on the track in a career that has produced seven NCAA titles so far (four indoor, two outdoor, one XC). Because he lost to Edward Cheserek in the 5k at indoor NCAAs (and later got "only" second in the mile), people may have forgotten just how impressive Lalang's career has been. Here's one way of visualizing it.
Lalang's PBs at 1500 and 5000 are 3:33.20 and 13:00.95. Both are the fastest times ever by an collegiate runner in the United States(though they came after the NCAA season was over).
Let's put that in perspective for you. Forget about collegians; how many American-born runners can match those times?
None. Tw0-time world outdoor champ Bernard Lagat is the only American who has run both 3:33 and 13:00. Obviously, Lalang, like Lagat, was born in Kenya. But our point remains: even labeling him as the fastest collegian of all time is falling short.
History repeats itself?
The situation facing Lalang at NCAAs in 2014 reminds us of the one facing Sam Chelanga when he was a senior in 2011. Chelanga, like Lalang, entered that meet as a collegiate legend. He had won three NCAA titles and held the 10k course record at Terre Haute (28:41) and the collegiate record at 10k outdoors (27:08). Chelanga, like Lalang, was a heavy favorite to win the 3k/5k double at indoor NCAAs, but he was outkicked by Iona's Leonard Korir in the 5k and was just 14th in the 3k. At NCAA outdoors, Korir beat him again in the 10k on Thursday night, destroying him over the final 300 meters. Saturday's 5k would be Chelanga's final race, but Chelanga had shown he didn't have the kick to win a championship 5k. Everyone was ready to give the title to Korir.
But that's not what happened. Knowing he couldn't outkick the top guys, Chelanga tried to break the field from the front, and he was successful. He won in 13:29 to close out his NCAA career in style.
This year, we've got a similar situation with Lalang, who was dusted by Cheserek indoors and will face him again in Thursday night's 5k. Everyone is ready to handle the title to Cheserek. We could definitely see a repeat of 2011: Lalang is outkicked in the 5k and decides to take the 1500 from the front at a pace that only he can handle (this is how he won the indoor mile in 2012, by the way). You might call it far-fetched, but others might call it destiny. After all, the man who was second to Chelanga in the 5k in 2011? None other than Lawi Lalang.
The Dark Horse
Perhaps the most intriguing name on the start list is New Mexico's Callahan, the US junior chap in 2010 who ran in just two outdoor meets over his final three years as an undergrad at Princeton. Callahan is finally healthy for an outdoor season and has been running great: he was the Mountain West champ at 1500 and ran a PB of 3:40.40 at the West prelims.
At Princeton, Callahan was a stud indoors but was never healthy outdoors after winning the U.S. junior championships as a freshman in 2010. He was 4-for-4 at the indoor Heps (Ivy League championships) in his career, finished sixth in the indoor mile at NCAAs in 2012 and anchored the Princeton DMR to a win at NCAAs in 2013. Last spring, Callahan cross-trained almost exclusively, barely running at all, yet still came out and won the Heps 1500 title in his only meet of the season. Like Fleet, he has a lethal kick (go back and read our recap of his DMR win in '13) and has proven that he's among the best in the NCAA when healthy. Callahan is healthy now and should contend for the win at NCAAs under the guidance of New Mexico coach Joe Franklin, who guided Lee Emmanuel to a pair of NCAA mile titles a few years back.
The PAC-12 is to the 1,500 as the SEC is to the 800.
We mentioned above that the SEC has nine runners in the 800 at NCAAs, but the Pac-12 might be even more impressive in the 1,500. Like the SEC, the Pac-12 has nine qualifiers in the men's 1500. But unlike the SEC, which splits its schools between the East and West regions at the prelims, every Pac-12 school is in the West (therefore fewer spots are available to Pac-12 runners than SEC runners). That means that the Pac-12 had three times as many qualifiers in the men's 1500 than every other conference from the West COMBINED. That might even be understating the Pac-12's dominance since the #2 time in the country (over 2 secs faster than #3) belongs to another Pac-12 runner who didn't enter the 1,500: Edward Cheserek.
Speaking of Cheserek, he might by the best 1,500 runner at the U of O right now. Luckily for Fleet, he's in the 10,000 and 5,000 and not 1,500.
Prediction: We'll go with the big upset.
1) Callahan 2) Fleet 3) Lalang
(Think about how good Lalang is for even trying to win this race. He won the 10,000 and 5,000 last year. If he wins the 5,000 the day before, we think he'll win here)
PS. One more name to consider is the man who actually won the Big 10 title over Brannon Kidder of Penn State – Rorey Hunter of Indiana. We don't see Hunter winning however. If the race is super fast, it likely goes to Lalang or Fleet. If it's 3:39 or slower, the big kickers likely will thrive.
More: LRC Archives: 2013 NCAA Men's 1,500: Oregon's Mac Fleet Kicks To Victory To Delight Of Hometown Crowd
Men's 3,000 Steeplechase (Prelims Thursday 8:35 p.m. ET; Final Saturday 5:57 p.m. ET)
| | | | | |
| --- | --- | --- | --- | --- |
| Name | Year | School | PB | Comment |
| Mason Ferlic | SO | Michigan | 8:38.74 | Didn't make final last year; 3rd at Big 10s |
| Anthony Rotich | JR | UTEP | 8:21.19 | NCAA leader and defending champ; won mile indoors; #7 all-time NCAA |
| Ole Hesselbjerg | JR | E. Kentucky | 8:41.17 | 2-time Danish champ was 7th last year; #4 NCAA |
| Kyle King | SO | Virginia | 8:41.53 | ACC champ coming off 7-sec PR at prelims |
| John Prizzi | JR | New Hampshire | 8:42.20 | America East champ ran 5 sec PR to qualify |
| Stanley Kebenei | JR | Arkansas | 8:24.45 | Won 5k/steeple at SECs. 3rd in NCAA steeple last year. Also entered in 5k. |
| Tanguy Pepiot | JR | Oregon | 8:33.42 | Frenchman needs to score to help Oregon's team chances |
| Jacob Smith | SR | High Point | 8:44.01 | Canadian ran 13-sec SB to qualify |
| Tripp Hurt | JR | Furman | 8:44.28 | Massive 14-sec PR in prelims to qualify |
| Brandon Doughty | SO | Oklahoma | 8:44.34 | Big 12 champ ran 8-second PR to qualify |
| Jake Waterman | SR | Purdue | 8:44.37 | Ran at D-III Wheaton (Ill.) and PR'd by 6 secs to qualify |
| Jared Berman | SR | Virginia Tech | 8:43.95 | 3rd at ACCs |
| Emil Blomberg | JR | UT-Arlington | 8:44.78 | Swedish Sun Belt champ ran 7-sec PR to qualify |
| Danny Thater | SR | Tulsa | 8:45.30 | 2nd at C-USA champs; 14-sec PR to qualify |
| Eddie Owens | JR | Princeton | 8:46.41 | Only 8th at Ivy champs but ran 5-sec PR in prelims |
| Robert McCann | SO | Drake | 8:46.44 | MVC champ |
| Alex Deir | JR | Oklahoma | 8:46.69 | Former UNC runner ran 6-sec PR to qualify |
| Max Darrah | JR | Georgetown | 8:43.71 | 11th last year; 4th at Big Easts |
| Caleb Hoover | JR | Northern Arizona | 8:44.99 | Big Sky 5k/steeple champ |
| Andrew Gonzales | SR | Washington St. | 8:47.14 | 3rd at Pac-12s; 7-sec PR to qualify |
| Dylan Sorensen | SR | Georgetown | 8:47.07 | Big East champ; didn't make finals last year |
| Alex Brill | SR | Wisconsin | 8:39.52 | 5th at Big 10s; didn't make final last year |
| Edwin Kibichiy | FR | Louisville | 8:47.78 | AAC champ ran 8-sec PR to qualify |
| Blake Theroux | JR | Colorado | 8:49.95 | 2nd at Pac-12s |
Barring a fall, defending champ Anthony Rotich of UTEP should win the men's steeplechase final on Saturday afternoon. Rotich hasn't lost to a collegiate opponent at any distance since the Husky Classic 5k on February 15 (when he was doubling back from a 7:56 3k the day before) and hasn't lost to an NCAA runner in the steeple since NCAAs in 2012. If that's not enough to convince you, Rotich also won the mile at NCAA indoors, becoming the first NCAA steeple champ to win a title in another event since Arkansas' Dan Lincoln pulled off the 10k-steeple double at NCAAs in 2003. Rotich's PR of 8:21.19 is also #7 all-time in the NCAA. He's the man to beat.
The only runner who could challenge Rotich is Arkansas' Stanley Kebenei, who was third last year (three seconds behind Rotich). Kebenei is the only guy whose PR (8:24.45) is within 12 seconds of Rotich and it should be a two-horse race between these two. Working against Kebenei is the fact that he's also entered in the 5k. That means he'll have to run the steeple prelims on Thursday night, the 5k final on Friday night and the steeple final on Saturday afternoon. Though Kebenei is far enough ahead of the rest of the field that he'll still probably get second doubling back, he's at a disadvantage compared to Rotich, who won't have a hard 5k in his legs from less than 24 hours earlier.
So why would Kebenei even enter the 5k if his best chance to win is the steeple? Arkansas is probably trying to maximize its team points, assuming that Kebenei could take some points in the 5k and will still finish no lower than second in the steeple. Track & Field News has the Razorbacks coming in a distant fourth in the team race, 23 points back of Texas A&M in third and 43 behind first-place Oregon, so they seem to be going for broke.
The NCAA preliminary round is the Stanford of the steeplechase.
The two Stanford meets every spring are famous for producing tons of PRs because of the ideal temperatures and the quality of the competition. The NCAA prelims, held this year in Jacksonville, Fla., and Fayetteville, Ark., on May 29-31, aren't always ideal temperature-wise, but the quality of competition produces an inordinate number of PRs in the steeplechase.
Consider this: of the 24 NCAA qualifiers in 2014, 11 ran PRs of 5 seconds or more in the preliminary round. That's almost half the field! Included in that total are two guys who ran massive 14-second PRs to qualify in Furman's Tripp Hurt and Tulsa's Danny Thater.
Championship steeples in general have a tendency to go faster because being at the front offers the advantage of a clear run-up to the barriers. Rotich and Kebenei, for example, both ran their PRs in the NCAA final last year. With 16 guys in each heat at the prelims, the best guys want to get to the front to stay out of traffic and that ends up making the pace fast. When you add in the fact that a several of the qualifiers in the steeple are from small conferences and don't get many opportunities to run fast, it's not a huge surprise that there were so many PRs in the steeple in the prelims.
The lesson here is that unless you're a top-10 guy in the NCAA, you better come to the NCAA prelims ready to set a PR. The #24 time in the country this year before the prelims was 8:50.45, but the last qualifiers were 8:47.78 (East) and 8:49.95 (West). 2013 was similar: 8:50.85 was #24 in the NCAA but you needed to run 8:50.29 (East) or 8:41.70 (West) to advance. In any other distance race, if you run a top #24 time at the NCAA prelims, you'll qualify easily.
Prediction
1) Rotich 2) Kebenei 3) Hesselbjerg
More: LRC Archive: 2013 NCAA Men's 3,000m Steeplechase: Anthony Rotich Wins as Henry Lelei Goes Down On The Final Water Barrier
*Anthony Rotich Outkicks Frontrunning Lawi Lalang To Win 2014 Men's Mile Title As Oregon's Mac Fleet's Big Kick Comes A Little Too Late