David Rudisha will return to racing at next weekend's Prefontaine Classic with a DREAM 800 – Rudisha, Aman, Amos, Kaki, Solomon
by LetsRun.com
May 21, 2014
Nearly three weeks ago, after his coach let something slip in an interview, LetsRun.com determined that David Rudisha was going to be making his long-awaited return from injury at the 2014 Prefontaine Classic in Eugene next Saturday: Good news/bad news: Rudisha has new injury and is out of Doha, but seemingly had been added to 2014 Pre Classic.
Today, it became official as shown by the press release below
Article continues below player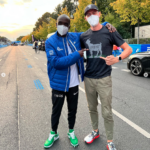 Kipchoge loves the 1:59:40 Shirt Get Yours Today
What a legend!
The race is going to be SPECIAL as Rudisha is not slowly dipping his toes back into the competition water. He's cannon-balling into the deep end as Rudisha will face the man who has been dominant in his absence, 2013 World Outdoor and 2014 World Indoor champ Mo Aman, as well as 2012 Olympic silver medallist Nijel Amos (1:41.73 pb) and early 2014 world leader Duane Solomon (1:43.88), who will be going for Johnny Gray's 1:42.60 American record.

It's worth noting that something must be up with American Nick Symmonds had to pull out of the field with a knee injury.
Press release below. Discuss this topic in our forum: Wow: Rudisha returning to action at 2014 Pre Classic in DREAM 800 w Aman, Amos, Kaki, Solomon!! But no Nick Symmonds?.
May 21, 2014
For Immediate Release
World Awaits the Return of Rudisha at Pre Classic
            Eugene, Oregon – The long wait by World Record Holder David Rudisha to return to competition is set to end at the Prefontaine Classic on May 31st.  The 800 meter Olympic champion is excited to be finally racing at the highest level again, as his first start of 2014 will also mark his debut at historic Hayward Field. Given Rudisha's penchant for fast paces along with a field that includes four of the fastest nine in world history, the men's 800 is one of the year's most anticipated events.
            Rudisha, only 25, has been dominating the world since he won gold at the 2006 World Junior Championships.  The Kenyan has been ranked No. 1 in the world by Track & Field News five times since 2007, and has set three world records, including the current standard of 1:40.91 set in winning the London Olympics.  Rudisha missed most of 2013 with a knee injury, diagnosed just a day before he was scheduled to run last year's Pre Classic.
            In Rudisha's absence, Mohamed Aman of Ethiopia took full advantage, winning his second IAAF Diamond Trophy and earning the No. 1 ranking from T&FN.  Still only 20 years old, Aman is also the only man to ever beat Rudisha since 2010, and he's done it twice (although Rudisha owns the career head-to-head edge, 5-2).  Aman, the defending Pre Classic champ, won gold at last year's World Championships and in March earned his second title at the World Indoor Championships.
            Botswana's Nijel Amos, also still only 20, was closest to Rudisha in the London Olympics, taking silver as an 18-year-old.  His 1:41.73 in that race not only shattered the world junior record, it also made him only seventh ever to break 1:42 (and the only besides Rudisha this Century).  That was the only career meeting between the two.
            Nobody has more wins over Rudisha than 24-year-old Abukaker Kaki of Sudan.  He has five, but none since 2009 (Rudisha an 8-5 career edge).  Kaki is a three-time winner at the Pre Classic, taking the kilo in 2010 and the 2-lapper in 2011 (1:43.68), both with meet records, then edging Aman by 0.03 seconds in a thrilling finish in 2012.
            The slowest PR among those four is 1:42.37, which is faster than the 29-year-old American record of 1:42.60 set by Johnny Gray in 1985.  The second fastest American ever is Duane Solomon, 4th in that epic London Olympics at 1:42.82.  Now 29, he enjoyed his most successful year last year, ranking No. 4 in the world by T&FN.  He is the current 2014 world leader at 1:43.88, and can be counted on to forge a strong pace from the minute the gun goes off.
            Fellow American Brandon Johnson also enjoyed his best season last year.  Also 29, he clocked 1:43.84 in only his second serious year in the 800, having previously concentrated on the 400-meter hurdles (best of 48.59).
            The two medalists behind Aman at the World Indoor Championships are  included.  Silver medalist Adam Kszczot of Poland earned silver ahead of Great Britain's Andrew Osagie.  Osagie was a finalist in the London Olympics as well as last year's Moscow World Championships.  Another finalist from Moscow in this field is  Pierre-Ambroise Bosse of France.
            Many-time U.S. Champion  Nick Symmonds, who was ranked No. 2 in the world last year, was confirmed for this year's race but has had to withdraw with a knee injury.
Men's 800 Meters
Personal Best
David Rudisha (Kenya)
1:40.91
Nijel Amos (Botswana)
1:41.73
Abukaker Kaki (Sudan)
1:42.23
Mohamed Aman (Ethiopia)
1:42.37
Duane Solomon (USA)
1:42.82
Adam Kszczot (Poland)
1:43.30
Pierre-Ambroise Bosse (France)
1:43.76
Andrew Osagie (Great Britain)
1:43.77
Marcin Lewandowski (Poland)
1:43.79
Brandon Johnson (USA)
1:43.84
             Fans can follow the event lineups as all announced fields are posted at PreClassic.com.  The direct link to current start/entry lists is HERE and will include updates to all announced fields.
            Tickets for the 40th annual edition of the Prefontaine Classic, to be held May 30-31 at Hayward Field in Eugene, Ore., are available now from PreClassic.com and from 1-800-WEBFOOT.  Sponsored by NIKE continuously since 1984, the Prefontaine Classic will be shown live to an international audience and by NBC Sports from 1:30 till 3:00 p.m. PT on Saturday, May 31.
            The Prefontaine Classic is the longest-running outdoor invitational track & field meet in America and is part of the elite IAAF Diamond League of meets held worldwide annually.  Last year's Pre Classic was scored highest in the world by All-Athletics.com, the official data partner of the Diamond League.
            Steve Prefontaine is a legend in the sport of track & field and is the most inspirational distance runner in American history.  He set a national high school 2-mile record (8:41.5) while at Marshfield High School in Coos Bay, Oregon, that is still the fastest ever in a National Federation-sanctioned race.  While competing for the University of Oregon, he won national cross country championships (3) and outdoor track 3-Mile/5000-meter championships (4), and never lost a collegiate track race at any distance.  As a collegiate junior, he made the 1972 U.S. Olympic Team and nearly won an Olympic medal, finishing 4th in the 5K at the 1972 Munich Olympics, at age 22.  After finishing college in 1973 and preparing for a return to the Olympics in 1976, he continued to improve, setting many American records.  His life ended tragically on May 30, 1975, the result of an auto accident, at age 24.  The Pre Classic began that year and has been held every year since.