2014 IAAF World Half Marathon Results
by LetsRun.com
March 28, 2014
Men's and women's results from the 2014 IAAF/AL-Bank World Half Marathon Championships in Copenhagen are below.
The World Half Champs were a mass participation race for the first time.  Men's results under 1:10 below and women's results under 1:25:00.
Article continues below player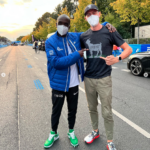 Kipchoge loves the 1:59:40 Shirt Get Yours Today
What a legend!
Race recaps: Geoffrey Kipsang and Tiny Eritrea Have Days To Remember at 2014 IAAF World Half Marathon Championships www.letsrun.com
Led by Gladys Cherono's Gold, Kenya Women Dominate 2014 IAAF World Half Marathon By Going 1 Through Five – Americans Bersagel and Kleppin Both in Top www.letsrun.com
Men's Results
| | | | | | | |
| --- | --- | --- | --- | --- | --- | --- |
| Plc | Start Nr | Navn | Land | Klasse | Tid | Efter |
| 1 | 570 | Geoffrey Kipsang Kamworor |  KEN | MELITE | 0:59:07 | |
| 2 | 521 | Samuel Tsegay |  ERI | MELITE | 0:59:20 | + 13 |
| 3 | 528 | Guye Adola |  ETH | MELITE | 0:59:21 | + 14 |
| 4 | 520 | Zersenay Tadese |  ERI | MELITE | 0:59:37 | + 30 |
| 5 | 517 | Nguse Amlosom |  ERI | MELITE | 0:59:59 | + 52 |
| 6 | 572 | Wilson Kiprop |  KEN | MELITE | 1:00:00 | + 53 |
| 7 | 519 | Ghirmay Ghebreslassie |  ERI | MELITE | 1:00:09 | + 1:02 |
| 8 | 518 | Samsom Gebreyohannes |  ERI | MELITE | 1:00:12 | + 1:05 |
| 9 | 532 | Adugna Tekele |  ETH | MELITE | 1:00:14 | + 1:07 |
| 10 | 571 | Kenneth Kiprop Kipkemoi |  KEN | MELITE | 1:00:28 | + 1:21 |
| 11 | 619 | Geofrey Kusuro |  UGA | MELITE | 1:00:40 | + 1:33 |
| 12 | 596 | Stephen Mokoka |  RSA | MELITE | 1:00:46 | + 1:39 |
| 13 | 595 | Elroy Gelant |  RSA | MELITE | 1:01:10 | + 2:03 |
| 14 | 530 | Bonsa Dida |  ETH | MELITE | 1:01:11 | + 2:04 |
| 15 | 594 | Lusapho April |  RSA | MELITE | 1:01:15 | + 2:08 |
| 16 | 611 | Polat Kemboi Arikan |  TUR | MELITE | 1:01:21 | + 2:14 |
| 17 | 524 | Ayad Lamdassem |  ESP | MELITE | 1:01:21 | + 2:15 |
| 18 | 565 | Masato Kikuchi |  JPN | MELITE | 1:01:22 | + 2:15 |
| 19 | 529 | Fikre Assefa |  ETH | MELITE | 1:01:30 | + 2:23 |
| 20 | 536 | El Hassane Ben Lkhainouch |  FRA | MELITE | 1:01:30 | + 2:23 |
| 21 | 624 | Josphat Boit |  USA | MELITE | 1:01:32 | + 2:25 |
| 22 | 569 | Simon Cheprot |  KEN | MELITE | 1:01:36 | + 2:29 |
| 23 | 505 | Isaac Korir |  BRN | MELITE | 1:01:39 | + 2:32 |
| 24 | 568 | Robert Kwemoi Chemosin |  KEN | MELITE | 1:01:43 | + 2:36 |
| 25 | 504 | Alemu Bekele |  BRN | MELITE | 1:01:45 | + 2:38 |
| 26 | 620 | Daniel Rotich |  UGA | MELITE | 1:01:55 | + 2:48 |
| 27 | 561 | Daniele Meucci |  ITA | MELITE | 1:01:56 | + 2:49 |
| 28 | 567 | Shogo Nakamura |  JPN | MELITE | 1:01:56 | + 2:49 |
| 29 | 617 | Moses Kibet |  UGA | MELITE | 1:02:01 | + 2:55 |
| 30 | 547 | Paul Pollock |  IRL | MELITE | 1:02:09 | + 3:02 |
| 31 | 540 | James Kibocha Theuri |  FRA | MELITE | 1:02:10 | + 3:03 |
| 32 | 610 | Wissem Hosni |  TUN | MELITE | 1:02:10 | + 3:03 |
| 33 | 627 | Tyler Pennel |  USA | MELITE | 1:02:19 | + 3:12 |
| 34 | 516 | Abdi Hakin Ulad |  DEN | MELITE | 1:02:23 | + 3:16 |
| 35 | 626 | Matt Llano |  USA | MELITE | 1:02:24 | + 3:17 |
| 36 | 564 | Hiroto Inoue |  JPN | MELITE | 1:02:24 | + 3:17 |
| 37 | 581 | José Antonio Uribe |  MEX | MELITE | 1:02:25 | + 3:18 |
| 38 | 522 | Javier Guerra |  ESP | MELITE | 1:02:26 | + 3:19 |
| 39 | 623 | Shadrack Kiptoo Biwott |  USA | MELITE | 1:02:27 | + 3:21 |
| 40 | 605 | Mikael Ekvall |  SWE | MELITE | 1:02:28 | + 3:22 |
| 41 | 598 | Félicien Muhitira |  RWA | MELITE | 1:02:30 | + 3:23 |
| 42 | 608 | Raouf Boubaker |  TUN | MELITE | 1:02:41 | + 3:34 |
| 43 | 615 | Bekir Karayel |  TUR | MELITE | 1:02:47 | + 3:40 |
| 44 | 585 | Urige Buta |  NOR | MELITE | 1:02:49 | + 3:42 |
| 45 | 559 | Simone Gariboldi |  ITA | MELITE | 1:02:50 | + 3:44 |
| 46 | 625 | Fernando Cabada Jr |  USA | MELITE | 1:02:54 | + 3:47 |
| 47 | 599 | Alexis Nizeyimana |  RWA | MELITE | 1:02:54 | + 3:47 |
| 48 | 574 | Abdullah Abdulaziz Aljoud |  KSA | MELITE | 1:02:57 | + 3:50 |
| 49 | 579 | Oscar Cerón |  MEX | MELITE | 1:02:58 | + 3:51 |
| 50 | 502 | Aweke Ayalew |  BRN | MELITE | 1:03:00 | + 3:53 |
| 51 | 506 | Bilisuma Shugi |  BRN | MELITE | 1:03:02 | + 3:55 |
| 52 | 580 | Juan Carlos Romero |  MEX | MELITE | 1:03:10 | + 4:03 |
| 53 | 563 | Sota Hoshi |  JPN | MELITE | 1:03:29 | + 4:22 |
| 54 | 539 | Abdellatif Meftah |  FRA | MELITE | 1:03:46 | + 4:39 |
| 55 | 600 | Felix Ntirenganya |  RWA | MELITE | 1:03:48 | + 4:41 |
| 56 | 566 | Kenta Murayama |  JPN | MELITE | 1:03:51 | + 4:45 |
| 57 | 592 | Marius Ionescu |  ROU | MELITE | 1:03:53 | + 4:46 |
| 58 | 616 | Isaac Ayeko |  UGA | MELITE | 1:03:55 | + 4:48 |
| 59 | 586 | Asbjørn Ellefsen Persen |  NOR | MELITE | 1:03:55 | + 4:48 |
| 60 | 557 | Gianmarco Buttazzo |  ITA | MELITE | 1:03:58 | + 4:51 |
| 61 | 511 | Lars Budolfsen |  DEN | MELITE | 1:04:00 | + 4:53 |
| 62 | 512 | Jesper Faurschou |  DEN | MELITE | 1:04:00 | + 4:53 |
| 63 | 593 | Nicolae Alexandru Soare |  ROU | MELITE | 1:04:06 | + 4:59 |
| 64 | 546 | Ben Moreau |  GBR | MELITE | 1:04:08 | + 5:01 |
| 65 | 525 | Jesús Antonio Nuñez |  ESP | MELITE | 1:04:11 | + 5:04 |
| 66 | 553 | Brihun Weve |  ISR | MELITE | 1:04:37 | + 5:30 |
| 67 | 4111 | Dadafo Dhaqabi Tesama |  ETH | M25-29 | 1:04:53 | + 5:46 |
| 68 | 613 | Mehmet Caglayan |  TUR | MELITE | 1:04:53 | + 5:46 |
| 69 | 538 | Ruben IIndongo |  FRA | MELITE | 1:04:58 | + 5:51 |
| 70 | 537 | Driss El Himer |  FRA | MELITE | 1:04:59 | + 5:52 |
| 71 | 576 | Janis Girgensons |  LAT | MELITE | 1:05:11 | + 6:04 |
| 72 | 597 | Hussein Habumugisha |  RWA | MELITE | 1:05:11 | + 6:04 |
| 73 | 550 | Kári Steinn Karlsson |  ISL | MELITE | 1:05:12 | + 6:05 |
| 74 | 526 | Roman Fosti |  EST | MELITE | 1:05:13 | + 6:06 |
| 75 | 587 | Øystein Sylta |  NOR | MELITE | 1:05:18 | + 6:11 |
| 76 | 603 | Anuradha Cooray |  SRI | MELITE | 1:05:19 | + 6:13 |
| 77 | 612 | Fatih Bilgic |  TUR | MELITE | 1:05:25 | + 6:18 |
| 78 | 555 | Demsew Zegeye |  ISR | MELITE | 1:05:27 | + 6:20 |
| 79 | 589 | Raúl Pacheco |  PER | MELITE | 1:05:29 | + 6:22 |
| 80 | 501 | Maksim Pankratau |  BLR | MELITE | 1:05:31 | + 6:25 |
| 81 | 503 | Zelalem Bacha |  BRN | MELITE | 1:05:46 | + 6:39 |
| 82 | 629 | Luis Alberto Orta |  VEN | MELITE | 1:05:47 | + 6:40 |
| 83 | 621 | Dmytro Siruk |  UKR | MELITE | 1:05:56 | + 6:49 |
| 84 | 556 | Zohar Zemiro |  ISR | MELITE | 1:06:03 | + 6:56 |
| 85 | 4965 | alndreas åhwall |  SWE | M25-29 | 1:06:06 | + 6:59 |
| 86 | 509 | César Lizano |  CRC | MELITE | 1:06:06 | + 6:59 |
| 87 | 588 | Cristhian Pacheco |  PER | MELITE | 1:06:07 | + 7:00 |
| 88 | 554 | Yimharan Yosef |  ISR | MELITE | 1:06:28 | + 7:21 |
| 89 | 5348 | Peter Bech |  DEN | M35-39 | 1:06:32 | + 7:25 |
| 90 | 630 | Ben Ashkettle |  NZL | MELITE | 1:06:38 | + 7:31 |
| 91 | 604 | Juraj Vitko |  SVK | MELITE | 1:06:47 | + 7:40 |
| 92 | 534 | Jarkko Järvenpää |  FIN | MELITE | 1:07:03 | + 7:56 |
| 93 | 2311 | David Nilsson |  SWE | M25-29 | 1:07:15 | + 8:08 |
| 94 | 5347 | Morten Munkholm |  DEN | M25-29 | 1:07:41 | + 8:34 |
| 95 | 4709 | Jesper Trebbien Andersen |  DEN | M30-34 | 1:07:53 | + 8:46 |
| 96 | 4838 | Thorkild Sundstrup |  DEN | M30-34 | 1:08:03 | + 8:56 |
| 97 | 609 | El Akhdar Hachani |  TUN | MELITE | 1:08:05 | + 8:59 |
| 98 | 507 | Yolo Nikolov |  BUL | MELITE | 1:08:08 | + 9:01 |
| 99 | 622 | Esteban Cuestas |  URU | MELITE | 1:08:11 | + 9:04 |
| 100 | 4675 | Mikkel Kleis |  DEN | M30-34 | 1:08:14 | + 9:07 |
| 101 | 602 | Rui Yong Soh |  SIN | MELITE | 1:08:18 | + 9:11 |
| 102 | 4265 | Mads Boesen |  DEN | M25-29 | 1:08:20 | + 9:13 |
| 103 | 523 | Rafael Iglesias |  ESP | MELITE | 1:08:29 | + 9:22 |
| 104 | 7402 | Tommy Neal |  DEN | M30-34 | 1:08:33 | + 9:26 |
| 105 | 4106 | Frew Zenebe Brkineh |  ETH | M30-34 | 1:08:34 | + 9:27 |
| 106 | 514 | Theis Nijhuis |  DEN | MELITE | 1:08:38 | + 9:31 |
| 107 | 4482 | Klaus Hagensen |  DEN | M30-34 | 1:08:49 | + 9:42 |
| 108 | 552 | Asrat Mamo |  ISR | MELITE | 1:08:52 | + 9:46 |
| 109 | 614 | Mert Girmalegesse |  TUR | MELITE | 1:09:15 | + 10:08 |
| 110 | 1196 | Kasper Laumann Hartlev |  DEN | M20-24 | 1:09:32 | + 10:25 |
| 111 | 551 | Arnar Pétursson |  ISL | MELITE | 1:09:44 | + 10:37 |
| 112 | 1526 | Søren Binderup |  DEN | M35-39 | 1:09:46 | + 10:39 |
| 113 | 1225 | Morten Marinussen |  DEN | M30-34 | 1:09:46 | + 10:39 |
| 114 | 5330 | Jose Javier Olea |  ESP | M35-39 | 1:09:50 | + 10:43 |
| 115 | 4069 | John Henry Strupstad |  NOR | M30-34 | 1:09:52 | + 10:45 |
| 116 | 4074 | Øystein Mørk |  NOR | M40-44 | 1:09:53 | + 10:46 |
| 117 | 5016 | Anders Mols Bonde |  DEN | M20-24 | 1:09:59 | + 10:52 |
| 118 | 2602 | Nikolaj Bauer Andersen |  DEN | M40-44 | 1:10:04 | + 10:57 |
Team (top 3 runners)

| | POS | Team | COUNTRY | MARK |
| --- | --- | --- | --- | --- |
| | 1 | Eritrea | Eritrea | 2:58:59 |
| | 2 | Kenya | Kenya | 2:59:38 |
| | 3 | Ethiopia | Ethiopia | 3:00:48 |
| | 4 | South Africa | South Africa | 3:03:13 |
| | 5 | Uganda | Uganda | 3:04:39 |
| | 6 | Japan | Japan | 3:05:45 |
| | 7 | United States | United States | 3:06:18 |
| | 8 | Bahrain | Bahrain | 3:06:27 |
| | 9 | France | France | 3:07:28 |
| | 10 | Spain | Spain | 3:08:01 |
| | 11 | Mexico | Mexico | 3:08:34 |
| | 12 | Italy | Italy | 3:08:47 |
| | 13 | Turkey | Turkey | 3:09:04 |
| | 14 | Rwanda | Rwanda | 3:09:14 |
| | 15 | Denmark | Denmark | 3:10:25 |
| | 16 | Norway | Norway | 3:12:05 |
| | 17 | Tunisia | Tunisia | 3:12:58 |
| | 18 | Israel | Israel | 3:16:08 |
Women's Results
| | | | | | | | |
| --- | --- | --- | --- | --- | --- | --- | --- |
| Rank | Race No | Name | Nation | Club | Category | Time | Behind |
| 1 | 155 | Gladys Cherono |  KEN | | FELITE | 1:07:29 | |
| 2 | 159 | Mary Wacera Ngugi |  KEN | | FELITE | 1:07:44 | + 16 |
| 3 | 157 | Selly Chepyego Kaptich |  KEN | | FELITE | 1:07:52 | + 23 |
| 4 | 156 | Lucy Wangui Kabuu |  KEN | | FELITE | 1:08:37 | + 1:08 |
| 5 | 158 | Mercy Jerotich Kibarus |  KEN | | FELITE | 1:08:42 | + 1:13 |
| 6 | 128 | Netsanet Kebede |  ETH | | FELITE | 1:08:46 | + 1:17 |
| 7 | 133 | Christelle Daunay |  FRA | | FELITE | 1:08:48 | + 1:20 |
| 8 | 149 | Valeria Straneo |  ITA | | FELITE | 1:08:55 | + 1:26 |
| 9 | 125 | Tsehay Desalegn |  ETH | | FELITE | 1:09:04 | + 1:35 |
| 10 | 130 | Genet Yalew |  ETH | | FELITE | 1:09:15 | + 1:46 |
| 11 | 140 | Krisztina Papp |  HUN | | FELITE | 1:10:08 | + 2:39 |
| 12 | 127 | Mame Feyisa |  ETH | | FELITE | 1:10:08 | + 2:39 |
| 13 | 191 | Annie Bersagel |  USA | | FELITE | 1:10:10 | + 2:42 |
| 14 | 193 | Lauren Kleppin |  USA | | FELITE | 1:10:16 | + 2:47 |
| 15 | 152 | Sayo Nomura |  JPN | | FELITE | 1:10:18 | + 2:49 |
| 16 | 124 | Hirut Alemayehu |  ETH | | FELITE | 1:10:25 | + 2:57 |
| 17 | 153 | Risa Takenaka |  JPN | | FELITE | 1:10:30 | + 3:01 |
| 18 | 137 | Alyson Dixon |  GBR | | FELITE | 1:10:38 | + 3:09 |
| 19 | 150 | Reia Iwade |  JPN | | FELITE | 1:10:45 | + 3:16 |
| 20 | 167 | Karoline Bjerkeli Grøvdal |  NOR | | FELITE | 1:10:53 | + 3:25 |
| 21 | 120 | Alessandra Aguilar |  ESP | | FELITE | 1:10:56 | + 3:28 |
| 22 | 147 | Veronica Inglese |  ITA | | FELITE | 1:10:57 | + 3:29 |
| 23 | 111 | Lisa Christina Stublic |  CRO | | FELITE | 1:11:09 | + 3:40 |
| 24 | 151 | Chieko Kido |  JPN | | FELITE | 1:11:16 | + 3:48 |
| 25 | 100 | Souad Aït Salem |  ALG | | FELITE | 1:11:22 | + 3:54 |
| 26 | 171 | Gladys Tejeda |  PER | | FELITE | 1:11:24 | + 3:55 |
| 27 | 178 | René Kalmer |  RSA | | FELITE | 1:11:53 | + 4:25 |
| 28 | 106 | Chaofeng Jia |  CHN | | FELITE | 1:11:59 | + 4:31 |
| 29 | 145 | Nadia Ejjafini |  ITA | | FELITE | 1:12:05 | + 4:37 |
| 30 | 135 | Alexandra Louison |  FRA | | FELITE | 1:12:06 | + 4:37 |
| 31 | 14065 | Ditte Lybke |  DEN | | | 1:12:11 | + 4:42 |
| 32 | 118 | Letekidan Ghebreaman |  ERI | | FELITE | 1:12:13 | + 4:45 |
| 33 | 180 | Isabellah Andersson |  SWE | | FELITE | 1:12:16 | + 4:47 |
| 34 | 105 | Yinli He |  CHN | | FELITE | 1:12:18 | + 4:49 |
| 35 | 194 | Clara Santucci |  USA | | FELITE | 1:12:22 | + 4:53 |
| 36 | 102 | Barkahoum Drici |  ALG | | FELITE | 1:12:34 | + 5:06 |
| 37 | 195 | Mattie Suver |  USA | | FELITE | 1:12:42 | + 5:14 |
| 38 | 117 | Luula Berhane |  ERI | | FELITE | 1:12:45 | + 5:16 |
| 39 | 148 | Fatna Maraoui |  ITA | | FELITE | 1:12:50 | + 5:21 |
| 40 | 115 | Jessica Draskau-Petersson |  DEN | | FELITE | 1:12:52 | + 5:24 |
| 41 | 138 | Susan Partridge |  GBR | | FELITE | 1:13:15 | + 5:47 |
| 42 | 121 | Verónica Pérez |  ESP | | FELITE | 1:13:25 | + 5:57 |
| 43 | 109 | Yingying Zhang |  CHN | | FELITE | 1:13:26 | + 5:58 |
| 44 | 189 | Linet Chebet |  UGA | | FELITE | 1:13:28 | + 6:00 |
| 45 | 196 | Wendy Thomas |  USA | | FELITE | 1:14:07 | + 6:38 |
| 46 | 122 | Leila Luik |  EST | | FELITE | 1:14:18 | + 6:50 |
| 47 | 123 | Liina Luik |  EST | | FELITE | 1:14:18 | + 6:50 |
| 48 | 176 | Jenna Leigh Challenor |  RSA | | FELITE | 1:14:19 | + 6:51 |
| 49 | 154 | Rina Yamazaki |  JPN | | FELITE | 1:14:20 | + 6:51 |
| 50 | 166 | Veronika Brennhovd Blom |  NOR | | FELITE | 1:14:21 | + 6:53 |
| 51 | 108 | Meixia Zhang |  CHN | | FELITE | 1:14:23 | + 6:55 |
| 52 | 181 | Lena Eliasson |  SWE | | FELITE | 1:14:27 | + 6:59 |
| 53 | 165 | Lavinia Haitope |  NAM | | FELITE | 1:14:42 | + 7:13 |
| 54 | 179 | Katarina Bére?ová |  SVK | | FELITE | 1:15:03 | + 7:34 |
| 55 | 184 | Soumaya Boussaïd |  TUN | | FELITE | 1:15:12 | + 7:43 |
| 56 | 134 | Corinne Herbreteau |  FRA | | FELITE | 1:15:27 | + 7:59 |
| 57 | 107 | Chao Yue |  CHN | | FELITE | 1:15:53 | + 8:25 |
| 58 | 169 | Rocío Cántara |  PER | | FELITE | 1:15:54 | + 8:26 |
| 59 | 185 | Elvan Abeylegesse |  TUR | | FELITE | 1:15:57 | + 8:29 |
| 60 | 113 | Louise Langelund Batting |  DEN | | FELITE | 1:16:18 | + 8:50 |
| 61 | 170 | Nicolasa Condori |  PER | | FELITE | 1:16:35 | + 9:06 |
| 62 | 3148 | Sylvia Kiberenge |  DEN | Køge Atletik | F20-24 | 1:16:41 | + 9:12 |
| 63 | 172 | Luminita Georgiana Achim |  ROU | | FELITE | 1:16:44 | + 9:16 |
| 64 | 5010 | Zenia Mogensen |  DEN | Løberen/Adidas | F25-29 | 1:16:59 | + 9:30 |
| 65 | 187 | Bahar Dogan |  TUR | | FELITE | 1:16:59 | + 9:31 |
| 66 | 119 | Nebiat Habtemariam |  ERI | | FELITE | 1:16:59 | + 9:31 |
| 67 | 104 | Volha Krautsova |  BLR | | FELITE | 1:17:04 | + 9:36 |
| 68 | 114 | Anne Holm Baumeister |  DEN | | FELITE | 1:17:06 | + 9:37 |
| 69 | 177 | Cornelia Joubert |  RSA | | FELITE | 1:17:10 | + 9:42 |
| 70 | 116 | Simone Christensen Glad |  DEN | | FELITE | 1:17:10 | + 9:42 |
| 71 | 3996 | Louise Nilsson |  SWE | Malmö AI | F25-29 | 1:17:15 | + 9:46 |
| 72 | 168 | Marthe Katrine Myhre |  NOR | | FELITE | 1:17:28 | + 10:00 |
| 73 | 132 | Aline Camboulives |  FRA | | FELITE | 1:17:46 | + 10:17 |
| 74 | 5217 | Maja Stage |  DEN | Odense Triathlon Klub/Fitness DK | F25-29 | 1:17:53 | + 10:25 |
| 75 | 173 | Liliana Maria Danci |  ROU | | FELITE | 1:18:03 | + 10:34 |
| 76 | 182 | Tonya Nero |  TTO | | FELITE | 1:18:26 | + 10:58 |
| 77 | 4662 | Susanne Svendsen |  DEN | AGF Atletik | F35-39 | 1:18:33 | + 11:05 |
| 78 | 112 | Annemette Aagaard |  DEN | | FELITE | 1:18:48 | + 11:19 |
| 79 | 4912 | Kirsten Pettersson |  DEN | Esbjerg Tri og Multisport | F30-34 | 1:18:58 | + 11:29 |
| 80 | 4953 | Dorte Dahl |  DEN | | F45-49 | 1:19:04 | + 11:36 |
| 81 | 188 | Nilay Esen |  TUR | | FELITE | 1:19:08 | + 11:39 |
| 82 | 175 | Claudia Paula Todoran |  ROU | | FELITE | 1:19:10 | + 11:41 |
| 83 | 5290 | Maria Sig |  DEN | Maxim | F30-34 | 1:19:11 | + 11:42 |
| 84 | 2592 | Rikke Due Andersen |  DEN | Køge Atletik | F40-44 | 1:19:12 | + 11:44 |
| 85 | 33608 | Charlotte Nielsen |  DEN | AL-Bank | F45-49 | 1:19:24 | + 11:55 |
| 86 | 110 | Gabriela Traña |  CRC | | FELITE | 1:19:25 | + 11:56 |
| 87 | 143 | Arndis Hafdórsdóttir |  ISL | | FELITE | 1:20:02 | + 12:34 |
| 88 | 2314 | Luise Sønder |  DEN | Skive Atletik og Motion | F35-39 | 1:20:25 | + 12:57 |
| 89 | 4879 | Lone Balling Hansen |  DEN | Skive Atletik- og Motionsklub | F35-39 | 1:20:28 | + 13:00 |
| 90 | 139 | Kit Ching Yiu |  HKG | | FELITE | 1:20:28 | + 13:00 |
| 91 | 3984 | Johanna Eriksson |  SWE | Motala AIF | F30-34 | 1:20:36 | + 13:07 |
| 92 | 190 | Kateryna Karmanenko |  UKR | | FELITE | 1:20:53 | + 13:25 |
| 93 | 3150 | Valborg Heinesen |  DEN | Tryggingarfelagid Foroyar | F25-29 | 1:20:57 | + 13:29 |
| 94 | 4677 | Sari Venshøj |  DEN | AGF Atletik | F25-29 | 1:20:58 | + 13:29 |
| 95 | 23884 | Camilla Sparwath |  DEN | MotionDanmark | F25-29 | 1:21:10 | + 13:41 |
| 96 | 5048 | Louise Bækby Hansen |  DEN | Viborg AM | F35-39 | 1:21:12 | + 13:44 |
| 97 | 33388 | Camilla Smedegaard Lottrup |  DEN | | F25-29 | 1:21:21 | + 13:52 |
| 98 | 25849 | Linda Meta Korsholm |  DEN | | F40-44 | 1:21:23 | + 13:54 |
| 99 | 3296 | Malene Munkholm |  DEN | Marathon Sport | F45-49 | 1:22:29 | + 15:01 |
| 100 | 174 | Elena Moaga |  ROU | | FELITE | 1:22:45 | + 15:17 |
| 101 | 4001 | Katrine Svane |  DEN | Aarhus 1900 | F25-29 | 1:22:52 | + 15:23 |
| 102 | 32100 | Maria Larsen |  DEN | Københavns Idræts-Forening | F15-19 | 1:22:58 | + 15:30 |
| 103 | 3691 | Margrethe Frydenborg |  DEN | FIT 4 RUN.dk | F45-49 | 1:23:01 | + 15:33 |
| 104 | 1509 | Petra Skiöld |  SWE | Ryssbergets Ik | F35-39 | 1:23:34 | + 16:06 |
| 105 | 5276 | Bjørk Herup Olsen |  DEN | Sparta Atletik og Motion | F20-24 | 1:23:39 | + 16:11 |
| 106 | 164 | Giselle Camilleri |  MLT | | FELITE | 1:23:40 | + 16:12 |
| 107 | 25648 | Marie-Louise Rørbøl |  DEN | powertraining | F40-44 | 1:23:43 | + 16:15 |
| 108 | 8210 | mette strømberg |  DEN | | F35-39 | 1:23:45 | + 16:17 |
| 109 | 197 | Irina Moroz |  UZB | | FELITE | 1:23:46 | + 16:17 |
| 110 | 8285 | Susanne Ward |  DEN | | F40-44 | 1:23:49 | + 16:21 |
| 111 | 15796 | laura hergel |  DEN | | F20-24 | 1:23:57 | + 16:29 |
| 112 | 3841 | Lene Hjelmsø |  DEN | Sparta Atletik og Motion | F35-39 | 1:23:58 | + 16:29 |
| 113 | 8198 | Matilde Emilie Hansen |  DEN | | F20-24 | 1:24:05 | + 16:36 |
| 114 | 4041 | Maria Sandström |  SWE | Malmö AI | F20-24 | 1:24:06 | + 16:37 |
| 115 | 4040 | Marina Stoltz |  SWE | Heleneholms IF | F35-39 | 1:24:16 | + 16:47 |
| 116 | 32055 | Julie Schmidt-Scherer |  DEN | | F30-34 | 1:24:19 | + 16:51 |
| 117 | 16505 | Inger Lise Sørensen |  DEN | Holte ski | F60-64 | 1:24:23 | + 16:55 |
| 118 | 142 | Martha Ernstsdóttir |  ISL | | FELITE | 1:24:24 | + 16:56 |
| 119 | 3987 | Caroline Erlingson |  SWE | Ängelholms IF | F25-29 | 1:24:29 | + 17:01 |
| 120 | 136 | Sandrine Kengue |  GAB | | FELITE | 1:24:37 | + 17:08 |
| 121 | 1242 | Neel Lykkegaard Andersen |  DEN | Sparta Atletik og Motion | F40-44 | 1:24:38 | + 17:10 |
| 122 | 144 | Helen Olafsdóttir |  ISL | | FELITE | 1:24:41 | + 17:12 |
| 123 | 16790 | Conny Nielsen |  DEN | Aalborg Øst Road Runners Club | F50-54 | 1:24:51 | + 17:23 |
| 124 | 16781 | Mona Steensbro |  DEN | Sparta Atletik og Motion | F50-54 | 1:24:53 | + 17:25 |
| 125 | 4037 | Karima Makrof |  SWE | Majornas IK | F35-39 | 1:24:58 | + 17:29 |
Team (top 3 runners)
| | POS | Team | COUNTRY | MARK |
| --- | --- | --- | --- | --- |
| | 1 | Kenya | Kenya | 3:23:05 |
| | 2 | Ethiopia | Ethiopia | 3:27:05 |
| | 3 | Japan | Japan | 3:31:33 |
| | 4 | Italy | Italy | 3:31:57 |
| | 5 | United States | United States | 3:32:48 |
| | 6 | France | France | 3:36:21 |
| | 7 | PR of China | PR of China | 3:37:43 |
| | 8 | Eritrea | Eritrea | 3:41:58 |
| | 9 | Norway | Norway | 3:42:43 |
| | 10 | South Africa | South Africa | 3:43:23 |
| | 11 | Peru | Peru | 3:43:53 |
| | 12 | Denmark | Denmark | 3:46:16 |
| | 13 | Turkey | Turkey | 3:52:06 |
| | 14 | Romania | Romania | 3:53:58 |
| | 15 | Iceland | Iceland | 4:09:07 |