Men's Individual Preview: Can Anyone Possibly Stop Kennedy Kithuka?
by LetsRun.com
November 22, 2013
Maksim Korolev, Thomas Farrell, Anthony Rotich, Edward Cheserek and Paul Chelimo, your moms love you a great deal.
We say that because we took a look at the LetsRun.com NCAA XC Prediction contest after a few hours to make sure it was working properly, and you were the only four people not named Kennedy Kithuka to receive votes for the 2013 NCAA Cross Country Championships men's individual title.
Article continues below player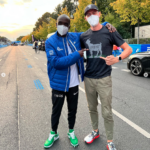 Kipchoge loves the 1:59:40 Shirt Get Yours Today
What a legend!
The early vote total was as follows:
Kennedy Kithuka – 154
Maksim Korolev, Thomas Farrell, Anthony Rotich, Edward Cheserek and Paul Chelimo – 1 each.
To say that Kithuka is the overwhelming favorite for the men's title is a huge understatement as he's garnering close to 97% of the votes.
And for good reason – Kithuka is undefeated for his life in college cross-country. Last year, he upset Lawi Lalang in Louisville and Lalang is one of the top runners in the world, as he went on to run 13:00 and beat Galen Rupp in Monaco this summer.
This season, Kithuka has been sensational. He beat SEC champ Kemoy Campbell of Arkansas by 8 seconds at the Cowboy Jamboree, then won Pre-Nats over UTEP's steeplechase champ Anthony Rotich by 33 seconds, and then won Big 12s over the Oklahoma State guys by 38 seconds.
And if anyone is going to beat Kithuka, we think those two men, Campbell and Rotich, are the ones that could do it.
Kemoy Campbell – Arkansas
Positives: Been running great all year. Won adidas Wisconsin by two seconds and then "pulled a Kithuka" and won SECs by 42 seconds. 13:32 5,000 PR.
Negatives: From Jamaica. Will a guy from tropical Jamaica do well in 30-degree temps on Saturday?
Who should cheer for Kemoy: Those that normally root for Americans and those who like underdogs. We know a lot of you dream of seeing an American win. But how about a non-African born runner? To see a Jamaican guy win NCAA XC in 30 something degree weather would defy way more steretoypes than if an American won.
Anthony Rotich – UTEP
Positives: Undefeated on the year except when he's raced Kennedy Kithuka. Narrowed margin of defeat from 33 seconds at Pre-Nats to 16 seconds at Regionals. 8:21 steeplechaser.
Negatives: We think racing Kithuka so often isn't good. Has he mentally given up realistic hope of beating Kithuka?
Who should cheer for Rotich: UTEP fans from the 1970s and '80s when they won six of 7 NCAA titles. A UTEP man hasn't won NCAAs in 30 years (Zakarie Barie in 1983).
If we were asked to pick a third potential long-shot winner, we guess we'd say UNC Greensoboro's Paul Chelimo.
Paul Chelimo – UNC Greensboro
Positives: Undefeated on the year because he ran the "B" race at Pre-Nats. NCAA runner-up in 5,000. 13:21 PR.
Negatives: While he was 10th last year, he was 58 seconds behind Kithuka.
Who should cheer for Chelimo: Everyone on LetsRun, as Chelimo is one of you. Last year, we overlooked him in our NCAA track preview and he said it motivated him.
First Non-African-Born Runner?
Men's Individual Poll

1.
Kennedy Kithuka (154) – Texas Tech SR-4
1575
2.
Kemoy Campbell – Arkansas SR-4
1217
3.
Anthony Rotich (1) – UTEP SO-2
1056
4.
Edward Cheserek (1) – Oregon FR-1
941
5.
Paul Chelimo (1) – UNC-Greensboro SR-4
675
6.
Thomas Farrell (1) – Oklahoma State SR-4
518
7.
Chris O'Hare – Tulsa SR-4
447
8.
Shadrack Kipchirchir – Oklahoma State SR-4
381
9.
Futsum Zeinasellassie – Northern Arizona SO-2
345
10.
Andrew Colley – North Carolina St. SR-4
288
11.
Maksim Korolev (1) – Harvard SR-4
225
12.
Jared Ward – BYU SR-4
198
13.
Jim Rosa – Stanford JR-3
114
14.
Kirubel Erassa – Oklahoma State JR-3
92
15.
Stanley Kebenei – Arkansas JR-3
82
16.
Ben Saarel – Colorado FR-1
74
17.
Erik Olson – Stanford SR-4
63
18.
Craig Lutz – Texas JR-3
61
19.
Soufiane Bouchikhi – Eastern Kentucky SR-4
54
20.
Solomon Haile – Arkansas SR-4
41
We used the term non-African-born runner and not American because finding the first American runner in the race isn't easy as we're not sure who is an American citizen and who isn't. So let's start by saying we think Campbell will be the top person not born in Africa.
If you look at the LRC fan picks for the individual race, there are very few Americans contenders. Thomas Farrell (13:15 PR) and Chris O'Hare (3:35 PR) are from the UK.
NC State's Andrew Colley is actually the logical choice for top American in the race. He was 15th in 2011 and 16th in 2012. This year he won the ACC champs by 25 seconds and there are five ACC men's teams here. The #11 seed according to the fans is Harvard's NE Regional champ Maksim Korolev. Korolev, who infamously built up a reputation for awful conference and NCAA performances last year, vanquished his conference demons three weeks ago by winning the Ivy title. Can he exorcise his NCAA demons on Saturday? Given his extreme height (he must be close to 6'5″), we're wondering how Korolev will run in the slop, but given that Korolev was born in Kazakhstan, we don't think he is a US citizen.
So if Colley is off his game, then the top American honors might go to two runners on opposite ends of the age spectrum. True freshman Ben Saarel of Colorado is the #16 fans' pick, whereas BYU senior Jared Ward of BYU (some might say seventh-year senior but it's actually his 5th year after a 2-year Mormon mission) is the 12th pick. Ward didn't think he'd get to run this year due to the pettiness of the NCAA and ran the Chicago marathon last month in 2:16:17. #14 pick Kirubel Erassa of Oklahoma State was born in Africa but is a US citizen and has been running very well (2nd at Big 12s).
Warning – History Very Well Could Be Made
The worst top finish for an American in NCAA history is sixth. There's a real possibility that record is broken (in a bad way).
What About The Weather?
The weather forecast is for temperatures in the 30s and the course is a wet mess. So wet that supposedly an email was sent around about the remote chance the race is run on an alternative course (don't count on that). How will that impact things? Well, lots of coaches were overheard talking at the watering hole that they thought a lot of Kenyans would drop out in the cold.
We aren't worried in the least that the cold will stop Kithuka. Texas Tech (Lubbock, TX) isn't warm in the winter and the wet conditions will make the 10k feel like more of a 12k, and the longer the race, the more unbeatable is Kithuka.
Check back later for our women's previews, press conference highlights and finally our race predictions.
More: LRC 2013 NCAA Cross Country Championships Coverage Page