Mission Accomplished* For American Men In 1,500 At 2013 Paris Diamond League
by: LetsRun.com July 6, 2013 Paris, France The focus for American distance fans on Saturday in Paris was the men's 1,500m, where the provisional US team for Worlds was running, but Olympic Silver medallist Leo Manzano and Lopez Lomong needed to run under 3:35.00 to make sure they got to go to the World Championships. […]
Join Our Supporters Club To Keep Reading
Sign up today to get a free 12-week training program and t-shirt.
by: LetsRun.com
July 6, 2013
Paris, France
The focus for American distance fans on Saturday in Paris was the men's 1,500m, where the provisional US team for Worlds was running, but Olympic Silver medallist Leo Manzano and Lopez Lomong needed to run under 3:35.00 to make sure they got to go to the World Championships.
Leo unleashed the "lion" on Saturday night and battled down the homestretch to finish a strong third in 3:33.14. A bit further back in tenth, Lomong had just enough to dip under the 3:35.00 barrier, running 3:34.55.
Article continues below player
Mission accomplished. They would be joining 2011 Worlds bronze medallist Matthew Centrowitz at the World Championships.
Not so fast.
*The 2013 US champion Centrowitz was also in this race. And with 250m meters to go, he began to slow, favoring what appeared to be his hamstring. He then stepped over the rail and dropped out. He showed a visible limp through the mixed zone and did not talk to the media afterwards.
If Centro is indeed injured, he has a decent amount of time to heal, a month and eight days before the World Championships start for the 1,500m. But this clearly wasn't what he was dreaming of when the day started.
Update: Coach Alberto Salazar has told The Oregonian that Centrowitz is not injured, just "embarrassed" for dropping out of the first race of his life.
The Race Started Very Fast
The race went out very hard. 400m was in 53.62 by the rabbits with much of the field in the 54-second range, including Bernard Lagat. By 600m, Lagat started to back off and a second pack emerged (led by Lagat) that was chasing the two rabbits and the two brave souls, Aman Wote of Ethiopia and Ayanleh Souleiman of Djibouti, who stayed with the rabbits. The rabbits hit 800 in a brisk 1:50.51 with Souleiman about 1:51. This was a hot one.
Reason soon took over and Soulemain and Wote began to slow on the backstretch, letting the remaining rabbit reach 1,200m on his own. Meanwhile, the main chase pack, led by Florian Carvalho of France, was catching up to Souleiman and Wote. Carvalho and the pack caught Souleiman and Wote at the bell in 2:36.8 and this was anyone's race.
On the backstretch, Souleiman and Carvalho battled for the lead. Centro, who had started the race up towards the front (55-flat at 400), really faded backwards after the bell and soon would step off the track favoring one leg. Photo below: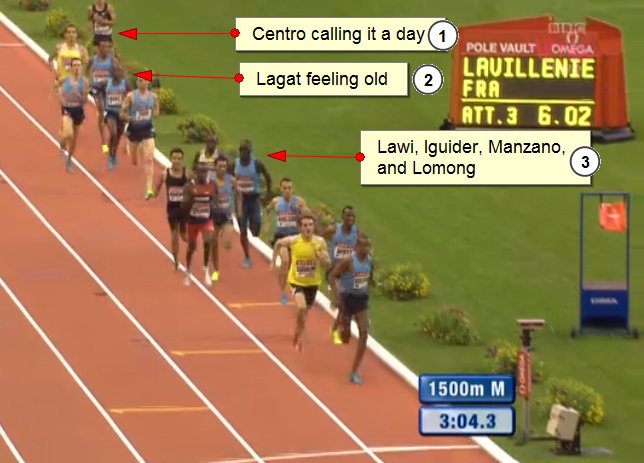 The race up front was just heating up. With the French crowd behind him, Carvalho put up a bold challenge and was right on the lead with the early leaders Souleiman and Wote heading into the homestretch.
However, Carvalho would really lose steam the last 50 of the final straight as Souleiman and Wote battled for the win. In the end, Souleiman was too good and got the win in 3:32.55 to Wote a close second in 3:32.65. Souleiman ran 55.7-8 for the final 400m.
Further back, NCAA star Lawi Lalang of Arizona, Mohamed Moustaoui and Manzano were battling for 3rd. Manzano used his patented homestretch charge to nip both of them for 3rd in 3:33.14, Mousatoui was 4th and Lalang (with a huge PR) ended up 5th 3:33.20. Lopez Lomong had enough to finish 10th in 3:34.55 under the 3:35.00 "A" standard. Bernard Lagat at age 37 paid the price for the 54-second first lap and was 13th in 3:36.36.
Leo: "The Lion is out of hibernation."
Leo Manzano left Paris atop the US 1,500 ranks. He was pleased with the race, as he accomplished the number one goal, the "A" standard.
Leo said he got out well, but then got bumped around and drifted back. Then he thought to himself, "It's either now or never."
Leo decided it was now and started moving back up. Down the homestretch he said, "I was hoping to close and win the race but I was (just) a little off."
Despite needing to run sub-3:35.00, Leo said he didn't feel a lot of pressure. "I'm just enjoying it again," he said. Leo took some time off after his Olympic success in London and said it's all coming together now.
"I feel like I'm just now starting to come back. The lion is out of hibernation."
Lopez Still Dealing With Hamstring Issue, Says Of The 5,000m : "It gives me time to correct my mistakes."
Lopez has been dealing with a hamstring issue that prevented him from doubling in the 1,500 and 5,000 at USA Nationals. He said even without the hamstring issue keeping him out of the 5,000 at USAs, his plan this year all along was to run the 1,500m at Worlds. Long-term, he looks forward to the 5,000, but this year wanted to run the 1,500 to prepare him for the 5,000 down the line. "5,000m guys have to run a very fast 1,500m … You have to have that 3:34, 3:32 pace (to do well) in the 1,500."
Lomong said his goal here was to run a negative split, which he said he did (we haven't split the race for everyone, but will note that at the bell the order was Lomong 5th, Manzano 7th, and Lalang 8th), and to run "3:35 flat" which he beat. He said one of the reasons he likes the 5,000m is, "It gives me time to correct my mistakes." When asked if he made any mistakes tonight, he said no.
Now it's back to training at altitude hoping he gets a lane in the 1,500m in Monaco on the 19th.
Lawi Lalang A Miler?
The fastest runner from Arizona was not former 3:26 runner Bernard Lagat, but his training partner, Lawi Lalang, the star for the University of Arizona. On his 3:33 clocking, he said, "I did not expect something like this." Lalang next will run the 5,000m in Monaco with Bernard Lagat and then it's back to Arizona for cross-country.
Speaking of Lagat, he said he ran 3:34 (we looked it up and it was 3:34.48) while in college and came back for his senior year at Washington and ran 3:30 (3:30.56) the next year, so he believes it's good for Lalang to go back to Arizona.
As for his own race, the veteran Lagat said, "I guess the 1,500m is starting to be a little tough on me." His focus however on the 5,000m for Worlds. "I've been training well. 3:36-3:37 is not anything special but it's good preparation for (the 5,000m in) Monaco."
Video interviews, then race analysis (quick takes), results, and a race video appear below.
| | |
| --- | --- |
| Leo Manzano 3:33.14 3rd: | Lopez Lomong 3:34.55: |
| Lawi Lalang 5th 3:33.20!: | Bernard Lagat: |
Quick Takes (QT)
QT #1: Souleiman And Wote Deserve Some Props
The Americans get most of our attention, but Souleiman and Wote deserve some credit for going out in 1:51, getting caught by the pack and then still being able to pull away to battle for the win. With a slightly slower opening pace, they'd have been closer to 3:30.
Souleiman is only 20 and showed last year with his 3:30.31 that he can run close to 3:30. He ran 1:43.63 last week, so he might have gotten a little carried away with the pace here, thinking he might be able to go sub-3:30. Souleiman ran that 3:30:31 last year as a 19-year-old, but he never got his chance at the Olympics due to injury. He's coached by Jama Aden, same coach of Olympic 1,500m champ Makhloufi.
Wote is making a name for himself at 29. He won in Birmingham and then PRed here.
QT#2: Ranking Lalang's Run In Collegiate History
In our preview, we said no one had gone faster than 3:33 in college:
Could Lalang become the fastest collegian in history? The great Jim Ryun ran 3:33.1 in the summer way back in 1967 and Mt. St. Mary's Kip Cheruiyot ran 3:33.07 in 1986, so if the clock is 3:32 when he finishes, no one has ever run faster before running out of collegiate eligibility.
What we wrote wasn't true. Must have been the first mistake in LRC history. An emailer has written in and corrected us:
Nick Willis ran faster than 3:33 before running out of collegiate eligibility in 2004 he went 3:32. He was redshirting outdoor but he then competed in 2005 for Michigan so it's not accurate to say no one has broken 3:33 before running out of eligibility.
So it looks like Lalang might be the fourth-fastest collegian ever. Willis, Cheruiyot, Ryun and then Lalang.
QT#3: Leo Is A Legit Medal Threat Again
Leo showed last year that in a Championship race he can run with anyone in the world. He is rounding into form at the right time. Two weeks ago, people wondered if he'd make it to Moscow; now he's America's best hope for a 1,500m medal.
QT#4: What About Centro?
Centro limped through the mixed zone (you can see him in the Leo video above) and did not speak to the media. His agent Ricky Simms did not have an update on his status, but said that Centro's training was going very well before Paris.
QT #5: Looking Forward To Monaco
Monaco will have a tremendous 1,500m and 5,000m featuring American athletes. We hope you're looking forward to it.
QT #6: Anyone Remember This?
Paris has July Diamond League Meets have been great to American milers of late. Andrew Wheating ran his 3:30.90 in Paris Monaco in 2010, but nothing beats Alan Webb's 3:30.55 win over French hero Mehdi Baala in 2005:
[raw][/raw]
Results and race video below.
Results:
1,500 Metres - Men                                             
                                                            Pts
    1 Souleiman , Ayanleh              DJI    3:32.55          4        
    2 Wote , Aman                      ETH    3:32.65          2        
    3 Manzano , Leonel                 USA    3:33.14          1        
    4 Moustaoui , Mohamed              MAR    3:33.18                   
    5 Lalang , Lawi                    KEN    3:33.20                   
    6 Seurei , Benson                  KEN    3:33.33                   
    7 Carvalho , Florian               FRA    3:33.47                   
    8 Tahri , Bouabdellah              FRA    3:33.89                   
    9 Denissel , Simon                 FRA    3:34.54                   
   10 Lomong , Lopez                   USA    3:34.55                   
   11 Iguider , Abdalaati              MAR    3:35.37                   
   12 Casado , Arturo                  ESP    3:36.33                   
   13 Lagat , Bernard                  USA    3:36.36
   14 Gebremedhin , Mekonnen           ETH    3:37.36
      Centrowitz , Matthew             USA        DNF                   
      Rono , Geoffrey Kipkoech         KEN        DNF                   
      Barusei , Geoffrey               KEN        DNF
Splits 400m: Rono, Geoffrey Kipkoech (KEN) 53.62
800m: Rono, Geoffrey Kipkoech (KEN) 1:50.51
1,200m: Barusei, Geofrey (KEN) 2:50.12
Today's race video is below: