Duane Solomon Runs Second Fastest 600 Race Ever – 1:13.28 – at Harry Jerome Classic
by LetsRun.com
July 2, 2013
Competing at the rarely run 600 meter distance, 2013 US 800 meter champion Duane Solomon ran a stellar 1:13.28 last night, the second fastest time very recorded in history at the 2013 Vancouver Sun Harry Jerome Classic in Canada. The unofficial world's best at 600 came from Solomon's coach Johnny Gray way back in 1986 when Grey ran 1:12.81.
All Time Top 10 For a 600 Meter Race According to Alltime-athletics.com/
1 1:12.81 Johnny Gray USA 19.06.60 1 Santa Monica 24.05.1986
2 1:13.28 Duane Solomon USA  10.12.78 1 Vancouver 01.07.2013
3 1:13.49 Joseph Mutua Mwengi KEN 10.12.78 1 Naimette-Xhovémont 27.08.2002
4 1:13.72 Joseph Mutua Mwengi KEN 10.12.78 1 Naimette-Xhovémont 02.09.2003
5 1:13.80 Earl Jones USA 17.07.64 2 Santa Monica 24.05.1986
6 1:13.9 Raidel Acea CUB 31.10.90 1 La Habana 20.04.2013
7 1:14.15 David Mack USA 30.05.61 3 Santa Monica 24.05.1986
8 1:14.16 Johnny Gray USA 19.06.60 1 Sacramento 21.07.1984
9 1:14.3A Lee Evans USA 25.02.47 1 Echo Summit 31.08.1968
10 1:14.41 Andrea Longo ITA 26.06.75 1 Rovereto 30.08.2000
Article continues below player
The runner-up in the race was NCAA runner-up Cas Loxsom of Penn State. Loxsom, who ran a 1:15.42 on an over-sized track indoors to win Big 10s this year, improved his personal best to 1:14.84. Loxsom was right behind Solomon at 400 but Solomon pulled away over the final 150.
Unofficially, we recorded Solomon's splits at 22.7 for 200, 34.7 for 300, 47.1 for 400, and 59.6 for 500 (our hand time splits were 22.42, 34.42, 46.83, 59.36, but we added .24 to adjust).
Quick takes, full results and race video appear below.
Quick Take (QT) #1: The result has created some discussion as to what it's equivalent to for 800. According to LetsRun.com's crack stat/coaching guru John Kellogg, Solomon's mark is equivalent to a 1:43.27 for 800.
We know some people think that's too slow of a conversation but we had a talk about this indoors after Solomon ran 1:15.70 where we explained why Kellogg's conversion is right on the money. You can read that here. For the messageboard poster who doesn't think Nick Symmonds has the speed to run 1:13, please realize Symmonds ran a 1:13.90 in practice last year.
QT #2: Take a minute and guess what David Rudisha split last year for 600 in the middle of his incredibly 1:40.91 world record and gold medal run in London?
Go ahead and guess.
1:14.30 and then he still closed in 26.62. Now that is crazy.
In London, Solomon became the second fastest American ever at 1:42.82. He hit 600 in 1:15.8 and closed in 27 flat.
QT #3: Here's a great story for you. Rudisha doesn't have the fastest 600 split in a race. Way back in March of 1974, Kenya's John Kipkurgat split for 600 in the middle of an 800 what Solomon ran tonight in a 600 race – 1:13.2. Kipkurgat, who had already run a 1:43.91 that year, ended up in over 1:50 in the race as he tied up big-time.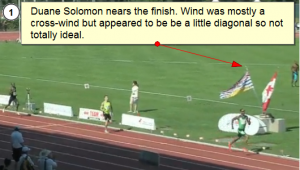 QT #4: What about the wind? A key to running a fast 600 is to have the wind at your back twice and in your face just once. That appeared to be the case for the most part. The wind was pretty much coming across the track at the start  and at 400 but it was slightly diagonal so Solomon ran a bit into it at the start and finish, which isn't ideal.
See the screen shot on the right.
QT #5: Results:
Event 25 Men 600 Meter Dash INV
=================================================
Name Year Team Finals Points
=================================================
Finals
1 Duane Solomon 84 U S A 1:13.28
2 Casmir Loxsom 91 Unattached 1:14.84
3 Richard Jones 88 U S A 1:16.74
4 Shariff Webb 89 U S A 1:17.73
5 Adam Paul Morris 92 Canada 1:18.02
— Marcus (Pacemaker) Boyd 89 U S A DNF
QT #6: MB talk about this race: Duane Solomon 1:13.28 600m
*A Kenyan once split 1:13.20 in an 800 race 39 years ago
QT #7: Race video:
More from LRC Vault: 2012 Olympic Final: Duane Solomon runs 1:42.82
LRC 2013 USAs: Duane Solomon Goes Wire to Wire to Run World Leading 1:43.27 and Stop Nick Symmonds Streak of US Titles at Five
MB: John Kipkurgat splits what Solomon ran tonight in a 600 race – 1:13.2