Schedule, Entries & Results for 2016 Müller Anniversary Games — London Diamond League
By LetsRun.com
July 20, 2016

The final pre-Olympic Diamond League event, featuring Usain Bolt in the 200, takes place this weekend in London — the Müller Anniversary Games. The two-day meet will be held on Friday, July 22 and Saturday, July 23. Below, you will find the complete schedule with links to entries. Once the meet begins, live results can be found here.
Article continues below player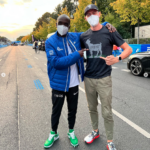 Kipchoge loves the 1:59:40 Shirt Get Yours Today
What a legend!
ALL TIMES U.S. EASTERN
Friday, 22 July 2016
1:24 p.m. ET Club:Connect U13 Men
1:30 Club:Connect U13 Women
1:36 Club:Connect U15 Men
1:42 Club:Connect U15 Women
1:48 Club:Connect U17 Men
1:54 Club:Connect U17 Women
2:00 Club:Connect U20 Men
2:05 Pole vault Men 
Entries

2:10 Club:Connect U20 Women
2:30 4 x 100m Women 
Entries

2:40 100m hurdles Women Heat A 
Entries

2:50 100m hurdles Women Heat B 
Entries

2:55 High jump Women 
Entries

TV WINDOW BEGINS