2015 Sainsbury's Birmingham Grand Prix - IAAF Diamond League Track and Field

Birmingham, England
June 7, 2015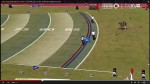 An exclusive analysis by LetsRun.com - using a free online photo editor  - showed that Yego's throw should have been a foul (sarcasm). Apparently, it was allowed to count when they remeasured the entire sector.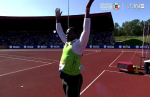 The biggest news was Mo Farah pulling out of the meet before hand, but on the track there was a thrilling women's 200m, in the infield one of the best javelins ever, and in the distances Hassan and Amos picked up their first DL wins of the year and Bernard Lagat another master's WR in one of his least impressive runs of the year.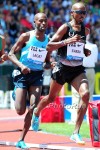 12 of the 16 DL events (including all 4 mid-d/distance races) in Birmingham are the same as they were three days earlier in Rome, leading to several rematches, including Dawit Seyaum vs. Sifan Hassan over 1500 and Hagos Gebrhiwet vs. Thomas Longosiwa at 5,000. Also, Stephanie Garcia seems poised for a fast time in the women's steeple.
Outside Letsrun