2013 USATF National Club Cross Country Championships
Bend, Oregon
December 14, 2013
LetsRun.com may have to start paying more attention to the mountain/trail running scene as Joseph Gray, second recently at the XTERRA World Trail Run Championships got the win. Alan Webb faded to 32nd. The Champions League Athletic Performance team from Colorado won the team title.
Former CU Buff Laura Thweatt continued her fine late 2013 running as she got the win after her 3rd place at the .US National Road Racing Championships. The Beasts TC won nationals in their first attempt.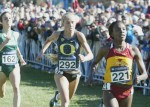 Jake Riley and Mattie Suver are  back to defend their titles but the race includes 1,500/mile stars/former stars German Fernandez, Alan Webb, Shannon Rowbury and Matt Centrowitz. Plus the post-collegiate XC debut of Jordan Hasay. The  Hansons-Brooks Original Distance Project are the team favorites.
Outside Letsrun