Elite Distance News
LRC 4-Time World Champ Vivian Cheruiyot Gives Birth To Baby Boy The question now becomes, when will the Kenyan 5,000 record holder return to competition?
Cool Facebook Post By Meb: Meb Keflezighi's 26 Most Memorable Miles Number 25 on his list said, "2012 London Olympic Games, last mile after coming back from 20th place to 4th with 500m to go. Winning is not about first place, but giving it all you got on any given day. I sure did that day and had to use a wheel chair to get around the airport a few days later."
New WR! British 10,000m Champion Andrew Lemoncello Breaks World Treadmill Half Marathon Record He ran 67:29, breaking the previous record of 68:50 set by US's Mike Wardian earlier this year. Lemoncello raised almost $30,000 for the National Down Syndrome Society (NDSS) after his daughter, Isla, was born with Down Syndrome in June.
After A Rough Track Season, Amy Hastings Says She's In Good Shape Going Into Next Month's NYC Marathon She thinks she's in better shape than her previous couple of marathons and said, "I've had a couple of tempo runs that were better than I've ever done before. I've been pretty much stride for stride with Kim [Smith]."
61-Year-Old Doug Kurtis Gets His 200th Career Sub-3:00 Marathon With A 2:59:03 In Detroit Kurtis is a 5-time Olympic Trials qualifier and has 76 sub-2:20 marathons to his name.
Aussie Steepler Genevieve LaCaze Returns To Training After Injury Includes video of her on alter-G treadmill.
Kenya's Top Women Marathoners Think Teamwork Is The Key To Breaking Paula Radcliffe's Marathon WR London Marathon champ Priscah Jeptoo: "I believe it can be achievable if we take a joint approach to a particular race like the Berlin or London marathon."
USATF Recap Of Masters XC Champs: Atlanta TC Takes NJ By Storm Kathryn Martin and Peter Magill had the top performances based on age-graded performances scoring tables.
IAAF Recap Of South America Junior Track Champs Ecuador's Angela Tenorio was a highlight winning the 100m in a wind-aided 11.24 and the 200m in 23.35.
UK Telegraph Writer: "It's time to stop being misty-eyed about the Olympics."
Sunday Marathon Action - 2013 Scotiabank Toronto Waterfront *Results
Ethiopia: Recap Of 1st-Ever Haile Gebrselassie Marathon Gudisa Shentema, a 2:07 guy, ran and won the race in honor of Haile, who watched the race with friends.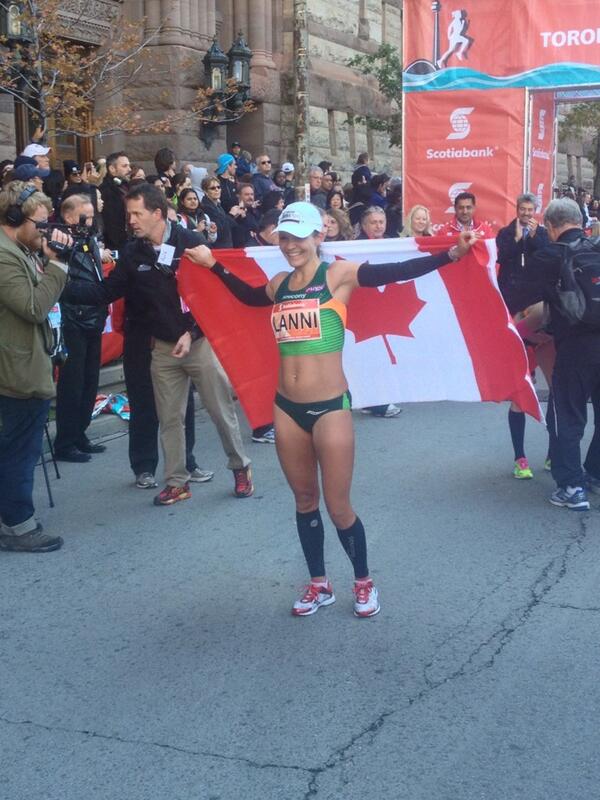 LRC Lanni Marchant Sets New Canadian National Record In Women's Marathon - Runs 2:28:00 In Toronto Deressa Chimsa of Ethiopia has set a new Canadian soil record of 2:07:05.
MB: Lanni Marchant 2:31 in 2012, 2:28:00 in 2013. Athletics Canada still defends denying "rising star" status

CBC: Canadian Records Toppled At Toronto Marathon Eric Gillis ran 2:11:49 and came up short in his bid for the Canadian men's record.
Toronto Star: Marchant Smashes Record
*IAAF Recap
Masters: MB: Ed Whitlock ran 3:41:58 to set age 82 record, Hosaka misses age 62 record
*MB: 2013 Toronto Marathon coverage

Amsterdam: 3-Peat: Wilson Chebet Wins Amsterdam For Third Ttime, Breaks His Own Course Record With 2:05:36 Valentine Kipketer won the women's title in 2:23:02 as American Serena Burla was second in a new PR of 2:28:01.

Beijing: Tadese Tola Breaks 27-Year-Old Beijing Marathon Course Record With 2:07:16 Sprint Finish Win (link fixed) Zhang Yingying won the women's title in 2:31:19.

Birmingham: Uganda's Thomas Ayeko Wins BUPA Great Birmingham Run Half Marathon In 1:02:32 As GB's Chris Thompson Was 2nd (1:03:03) And Abdi Abdirahman 3rd (1:03:08) Aussie Collis Birmingham was 4th (1:03:44) and Olympic 10,000 bronze medalist Tariku Bekele was way back in 5th (1:04:36). GB's Gemma Steel broke her own CR to win in 1:10:19.

Tokyo: Kenyan Benjamin Ngandu Outkicks Yuki Kawauchi To Win Tokyo 20K 59:14 To 59:17

Detroit: 22-Year-Old Former Michigan Runner Zachary Ornelas Wins In 2:20 He's got a 14:12 5,000 PR.

Kenya: 2012 Berlin Marathon 5th Placer Agnes Jepkosgei Wins Kimbilio Marathon In 2:49 Alfred Kipsane won the men's race in 2:16.
Other Marathon News
Track News In The Off-Season
Not Directly Running-Related But Interesting: Tribute To Recently Passed 87-Year-Old Japanese "Marathon Monk" Yusai Sakai Sakai is famous for being one of only one of three men to complete the Sennichi Kaihogyo twice. The Senichi Kailhogyo is a seven-year "quest for enlightenment" that by the end has the monks walking 51 miles a day for 100 days on barely any sleep.
Desire By Some To Race Under A Fake Name Or Anonymously At Odds With Increased Security At Road Races Some are worried about privacy while others just want to run as Bruce Wayne, "Hugh Jass" or Kermit Frog.
Former Head Of Jamaican Anti-Doping Renee Anne Shirley Throws Out More Accusations Against The Organization, Claiming They've "Never Carried Out A Blood Test" She claims they received 30 blood testing kits, but never used them and also says that she thinks Veronica Campbell-Brown's positive test for a diuretic should have resulted in a 2-year ban.
Week That Was
LRC Week That Was: Dennis Kimetto, Rita Jeptoo And All Things Chicago Marathon, Kim Smith, Stephen Sambu Pick Up $100k, Haile Gebrselassie Still Has It We look at just how good Kimetto's and Jeptoo's Chicago performances were, explain why we're not crazy about the BAA Distance Medley's gimmicky prize money structure and remind you that even at 40 years old, Geb is still very, very good.