A Fan's Guide To The 2012 USATF Classic In Arkansas
By LetsRun.com
February 10, 2012
*TV Reminder ESPN2 Sunday 12:30-2:30 Eastern
After a two-year hiatus, professional track and field is coming back to Arkansas with Saturday's USATF Classic (formerly the Tyson Invitational). The meet may have come about only because of rivalry between Nike and New Balance, but an additional track and field meet on television (the meet is on tape delay ESPN2 on Sunday 12:30-2:30pm Eastern) is overall a good thing for the sport, especially with the Millrose Games not being on live TV for the first time in five years (if anyone knows the last time Millrose wasn't on TV live or tape delay, email us). The sport would be better off, however, if both of these meets were on different weekends, both on live TV, with the stars going head-to-head.
Thanks to Nike twisting some arms pulling out the stops, the meet has an incredible men's mile, a two-mile record attempt by Galen Rupp, and Allyson Felix and Veronica Campbell-Brown in the 60. There are no jumps on the men's side and no vertical jumps at all in the meet. Preview below with distance races first.
Men's Geoff Hollister Mile: Silas Kiplagat Vs. Amine Laalou Vs. Caleb Ndiku Vs. Dan Komen Vs. Ciaran O'Lionard Vs. Leo Manzano
Correct us if we're wrong, but this has to be overall the top indoor mile in the US (in terms of number of sub-3:30 and/or 3:50 guys) since LetsRun.com was founded in 2000. The field is absolutely stacked.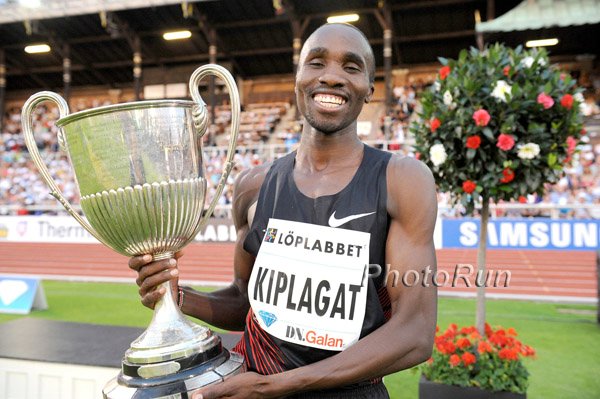 World silver medallist Silas Kiplagat is the headliner but he may not be the favorite. Kiplagat, who ran 3:29 for 1,500m in his first European race ever, dominated the Kenyan Champs last year, and went on to get the silver medal at Worlds. He's coming off a US Open victory over Bernard Lagat in the mile. Amine Laalou is a tremendous talent. A 3:29:53 guy, he won the Paris Diamond League meet last year, and made the 800 and 1,500m final at Worlds in 2009. Daniel Komen, a two time worlds indoor silver medalliast at 1,500m, has the fastest PR in the field at both 1,500 (3:29.02) and the mile (3:48.28), but may be the biggest question mark as he was well beaten in the mile at the US Open in Madison Square Garden.
Caleb Ndiku is the wild card / dark horse. The 2012 World Junior champ at 1,500m and cross-country, he sports a 3:32 1,500m best (3:49.77 mile PR) and is only 19. Last week at the New Balance Indoor Games in his first indoor race ever, he took on the big boys and dispatched the field that included Silas Kiplagat, running 7:38.29 in the process. He's not as accomplished as Laalou, Kiplagat, and Komen at 1,500m, but he definitely is sharper right now and with more to prove. Everything about him indicates he's going to be a star in the sport.
Ciaran O'Lionaird is a cool story. The former Florida State runner was primarily seen as a 5k/10k runner until last year and his inability to score in those events last year at NCAAs seemed to cost FSU the NCAA title. As a graduating senior who was a non-scorer at NCAAs, his prospects for a professional contract were slim, but then he made the 1,500m team for the World Championships for Ireland. Now he's in the most prestigious training group in the country - Alberto Salazar's group - and he beat both training partner Mo Farah and Galen Rupp to win the mile in Boston last week. Even though he got the win last week, on paper he's outmatched here but it will be fun to see how he stacks up.
That brings us to the American hope Leo Manzano. Manzano made the Worlds final in 2009 and with 2 narrow losses to Olympic champ Asbel Kiprop, he showed he can run with anyone in the world in 2010. Manzano in 2011 showed flashes of brilliance and then subpar performances. Which Leo will we see here? Opening up against this field is a strong challenge. Russell Brown is also in the field but he didn't break 4:00 last week in Boston.
Analysis: The question is who is the most race sharp? Ndiku, O'Lionard and Kiplagat all have wins indoors in 2012. Ndiku's was the most impressive but it was at 3,000m, not the mile. Kiplagat's time was slow but he did beat Bernard Lagat and Komen in the Garden. Komen has a great indoor pedigree and needs to get sharp for World Indoors but was the Garden run an indication of his fitness or the quirkiness of the Garden track? How will Leo open up and can O'Lionard move up a level in class? Prediction: We'll go with the hot hand. Ndiku gets the win. Kiplagat is the better miler, but Ndiku beat him by nearly 3 seconds in the 3,000 in Boston.

Mile Field
Leo Manzano
Jeff See
Russell Brown
Ciaran O'Lionaird
Amine Laalou
Daniel Kipchichir Komen
Silas Kiplagat
Caleb Ndiku
Jack Bolas - Pacer
Men's 2 Mile: Can Rupp Get The American Record?
This race is about one thing - Galen Rupp trying to break Bernard Lagat's American indoor 2-mile record of 8:10:07. Rupp is the class of the field. 2011 World 5,000m team member Andrew Bumbalough is in the field as well and may be the only guy who tries to go with Rupp. The big question is how far can pacer Craig Miller take Rupp? Miller's a 3:56 miler who has broken 4 this year. He needs to take Rupp through the mile and if he could make it 2,000m on pace, then the record could go.
Rupp going through in 4:05 and continuing for another mile sounds doable when casually thought about. However, 8:10 for 2 miles converts to 7:33.7 for 3,000m. Breaking this American record is in our minds harder for Rupp than trying to lower his 5,000m record. If Caleb Ndiku was in this race instead of the mile, then he could help Rupp to the record - but then Rupp could get beaten.
Quick Thoughts On The Rest Of The Field: Stephen Pifer ran 7:58 for 3,000 2 weeks ago. Aaron Rono is a former NAIA star, a 27:31 guy, and a winner of a free pair of shoes in the LRC Puma Faas Challenge, but not a 2 miler. Tim Ritchie made the homepage on LetsRun for his 3:58/8:05 double earlier this year but he's not ready to run with Rupp. Michael Coe is a sub-4 miler and is making his 2012 debut.
Dream Thought: Wouldn't it be great if Bernard Lagat and Galen Rupp were actually racing each other instead of having simultaneous record attempts halfway across the country?
Women's 1,500: Can Anna Pierce And Brenda Martinez Challenge The International Field?
Brenda Martinez started the Visa Championship Series with the biggest win of her career - a 4:34 mile win at the US Open in Madison Square Garden. She defeated sub-4:00 1,500m runner Anna Pierce (4:40) easily there. Pierce bounced back with a better run in Boston in the 1,000m. Both will have their hands tied here as they face a much stronger field than at the US Open.
Btissam Lakhouad of Morocco has to be the favorite. She won the 1,000m over Morgan Uceny and Anna Pierce in Boston last week, ran 3:59 in 2010, and was 4th at Worlds last year. Tizita Bogale of Ethiopia is only 18 and was the World Junior Champ in 2010. Her best is 4:03 and is this the year she makes a dent in the senior ranks? Siham Hilali made the Olympic final in 2008 and has run 4:01 before.
To show how far the US women have come in the 1,500m, we have not even mentioned 3 time US 1,500m champ Treniere Moser. Moser won her 3 US titles in 2005-2007 just before US mid-d running took off. She hasn't broken 4:07 since 2007 and with the US right now the top 1,500m country in the world, she'll have to more than regain that form to make the team this year.
Predictions: Lakhouad gets the win.
Treniere Moser
Anna Pierce
Brenda Martinez
Sara Vaughn
Ashley Higginson
Btissame Lahkuoad
Tizita Bogale
Siham Hilali
Bertukan Feyisa
Heather Dorniden
Mardrea Hyman - Pace
Women's 60: Allyson Felix And Veronica Campbell-Brown Square Off
Last week, Allyson Felix went back on her word to compete at the Millrose Games to run here. We believe shoe politics are involved, but the end result is the fans get a great matchup here versus Veronica Campbell-Brown. As well-known as Allyson Felix is in the US, if their careers ended today Veronica Campbell-Brown would have the better career. She has faster PRs at 100 and 200 than Allyson and two individual Olympic gold medals to Felix's none. All VCB doesn't have is the 100m title at the Olympics. VCB is a better shorter sprinter than Felix, so she definitely is the favorite here, as the 60m is not Allyson's event. Marielle Ahure has the #2 time in the world this year at 60m and won in Boston so she could challenge VCB here.
Alexandria Anderson
Kaya Brookins
Muna Lee
Allyson Felix
Marielle Ahure
Tahisha Harringan
Osayomi Oludamola
Porshe Lucas
Jeneba Tarmoh
Chandra Sturrup
Kimberlyn Duncan (LSU)
Simone Hackett (LSU)
Veronica Cambell Brown
Gloria Asumn
Men's 400m: Kirani James Show

Kirani James last year ran a 44.80 world junior record at this track last year at the SEC Championships. He went on to win the World Championships 400m. We don't see him running 44.80 this year, as he only ran 45.96 to win in Boston last week, but he won't need to run that fast to win (the WR is 44.57 by the way). Calvin Smith has run 45.61 on this track before, so James best and the field's best is a big difference.
Kirani James
David Neville
Demitrius Pinder
Jamaal Torrence
LaJerald Betters
Tabari Henry
Calvin Smith
Joshua Smith
Miles Smith
Women's 60m Hurdles: Dawn Haper The Favorite
Dawn Harper is the Olympic Champ and Michelle Perry is a 2 time World Champ (but the last was 5 years ago) and Hyleas Fountain got silver in the Heptathlon in Beijing.
60m Hurdles
Michelle Perry
Dawn Harper
Ginnie Powell
Tenaya Jones
Hyleas Fountain
Phylicia George
Nikita Holder
Joanna Hayes
Women's Long Jump: Brittney Reese Takes On DeLoach And Jimoh
Brittney Reese has won every global title since 2009 and is the favorite. All she's missing is an Olympic gold. Janay DeLoach did beat Reese last year at US indoors. Funmi Jimoh made the WChamps final last year.
Brittney Reese
Funmi Jimoh
Hyleas Fountain
Jamesha Youngblood
Bianca Stuart
Janay DeLoach
Tiana Madison
Men's 60: Lots Of People
Hard to believe that none of the top 100m runners run for Nike (Usain Bolt-Puma, Yohan Blake-adidas, Asafa Powell - Li Ning, Tyson Gay -adidas), but they don't. With the big stars missing this one is trying to make up for it with numbers.
Lerone Clarke
Ivory Williams
Shawn Crawford
Richard Thompson
Churandy Martina
Trell Kimmons
Gerald Phiri
Mookie Salaam
Justin Gatlin
Kimmari Roach
Brandon Byram
Justin Warner
Mark Burns
Jared Connaughton
Doc Patton
Wallace Spearmon
Men's Shot
World Champs silver medallist Dylan Armstrong makes his Olympic year debut. He'll take on US Open winner Ryan Whiting, who was 4th at USAs last year.
Dylan Armstrong
Ryan Whiting
Corey Martin
Justin Rhode (CAN)
Amin Nikfar
Women's Shot
Jillian Camerena Williams got a bronze at the Worlds last year.
Jillian Camarena-Williams
Michelle Carter
Sarah Stevens-Walker
Cleopatra Brown
Tracey Rew
Tia Brooks (U of Oklahoma)
Alyssa Hasslen (U of Arizona)