2012 LRC Puma Marathon Trials Prediction Contest Recap: Harrison Lakehomer Enters The Record Books
By LetsRun.com
January 24, 2012
Move over, Joe DiMaggio.
Usually, one of the best parts of our world-famous LetsRun.com predictions contests is learning about the winners, who are normally super-interesting people who are representative of the greater LetsRun.com community.
This time you can forget about the human interest stories (we've had national champions, rocket scientists, 8th grade soccer players inspired by their coach to enter the contest, and even a guy who has MS and can't run anymore win), we've got a LetsRun.com first. We've got a winning streak going.
In November, Harrison Lakehomer triumphed in our Puma NCAA XC Prediction Contest. Now he's come out in top in our $250,000 Puma Marathon Trials Prediction Contest.
Thankfully for little LetsRun.com, there is no $250,000 bonus for repeat winners.
Nostradamus Himself:
Harrison Lakehomer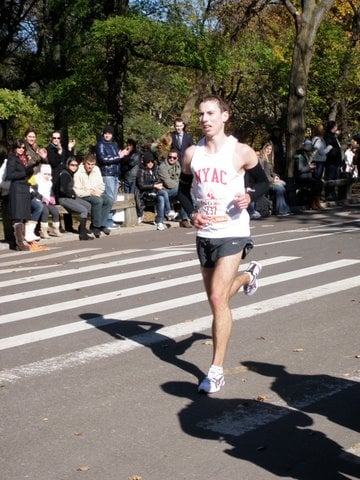 Harrison Lakehomer Keeps Rolling
As we noted in our NCAA prediction contest recap, Lakehomer has some running bona fides. First he was born in Eugene, the running mecca of the US. After going to college at Amherst, he competed for the famed New York Athletic Club where he set a marathon PR of 2:26 in the marathon last past spring in Boston. Now he's a medical student at Pacific Northwest University in Yakima, Washington.
The New York Athletic Club connection helped Lakehomer win our prediction contest. For you see, Meb Keflezighi is also a member of the New York Athletic Club. So Lakehomer picked Meb for the win at the Olympic Trials in Houston and that set him up nicely for the rest of the contest. He then picked the first 4 in the women's race perfectly to come out on top (his picks are here).
Each time Harrison wins one of our contests, we learn a little more about him. This time we learn he really is a prediction contest ringer, as for six years he has participated in a New England Division 3 Fantasy Cross-Country contest. We had no idea such a thing existed. Soon it will be right up there with NFL Fantasy Football.
It's rumored Harrison may drop out of medical school to try to win our Track Trials prediction contest. For coming out on top, Harrison wins a pair of Puma Faas shoes. Last time Harrison picked the award-winning Faas 400s. It's a good time he won again, because the first shoe in the Faas line with a little extra stability the Faas 800, launches February 1, and Harrison wants to try those out.
Guy Whose Dad Was An NCAA Champion At Villanova And Whose Mom Was A World XC Team Member Wins Women's Contest
Clifford Childs from Canada has some good running genes. His dad Dean Childs was a sub-4-minute miler and a Canadian steeplechase champ, and he won three Penn Relays watches and an NCAA indoor team title at Villanova, where he was on the team with Carey Pinkowski (SI article here). Clifford's mom was 34th at the World XC Champs he believes in 1980. Pretty impressive running family. Clifford himself runs for the University of Victoria and has run 3:46 for 1,500m. In high school, his claim to fame was beating NCAA XC third placer Cam Levins. So how did a Canuck triumph in the US Marathon Trials prediction contest? Clifford said, "As for being Canadian, we don't really have any strong women marathoners to follow so I'm forced to follow the American women. But honestly after my top 5 picks the rest were just based on seed time. I had no idea who any of them were." We appreciate the honesty (and left out his strategy for picking the top 5, which was pretty good as you see by his picks). More on Clifford here.
Clifford wins a pair of Puma Faas shoes and has chosen the award-winning Faas 400s.
Men's Winner Inspired By Geoffrey Mutai
Winning the men's prediction contest was Andrew Ford. Andrew's story is an interesting one. A 23-year-old self-described hobby jogger from the Philadelphia area, he was a Villanova fan who liked to run, but had no idea what his PRs were. And then, "This past November, I went to the NY Marathon, witnessed the awesomeness that is Geoffrey Mutai and I was inspired to take up running seriously!" You can't get a better testimonial for the greats of the sport inspiring us all.
Clearly, Andrew with his Villanova connection has been studying the sport for a while, as he said this of his picks:
"I realized that a ton of people were going to pick Ryan Hall to win, and that Meb was probably being picked for second or worse by a lot of people, so I made sure to stay away from Hall first. A side note about Meb: I think that Meb (and the entire Keflezighi family) embodies everything that it means to me to be an American, and has been written off so many times and just keeps kicking ass. If I had a choice, Meb would be carrying the American Flag into the Olympic Stadium for the opening ceremony."
He too wants to test out the award winning Faas 400s.
The Faas 800 Launches Feb 1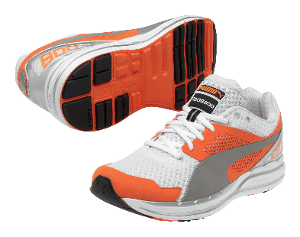 Harrison Will Be Sporting These
If You'd Like A Pair,
Enter The LRC PUMA Faas Challenge
Thanks to everyone who played in the contest and Puma for the great prizes.
The Top 5 overall, the top 5 in the men's contest and the top 5 in the women's contest win free LetsRun.com Puma T-shirts. Version 1.0 from our Party in NYC sold out, so we have to get version 2.0 made.
The 12 Days Of LetsRun.com Explained
We love giving away free stuff at LRC. After the 12 Days of Puma, which honored the LRC Puma 55 and was part of the LRC Puma Faas Challenge, we had the 12 Days of LetsRun.com leading up until Christmas Eve. Each day you visited LetsRun, there was a cryptic message about earning a badge. Many of you were perplexed.
Well, if you kept coming each day and earned 8+ badges on Days 11 and 12, you could enter a drawing for a Free LetsRun.com Puma T-shirt.
If you came all 12 days, you could enter a drawing for one of 12 free pairs of Puma Faas shoes. Now this being little LetsRun.com, we didn't even notify the winners, we just sent out the shirts. So if you got a T-shirt or a pair of shoes in the mail, now you know why. We just wanted to thank our loyal visitors. Thanks for making 2012 the biggest year yet on LetsRun.com.
Still Haven't Checked Your Scores? Click here.

Didn't play but want to see the results? Click here.

****
Note: We have had one guy previously win an overall contest and then part of another contest, but never two overall contests back-to-back.
The Puma Faas 800 Launches Feb 1