SEC *Live Results Men's 10,000: Solomon Haile 4th, 12 finishers and 11 DNFs. Women's 200: 23.70 doesn't make the final!
Boards: SEC 800 Prelims - Smokin'
*Florida Hoping To Win Both Titles Razorbacks and LSU may challenge on men's side.

Big 12 *Schedule *LIVE Results *LIVE Blog Iowa St. and Lisa Koll dominate women's 10k, Colorado men's 10k.
Boards: 6 CU guys under 30 at big 12's

PAC-10 Sat-Sun *Live Results
Will It Be A Rout or A Close Meet? *Vin Lananna Is Forecasting A Very, Very Tight Team Battle
*Oregonian's Ken Goe Says Oregon Will Win Easily But TFN Says It Will Be Tight

Big 10 *Big Ten Live Results Wisco freshman Canadian Mo Ahmed wins 10k in 29:03.
Boards: Big 10 Minnesota W10k: Minnesota, Megan Duwell go 1, 2, 4

IC4A *Live Video Fauxtrack.com with coverage.
*IC4A/ECAC Results
High School Freshman In Korea Runs 15:38 5,000m A national record as well. Pretty damn impressive.
Recommended Read #1: Mike Hurst - A Personal Perspective On Coach Charlie Francis A great read from a friend of Francis titled "End of good run for flawed coach."
Haile G, Tyson Gay To Race In Manchester Sunday Morning
*
Both Events Streamed Live
Gay Confident He Can Run WR Late This Year But he says Bolt will probably still beat him. Gay is running a street flat 200m this weekend trying to beat Tommie Smith's WR of 19.5

Haile Gebrselassie Racing BUPA Great Manchester Run This Sunday Though he isn't racing anyone of his caliber, Gebrselassie says this race will help him determine whether to run his fall marathon in Berlin or Chicago.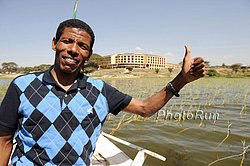 LRC Special: Photos From Haile's New Resort, Tsegaye Kebede's Crib And Addis National Stadium

Jessica Ennis Hopes To Beat Christine Ohurougu In Manchester
Recommended Read #2: Former Ivy 800m Runner Writes Great Piece On Genetics And Speed For SI.com Nature or nurture? Genetics or environment? What are the genticists finding out about specific genes and how they relate to sprinting?
Fastest Man Who Ever Lived (MJ) Talks About Making Documentary With Fastest Man Who Ever Lived (Bolt)
HS Girls Track Coach Gets Pole Vaulter DQed For Bracelet - Making His Team Conference Champs
*Boards: Another idiotic HS rule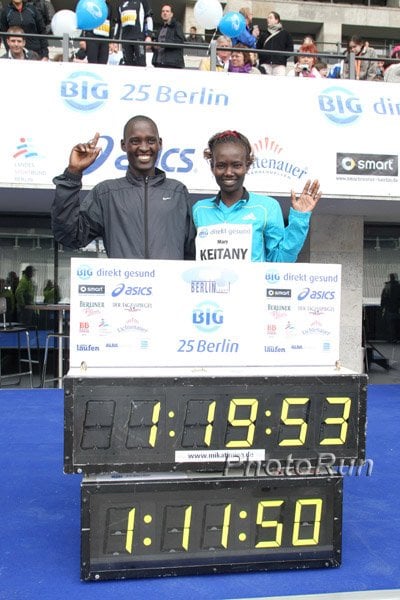 LetsRun.com's The Week That Was In Running This week we put an end to the Rupp-Solinsky controversy, analyze the continual decline of Jeremy Wariner, announce the return of Walter Dix, tell you why Usain Bolt is clean, fall in love with the 25 kilometer distance, and amazingly discover that hGH actually helps performance. All that plus Haile Gebrselassie puts an end to the barefoot running craze and a great race video from Australia.
Maybe Track Is Getting Popular In The US
Chris Solinksy's Run (And LetsRun.com) Gets A 3 Line Mention In A Mainstream Sports Blog Look out, NFL. Proof of the soaring popularity of track and field (see Washington Post article below). The story on a high school track team losing it's league championship because of a pole vaulter wearing a friendship bracelet got a full story. Seriously, we want to give a shout out to the LetsRun.com fan who fought hard to get Solinsky a little press.
LetsRun.com In Washington Post
Washington Post: "Track's Popularity Soars Despite Lack Of US Star Power" LetsRun's co-founder Wejo is quoted and Rojo is mentioned as Amy Shipley of the Washington Post examines the positive state of track in America. We like the article but (despite our rapidly rising numbers) aren't sure the sport is soaring in popularity, considering the average person on the street couldn't name a single US track star. We're glad however to see the sport in a positive light (but never thought the sport was down in the dumps) and think the article is proof the sport's execs need to get the sport on network television or ESPN more often.
Random News
Merlene Ottey - Now 50 - Plans To Compete For Slovenia At Euros California-based former world-leading sprinter (with a checkered drug history) will compete into her 6th decade of existence in Barcelona this summer.

Video: James Mbugua Wins Mombasa Marathon In 2:08, Lowers Record By 6 Minutes 2:08 in Mombasa sounds amazing to us.
Jeremy Wariner - The Star Who Got Hosed?
Neville Breaks Wariner's 5-Year 400m Win Streak! Well, not technically, but look at these stats: Before Olympic bronze medalist David Neville beat him in Puerto Rico this weekend, and taking out confirmed drug cheat LaShawn Merritt, who beat him 6 times, Jeremy Wariner had not lost a 400m since September of 2005 (he did DNF twice, but other than that, 51 consecutive wins). We give a shout out to Wariner, who - since his senior year at Baylor in 2004 - raced the 400m 91 times and, ignoring Merritt, won 82 times, including 2 Olympics and 3 World Championships (plus 5 relay golds).

California Teens Find Javelin, Throw It, Impale Innocent Bystander

German Hurdle Olympian Busted For Roids

7 Americans Begin Appeal To Reclaim 2000 Oly Relay Medals Stripped Because Of Marion Jones
NY Times Mother's Day Special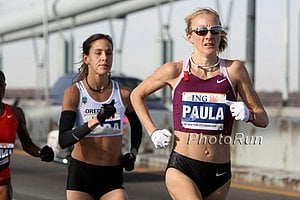 Kara Goucher 4 Months Pregnant And Training With Pregnant Paula Radcliffe Things are going well when your pregnancy is announced in the NY Times. Radcliffe and Goucher are due on the same day.
Walter Dix Is Back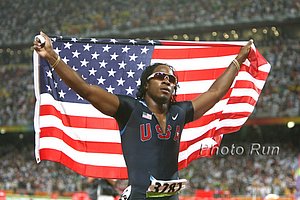 Walter Dix Is Back: Runs 9.98 And 19.89 And apparently the whole meet was run in 90 minutes. If anyone knows anything about this, let us know, but a big Thumbs Up to FSU for trying to make an entertaining track meet for fans.
On The Boards: Dix @ FSU Twilight
Diamond League Kicks Off In Style *Results *Recaps *Photos
Blazing Times In Doha From 100m To 5,000 Asafa Powell impressed the crowd with a 9.75w in the first round. Distance times were fast as well - 12:51s for Eliud Kipchoge and Vincent Chepkok while David Rudisha and Asbel Kiprop ran 1:43s in the 800. Olympic champion Nancy Langat won the women's 1,500 in 4:01 to announce her return to the top. World champion Joseph Ebuya struggled home in 13:33 9th in the 5,000.

Asafa Powell Impresses, Allyson Felix Cruises In Opening Diamond League Meet Asafa Powell ran 9.81 in the 2nd round despite a terrible start.

Doha On The Boards: Two 12:51's in Doha! Think there might be a new PED out there? At least someone noticed the 12:51. If an American ran this time, it's all anyone would talk about for a month. Instead, Kipchoge did it in 88-degree heat.
*Is this the year that Kipchoge cracks 1240..or at least sets a PR???
*Joseph Ebuya is not very good We don't care what he ran in Doha. He's the World XC champ. We're surrprised he ran the race, but wish Universal Sports had even acknowledged him being on the starting line.
*Asafa Powell wind-aided 9.81
Road Races - East vs. West Coast
Healthy Kidney 10k Quick Update: Gebre Gebremariam Wins in 27:39 Breaks Central Park Course Record Gebre Gebremariam was last year's world cross champ so the tough NYC course was no problem for him.
*Khalid Khannouchi Returns
Road Mile In Minneapolis - Torrence's Roll Continues
Anna Pierce And David Torrence Win US 1 Mile Road Champs Torrence ran around the streets with an American flag and black socks after he took it to the field in the last 200m as Lopez Lomong was left in 6th. Sarah Bowman came up to pass race leader Christin Wurth-Thomas for 2nd but nobody could match Pierce.
*Boards: 1 mile road championship thread
HBOs Real Sports Examines Barefoot Running In Next Episode Bryant Gumbel's show airs on Tuesday and will include an interview with Born to Run author Christopher McDougall.
21-Year-Old Jamaican Quarter Miler Female Tested Positive At World Indoors Jamaican athletics leaders are playing dumb as "promising" young sprinter Bobby-Gaye Wilkins returns A and B positives for unknown substance.
Ben Johnson's Coach Charlie Francis Dies After 5-Year Battle With Cancer People under the age of 30 probably don't realize just how absolutely shocking Ben Johnson's positive test was way back in 1988. Back then, even though tons were doping, no one was testing positive. Kind of reminds us of the current NFL. *AP Obituary *LRC MBoard On Francis
It's Official
Alan Webb Marrying Julia Rudd October 15 Congrats to Alan and Julia. Of course you can discuss what this means for his running career here. Or maybe you already knew about the nuptials because there was a thread on our message boards in September saying the same thing.
Drugs, Drugs And More Drugs
A Match Made In Oregon :)
Good Read: Brief Chat With Paula Radcliffe's New BFF Kara Goucher Kara talks about training with her new mentor Paula, using the Alter-G to train with a growing baby, Alberto's searching for expert advice on health effects of training while pregnant, and her plans next year that include the Boston Marathon and Oly Trials.

Pregnant Paula And Kara To Run NYC Mini Together The high-profile duo are working with Mary Wittenberg to make an appearance at the Mini 10k as runners (i.e., not racers).

Not A Joke Headline: "Goucher and Radcliffe to give birth on the same day"
IAAF, USADA, ASA News
For Better Or Worse, Lamine Diack Elects To Run Again Joe Battaglia says that new blood in the form of IAAF VP's Sergey Bubka or Lord Seb Coe might be better for cash-strapped IAAF rather than 78-year-old Senegalese Diack, who struggles to speak the English language.

*USADA Loses Case, Depressed American Hammer Thrower Gets Drug Ban Reduced Judge decides illegal substances taken while very depressed are pardonable.

*Embattled ASA Getting Back On Its Feet Athletics South Africa's stock is rising with some new corporate investments after a disastrous '09.

*IAAF Obituary: Longtime Japanese Track And Field Contributor Teruji Kogake Passes Away
Zürich Weltklasse Begins Announcing Big Name Star Entrants Translated: "Bolt (200m) and some other people will run Zürich."
The Next 2:04 Marathoner And The Only Woman On Earth Capable Of Challenging Paula's 2:15 WR
Recommended Read: The Story Of New Teenage Marathoning Star Eliud Kiptanui Documents say he's not even 20 years old. He was supposed to run his marathon 3 weeks ago. Prague's marathon course is tough and parts of it go over cobblestones. His family is so poor he had to drop out of school ... but he just won 75,000 Euros, ran 2:05 and crushed the WC 4th-placer and now hopes to fund his siblings' schooling after just his 2nd marathon.

Keitany And Coach Talk About Finally Running The Marathon Near the WR at the half marathon and now the 25k WR holder, Mary Keitany is the only woman road racer out there who seems to be within light years of Paula Radcliffe in her prime.

*Boards: MARY KEITANY: can she take down Paula's Legendary 2:15:25 WR
USA Men's 1 Mile Champs: David Torrence Wins
USA Women's 1 Mile Championship: Anna Pierce Gets It