2009 USATF Thursday Women's Preview: Women's 10k Final: The Shalane Flanagan Show And The Emergence Of Serena Burla?
by: LetsRun.com
June 24, 2009

The women's 10k final on Thursday night should be the Shalane Flanagan show. Flanagan, who surprised the running world with her brilliant 30:22.22 bronze medal and American record performance at last year's Beijing Olympics, is the heavy, heavy favorite, especially with the absence of 2007 World Championships bronze medallist at 10,000m, Kara Goucher. Goucher, after her success in the New York and Boston Marathons, has opted to run the marathon at the World Champs in August in Berlin.
2009 has been an interesting year for Flanagan. Despite her tremendous success in 2007 (American record at 5,000m with 14:44.80) and 2008 (30:22.22 bronze medal) under Nike coach John Cook, Flanagan dumped Cook this year and has gone in a different direction. Indoors, she was being coached by her husband Steve Edwards and set the American indoor record at 5k (14:47.62) at the Reebok Boston Games. Since then she has moved to the tutelage to former Wisconsin coach Jerry Schumacher, who is now based in Portland, coaching Nike athletes.
Schumacher had tremendous success with the Badgers and rising American 5k star Matt Tegenkamp, but all of his success was with the men, as Schumacher did not coach the Badger women. Now, he has the daunting task of having the Olympic bronze medallist and American record holder at 10k as his first female athlete.
Bronze For Flanagan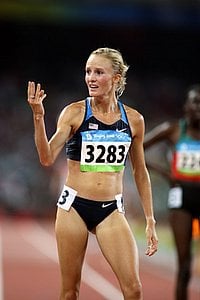 Flanagan's results under Schumacher have been a mixed bag. Flanagan ran an unimpressive 15:10 for 5k at the adidas meet in Carson California, and ran a respectable 4:06.91 for 1,500m at Pre. The beauty for Schumacher and Flanagan is that none of these early season results matter. Schumacher and Flanagan will largely be judged on one race this year, the World Championships 10,000m final in Berlin.
Flanagan is pleased with her progress so far under Schumacher. She told David Monti in a nice pre-race article that she is enjoying her situation in Portland. "I'm really impressed, really happy. Steve and I were both saying that this is the best balance we've felt in terms of running and lifestyle." You can read the full article here. Under Schumacher, she has upper her mileage and reduced the amount of drills she is doing. Barring a disaster on Thursday, we'll judge the new regime's results in Berlin. The new regime apparently believes there is a lot of upside still left in Flanagan. She told David Monti, "I may not see overnight results but I'm willing to make some sacrifices now to get results. He (Schumacher) says we've got a lot of work to do to before I become a true distance runner." A bit scary to think an Olympic bronze medallist at 10k may not yet be a true distance runner.
In the field versus Flanagan is one of the feel-good stories of the 2008 Olympic Trials, Amy Begley. Although a two-time NCAA champ while in college (indoor 5k in 2000, outdoor 10k in 2001), Begley came into the meet as a total darkhorse. Not only had she not run the Olympic qualifying standard of 31:45, she wasn't even running that pace for 5k (15:52.5) in 2007 as her best was a 15:54.
Nonetheless, she joined Alberto Salazar's group to train with Kara Goucher and there was Begley in the Trials going toe-to-toe with Goucher and Flanagan. Begley had to push the pace to try to hit the Olympic standard and that is exactly what she did as she just dipped under it with a great last lap to finish in 31:43. Although she ended up finishing third in the race, her performance was stunning. You can read the LRC race recap here and see the Toni Reavis LRC video show with Amy here.
2008 Olympic 10k Team

The problem for Amy in Eugene is her PR is 1:21 behind that of Shalane Flanagan. Barring a disaster, it seems nearly impossible for Flanagan to lose on Thursday. Amy in 2009 has been following the Alberto Salazar plan that has worked brilliantly with Galen Rupp, testing her mettle at the shorter distance. She has set 800 (2:08.80), 1,500 (4:10.04) and even 2k PRs this year. Thursday will be her first test at a longer distance on the track, although she did capture the US 15k crown at the Gate River Run on March 14.
Begley's 15k win was by 6 seconds over former US 10k champ Katie McGregor, who is also in the field and is the next challenger on paper. McGregor was an NCAA XC champion at Michigan, the US 2005 10k champ, and has made the last 2 World Championships teams at 10,000m. She's run a respectable 32:14 this year (at Brutus Hamilton) and a 15:41 (at Reebok) and on credentials is the third pick.
2008 NCAA champ and American collegiate record holder Lisa Koll (she had plantar fasciitis and didn't score at NCAAs this year), 2008 US Olympian at the marathon, Magdalena Lewy Boulet, 2006 indoor NCAA 5k champ Amy Hastings and former Notre Dame star and American junior 5k record holder Molly Huddle are all in the field as well and the only athletes who have run a 10k within 1 minute of the World Championships qualifying standard, but all have a few question marks surrounding them. Koll, as mentioned above, has been injured. Magdalena Lewy Boulet did win the US Half Marathon champs in January, but she hasn't run a track race all year and is more of a marathoner. Hastings has only run 33:03.63 this year (she ran 32:18 last year) and Huddle only has raced twice this year (9:26 3k and 15:53 5k while her bests are 8:58 3k and 15:17 5k).
LetsRun.com Budweiser Longshot Serena Burla
The LetsRun.com Budweiser Longshot is Serena Burla. Burla has only run 15:52 for 5k this year, but then again that's pretty impressive for someone with a six-month-old baby. Even more impressive was Burla's performance at the NY Mini 10k in Central Park on June 10th. She ran 33:04 on the difficult course, getting 2nd place and picking up $10,000. Not only did she stomp marathoning legend Catherine Ndereba, but she easily disposed of Americans Boulet, Amy Rudolph (the former Olympian is not running nationals), and Sara Slattery (running the 5k at nationals).
Burla hails from the training mecca of Ellisville, Missouri. She's definitely the LRC Blue Collar runner in the field. For a brief chat with her from RW click here.
In our analysis, Flanagan is the class of the field and then comes Amy Begley. The next group of women have quite a bit of ground to make up, but Burla is on a tremendous upswing.
So our predictions:
1) Flanagan 2) Amy Begley 3) Serena Burla
Section 1  Timed Finals
  1  Stephanie Rothstein              unattached         33:08.37        
  2  Melissa Cook                     New Balance        33:18.12        
  3  Erin Nehus                       unattached         33:36.77        
  4  Kara Storage                     RUNOHIO R T        33:19.27        
  5  Danielle Domenichelli            unattached         33:19.43        
  6  Shalane Flanagan                 Nike               30:22.22        
  7  Sally Meyerhoff                  unattached         33:14.14        
  8  Amy Begley                       Nike               31:43.60        
  9  Catherine White                  Arkansas           33:37.83        
 10  Allison Grace                    ZAP Fitness        33:17.15        
 11  Tara Storage                     RUNOHIO R T        33:18.31        
 12  Wendi Robinson                   Indiana            33:40.79        
 13  Mattie Bridgmon                  Oregon             33:37.33        
 14  Melissa White                    Hansons-Brooks     33:15.80        
 15  Clara Grandt                     West Virginia      33:16.96        
 16  Molly Huddle                     unattached         33:17.73        
 17  Katie McGregor                   Reebok             32:14.57        
 18  Magdalena Lewy Boulet            unattached         32:33.02        
 19  Serena Burla                     RIADHA             32:47.48        
 20  Katherine Newberry               N Y A C            32:50.97        
 21  Jill Steffens                    New Balance        33:16.53        
 22  Amy Hastings                     adidas             32:18.72   
Other Thursday Action:
Two field event finals and round 1 of the 800 and the semis of the 1,500 are also on Thursday. More below.

Women's Discus And High Jump Finals
The women's discus final, featuring Olympic champ Stephanie Brown Trafton, is on Thursday. Brown Trafton may have won Olympic gold in 2008 but she was only third at the US Nationals behind American record holder Suzy Powell and 2008 US champ Aretha Thurmond. All three are in the field Thursday, but Brown Tafton is the favorite with 2009 wins at Pre and Reebok.
In the high jump the competition likely will be between 2005 Worlds silver medallist Chaunte Howard and NCAA champ Destinee Hooker. Amy Acuff, after 4 Olympic teams and 7 World Champs teams, will try to make it an incredible 8 World Championships in her last and final USATF nationals.
Round 1 Of Women's 1,500 - Why So Many Time Qualifiers?
The rules need to be changed to take away the time qualifiers for the final in the women's 1,500. The 1,500 is often a tactical race and having six time qualifiers is ridiculous and a big advantage to heat #2. Heat 1, however, might be fastest up front, as 2008 1,500m surprises Anna Willard and Christin Wurth are in the same heat.
Event 10  Women 1500 Meter Run
===============================================================================
12 Advance:  Top 3 Each Heat plus Next 6 Best Times
Thursday 6/25/2009 - 6:45 PM
       World:  3:50.46  9/11/1993   Yunxia Qu, CHN                             
    American:  3:57.12  7/26/1983   Mary Slaney, Athletics West                
     Hayward:  3:59.19  1984        Mary Slaney, USA                           
     Name                        Year Team                   Seed           
===============================================================================
Heat 1  Prelims
  1  Renee Metivier Baille            Nike                4:15.95        
  2  Jessica Pixler                   Seattle Pacific     4:37.83        
  3  Anna Willard                     Nike                4:01.44        
  4  Sarah Bowman                     Tennessee           4:13.59        
  5  Treniere Clement                 Nike                4:09.57        
  6  Amanda LoPiccolo                 Syracuse Charger    4:16.48        
  7  Christin Wurth                   Nike                4:01.72        
  8  Lisa Senakiewich                 Michigan St         4:14.25        
  9  Kellyn Johnson                   unattached          4:34.41        
 10  Heidi Dahl                       East Tenn St        4:14.92        
 11  Natalie Picchetti                unattached          4:14.75        
 12  Lauren Hagans                    unattached          4:09.86        
Heat 2  Prelims
  1  Margaret Infeld                  Georgetown          4:14.55        
  2  Dacia Perkins                    unattached          4:17.08        
  3  Amy Mortimer                     Reebok              4:07.19        
  4  Molly Lehman                     Duke                4:15.19        
  5  Sara Vaughn                      adidas              4:15.65        
  6  Erin Donohue                     Nike                4:06.70        
  7  Mary Jayne Reeves                unattached          4:10.85        
  8  Frances Koons                    Villanova           4:16.86        
  9  Shannon Rowbury                  Nike                4:00.33        
 10  Lauren Centrowitz                Stanford            4:10.42        
 11  Jordan Hasay                     San Luis D C        4:14.50       
Round 1 Of The Women's 800
Heat 2 looks the most interesting with Prefontaine surprise winner Maggie Vessey and NCAA champ Geena Gall in the same heat. But with the top 4 in each heat making the semis, these women have no excuse for not making the next round.
Event 8  Women 800 Meter Run
===============================================================================
16 Advance:  Top 4 Each Heat plus Next 4 Best Times
Thursday 6/25/2009 - 5:15 PM
       World:  1:53.28  7/26/1983   Jarmila Kratochvilova, CZE                 
    American:  1:56.40  8/11/1999   Jearl Miles-Clark, Reebok                  
     Hayward:  1:57.57  1997        Maria Mutola, Mozambique                   
     Name                        Year Team                   Seed           
===============================================================================
Heat 1  Prelims
  1  Colleen Newhart                  Fleet Feet/Nike     2:05.16        
  2  Latavia Thomas                   L S U               2:01.56        
  3  Ty Davis                         Team Indiana/Brk    2:03.22        
  4  Hazel Clark                      Nike                1:59.82        
  5  Becky Horn                       unattached          2:03.87        
  6  Angee Henry                      Team Nebr/Brks      2:04.79        
  7  Katie Palmer                     B Y U               2:03.26        
  8  Katie Waits                      Reebok              2:01.78        
  9  Dominique Jackson                North Carolina      2:03.89        
Heat 2  Prelims
  1  Chantee McBride                  unattached          2:04.69        
  2  Maggie Vessey                    unattached          2:00.18        
  3  Heather Dorniden                 Minnesota           2:03.77        
  4  Molly Beckwith                   Indiana             2:02.51        
  5  Ashley Puga                      unattached          2:05.23        
  6  Mary Jayne Reeves                unattached          2:03.48        
  7  Trisa Nickoley                   unattached          2:04.62        
  8  Geena Gall                       Michigan            2:00.80        
  9  Nikeya Green                     Reebok              2:02.36        
Heat 3  Prelims
  1  Brenda Martinez                  Cal Riverside       2:03.05        
  2  Aja Jackson                      Charlotte           2:05.21        
  3  Alysia Johnson                   Nike                2:03.85        
  4  Phoebe Wright                    Tennessee           2:02.15        
  5  Nicole Cook                      Reebok              2:04.29        
  6  Laura Hermanson                  North Dakota St     2:01.37        
  7  Sara Vaughn                      adidas              2:04.75        
  8  Morgan Uceny                     Reebok              2:00.01        
  9  Jesse Carlin                     Nike                2:03.42