2009 Reebok Boston Games Recap
By LetsRun.com
*Meet Website *Results *Photos
Feb 8, 2009 - Below you will find a brief recap of all the events except for the Masters. We list them in the order they took place.
---
Men's College 800m
The race was tactical from the start. After a 55.6 opening 400, everyone got a bit antsy. In the end, Rend Lake's Dey Tuach powered home to a decisive victory over Providence's Charlie Dewey.
Finals                                                         
  1 Dey Tuach                    Rend Lake              1:51.41
  2 Charlie Dewey                Providence             1:51.87
  3 Andrew Levy                  Cornell                1:53.05
  4 Daniel White                 Ohio State             1:53.11
  5 Dan Darcy                    Bentley                1:54.32
  6 James Grantham               Rend Lake              1:55.32
---
MBTA Men's 200m
9.94 man Ivory Williams caught Rubin Williams on the middle of the turn and got the win.
Finals                                                         
  1 Ivory Williams               USA                      20.92
  2 Rubin Williams               USA                      21.17
  3 Eric Seely                   USA                      21.91
  4 Chris Hargrett               USA                      21.92
---
Nutrilite Women's Pole Vault: Stuczynski Gets AR!!!
The battle between the past and future of US pole vaulting turned out to be a bit of a dud as 2000 US Olympic champ Stacy Dragila went out on the height that 2008 Olympic Silver Medallist Jenn Stuczynski came in at. Stuczynski did add some big-time excitement once the win was in hand as she went on to break Dragila's 5-year-old American record by vaulting 15'9.75" to pick up a $25,000 bonus. She then gave the world record a scare.
Great vaulting.
Finals                                                                           
  1 Jenn Stuczynski              USA                      4.82m   15-09.75 New AR
     4.02 4.22 4.42 4.52 4.62 4.82 4.96                                          
        P    P    P    O    O    O  XXX                                          
  2 Stacy Dragila                USA                      4.42m   14-06.00       
     4.02 4.22 4.42 4.52                                                         
        P    O   XO  XXX                                                         
  3 Cathrine Larsaasen           NOR                      4.02m   13-02.25       
     4.02 4.22                                                                   
        O  XXX                                                                   
-- Victoria Parnov              AUS                         NH                  
     4.02                                                                        
      XXX                                                                        
 -- Erica Bartolina              USA                         NH                  
     4.02                                                                        
      XXX                                            
---
METRO Women's 800 Meters: Schmidt Gets OT Revenge
The rematch between 2008 Olympic Trials winner Hazel Clark and 2008 Olympic Trials runner-up Alice Schmidt ended up seeing the places reversed as Schmidt got a narrow victory. After a fast early pace (59.32), things slowed considerably as 600 was reached in 1:30.97. At the bell, former Michigan star Katie Waits had the lead with Schmidt on her shoulder and Clark a few meters behind Schmidt. Schmidt didn't get the lead until the final 100 and it seemed a bit weird as when Schmidt challenged Waits heading into the final turn, Clark seemed uninterested in following her to the front as she was 3-4 meters behind Schmidt. Finally coming off the final bend, Clark rallied three wide but it was too little, too late. You can't let yourself get gapped in the final 100.
Clark rallied furiously but Schmidt prevailed 2:03:05 to 2:03:19. Unbelievable to think how much these people tied up in the last 200. 32+ gets the job done. Clearly no one was really race sharp.
While Waits had nothing in the final 100 (she ended up 3rd in 2:04.07), it was a step in the right direction for her as she struggled last year in hir first season as a pro - only hitting 2:02 for a SB when she ran 1:59 in 2007.
Finals                                                         
  1 Alice Schmidt                USA                    2:03.05
  2 Hazel Clark                  USA                    2:03.19
  3 Katie Waits                  USA                    2:04.07
  4 Treniere Clement             USA                    2:05.32
  5 Nikeya Green                 USA                    2:07.02
  6 Leanna MacLean               CAN                    2:07.19
-- Karen Shinkins               IRL                        DNF
---
Reebok Men's 60H: Trammell Dominates
This race ended up being a repeat of Millrose as 2-time Olympic silver medallist at 110h, Terrence Trammell, got the win with last year's champ Antwon Hicks a well-beaten 2nd. It was a little closer this week (7.53 to 7.68) versus last week (7.45 vs. 7.64), but it was utter domination once again for the most part.
  1 Terrence Trammell            USA                       7.53  RT: 0.162
  2 Antwon Hicks                 USA                       7.68  RT: 0.184
  3 Hector Cotto                 PUR                       7.74  RT: 0.159
  4 Aubrey Herring               USA                       7.77  RT: 0.170
  5 Jeff Porter                  USA 
  6 Aries Merritt                USA                       7.81  RT: 0.167
  7 Ryan Fontenot                USA                       7.94  RT: 0.167
  8 Ron Bramlett                 USA                      21.03  RT: 0.162
---
Kara Goucher After Winning 3k (3:55)

She talks about beating Sally Kipyego, running the
3k like the marathon (negative split, and running 20 miles the day after
the race in getting ready for the Boston Marathon..

Women's 3k: The Kara Goucher Show!!!
This race was weird as the rabbit Korene Hinds got out and ran a 36 but no one was near her. By 400 (72.7), the field had final caught up with Sally Kipyego and Christin Wurth-Thomas in 2nd and 3rd. The 800 was reached in 2:24.6. Just before 1k (2:59.99) Wurth-Thomas fell off and Goucher quickly moved into third as it was clear this race would end up being a two woman affair between Kipyego and Goucher. 1,500 was reached in 4:27.5 and 1,600 4:45.5. The rabbit dropped at 1,800 and at this point Goucher moved up on the outside of Kipyego but Kipyego wanted to keep the lead and responded. 5:56.17 at 2k.
With 800 to go, Goucher moved into the lead at for the first time but Kipyego stayed right on her shoulder. With three laps to go, Goucher pushed down the pace and the 35s they had been running quickly became a 33.18 and Kipyego had no response. Goucher's penultimate lap was 33.11 and the last lap 34.34 as Goucher ran a perfectly-conducted negative split. Each k was faster - 2:59.99, 2:57.18, 2:50.48.
Goucher will now get ready for the 2009 Boston marathon.
  1 Kara Goucher                 USA                    8:46.65
  2 Sally Kipyego                KEN                    8:48.77
  3 Barbara Parker               GBR                    9:00.20
  4 Courtney Babcock             CAN                    9:03.66
  5 Amy Mortimer                 USA                    9:04.67
  6 Christin Wurth-Thomas        USA                    9:30.27
 -- Korene Hinds                 JAM                        DNF
---
MBTA Men's 400m: The Rennie Quow Show!
You can throw out the old adage about having to have the lead at the break in the indoor 400. This race was won by 2006 world junior gold medallist Rennie Quow just as we predicted but he made it very interesting. He was only 4th heading into the final turn but coming off of it he swung way wide and somehow managed to get the win at the tape.
32-year-old Michael Blackwood of Jamaica was 22nd.
1 Renny Quow                   TRI                      47.22
  2 Michael Blackwood            JAM                      47.31
  3 Kelly Willie                 USA                      47.33
  4 Michael Tinsley              USA                      47.97
  5 Drew Morano                  USA                      48.68
---
Reebok Girls HS Mile
Canada's Jessica Parry got a convincing win.
 1 Jessica Parry                Ontario, CAN           4:51.62  1500 4:33.73
  2 Emily Lipari                 Roslyn, NY             4:53.29  1500 4:35.71
  3 Stephanie Brown              Bloomington, IL        4:54.87  1500 4:34.40
  4 Cory Ann McGee               Pass Christian, MS     4:55.88  1500 4:36.80
  5 Amanda Winslow               Lawrenceville, GA      4:57.46              
  6 Shelby Greany                Suffern, NY            5:00.60              
  7 Bridget Dahlberg             Boston, MA             5:02.70              
  8 Brianna Welch                Glen Head, NY          5:08.45              
  9 Brittany Kaziara             Orlando, FL            5:17.41              
 10 Alyssa Allison               Herculaneum, MO        5:17.71              
 -- Emily Jomes                  Harvard, MA                DNF                  
---
Nutrilite Women's 60m: Millrose Reversed
Anyone expecting to see a repeat of Millrose was shocked by the result of this one. 20-year-old Bianca Knight, who broke the collegiate record in the 200 meters last year at NCAAs and then quickly turned pro, was the winner at Millrose last weekend in 7.23. On Saturday in Boston, she ran 7.28 and was only 5th. And last week's 5th placer, Lisa Barber, the 2006 world indoor champ, ended up the winner in 7.19. Carmelita Jeter, who was 4th in 7.30 at Millrose, ran 7.20 for 2nd.
1 Lisa Barber                  USA                       7.19  RT: 0.153
  2 Carmelita Jeter              USA                       7.20  RT: 0.174
  3 Sheri-Ann Brooks             JAM                       7.24  RT: 0.162
  4 Muna Lee                     USA                       7.25  RT: 0.174
  5 Bianca Knight                USA                       7.28  RT: 0.202
  6 Sally McLellan               AUS                       7.30  RT: 0.150
  7 Simone Facey                 JAM                       7.31  RT: 0.176
  8 Miki Barber                  USA                       7.35  RT: 0.204
---
Reebok Women's Mile Run: Gallo Pulls A Huge Upset!!!
Lindsey Gallo After Winning the Mile (2:08)

She talks about training under Matt Centrowitz, the biggest
win of her career, being dissed by LetsRun.com
and opening the season with a 2:10 800m.
This ended up being the race of the night for us. We find it unbelievable that it wasn't shown on TV.
After opening splits of 65.9, 2:15.0 and 3:22.8, this race saw an unreal finish. Heaing into the bell, pre-race favorite Sarah Jamieson of Australia, who came into the race as the defending champ and with the best PR, had the lead and was being challenged by American Lindsey Gallo and Ethiopian Mestawot Tadesse. Gallo would pass Jamieson but Tadesse was lurking just behind Gallo as they came off the final turn. Tadesse would get the lead but Gallo would end up re-surging to get the biggest win of her professional career in a stellar 4:27.90. It was a truly fantastic stretch duel, which is a bit unusual to see at the pro level (normally there is just one move and it's over).
This race was our favorite because of all the distance races save for maybe a high school race, it was the only one where there was an unexpected winner and the best part of the upset win was that Gallo showed her excitedness when she broke the tape. Fans aren't going to get excited if the athletes don't get excited. Lindsey displayed pure joy when she hit the tape.
Gallo came into the race with only a 2:10 800 to her name this year. But she leaves as the 2009 Reebok Mile champion. Congratulations.
Gallo's move to Washington, DC and the new coaching of Matt Centrowitz has already paid big dividends. Lindsey noted in our post-race chat with her that we'd largely written her off as not being "race sharp" in our meet preview. Had we known she was being coached by Centro, we'd never have written her off.
It's a real shame this race wasn't on TV and that our recap isn't better but LetsRun.com co-founder Rojo was getting ready to coach two athletes in the college mile so we didn't type up what happened at the time and we just assumed this race would be on television.
 1 Lindsey Gallo                USA                    4:27.90  1500 4:10.96
  2 Mestawot Tadesse             ETH                    4:28.18  1500 4:10.77
  3 Sarah Jamieson               AUS                    4:29.47  1500 4:11.08
  4 Roisin McGettigan            IRL                    4:30.06  1500 4:11.31
  5 Julia Howard                 CAN                    4:38.22              
  6 Lauren Hagans                USA                    4:40.94              
  7 Stephanie Reilly             IRL                    4:50.20              
 -- Erica Fountain               AUS                        DNS                    
---
Reebok Men's Pole Vault: Hooker Goes 19'10.50"!!!
Reigning Olympic champ Steve Hooker vaulted great for the 2nd straight week. Last week, he vaulted (19'8.5") and then gave Sergei Bubka's world record a very good scare on two attempts at 20'2.5". This week he made 19'10.50" and then gave Bubka's record another scare.
2008 OTrials champ Derek Miles, who was 4th in Beijing, was 2nd, having cleared 18'9.25".
2004 Olympic Champion Tim Mack no-heighted.
  1 Steven Hooker                AUS                      6.06m   19-10.50
     5.37 5.52 5.62 5.72 5.87 6.06 6.16                                   
        P    P    O    P    O  XXO  XXX                                   
  2 Derek Miles                  USA                      5.72m   18-09.25
     5.37 5.52 5.62 5.72 5.87                                             
        P    O    P    O  XXX                                             
  3 Darren Niedermeyer           USA                      5.52m   18-01.25
     5.37 5.52 5.62 5.72                                                  
       XO    O    P  XXX                                                  
  4 Giovanni Lannaro             MEX                      5.37m   17-07.25
     5.37 5.52                                                            
        O  XXX                                                            
  5 Paul Burgess                 AUS                      5.37m   17-07.25
     5.37 5.52                                                            
       XO  XXX                                                            
 -- Tim Mack                     USA                         NH           
     5.37 5.52                                                            
        P  XXX                                
---
Men's College Mile: Favorite Jeff See Wins
In a race that had 11 guys who probably all thought they had a chance at sub-4, Rojo's fears were realized in the men's college mile. All week he'd been saying, "If the rabbit doesn't get out in 1:58.0 at the slowest you are going to have a cluster-**** and no one will break 4." That's exactly what you saw tonight as the rabbit, who was supposed to go 1k, struggled mightily, only making it to halfway in a way-too-slow 2:01. Due to the slow pace and the large field, runners were wasting lots of energy running 3 wide, trying to move up.
In the end, coming off the final turn, Providence's Hayden McLaren was fighting off a late-race surge by Cornell's Jimmy Wyner but the eventual winner, Ohio State's Jeff See, timed his kick perfectly. See's last 50 was very good and he edged McLaren 4:01.17 to 4:01.22 to Wyner's 4:01.67.
 1 Jeff See                     Ohio State             4:01.17  1500 3:45.99
  2 Hayden McLaren               Providence             4:01.22  1500 3:45.46
  3 Jim Wyner                    Cornell                4:01.67  1500 3:45.67
  4 David McCarthy               Providence             4:01.74  1500 3:45.69
  5 Kyle Heath                   Syracuse               4:02.92              
  6 David Proctor                BU                     4:03.15              
  7 Andy Miller                  Cornell                4:04.64              
  8 Gilbert Limo                 Texas Tech             4:05.51              
  9 Felix Kiboiywo               Auburn                 4:10.35              
 10 Brad Miller                  Syracuse               4:13.79              
 -- Nick Berlutti                Providence                 DNF
---
Visa Men's 60 Meters
2008 US indoor 60m champ Michael Rodgers got the narrow win over 2008 US 100m Olympian Darvis Patton, who ran 9.84 wind-aided to make the team last year, and 9.85 man Travis Padgett (who was DQed in is pro debut last week). Rodgers ran 6.58 this week compared to his stellar world-leading 6.51 last week.
1 Michael Rodgers              USA                       6.58  RT: 0.179
  2 Darvis Patton                USA                       6.61  RT: 0.157
  3 Travis Padgett               USA                       6.62  RT: 0.146
  4 Rae Edwards                  USA                       6.67  RT: 0.162
  5 Shawn Crawford               USA                       6.71  RT: 0.147
  6 Tyrone Edgar                 GBR                       6.72  RT: 0.143
  7 Trell Kimmons                USA                       6.73  RT: 0.147
  8 Lerone Clarke                JAM                       6.74  RT: 0.175
---
Women's Long Jump: Big Upset/Poor Jumping
Not sure what was going on in the ladies long jump as the women didn't jump far at all. In the end, the least accomplished of all the jumpers, former Colorado St. jumper Janay Deloach, won the event with the very first jump of the competition - an uninspiring 6.33m. 2008 US Olympic Trials champion Grace Upshaw was 2nd and 2005 world champion, Tianna Madison, who has a PB of 22'7.25" was third in 20'5.75".
  1 Janay Deloach                USA                      6.33m   20-09.25
      6.33m  6.26m  6.19m  6.24m                                          
  2 Grace Upshaw                 USA                      6.30m   20-08.00
      6.27m  6.30m  6.09m  FOUL                                           
  3 Tianna Madison               USA                      6.24m   20-05.75
      6.24m  4.10m  6.10m  FOUL                                           
  4 Jenny Adams                  USA                      6.19m   20-03.75
      6.19m  6.00m  5.92m  5.99m                                          
  5 Lela Nelson                  USA                      6.19m   20-03.75
      FOUL  FOUL  6.19m  FOUL                                
---
Reebok Boys High School Mile: What A Race!!!
After a 64.1 opening quarer, US leader Andrew Springer pushed the pace through 800 in a very honest 2:06.2 as the field strung out. At 3/4ths (3:09.1), only two guys were up front as Springer was followed by Californian Mac Fleet with third place being about 3-4 meters back. Heading into the final lap, Drew Butler made a big move from 5th or so up to the lead. Springer gave chase and heading into the final 100, Springer got the lead back as they entered the final turn. However, coming up on Springer's outside was Alabama's Pat McGregor.
It looked like we were in store for a great 3-way battle. Coming off the final turn, McGregor took the lead but Springer dug deep on the inside and battled back. He regained the lead less than 10 meters from the finish and surely thought he was the winner.
Wrong! The 3-man battle suddenly ended up with a 4th guy in Fleet (an Oregon signee) roaring up to ruin the party, coming seemingly out of nowhere - from a distant fourth with 50 to go to being the winner at the line. A perfectly timed kick. An unreal finish. This race and the women's mile and the women's 5k had simply unbelievable finishes.
1 Mac Fleet                    University City, CA    4:09.06  1500 3:54.40
  2 Andrew Springer              Rhode Island           4:09.16  1500 3:53.32
  3 Patrick McGregor             Hoover, AL             4:09.41  1500 3:53.72
  4 Drew Butler                  Woodlands, TX          4:09.62  1500 3:53.38
  5 Reid Conner                  Woodlands, TX          4:11.26  1500 3:55.12
  6 Jeremy Rae                   Ontario, CAN           4:12.70                  
  7 Brett Johnson                Ocean City, NJ         4:13.00               
  8 Trevor Dunbar                Kodiak, AK             4:13.19              
  9 Collin Jarvis                Vista, CA              4:13.57              
 10 CJ Brown                     Southlake, TX          4:14.29              
 11 Zachary Ornelas              Cedar Park, TX         4:20.15              
 12 Omar Abdi                    Charlestown, MA        4:22.28                        
---
Men's 3000m Galen Rupp (3:24):

Galen talks about about how Oregon winning the team title is his #1 priority in 2009.

Men's 3k: Rupp Is A Bridesmaid
This race was honest from the gun thanks to some good pacesetting by Haron Lagat. 1,600 was hit in 4:08 and soon it became a 2-man battle between 20-year-old Bekana Daba of Ethiopia and 2008 NCAA XC champion Galen Rupp. Rupp was hanging tough on Daba's shoulder at 2,400 (6:12.74) but Daba would pick up the pace and Rupp would be unable to respond. Daba ran the next 400 in 60.87 and, heading into the bell lap, victory was assured as Rupp was probably 15 meters behind.
Daba looked effortless the whole way and got a nice win in 7:41.88 to Rupp's 7:44.69.
 1 Bekana Daba                  ETH                    7:41.88
  2 Galen Rupp                   USA                    7:44.69
  3 Markos Geneti                ETH                    7:46.74
  4 Josh Rohatinsky              USA                    7:49.55
  5 Brian Olinger                USA                    7:51.13
  6 Adrian Blincoe               NZL                    7:53.98
  7 Bolota Asmerom               USA                    7:56.10
 -- Haron Lagat                  KEN                        DNF
 -- Solomon Kandie               KEN                        DNF
---
Visa Women's 200: Solomon Cruises
In our preview of the 200, we said to "expect a cakewalk" for the eventual winner and that's exactly what you got. 2004 world junior champion at 200m, Shalonda Solomon, won easily.
  1 Shalonda Solomon             USA                      23.17
  2 Ashlee Kidd                  USA                      23.80
  3 Shana Cox                    USA                      23.85
  4 Shareese Woods               USA                      23.85
  5 Tiffany Ross-Williams        USA                      24.64
---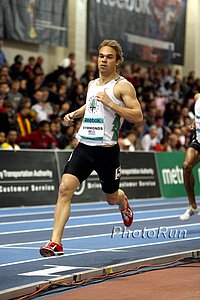 1,000: A Rabbit Tries To Steal Victory But In the End Symmonds Wins
This race got interesting at 800 as pacesetter Moise Joseph decided he'd try to steal the victory. Joseph did a really good job of rabbiting the field as he hist 200 in 26.15, 400 in 53.86, 600 in 1:21.90 and 800 in 1:51.79. The only problem is the field didn't go with him and they were roughly 2 seconds back at 600 and 800.
Joseph kept running and the chase pack of Kenyan Olympian Boaz Lalang (the only guy who had tried to go with Joseph early on), Nick Symmonds, Christian Smith and David Krummenacker had some work to do. All four of those guys were running well but they were at least 10 meters back. Symmonds led the chase and he caught Joseph just as they entered the final turn and powered home to the victory in 2:20.52, as Symmonds was clearly the best in this field over the final 50.
Lalang ended up in a great stretch duel with Smith and in the end, Lalang got 2nd in 2:21.00 to Smith's 2:21.06. It was nice to see two guys battle it out for 2nd for once at a pro-race. It's amazing what prize money will do!
1 Nick Symmonds                USA                    2:20.52
  2 Boaz Lalang                  KEN                    2:21.00
  3 Christian Smith              USA                    2:21.06
  4 David Krummenacker           USA                    2:21.98
  5 Moise Joseph                 HAI                    2:23.04
  6 Karjuan Williams             USA                    2:27.45
 -- Duane Solomon                USA                        DNF
---
Shalane Flanagan After Her American Record (2:46)

She said her goal was the win or the American record.
Plus she shows a
lot of respect for Marla Runyan.
Women's 5,000: An American Record And An Even Better Race
As the field hit 1k in 2:57.8k, we heard the guy behind us say, "All I know is they've been running in the same order since the race started." Indeed as the pace was hot and the field was small.
The 1,600 was hit in 4:44.8. 2k was hit in 5:55 and at this point it was clear they'd hit the American record of 15:07 very easily. At 2k, the rabbit dropped and it was Shalane Flanagan followed by Ethiopia's Sentayehu Ejigu. Ireland's Marie Cullen was also in tow as Jen Rhines lost contact.
Once the rabbit dropped, the pace slowed as the next 400 was covered in 72. Next 400 was 71.6 and at 2,800 it was down to Flanagan and Ejigu. 9:31.4 at 3,200, so that was a 4:47. The next 400 was 70.8, then a 71.9. Then 36.1 and only 800 left.
Flanagan and Ejigu have been running side-by-side for lap after lap. When is someone going to make a move? Then a 36.0. 600 to go. 35.3. 34.4 - only 200 to go and nothing has changed. Flanagan has had the slightest of leads on Ejigu for something close to 20 laps. When is a move going to be made?
Heading into the final 100 and nothing has changed. Coming off the final turn both runners aree really moving. Would Ejigu be able to catch Flanagan? Ever so slowly, Ejigu edged up and then she took the lead about 5 meters before the line but leaned a bit too early. Flanagan came back on her in the final 2 meters. At the line it was way too close to call.
In the end both runners had the exact same time - 14:47.62 - with Ejigu getting the narrowest of victories. WHAT A RACE!!!
Flanagan didn't seem to upset about 2nd. We can't blame her too much as she can take solace in the fact that she got $25,000 for the AR.
  1 Sentayehu Ejigu              ETH                   14:47.62  14:47.613	8:55.96
  2 Shalane Flanagan             USA                   14:47.62  14:47.618	8:55.74
  3 Mary Cullen                  IRL                   15:18.34           	8:57.96
  4 Jen Rhines                   USA                   15:27.87           	9:03.36
 -- Marina Muncan                SER                        DNS           		

Flanagan's 200m Splits FAT: 34.88, 1:10.47, 1:46.33, 2:22.17, 2:57.99 (1K), 3:34.13, 4:09.39, 4:45.06, 
5:20.62, 5:56.11 (2k), 6:32.35, 7:08.37, 7:44.33, 8:20.01, 8:55.74 (3k), 9:31.38,
10:06.97, 10:42.25, 11:18.06, 11:54.15 (4k), 12:30.22, 13:06.05, 13:41.48, 14:15.98 14:47.62 (5k, AR)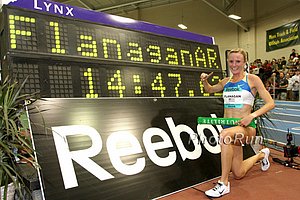 ---
Nick Willis After Winning (3:29)

A very pleased Nick talks about his new focus on winning, his rivarly with Webb,
his training partner Justin Switzer going sub 4, and losing his cell phone.
Men's Mile: Willis Makes It Look So Easy
Adam Perkins took the field through 57.8, 1:56.8, and 1k (@ 2:27.7). Alan Webb was right on him the whole way but when Perkins stepped off, Webb hesitated and Mexico's Pablo Solares, last year's champ, didn't hesitate. He moved immediately to the lead. Olympic bronze medallist Nick Willis was right behind Webb and, 5 or so meters behind Willis, gapped a little bit, was Chris Lukezic. At 3/4ths (2:56.8), Solares was 5 meters up on Webb, who was struggling. Lukezic had caught up to Willis. Willis moved around Webb and just stalked Solares. At the bell (3:26.3), Solares still had a few meters lead but Willis was just taking his time. He slowly reeled Solares in and just effortlessly passed him right before the final turn as Lukezic gave chase as well. Willis's lead would continue to grow as he proved to be the total class of the field in the last 100. Solares proved to be a clear 2nd best as he moved away from Lukezic, who ran out of steam in the last 100.
1 Nick Willis                  NZL                    3:53.54  1500 3:38.85
  2 Pablo Solares                MEX                    3:54.52  1500 3:38.93
  3 Chris Lukezic                USA                    3:56.04  1500 3:39.60
  4 Alan Webb                    USA                    3:57.64  1500 3:41.62
  5 Kevin Sullivan               CAN                    3:59.42  1500 3:43.20
  6 John Richardson              USA                    4:02.10              
  7 Rob Myers                    USA                    4:04.47              
  8 Steve Slattery               USA                    4:10.87              
 -- Adam Perkins                 USA                        DNF              
 -- Darren Brown                 USA                        DNF        
Men's Mile
Alan Webb: "I thought I had it" (3:05)

Webb said he thought he was going to win but needs another race on his belt
---
*Meet Website *Results *Photos