Pre Classic Field Event Recaps
We recap the events in order of importance and offer NBC a TV rating for each *Photos Here

Emory Mort
June 7, 2009
Men's Long Jump - Phillips Leaps To #5 All-Time!
Men's Long Jump Results
Long Jump All Time Stats
American Dwight Phillips had a breakthrough performance in front of the enthusiastic Hayward crowd, jumping just under 29 feet (8.74 meters) to put himself in a tie for the 5th best performer of all time in the event.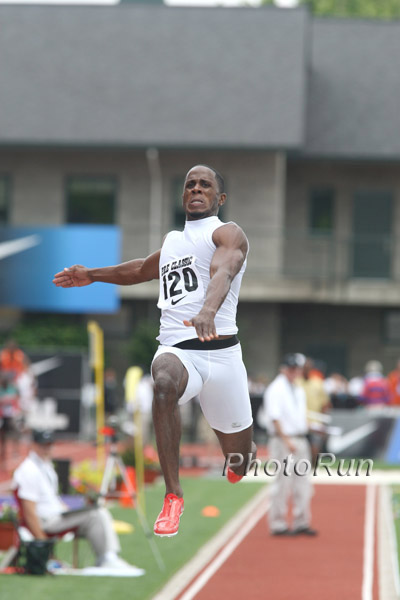 Phillips, spurred on by the presence of Panamanian rival Irving Saladino, produced three legal jumps all into considerable headwinds that went 8.43, 8.74, and 8.64m, a remarkable performance that is one of the best jumping days of all time for a man not named Mike Powell or Carl Lewis.
Incredibly, Phillips' best jump was into a 1.2m/sec headwind!
Saladino, the 2008 Olympic Champion who jumped 8.73 last year, certainly brought his A game, jumping 8.55m and 8.63m into headwinds. But he could not match the 2004 Olympic Champion Phillips (left) as he did a week ago in Hengelo.
Phillips' mark matched the 8.74m jumped by Americans Larry Myricks and Erick Walder and makes him the 5th-best jumper of all time. One has to go back to 1991 to find a longer wind-legal jump on the IAAF recordbooks.
The long jump now has a rivalry between two amazing athletes that seem to enjoy jumping against each other and getting the crowd involved. They are both jumping well, getting a lot of legal jumps, and pushing each other to perform better. Enjoy this rivalry during this year's biggest meets!
TV: NBC really got caught in an embarrassing spot as they showed no camera footage from the side of the long jump. All they had to show viewers was a head on look as the jumpers ran down the runway. They did show a few jumps but there was no perspective. The viewers missed out on a decent look at some of the longest jumps of all-time. LRC rating: D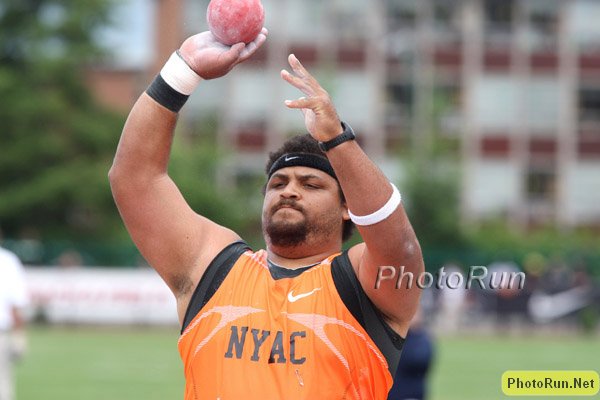 Men's Shot Put - Hoffa Saves His Best For Last, Nelson Near The End
Men's Shot Put Results
American Reese Hoffa (right) saved his best for last as he uncorked a fantastic world-leading 21.89m (71'10") heave to top the best throwers in the world.
Adam Nelson's form continues to deteriorate as the aging American throwing stalwart fouled six consecutive throws to record no mark in the competition. Nelson had one of the longest throws of 2008 but has struggled mightily in 2009.
Hoffa took the world lead from American Dan Taylor who defeated 2008 Olympic Champion Thomasz Majewski of Poland by an inch, both throwing just under 70'. In 4th was silver medalist Christian Cantwell.
American men, led by Hoffa and Taylor, now hold the top 3 throws in the world again this year, though Majewski is near the lead in seemingly every competition.
TV: Of all the field events the shot put got the most coverage but it was NBC's usual fragmented, taped coverage rather than taking some time to watch the event unfold. (LRC grade: C)
Men's High Jump - Ivan Ukhov Brings His A-Game, Flawless Through 7'8"
Men High Jump Results
A high quality field produced a rather anti-climactic competition as Russia's 23-year-old Ivan Ukhov continued his excellent 2009 season with a clearance of 2.34m (7'8") without a single miss before 2.36m when he already had wrapped up the meet.
Ukhov left his more decorated counterparts Andrey Silnov and Germaine Mason along with America's best Andra Manson and Jesse Williams at far lower heights.
The world lead still sits at 2.35m by Manson, who only managed 2.16m.
TV: One high jump was shown by Ukhov. LRC rating: terrible for one of the meet's premier field events.
Women's Discus
Women's Discus Results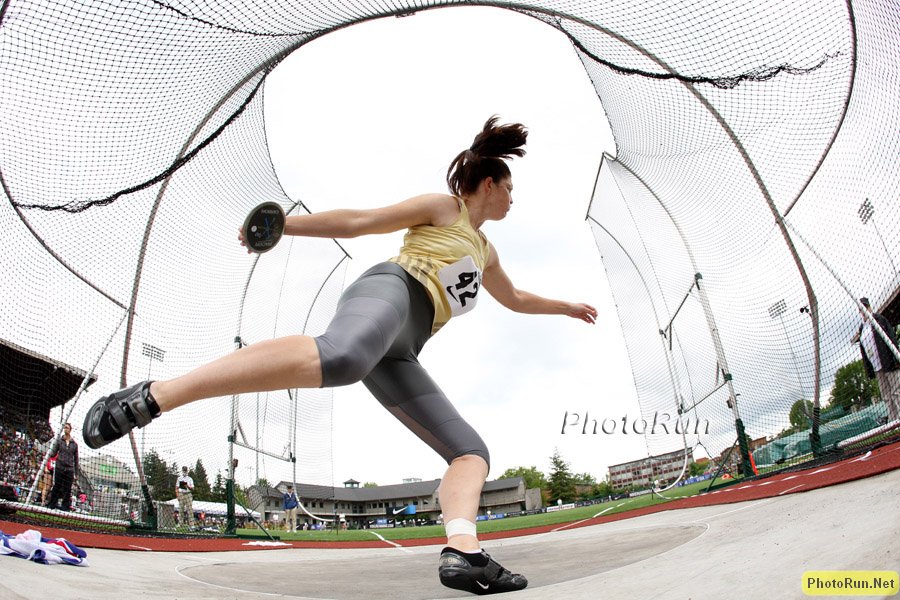 Stephanie Brown-Trafton threw 3 meters under her 2009 world's best, but still won with a throw of 209'11" that eclipsed the 2nd best throw by 11 feet.

After her surprise 2008 Olympic victory lifted the American squad's spirits, it's great to see SBT on top of the world form charts in June. Her story is truly a remarkable one.

TV: One mention of Stephanie and one throw shown. (LRC rating: B for Better than usual)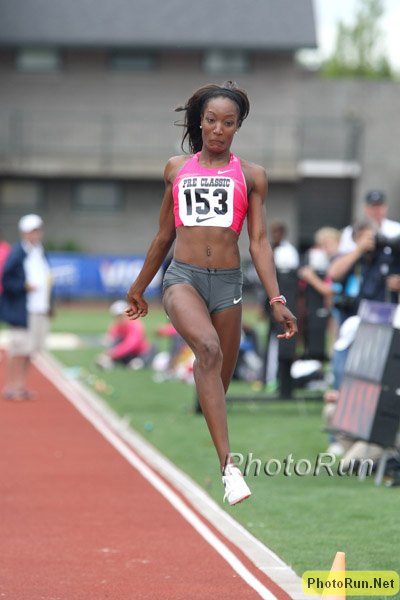 Women's Long Jump
Unlike the men, the women were running with the wind but the world's #1 and #2 failed to impress as #2 American Funmi Jimoh (right) won with a wind-aided 6.69m (2.8m/sec wind, 21'11.5"). World #1 Brittney Reese finished 6th in a barely wind-legal 6.60m.
TV: Zero coverage. LRC rating: D-
Men's Pole Vault
Alheji Jeng (Sweden) won in 18'1" (5.51m) as 4 American pros failed to hit 18 feet in a very poor showing in an event that Americans have been very good at in recent years.
TV: Zero coverage. LRC rating: B for Best not to show this dismal event
Women's Hammer
Germany's Betty Heidler and Canada's Sultana Frizell each outdistanced 72m, just over a meter short of heidler's American all-comers record set last year at 73.93m.
TV: Zero coverage. LRC rating: ? Hammer throwing enthusiasts around the country are enraged.