Why Sunday's Lisbon Half Marathon Matters
Will Kara get her first American record? How about a World Record? Is Wanjiru back to his dominant form? Is Lel primed for another dominant season on the roads?
Letsrun.com
March 20, 2009
Sunday's 2009 Lisbon Half Marathon, annually one of the top road races on the early spring circuit, features many of the world's major players in the marathon scene as they tune up for spring marathons. If the top athletes' coaches are to be believed, we might see not only outstanding competition, but perhaps new world records in this IAAF Gold Label competition.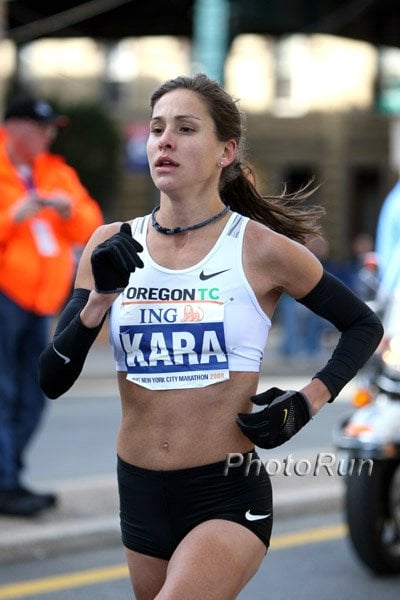 The women's race should spark American interest for one reason: Kara Goucher (left, in her American record debut marathon in New York). We all know that talk is cheap, but her coach Alberto Salazar made us take notice this week when he said Kara is ready to run under 66 minutes in Lisbon. For those of you unfamiliar with women's half marathon records, the IAAF-ratified world record is 66:25 by Lornah Kiplagat, with the fastest time ever run being Paula Radcliffe's 65:40 at the net downhill BUPA run in 2003. (Note: the 2nd-best time ever is Susan Chepkemei's 65:44 run at Lisbon back when the Lisbon course was net-downhill. The course is now ratified for records as the start was moved nearer the finish.)
Jelena Prokopcuka will be tough to beat, but we have our doubts that anyone will be that tough to beat if Goucher is ready to run a WORLD RECORD!
More on the possible record: Rita Jeptoo, who Kara crushed last year in NYC, ran 67:07 at the Lisbon Half Marathon in 2007, when the course was a net downhill.
On the men's side, we'll have the rare opportunity to see four marathoning greats battle each other at the mini distance. Sammy Wanjiru is not the most accomplished marathoner of the field, but he is the world record holder at the half marathon and the reigning Olympic champion at the marathon. He ran his world record 58:33 two years ago in The Netherlands at the City-Pier-City Half Marathon.
Wanjiru will have the opportunity to battle Martin Lel (right), probably the world's best marathoner in the past 5 years based on his 3 Flora London wins and 2 ING New York City Marathon wins. Wanjiru got the better of Lel in Beijing as Lel only managed 5th while Wanjiru surged and surged his way to a most impressive demolition of a strong field.
Expect Lel and Wanjiru to battle for the win, but expect company in the lead pack. Robert Kipkoech Cheruiyot, set to battle Ryan Hall and a strong field at the John Hancock Boston Marathon in just a few weeks, is a tough competitor with a stellar 59:21 half-marathon PR. Cheruiyot has gained fame by winning 4 Boston Marathons and 1 Chicago Marathon. He ran his half-marathon PR in Lisbon, so he will be tough to beat on a course where he is confident.
Jaouad Gharib, 36, is a tough competitor near the end of a storied career that includes 2 World Championship Marathon victories (2003 and 2005) and a plethora of top performances in major marathons around the world.
After those big-4 names, there is a cache of stellar competitors including the world 15km record-holder and a slew of 60-minute and sub-2:09 marathoners from Kenya and Morocco.
Other Men's Contenders Studs
Elijah Keitany: ran 60:59 this year in Ostia
Emmanuel Mutai: was 4th at London last year in 2:06:15 and has run 1:00:49
Silus Sang: 42:59 (15km) and 60:34 (half) PB's
Augustine Togon: 60:52 half marathon best
Felix Limo: WR in 15k back in 2001, multiple marathon major champion, only 28
Falil Abdullah: 60:43 HM best
Josh Chelanga: 2:07, 61:01 man hasn't run well last few years
David Kemboi: 2:08 best
As far as our predictions go, we have a lot of confidence in Kara Goucher running really well. We think the half marathon might be her best distance at this point. After all, she has run the 9th best time of all-time at the distance (66:57 in 2007 BUPA, defeating Paula Radcliffe) and Salazar said this week of Goucher's fitness compared to BUPA, "She is in so much better shape now, she easily is a minute faster." We see her dominating, especially after her stellar indoor track season where she ran well at every distance she attempted. We are simply excited to see what she can do, this might be a coming-out party for her.
On the men's side, this race might tell a good deal about how Sammy Wanjiru is doing. Our research showed us that he raced 15 times last year, surely more than anyone else in the field. We love that he competes that much because he is fun to watch, but we worry about how his performances will be affected by such a rigorous racing schedule. 2009 has not exactly been stellar for Wanjiru (then again, neither was 2008 except for 2 or 3 very big races): he dropped out of a race earlier this year, and won a Spanish half-marathon in 61 minutes.
Martin Lel is going to be hard for Wanjiru to beat. Despite all that, we're predicting a narrow win for Wanjiru at his preferred distance. The real test will come in London in a few weeks where Lel and Wanjiru will face off again with much more on the line at the full marathon distance.
| | |
| --- | --- |
| LRC Lisbon Men's Predictions | LRC Lisbon Women's Predictions |
| 1. Sam Wanjiru KEN 59:01 | 1. Kara Goucher USA 66:40 AR, t-#2 All-Time |
| 2. Martin Lel KEN 59:05 | 2. Jelena Prokopcuka RUS 67:50 |
| 3. Robert K Cheruiyot KEN 59:52 | |
| 4. Emmanuel Mutai KEN 60:15 | |
| 5. Elijah Keitany KEN 60:25 | |
| 6. Jaouad Gharib MAR 60:40 | |
Expected Weather Conditions: High of 70, chance of thunderstorms later in the day. AM conditions look good: 50's, light wind, moderate humidity and low chance of precipitation.
Stats On Men's Top-4 Names
Martin Lel: Thrice Flora London, twice ING NYC Marathon Champion, won Lisbon three times including in 2006 in PR 59:30, 2:05:15 marathon PB set in London in 2008. Was 5th in 2008 Olympic Marathon behind Wanjiru, Gharib and others.
Jaouad Gharib: 36, has broken 60:00 in the half, won the World Championship Marathon in 2003 and 2005 and has a 2:07 PB.
Robert Kipkoech Cheruiyot: 2:07:14 and 59:21 PB's, Cheruiyot is a 4-time Hancock Boston Marathon champion and is scheduled to go for his 5th title at the age of 30 this year.
Sammy Wanjiru: 58:23, 2:05:24, 2008 Olympic Marathon winner, 61:13 this year. Wanjiru ran an absurd 15 races last year: 3 3000m's on the track, 2 10,000m's on the track, 4 10k's on the road, 1 20k, 3 half-marathons and 2 marathons.
IAAF Certified World Records:
Men: 58:33 by Samuel Wanjiru in 2007 at the City-Pier-City Half Marathon
Women: 66:25 by Lornah Kiplagat in 2007 in Udine.
American Women's Record (and Carribean, Central, North American record): 1:07:34 by Deena Kastor in 2006 at the Berlin Half Marathon