Previous:
ING NYC Marathon Elites
New York City Marathon Getting Great Press
Other Sunday Results - Delhi Half, Big Ten XC, Seoul Marathon
Delhi Merga Gets Back On Winning Track, Keitany Crushes Another Half Kenyan Mary Keitany ran the opening 10km in 30:39 before finishing with her 3rd career sub-67:00 half marathon, while Ethiopia's Deribe Merga overcame the aggressive tactics of young star Tilahun Regassa to record a sub-1 hour win.

Big Ten XC Championships Sunday In Happy Valley
*Men's Results Lightly-raced Wisconsin finished 5 guys (4 underclassmen) in the top 8, as previously red-hot Indiana flopped. Minnesota's Hassan Mead repeats as individual champion.
*Women's Results Penn State Lady Lions tasted sweet victory on their home course. PSU steeplechaser Bridget Franek upset favorite Angela Bizzarri of Illinois for the individual win. More conference results below.

Seoul Kibiwott Takes Seoul Marathon In Photo Finish Check out the finish photo in the recap.
Bolt's Trip To Kenya Continues To Make Interesting Headlines
*Usain Bolt Adopts Baby Cheetah
*Bolt Meets With Kenyan President And Prime Minister
Derartu Tulu Becomes First Ethiopian To Win ING NYC As Paula Radcliffe Struggles The two-time Olympic 10k gold medallist hadn't won a major marathon since 2001, but she was the victor in the Big Apple on Sunday in a pedestrian 2:28:52, as Radcliffe lost the first non-Olympic marathon of her career.
*Paula: I barely ran in the two weeks prior to the marathon The NYRR has a complete transcript from the post-race press conference of pre-race favorites Paula Radcliffe & Selena Kosgei.
*Unbelievably Great Gesture: Tulu Tried To Encourage Struggling Radcliffe Paula: "She ran alongside me and was like, come on, come on. We can do it, we can do it."
*London Times: "Paula Radcliffe facing the mother of all battles to land elusive Olympic gold."
*The Independent: Radcliffe Left Running On Empty
*More Post-Race Comments From Paula
*Tulu, Petrova, Daunay Post-Race Press Conference Transcript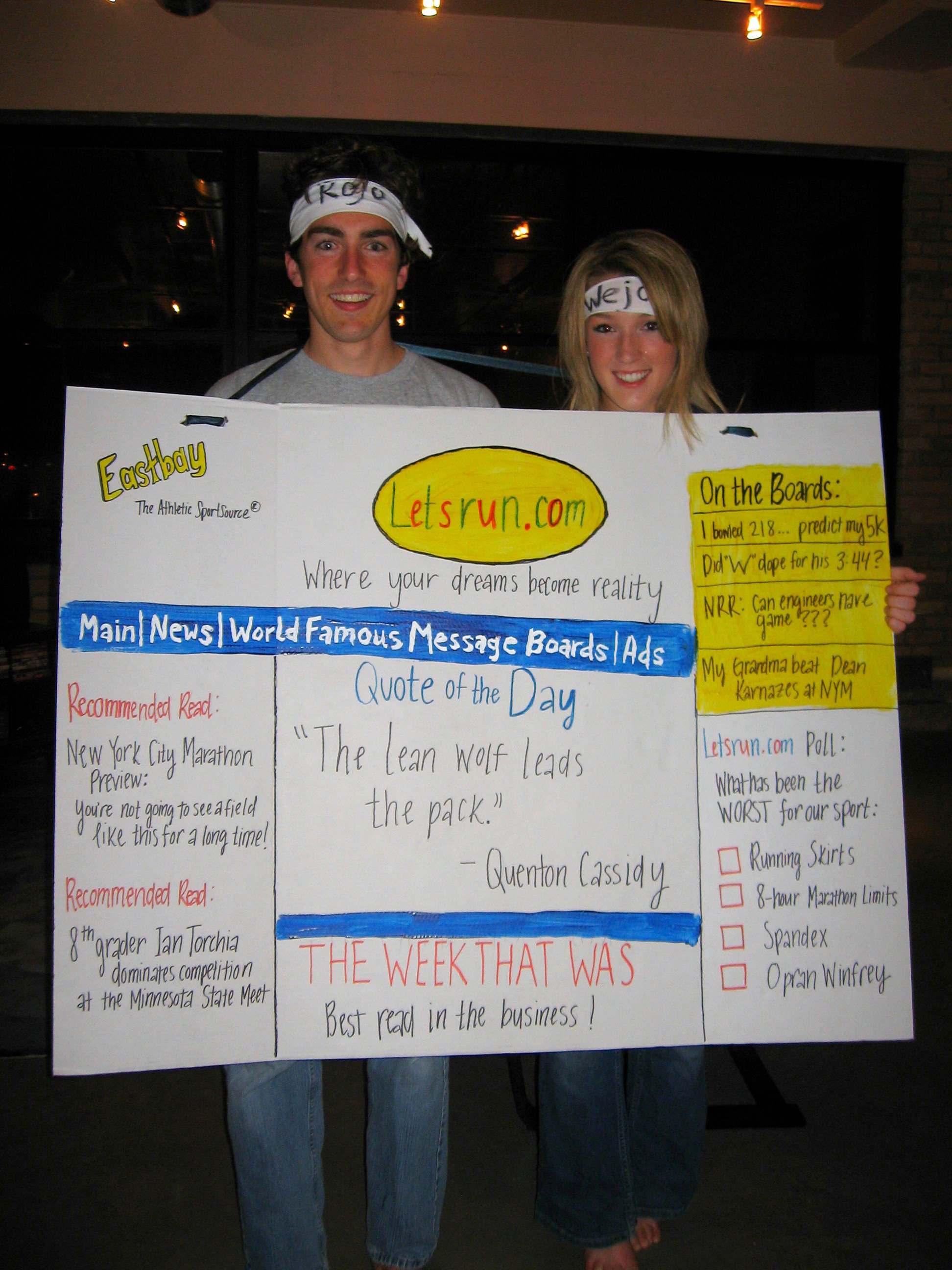 Happy Halloween! LetsRun Readers Mike Torchia & Girlfriend Celebrate Halloween As "LetsRun.com Couple Rojo And Wejo" Zoom in to see their parody headlines and threads, and to see who is playing Wejo and Rojo.
Saturday Conference Stunners! Big 12 - ACC - Big East - SEC
*ACC Men Results - NC State Pulls Stunner At Home UVA went 1-2, but NC State is back on top with a home course upset of the highly-ranked Cavaliers.
*ACC Women - Kuijken And FSU Roll *ACC Meet Recap

*Big East Men: Syracuse Gets First Ever Team Title Coach Chris Fox did what he was hired to do, as the Orangemen won over a very good Georgetown team led by Andrew Bumbalough. Louisville's Cory Thorne stole the individual win.
*Big East Meet Recap
*Big East Women - Results - Villanova Wins As Expected

*Big 12 Recap - Ok St., Texas Tech Repeat Over Colorado! Huge shocker to many, but we saw it coming. Ok State men put 4 in before Colorado's 1st (despite the Buffs getting 2nd at Pre-Nats) and Colorado's women had a 2-minute spread from 1-5 and were downed by Texas Tech despite a 1-2 finish.
*Men Results *Women Results - Barringer Wins By 46 Seconds
*Men's Quotes - Ryan Vail Wins *Jenny Barringer Big 12 Quotes

*Dorian Ulrey And Arkansas Run Well at SECs To Almost Beat Alabama The meet was at Ole Miss, so who knows when results will be posted?

UNM Wins Mountain West Over BYU
*Jacob Kirwa, Chris Barnicle And New Mexico Upset BYU At Mountain West
*UNM Girls Win Mountain West - Cecily Lemmon Gets Individual Title
*Boards: Lobos own BYU and win MWC!

*Another Shocker: Erik van Ingen Leads Binghamton Men To First-Ever America East Title

*A-10: St Joes And Dayton Win A-10s

All Conference Results, Quotes And Recaps PAC-10 and Heps below.
Non NYC Weekend Action
Conference XC Action
Friday:
PAC-10: Stanford Men Convincingly Over Oregon, Washington Women Edge Oregon Women
*Men's Results *Women's Results
*Message Board Thread

Heps: Princeton Women Go Perfect 1-5
*Men: Columbia Edges Princeton By A Point
*Full Results *Thread: Talking Heps 2009
Usain Bolt In The News / In Kenya
Drug News
Cordner Nelson, Founder Of Track And Field News, Gets Obituary In NY Times
LetsRun.com's NCAA Conference Previews - The Only Non-PC Previews Around
Ever get tired of reading university press releases? So do we. We tell you the real story and who's going to win ... so you can blast us when we're wrong.
LRC Previews The Big East XC Champs Syracuse is finally ready to win the men's team title under head coach and former running stud Chris Fox (how about putting 8 guys under 24:12 at their last meet?). Looking for the most elite women's XC conference? Try the Big East with 4 teams in the top 10. By far the wackiest conference in the country, the Big East is holding the country's most massive league meet in Kenosha, Wisconsin. (To all the emailers, we apologize for not knowing that Marquette is in Milwaukee)

LRC Previews The ACC Championships Employee #1's favorite NCAA coach Jason Vigilante is ready to claim another ACC conference XC title at UVA with a stellar team led by Emil Heineking, who ran 23:16 two weeks ago. Susan Kuijken and FSU have the women's title all but won already.
Meb Wins It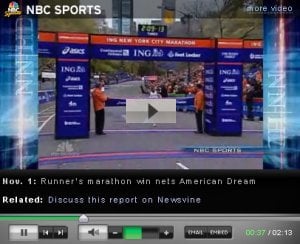 NYC Stats Of The Day
13: Number Of NYC Marathons American Men Won In A Row Starting With The First One
7: Number Of NYC Marathons American Women Won In A Row Starting With The 2nd One
0 1: Number Of NYC Marathons American Men Or Women Have Won Since
1: Number of Men Who Appeared on the LetsRun.com NYC Marathon Preview Show
1: Number of Men On the Show Who Won the 2009 ING NYC Marathon (listen to Meb talk about his chances here)
Meb On The Win
Meb Entering Columbus Circle
Usain Bolt Arrives, Dances Like A Masai Warrior In Kenya
If You Want To Find Out Who People Really Think Will Win, Click Here (It's James Kwambai, Not Ryan Hall)