NJCAA Outdoor Meet at Hutchinson *Meet Website *Results
NCAA DIII Outdoor Meet At Marietta College *Info *Men's Results *Women's Results
NCAA DII Outdoor Meet At Angelo State *Meet Info *Live Results *Day 1 Recap Queens' Tanya Zeferjahn won the 10,000 in 35:38 while Harding's Daniel Kirwa won in 29:46 over Adams State's Brian Medigovich.
Spaniard Josephine Onyia Tests Positive For Barnyard Animal Steroid Anabolic Agent Clenbuterol After Career-Best Year We looked up her stats and weren't surprised. Onyia was 5th in the 2008 Olympic games in the 100 hurdles at the young age of 22. Overall, she had an amazing 2008. In fact, before 2008 she had run under 12.70 once, and then she did it 8 times in 2008.
Benita Fitzgerald Mosley Named USATF Chief Of Performance *USATF's Fitzgerald Mosley Announcement We don't really know what to say about this other than - despite was USATF says - it probably doesn't matter a whole lot. Here's some classic AdministratorSpeak from the announcement: "Fitzgerald Mosley was considered an ideal choice for the post because, despite her close connection to track and field, she had remained apart from USATF politics and policies since she retired as an athlete in 1988, giving her a desirable distance and independence ... She also was considered among the most clear-thinking, incisive and diplomatic members of the nine-person panel that authored the report, the source said." Close yet not too close, incisive yet diplomatic. 30 medals here we come! (Seriously though, we wish her the best)
Ooh Baby, Jamaican Me Crazy
*Usain Bolt Motivates American Star Tyson Gay
*Good Read: Jamaican Track Leader Says Kids Should Go Abroad To Study If They Can Get A Scholarship Stephen Francis says a Usain Bolt (millionaire track athlete) only comes around every 25 years, so unless you want to "play roulette" with the rest of your life, go to college in America. Francis actually had the QOD until the Wariner story broke, "I definitely believe that the vast majority of kids, if they are offered a scholarship (abroad), they probably should take it. I have a somewhat mixed feeling when people talk about staying in Jamaica and training because I firmly believe that our educational opportunities are not as they should be for our youngsters and if you as a youngster can use your ability to get ... a scholarship to go elsewhere to study, then you should take it."
*World Record Holder (4x100m) Nesta Carter Is 5th Fastest Jamaican Of All Time But 4th Currently And Hopes To Make Berlin Head scratcher: 9.98 guy might not get to run an open event at Worlds for a tiny island country.
*Asafa Powell May Not Race In Reebok NYC He's doing fine, but his ankle injury still has Camp Powell a little nervous to spike up in the Big Apple.
Two Funny Articles (we find Lolo Jones humorous)
*Lolo Jones Writes - Dealing With Hamstring Injury
*The Guardian's SportBlog Takes A Funny Stab At Endurance Freaks
Bill Webb Retires After 24 Seasons As Volunteers' Head Coach Hard to believe that the highly accomplished Webb only led Tennessee to 4 SEC championships in almost a quarter century until one considers his misfortune in coaching in the same conference as the almost unbeatable John McDonnell and his Razorbacks (who just won their 48th out of the last 54 SEC titles). The fact that Webb got 2 NCAA team titles in that time says a lot about the strength of the SEC. Who will replace Webb? Well, if this facebook group has any say, it will be distance coach George Watts.
Amazing Story: DII Runner Anthony Luna Going For Glory At Nationals After Unconventional Road To College Running A must read from John Meyer in the Denver Post. Luna is coached by Pete Julian at Metro State. DII Nats are this weekend in San Angelo, TX.
Big River Festival Of Miles In St. Louis, MO To Feature Men's Mile With Leo Manzano And Solid Field A bunch of sub-4:00 guys will be lining up for a track mile, led by the late entry of Olympian Leo Manzano after his frustrating race in Carson, where he ran 3:57... for 1,500m. Click here for Manzano's post-race explanation.
Science Of Sport's Analysis Of Usain Bolt's Record Run In case you haven't seen the tall Jamaican blast the fastest 150m of all time, you can not only watch the race but read the blog's scientific analysis of his race.
Recommended Read: Pat Butcher's Blog A Gem Again - Professor Craig Sharp On Lasse Viren, Doping, Stretching And Other Topics
GO USA: "The US Endurance Model" - Top British Coach, Jim Harvey, Advocates Sending Top British Talent To US For Development Basically, he argues that the NCAA system pushes athletes to higher levels of performance because they're training at a higher level (i.e. running 100-mile weeks).
LetsRun.com Message Board Helps A Guy Get Into Grad School - The Semantics Of Speed: The Difference Between Run And Jog Read the email and some of the paper for yourself.
AP Review Of Chris McDougall's Born To Run: The book is on the NYTimes best seller list What really interested us was McDougall's research and visits to the Taramuhara Indians of Mexico.
Female British Jav Thrower Speaks After Falling To 4th On Her Last Throw Behind A Surprise Russian
USA Running News
*Ritz On How And Why He Left Brad Hudson He's got big goals and he wants a change.
*Will Claye Named USATF Athlete Of Week: He broke the American Jr record in the triple and won the Big 12 meet as a freshman Coincidentally, he wasn't the best young triple jumper in the world this weekend as a 17-year-old Chinese jumper beat him by about 20cm for a world 17y/o record.
*Inspirational Brief Chat With The USA Men's Berlin Marathon Squad The US squad will be: Nate Jenkins, Fernando Cabada, Dan Browne, Matt Gabrielson and Justin Young. Great opportunity for a hard-working bunch.
*Interesting Notes From The PAC-10 Meet In Eugene - Hayward Attendance DOWN From 2006 Also, we love the story about sprinter Allante Battle, who tied (to the 1/1000th of a second) for 8th in the prelims and had to run the final with only the other guy, then ran fast enough to nab third.
Score One For Coaches: Coach Hart 1 - Jeremy Wariner 0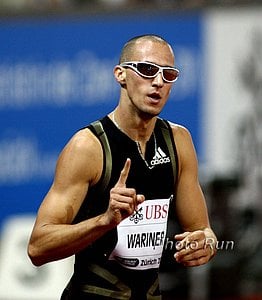 Clyde Hart Tells USA Today's Dick Patrick How He Got Back With Jeremy Wariner Hart is a proud old man and only agreed to coach him again because Wariner offered a full apology. Wariner realized he's got a lot better shot at being "#1" (and getting PAID like #1) with Hart's help.
Gotta Love NCAA Track
*Haven't Watched German Lately? Check Out His Big 12 1,500m We are amazed by the way freshman German Fernandez dominated such a strong conference this year. Remember, indoors he ran 3:55 esentially solo in the final for a world junior indoor record. That is just absurd. **After a Big 12 coach emailed us, we came to our senses and decided not to call the other Big 12 1,500m runners "wimps" for not going with German at a medium altitude in the conference meet. We can't blame them for losing hope so early, but it IS the Big 12, for goodness sake! We thought someone would be able to challenge German for more than 2 laps!
Great Read: Penn State's Alford-Sullivan Gives The Details Of The Lady Lions' 1/4 Point Nail Biter At Big Tens That's right, LetsRun.com pumping up a women's conference meet.
*Washington's Jordan Boase Won Their First Ever PAC-10 400m Title Feeling like you aren't going anywhere as an athlete? Read this article about Boase, who is one of the best 400m men in the world now. Boase on frosh year: "To come out and not be one of the best kind of just bugged me. It kind of frustrated me to come out here every single day and run and then feel like you're not getting any satisfaction out of it."
What To Watch This Memorial Day Weekend As NCAA D1 Takes A Weekend Off
*Makau And Merga will Take To The Streets (Again) For Ottawa 10k Makau lost to Tola at the Healthy Kidney 10k last weekend and said he still felt tired from the Fortis Rotterdam Marathon in early April. Merga might be tired too, still recovering after what was a tough Boston Marathon with the last 10 miles into a stiff wind. Merga and Makau last battled at a blazing RAK Half Marathon, where Merga got the 15km world record and Makau got the win. Flashback: NYRR Healthy Kidney 10k *Results *PhotoRun Photos *Recap Ethiopia's Tadese Tola took it to the field and beat Ritz's Central Park 10k record by 20 seconds. Patrick Makau was 2nd and Boaz Cheboiywo 3rd.
*Monday Bolder Boulder - Tola And Ethiopia To Face Off With USA Team Of Carney, Bizuneh And Asmerom
*Steven Mills Previews The BUPA London 10km - Mo Farah And Kim Smith Among Favorites
*Pamela Jelimo To Debut This Weekend In Morocco Then she'll come to America for Pre.
*You Can Watch The LA Marathon Live On Memorial Day
*Beijing 1,500m Champion Nancy Lagat Was 10th In Doha, Hopes To Rebound In Kenyan Prisons Meet
Does Your Coach Hate Your Technique? Read About This Unconventional Jav Thrower Oh, and college javelin coaches - we're doing you a favor: recruit this guy.
NCAA Takes A Weekend Off Before Regionals
Great Way To Blow Time Heading Into The 3-Day Weekend: Check Out The NCAA D1 Descending Order Lists! *Men *Women *By Regions
*By The Way, Read About Big 12 Coaches And AD's Like Mark Wetmore Who Hate The Regional System And Are Pushing To End It We at LetsRun.com don't really sympathize with the Big 12 big shots. We like that you have to beat people to get to NCAAs - not just run a fast time - and we like that there is a time out there for people to go for to make regionals and give themselves a shot. The $$$ argument wouldn't be so bad for schools like Texas if they didn't pay all the NCAA athletes $100 a day for a month straight after school ends. That kind of excess should be eliminated before they chloroform the NCAA Regional system, which is a legitimate and intriguing qualifying process for NCAAs. We think the regional meets are good for track as they get more people motivated (to run the regional time) and interested who wouldn't be otherwise. Plus the regional meet is great for distance events, where - unless you go to Mt. SAC or Stanford - you have very little chance at going to NCAAs.
Amazing Mid-Distance Fields To Be Assembled For June 7th Pre Classic Kiprop, Jelimo, Webb, Keitany and many other top runners to face off. The meet is not for a few weeks but a quick glance at the mid-distance fields will get you pumped. More on this weekend's races below.
Marathoners In The News: *Geb Going For His Marathon World Record In Sold-Out Berlin Marathon On Sep 20
*Kara Goucher Q&A From NYTimes
*Tergat Coming To Seattle For Rock 'N' Roll Half!
Memorial Day Special: Bolder Boulder 10k Preview From David Monti The Ethiopian teams will be tough to beat Monday in Boulder, CO.
Upcoming Races
*Boniface Kiprop, Mo Farah And Others To Race BUPA London 10k On Monday May 25
*Next High Performance Brazilian Meet Lined Up With Stars Vili And Savigne
*Reebok NYC Meet To Feature Dibaba vs. Kim Smith And Other Top Races
*South Africa's Comrades Ultra Is Earlier This Year - Sunday May 24
Another Analysis Of The First Big Weekend Of Pro/College Track Action This time from RunnersTribe
TwoAngryRunners.com Funny Take On Justin Gatlin They're The Onion of track and field reporting.
Bolt News
*Steve Cram, Initially Cool To The Bolt 150m Extravaganza, Writes About Its Success
*IAAF Pres Lamine Diack Speaks To Bolt About Responsibility, Pressure And Scrutiny
Unbelievable Drug News
*Remarkable: Belgian Bodybuilders Flee Championship Facility When Drug Testers Show Up Unannounced This tells you a lot about the "sport" of bodybuilding.
*Big News: Cyclist Bernard Kohl Admits To Buying A Doping Centrifuge And Sharing It With Others
*He'll Cash In Too: The Korean Version Of A-Rod (Cheater) Comes Clean In Book He was tipping off other players on pitches and was privy to the drug culture in Korea, a league where drug testing didn't start until 2007.
*ESPN Interviews HS Star (Double World Junior Champ) Marquise Goodwin, He Says HS Authorities Need To Drug Test We like this guy.
NRR: The Next Swimming Star? 17-Year-Old North Dakotan Dagny Knutson Won 4 Events At Phelps-a-palooza Charlotte
Great Way To Waste Time Heading Into The 3-Day Weekend
Peruse The NCAA D1 Descending Order Lists! *Men *Women *By Regions
Andrew Wheating's Photo Finish From PAC-10s Watch Video Of The Ridiculous Finish As The USC Guy Raises The #1 As Wheating Nips Him On The Outside

Summer Training!

You can't click through to sign up yet, but check back later this week for more details. We're bringing back our summer training programs and are using our original banner from 2001. Learn from LetsRun.com's world-renowned JK and a former pupil of the LetsRun.com initital summer training program who went on to be an NCAA All-American. Yes, ladies and gentleman, that is right - we've had one summer training program in the past and it produced one All-American. If you're really interested and want us to email you when the details are up, send us an email.
Recommended Reads
Recommended Read: Pat Butcher's Blog A Gem Again - Professor Craig Sharp On Lasse Viren, Doping, Stretching and Other Topics
Recommended Read: Interview With Athlete/Coach Who Is "More Lydiard Than Lydiard" - New Zealand's Barry Magee With all the information out there, we always find it refreshing to read one of Arthur Lydiard, Barry Magee and LetsRun.com's favorite lines on training: "Train, don't strain."
LRC: The Week That Was May 11-17 Conference Action, adidas Carson, Edwin Moses and more.
LRC Review: Must Read Kenny Moore's Best Efforts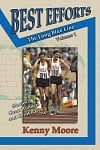 Kenny Moore's Best Efforts Is Back In Print When this book showed up at LRC corporate headquarters to be reviewed, the response was, ""Holy sh*t! That book is one of the top 2 running books I've ever read." The offical LRC review is in and it is very positive: "I believe a great work only receives the label 'great' if it has passed the test of time. Best Efforts passes the test because it will refresh the man or woman who was following the runners of the 60s, 70s and 80s." Also as a special to LRC readers, you can buy an autographed copy of the book for only $14.95.