More Weekend Action:
Prague: Patrick Ivuti Gets 2:07:48 Course Record at Prague Marathon
Japan: Yukiko Akaba (Mother of a 2 Year Old) Blitzes 1:08:50 at Sendai Half Marathon
Berlin: Matthew Koech and Peninah Arusei Win Berlin 25k
Florida: FSU's Brian Chibudu Jumps 26'5" Colleigate Leader in Long Jump
Multis: British Heptathlete Jessica Ennis Returns to Competition after 11 Month Hiatus With Personal Best
*Combined Events Recap from IAAF
IAAF Recap Of Sensational Meet That Produced 13 World Leads!
The 2009 pro season got underway in unbelivable fashion as the first big 1,500 of the year produced two times that surpassed the yearly lead from 2008 as Haron Keitany and Augustin Choge changed the lead 3 times in the last 10 meters. Keitany forgot to lean and Choge got the win. The men's 3k was unreal as 6 guys, including Saif Shaheen, ran sub-7:33 but the winner in dominating fashion in 7:28.37 was Olympic 5k silver medallist Eliud Kipchoge. And the men's 800 may have been even better as the dual between the 19-year-old sensations lived up to the hype. (Soon-to-be) Olympic 1,500m champ Asbel Kiprop ran 1:43.16 but LOST to Abubaker Kaki's wire-to-wire 1:43.09. 2004 Olympic champ Ezekiel Kemboi threw it down with a sub-8 steeple to start the year (sick). Plus Travis Padgett won the men's 100, Allyson Felix the women's 400, and more.
*More Post-Race Links: *After Opening With 7:58 Steeple, Kemboi Sets His Sights on Shaheen's 7:53 WR
*Vlasic Is Spectacular Yet Again She had a good attempt at the WR
*Given His 1:43 Opener, Can Olympic 1,500 Champ Kiprop Get 1k World Record?
*Steph Twell Runs 4:11 in 1,500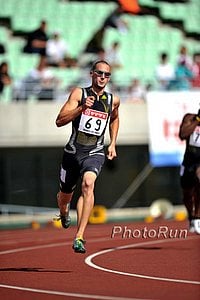 Osaka Recap: Jeremy Wariner Runs 44.69 to Kick off His International Season in Japan, Kerron Clement Wins Hurdles
USA Today Profile of Shelby Greany Who Just Set Girls National 2k Steeple Record
*LRC MB Thread: Greany Set 2k Steeple Record
Preview of Sunday's Prague Marathon: Patrick Ivuti, the Chicago 2007 Champ is the Headliner
Interesting Read British Columnist Rick Broadbent Is Depressed About Being Injured And He Takes His Wrath Out On The Classic "Chariots of Fire." After calling it "rubbish," he gives you his list of 10 running films.
*Meanwhile, Broadbent Gives Huge, Huge Props To Chris McDougal's New Book "Born To Run" Calling It A "Brilliant New Book."
World XC Champ Florence Kiplagat Oozes Class in 1,500 At Athletics Kenya Event We're not sure why the paper calls her win an "upset." Far from it.
Ducks Get Collegiate Record, Miss 16 Minute Barrier A raucous Hayward Field crowd ringed the track and pushed Oregon to the collegiate record but they missed the coveted 16 minute barrier. 3:59.53 for Centro, 3:59.60 for Wheating, 4:05:21 for Biwott, 3:58.93 for Rupp.
*Message Board Thread The thread suggests this should be a yearly event. It is, it's called the Penn Relays. Adam Goucher ran 14:00 in the 5k and Jesse Williams high jumped 2.34 in other action.
25km Races *Results
Dan Browne, Sally Meyerhoff Win USA 25K Titles at Fifth Third River Bank Run, Both Finish 2nd Overall

HS On the Front Page of LetsRun.com
Robin Reynolds, Florida Frosh Wins 4 State Titles (11.56, 23.67, 54.95, 19'4" Long Jump) Great marks all around.
*Video Interview and Footage of Her Races
Pretty Impressive in Oregon: Blind, Deaf Track Athlete Alfredo Castaneda Excelling in Oregon
*Update: Alfredo Castaneda Concludes Season With a PR
USAIN BOLT NEWS
Bolt Back in Training Reports "Slight Discomfort" After 10 Minutes Of Wind Sprints
*Usain Bolt's 150m Street Race Participation Next Week Is Up in Air He'll be there for sure, whether he runs is touch and go.
*Jamaican Column: Bolt "is ideal to model Louis Vuitton menswear, pink shirts, Calvin Klein boxers and Gillette." Scroll down to see this guy's future plans for Bolt off the track.
*Chambers Reiterates: "It's All About Project Bolt." Nice to see cnn giving track some love with story and video interview.
Shannon Rowbury, David Torrence Win US Medtronic Road Miles 4:00 for Torrence got him $14,000 as they rounded up his time but gave him the $10k sub-4 bonus. Somehow Rowbury didn't break 4:28 (4:34), so no 10k for her. Race videos on the right of our homepage with more coverage at Flotrack.
Meet HS Decathlon Record Holder Curtis Beach The guy is an freak in that he comes to the decathlon from a mid-d background. He almost ran at NTN last fall. USA Today made a big deal of the fact that he's going to Duke. "In the end, it was a clear first choice even though on the surface it looks terrible because historically they haven't been a great track program."
Interesting Marathon News
*Recommended Read: A Brief Chat With Pittsburgh Marathon Champion Kristin Price
*Great Story: Eugene Marathon Champion Brought A Buddy To Rabbit And He Ran 2:18
*Professor In Korea Who Offered Improved Grades To Students Who Ran Marathon Sued Successfully For $40Gs After One Student Dies This goes under the header: "We couldn't make this one up."
Japanese WChamps Marathon Goals: "One medal and two-other top 8 finishes."