Must Read
LRC: The Week That Was We give you insights into Boston, London and Penn Relays. In between emphatically telling you whether Ryan Hall's start in Boston was too fast and wondering what Doug Logan thought of the US team's relay success at Penn, we ponder whether Kara Goucher should have run London and show you that Meb and Ritz aren't in the same class as Hall. Additionally, we present for the 1st time the LRC Maxim For Distance World Records.
Drug News
*Retest Nails Olympic Track And Field Gold Medallist For Blood Doping CERA A male Olympic gold medallist likely is going down. Seems most likely to be a distance runner. Glad to see the new test is nailing people and the cheats are still stupid. Anyone with a brain had to know they were going to test for CERA at the Games. Two unnamed Medallists busted and 6 overall.
*No Brits Among Positives
Post-Brutus Hamilton News
*Photos From Brutus Hamilton Meet
*Jenny Barringer Rightly Named Big 12 Athlete Of Week Thanks To Her 4:08 School Record
Post-Penn/Drake Relays News
*Jamaica Dismisses Penn Loss In 4 x 100 As It's Revealed Asafa Powell Will Be Ready For Super Grand Prix On May 8th Powell was injured heading into Penn but said he wanted to run. Jamaican coach: "We ran 37.10 last year and we (Jamaica) will run 36 seconds in August."
*Quotes From Alan Webb And Others After Drake
Brits Are Pumped For Mara
News From Africa
More Buzz Post-London
Elite Results From This Weekend
*Abraham Chebii's 28:08 Leads 19 Kenyans In The Top 20 In Big-Time Germany 10k XC Race Kenyans have another great weekend on the global scene.
*Hamburg Marathon Results Another race where the rabbit almost won and hung on for 2nd.
*Scotland's Andrew Lemoncello's 27:57 10k At Brutus Hamilton Excites Great Britain Much like Wejo's 28:06 excited all Americans back in 2003.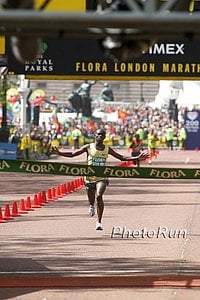 Men: Wanjiru The Best In The World Sammy Wanjiru beat the world's best in the heat of Beijing and he did it again on Sunday on the streets of London to prove he is the best competitive marathoner in the world. After a suicidal opening 5k (they were sub-2 hour pace), the halfway mark was reached in a blistering 1:01:36. Wanjiru blew things open with a 4:25 19th mile and then held on for the win after Olympic bronze medallist Tsegay Kebede closed within 1 second of him during the 25th mile of the race. American Meb Keflezighi led the US charge in 9th in 2:09:21 while Dathan Ritzenhein just missed his first sub-2:10 clocking with a 2:10:00 in 11th.
*Race Splits And Coverage From Science Of Sport
*Post Race Interview With Wanjiru
*Ritz's Reaction To His Race
*IAAF Recap Of London
*Men's Photos
On the boards: *LetsRun Message Board Thread Following The Race
*Adam R. With A Super-Accurate American Prediction We've received word Adam R is also Brett in Tokyo of Japan Running Blogspot.
*Time for an Honest Assessment of Ritz's Performance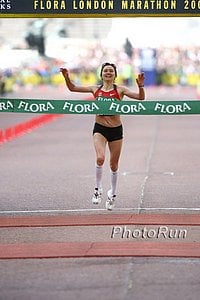 Women: Mikitenko Repeats Defending champ Irina Mitikenko was facing the Olympic champ Constantina Dita and the silver medallist Catherine Ndereba, but her biggest challenge on Sunday came from a Brit not named Paula, Mara Yamauchi. Yamauchi hung close until the final 10k of the race.
*Race Splits And Coverage From Science Of Sport
*Yamauchi Signals Her Arrival Into The Elite
*NY Times London Recap
*Women's Photos
*Search Results And Splits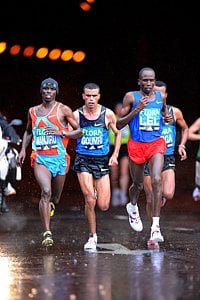 Pre-Race:
Recommend Read: Britain's Greatest Marathoner Ron Hill Still Going Strong At Age 70 The dude was running sub-2:10 nearly 40 years ago.

LRC London Marathon Men's Preview

LRC London Marathon Women's Preview
It WAS Ramzi! Bahrain's Gold Medalist Rashid Ramzi Busted For CERA EPO After Olympic Retest The LetsRun voters had this one no problem as our poll shows that 60% of you apparently were never fooled by Ramzi's performances. Asbel Kiprop gets the gold and Nick Willis gets the Silver! See the 2008 Olympic 1500m final results here.
Asafa Powell, Micah Kogo, Allyson Felix And Others To Compete At Reebok On May 30th Powell will bring in a big Jamaica crowd. Kogo just set the world record for the road 10km and won the bronze in Beijing.
Couple Takes Detour To Church To Get Married During London Marathon
Field Event News
*Korea's Eun-Ji Lim Resetting National Pole Vaulting Records
*Dick Fosbury Still Teaching The High Jump, This Time In Scotland
*TJumpers Still Show In Cuba
Benita Johnson Will Compete For 4th Consecutive Freihofer's Win On May 30th
Better Late Than Never
*Victah Sailer's Photos From World XC
American News
1. Shalane Flanagan Joins A New Coach In A New City You might be surprised at how excited Flanagan sounds about her new setup.

2. Recommended Read: NY Times Article On Louisiana's Bradley Sylve, Who Trains Without A Track

3. Lolo Jones Runs Drake Despite Being Dinged Up ... Injures Herself Seriously We're sad she got injured but we're glad she decided to run. The hometown fans deserve to see the stars.

4. Sad News: Montana Soldier Dies After Nashville Half Marathon

5. University Of Maine Writer Steven McCarthy On The Youth Movement In American Marathoning We're pumped to see a college newspaper writer doing an original piece on American marathoners.
$10 Million/Year Man Usain Bolt On His Motivations In Track "I definitely think that's the aim, to make as much money out of this as possible before you retire." boston.com
One Quote Wasn't Enough On Monday Night
1. "In fact, at just 35 years old I'm beginning to feel like a youngster." - Paula Radcliffe

2. "I think I could go 9.4, but I think the world stops at 9.4." ... "The only thing I have fear of is getting injured. I don't fear people." - Usain Bolt

3. "I know, fitness-wise, he was very close to 2:07, 2:06 shape." - Brad Hudson on Dathan Ritzenhein.

4. "You go through moments when you slow up and other runners tap you on the back and say 'come on Bananaman you can do it' - it's unreal." - World Record-Holding Bananaman (You'll have to read this article).

5. "I'm chalking all that stuff up to Usain Bolt throwing out the first pitch." - Dustin Pedroia after his base-running errors against the Yankees.
More From Penn Relays
Saturday:
*Unreal Men's DMR As Canada And Brannen Beat USA The men's DMR had it all. KD running 1:44.0, impressive opening and closing legs by Canadians Lincoln and Brannen (3:54) and performances by Gregson, Manzano and Lomong. But the real story may have been the unveiling of a new star in Kenya's Josephat Kithii.
*Tennessee Completes Triple In Style - With American & Collegiate Record In 4 x 800
*Hogs Get 45th Penn Relays Title With Dominating 4 x Mile Win Thanks To Ulrey's Redemptive Strong 3rd Leg It's the Hogs' 20th 4 x Mile win and new coach Bucknam's 1st Penn title. The Hogs got the win as Dorian Ulrey broke it open on the 3rd leg. Then he came back and split 1:47.62 on the 4 x 800.
*Texas Men Win Men's 4 x 800
*US Dominates Jamaica In Sprints At Penn Relays The US seemingly won everything, although we must admit that Jamaica's new world record in the SMR thanks to Kenia Sinclair's fabulous 1:57 was very impressive.
Philly.com Stories: *A Look At Tennessee's Super Frosh Chanelle Price
*US Team Delights Crowd On Final Day
*Is Nickel Ashmeade The Next Usain Bolt?
*New Arkansas Coach Bucknam Continues Winning Ways
*USATF: USA Rises To The Occasion At Penn The meet was the perfect example of what went wrong in Beijing - nothing but Bolt and a dropped baton or two.

Friday: *'Nova Ends 8-Year COA Drought In DMR Thanks To Guy Who Has Only Been On Campus Since Jan. Matt Gibney outgunned Ulrey. Gibney: "The first time I spoke to Marcus at the start of the season, he said, 'If you run a good mile at Penn Relays and do nothing else the rest of the season, I'll be happy."
*Victory In DMR Puts 'Nova Back On Track
*Tennessee Sets World Record For 4 x 1,500 As Top 3 Teams All Beat Old Collegiate Record Sarah Bowman blew 3 relays last year but her resurgence in 2009 is THE story as her 4:09 anchor was remarkable. Look for another win in the 4 x 800 Saturday. In the men's DMR, Villanova got it's first win since 2001 as Ulrey was unable to maintain the lead.
*Philadelphia Daily News Article On Lady Vols
*HS: Cornell Recruit Bobby Micikas Beats Foot Locker Champ To Win 3k In 8:23 As Notre Dame Recruit Jeremy Ray Sets Mile Record (4:08)
Drake Turns 100
Drake Relays *Meet Website
*IAAF Recap Of Drake: Wariner, Wilson And Taylor Celebrate 100th Drake Relays In Fine Style
*Lolo Jones Insists On Running Hometown Drake & Pulls Up Lame
*Alan Webb Defeats Lukezic, Solares & Sherer - Wins Mile In 4:00
*US Stars Overcome Cold, Windy Weather J. Wariner easily won the 400m.
*Minnesota Holds Off Stanford In Men's 4 x 1,600 16:29 on a windy day to win by .11. Temps were 85+ for just 6th time in Drakes history.
*Alan Webb's 3:51 Mile Voted #1 Drake Relays Moment Meanwhile, MJ and Gwen Torrence were voted the all-time Drake athletes.