NCAA D1 Indoors *Live Webcast On CBSsports.com
Men *Results/Start lists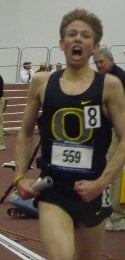 LRC Day 1 Men: The Incredible Galen Rupp!!! The guy who used to not be able to close out races now is a monster. He closed the last 800 of the 5k in 1:55 and then came back and did the nearly unthinkable - outkicking the milers, including Ulrey by .72, to give the Ducks the DMR win. Rupp had 0 NCAA track wins before Friday. Now he has two and he's going for an unprecedented triple on Saturday. His sick double had never been done before. Recap, results, photo links, video interviews above. Interview with Derrick fixed.
*Oregonian On Rupp's Incredible Day *Video Of Last 400 Of DMR
*Arkansas In 3rd After Day 1 Ulrey: "They put me in position to do it and I let them down."
*Chelanga Can't Match Rupp's 1:55.3 Close *Live Blog From Oregon Ducks
*T&FN Men's Prediction - Oregon Edges Arkansas
*Oregon Paper Has Ducks Blowing Away Competition Interesting to point out that that Wheating has a blister.
*Galen Rupp Will Do Whatever It Takes To Give Ducks The Title Oregon women going for 1st-ever top 10 showing.
*Jacob Hernandez Hoping To Beat Wheating, Mulder And His Own Teammate Hernandez lost the school record to Tevan Everett.
*Oregon Plane Makes Emergency Landing On Way To Meet
*Rupp, Fernandez And Rojo Honored By USTFCCCA
NCAA D2 Meet
*Start Lists/Heat Sheets/Results
*DII Indoor Predictions
NCAA D3 *Results *Live Video Mile starts at 4pm.
Knee Injury Forces Steve Hooker Out Of Next Week's Australian National Champs: Two Weeks Of No Running And 4 Weeks Of No Jumping Are Coming Up
A Look At Kenya's XC Team Captains Mark Kiptoo And Lineth Chepkurui
Mary Cullen To Run 5k In Ireland On St. Patty's Day
LJ Controversy?
*Spanish President: Bayer's 8.71 Was A Measuring Error!
*Spanish President Unhappy With Medal Performance Of Team - Says Long Jump Judge Messed Up This page is the original page translated from Spanish.
*Germans Dismiss Spanish Whining "We have no reason to doubt it."
We're Making None Of These Headlines Up
1. Dwain Chambers Working With Victor Conte Again
2. 3,000 Young Chinese Athletes Found To Be Older Than They Claim
3. Dwain Chambers Wants To Be A Youth Mentor Maybe he should go to China and teach them to lie and cheat.
AK Won't Let Any Athletes Or Officials Travel Without Insurance Of course, they have to pay for it themselves.

Kenya Rules Out Sacrificing Some Runners For Others At World XC Additionally, last year's 4th-placer at world juniors has been added to the team.
Dwain Chambers "Strongly Considered" Suicide During Drug Ban
Jamaica's Olympic Heroes, Including Bolt, To Run In Jamaica On May 2
After Injury & Bereavement, Sentayehu Ejigu Eyes World XC Champs She's the one that beat Flanagan in Boston.
Drug News
*European Researchers Call For New Doping Standards Based On Ethnicity
*Canada Anti-Doping Agency No Longer Will Hide Identity Of Marijuana Abusers
Research Undermines Hi-Tech Shoes Australians reveal no study has ever proven they limit injury or help performance, so they plan to do a study later in the year.
NCAA D1 Indoors *Results/Start Lists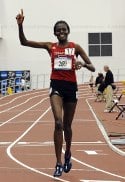 Women LRC Tennessee, Kipyego And Hooker Make History The Tennessee women and coach JJ Clark smashed the world record in the DMR, Sally Kipyego got a record-tying ninth NCAA title with ease, and Destinee Hooker outdid them all by getting Aggie fans to cheer for a Longhorn with an NCAA record in the high jump. Recap, results, photos, video above.
*Sally Kipyego Gets Record-Tying 9th NCAA Title In 5k She'll go for the outright record on Saturday in the mile.
*Texas Tech Wonders: Is Kipyego The Greatest Athlete In School History?
*T&FN's Women's Predictions - Tennessee 1st, A&M 2nd
*Sally Kipyego's Unbelievable Career To Come To An End As She Eyes A Record 10th NCAA Title Amazingly, the nursing student is on her feet 8 to 10 hours a day.
*Is Kipyego The Greatest Ever?
*Sally Kipyego Goes For 10th NCAA Title This Weekend
*Pat Henry & A&M Excited To Be Hosting Meet On Mondo Track
HS Nationals - Have We Found The Next Galen Rupp?
*NSIC: FRESHMAN Lukas Verzbicas Runs 14:18.42 To Break National Record Yes, that's right. A freshman now has the indoor national high school record. The kid is now going to take a break from track to do triathlons. *Message Board Thread On Verzbicas' Incredible Run
*NIN: Solomon Haile Goes 14:22
City-Pier-City Run Is Saturday
Click Here To Watch Geb vs. Sammy Kitwara And Ndereba Saturday Live From The Hague Online At 8:30AM Eastern
Video Of Jos Hermens' Press Conference From The Hague.
*Video Of Geb's Press Conference From The Hague
*Video Of Ndereba's Press Conference From The Hague
*Geb Wants To Get His Half Marathon World Record Back "The fact that Wanjiru broke my world record here is an extra motivation. It proves the course is very fast. When my running career is over I will have broken at least 30 world records. The Fortis City-Pier-City Run half marathon looks like an excellent opportunity to bring this goal nearer."
Gate River Run Is Saturday
*Tons Of US Elites Ready For Gate River Run In Jacksonville, FL 8 Olympians - Fam, J. Torrres, D. Browne, Dobson, De Reuck, Dryer, Rudolph and Yoder Begley.
*Flotrack's Gate River Run Preview Video
A Must Read Erin Donohue Dealing With The John Cook Drama Donohue is moving on in pursuit of her dreams coaching herself with help from Gags while Cook isn't looking back either. Cook: "I didn't recruit any of those girls ... Erin was waddling around the Nike campus 10 pounds overweight."
Friday's Kiwi Christchurch Meet Recap
MBoard: Ryan Gregson Gets Australian Jr. 3k Record (7:57). Brit Andrew Baddeley's sub-3:50 attempt was a no-go as he got hurt in the warmup.
Preview Of Sunday's Seoul International Marathon Expect a Kenyan man, Chinese woman to win.
World XC Is Coming
*IAAF Profiles Hilda Kibet The top European at last year's World XC (5th) wants a medal this year.
*A Look At Japanese World XC Squad: Can Japanese Girls Win Bronze For 9th Time In 11 years?
*A Look At Australia's Jr. Distance Running Revolution & Ryan Gregson Some think the Aussies will be the 1st non-African team.

Dwain Chambers/British News
*Math Geek Says Despite Lack Of Medals Britian Did Well At Euros Scoring the top 8, they had their 4th-best ever showing.
*Berlin Ripped By Other Meet Directors For Letting Chambers In You gotta admit its genius on their part to create buzz.
*Dwain Chambers To Be Asked By UK Athletics Why He's With Victor Conte
A Look At A Reinvigorated 32-Year-Old Rui Silva Countryman Carlos Lopes won gold at 37.
Good News: Drake Relays To Be On National Television For 1st Time Since 1961 The 100th running will be part of the Visa Championship Series as USATF will broadcast from both Penn and Drake. Interesting to learn that ABC's Wide World Of Sports debuted in Drake in 1961.
*USATF's Visa Championship Series TV Ratings Up 22% Indoors