MUGE AND LIMIKA PREVAIL AT BEACH TO BEACON 10-K

By David Monti
(c) 2009 Race Results Weekly, all rights reserved
CAPE ELIZABETH, Me. (01-Aug) -- On a morning so glorious that race founder Joan Samuelson called it a "golden PR day," Kenyans Edward Muge and Irene Limika scored convincing victories at the 12th annual TD Banknorth Beach to Beacon 10-K here.

One of a family of nine children from Kericho, Muge, 26, was making his competitive comeback after sitting on the sidelines with injury since running the World's Best 10-K in Puerto Rico last February where he finished 20th.

"It was my foot," said Muge pointing to the bottom of his left foot. "There was a growth."

Actually, said the defending champion, there were two, neither of which seemed to bother the 2008 Kenyan 10,000m titlist today when he made his move for victory in the 8th kilometer (22:28). When Muge left the group of Boaz Cheboiywo, Tekeste Kebede, Gilbert Okari, and Ibrahim Jeilan Gashu, Cheboiywo knew that Muge would be hard to reel in.

"When you have an athlete of that caliber he gets ten meters on you, you're not going to catch him," said Cheboiywo who did his best to do just that. "The last 1.2 miles I went really fast."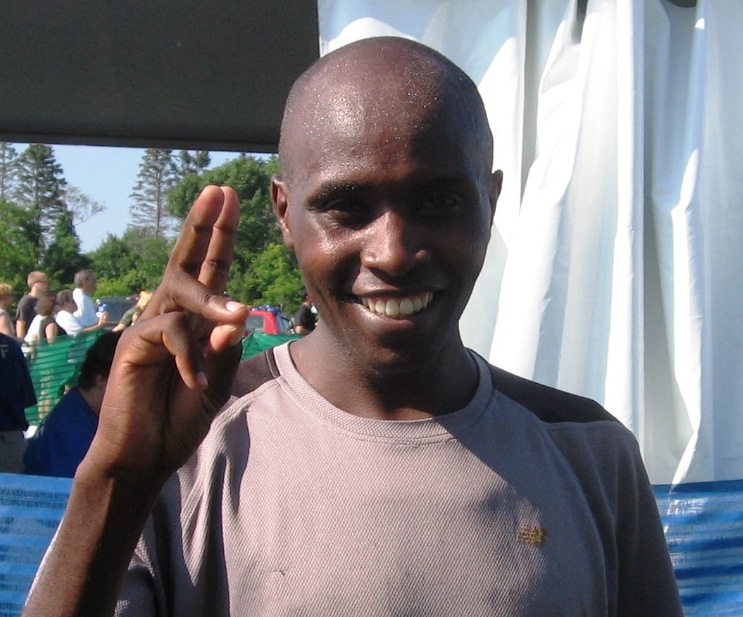 But Muge's cushion was enough after he made the short and steep climb into Fort Williams Park in the final kilometer. Winding around the narrow foot path which opens to the finish line on one of the park's grassy fields, Muge (left) held his pace to the tape in 28:05 (28:04.5), five seconds up on Cheboiywo. Jeilan won the battle for third over three-time Beach to Beacon champion Okari, 28:20 to 28:22.

"I knew I could win the race," said Muge who became on the second man here to defend his title.

Limika, who will be running the marathon for Kenya at the IAAF World Championships in three weeks, put a gap on the field much earlier than Muge after a tragic mishap. Running with two-time Bank of American Chicago Marathon champion Berhane Adere, Limika got an unwanted assist when Adere suddenly went flying to the pavement in the third kilometer. Tripped from behind by a male runner who was following too closely, Adere fell hard on her left side, severely bruising her hip, scraping her arm, and possibly breaking a finger.

"Completely down," said the saddened Ethiopian as she pantomimed her fall after the race in the press tent.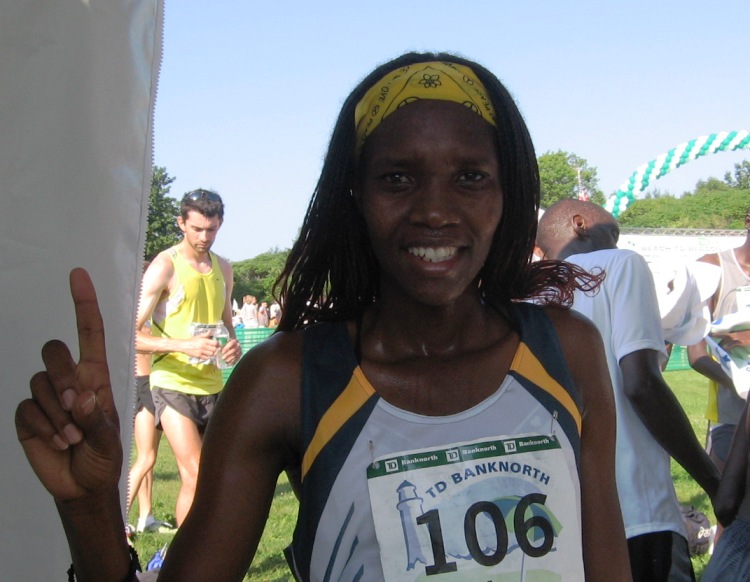 Adere was able to get up and continue, but Limika (right), a 29 year-old Pokot from Kapsait, was already making her second surge to break up the race.

"After the first mile we went up a hill and I pushed," explained a smiling Limika, her hair styled in thin braids held back by a headband. "Then again (in the second mile), and I saw no reaction."

Keeping the pressure on, Limika held her lead over her strongest chaser, Bahrain's Nadia Ejjafini, clocking her second 10-K personal best of the summer of 32:07 (32:06.1). Ejjafini, who was born in Morocco but lives in Italy where she is married to an Italian, landed second place comfortably in 32:13. Adere was timed at 32:28 in third. Limika said today's race was a very good sign that she is fit and ready for the World Championships.

"I trust in God to be in the medal bracket," said Limika who, like two-time world marathon champion Catherine Ndereba, is coached by former Moroccan marathoner El Mustafa Nechchadi. "Today is the first day of August. I hope on the 23rd it will be the same thing."

Both Muge and Limika earned $10,000 for their victories. Cheboiywo and Ejjafini got $5,000 for second and Jeilan and Adere pocketed $3,000. The race had a total prize money purse of $60,000.

The best result by American athletes came from Maine native Ben True on the men's side, and Rebecca Donaghue on the women's. True, who grew up in North Yarmouth and graduated from Dartmouth this year and now represents the Oregon Track Club Elite, ran the fastest time ever by a Mainer on the course, 29:11, good for tenth place overall and $2000 in prize money bonuses (Maine residents were offered separate prizes). Donaghue, who is an art education graduate student at Penn State University, finished fifth overall in a personal best 32:47. She earned $1000.

"Yeah, I was happy," said the petite runner who represents New Balance Boston. "It was a PR by 15 seconds and I felt really good. I had a lot left in the tank."

Marathoner Sheri Piers of Falmouth finished tenth overall, setting a new Maine resident course record of 34:17. Like True, she earned $2000 in prize money and bonuses.

For Samuelson, who celebrates the 25th anniversary of her Olympic marathon title on Wednesday, the creation of the Beach to Beacon 10-K represents perhaps her second most important achievement in the sport.

"Twenty-five years ago I was coming through that tunnel and I said, 'what can I give back to this state,' said Samuelson who grew up as Joan Benoit here in Cape Elizabeth. Choking back tears she added: "I can't tell you how much I was welling up at the finish line today watching the finishers."

According to Bob Teschek of Granite State Race Services, who timed the race, this year's Beach to Beacon had a record 5613 finishers. Entries had been received from 43 states and 16 countries.

PHOTOS: Edward Muge holding up two fingers for his two TD Banknorth Beach to Beacon victories; Irene Limika shows whe's #1 after winning her first TD Banknorth Beach to Beacon 10-K (Photos by Jane Monti)
---
Runner's World &
Running Times



Combined Only $22
a Year
Save $87

---

Running & Track and Field Posters
---
---