Recap of 2008 Women's Olympic Marathon
By LetsRun.com
August 16, 2008

The women's marathon began under better-than-expected summer Olympic conditions as the weather was 72 degrees but with a stifling 88% humidity. The weather certainly was way better than 1996 in Atlanta or 2004 in Athens but despite what the NBC announcers said, 72 degrees at the start and 88% humidity is not good marathoning conditions. In most marathons, it would be considered to be nearly brutal conditions.



Despite the better-than-expected conditions, the race started off at a dawdling pace as the first kilometer was run in 3:50 (roughly 6:10 mile pace) and two miles hit in 11:56. For much of the early going, Britain's Liz Yelling had the lead, strolling through 10k in 36:10. The pace gradually got faster as the 20k was hit in 1:11:27 (35:17 for the 2nd 10k). At 20k, Romania's Constantina Tomescu led the large lead group as the field was only on 2:30:45 pace. Between 12 and 13 miles, Tomescu broke things open with a big surge. At 1:13:56 into the race, she threw off her hat and threw the hammer down in the process.

Tomescu, the 2004 Chicago Marathon champion and 2005 Worlds bronze medallist in the marathon, ran miles 13-17 in 5:33, 5:26, 5:27, 5:22 and 5:16 and the field failed to respond. By 18 miles, Tomescu's lead was 54 seconds.

The chase pack included many of the pre-race favorites, including Britain's Paula Radcliffe. The two big no-shows in the lead pack were 2004 Olympic marathon bronze medallist Deena Kastor of the USA and 2007 Worlds bronze medallist Reiko Tosa of Japan. Kastor dropped out very early - in the first 5 miles - as it appeared she seriously injured her foot.

Tosa didn't appear to be injured, but the television footage of her was painful to watch. She barely could put one foot in front of another and we were hoping someone would prevent her from running any farther barely halfway into the race as it honestly looked if she tried to continue that she would seriously damage herself.

At 1:48 into the race, the chase pack was down to 11 and Radcliffe was soon to be dropped. The world record holder would not abandon this race, however. She would gamely continue on to a painful finish, forcing herself to finish in 23rd in 2:32:38, to make amends for her dropout 4 years ago. Watching her hobble into the stadium, one had to wonder if Radcliffe's stress fracture had truly healed, as she was limping noticeably.

Up front, Tomescu continued to lead. The Romanian did a few bizarre things - at least twice she she grabbed things out of her uniform and seemed to inhale/eat them. The first time, she took something out of her top and sniffed some sort of "substance." Later, she pulled something out of her bun huggers and ate it. (Message board speculation on what she was doing here)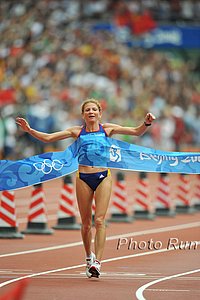 Hearing the awkward silence from Ed Eyestone of NBC when he was asked by Tom Hammond what was going on was well worth a TiVo replay.

The chase pack remained fairly large (7 chasers were still together at 35k, indicating that the pace for them was not all out), and as the miles whittled down, the expected pursuit of Tomescu never materialized. In retrospect, it seems like the size of the pack and the fact silver and bronze medals were on the line as well, never gave any individual the impetus to being the pursuit of Tomescu in earnest.

In any event, Tomescu kept running well. Only in the final few miles did she begin to take peeks over her shoulder. But once she started to look back, it was clear that Tomescu was worried as she started to take more frequent glances back. However, at 25 miles, the Romanian still had command by 58 seconds, with the chase pack seemingly content to battle it out for silver and bronze. Barring a total blowup, it seemed as if the Olympic gold would go to Tomescu. The complete meltdown did not occur. Tomescu did struggle a lot in the final mile but her bold move for gold resulted in a much deserved victory in 2:26:44.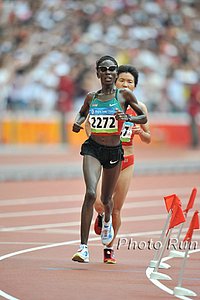 The battle for the final two medals came down to two Chinese runners (2008 London Marathon champ Zhou Chunxiu and Zhu Xiaolin) and two Kenyans (Martha Komu and World Champion Catherine Ndereba). Coming into the stadium, the battle for the remaining medals was down to Ndereba, who had a slight lead, and Zhou. Spurred on by the home crowd, Zhou did her best to come back on Ndereba. Heading down the final straight, the two were neck-and-neck, waging an epic battle, but Catherine the Great showed why she has accomplished so much in marathon running - 4 victories at Boston, 2 victories in Chicago, and 2 victories in the Worlds - as the veteran pulled away in the final 40 meters to get second in 2:27:06 to Zhou's 2:27:07. It was Ndereba's 2nd straight Olympic silver medal. A huge accomplishment for Ndereba, but it's still hard to fathom that Kenya still has never won an Olympic gold in the marathon on the men's or women's side.

Zhou and Ndereba left it too late as they made up a staggering 34 seconds in the final 1.2 miles. If the race was 27 miles, there likely would have been a different winner.

American Blake Russell finished 23rd in 2:33:13. Magdalena Lewy-Boulet did not finish.
*Splits
Results:

---
Runner's World &
Running Times



Combined Only $22
a Year
Save $87

---

Running & Track and Field Posters
---

Running Shoe Savings: Nike Lunar Glide 20% Off Super popular shoe from Nike featuring Flywire and Lunar Foam
---