RECORD HOLDER RITZENHEIN TO DEFEND HEALTHY KIDNEY 10-K TITLE
By David Monti
(c) 2008 Race Results Weekly, all rights reserved. Used with permission.

NEW YORK (29-Apr) -- Reigning USA cross country champion Dathan Ritzenhein of Eugene, Ore., will return to action here on Saturday, May 17, to defend his title at the fourth annual Healthy Kidney 10-K, the New York Road Runners announced today.

In last year's race Ritzenhein eclipsed Kenyan Paul Koech's 10 year-old Central Park record for 10 km, running the hilly park loop in 28 minutes and eight seconds, three seconds faster than Koech. In doing so, the 25 year-old, two-time Olympian earned a special bonus of $20,000, motivating him to donate his $7,500 first place prize money to the National Kidney Foundation. That gesture earned him USATF's 2007 Visa Humanitarian Athlete of the Year award.

"I'm very excited to come back to New York City for the Healthy Kidney 10-K," Ritzenhein said through a media release. "This race is becoming one of the best 10-K road races in the country, and I look forward to defending my title this year."

In addition to a generous prize money purse, the Embassy of the United Arab Emirates (which sponsors the race) is again offering a $20,000 bonus if Ritzenhein's record is broken by the winner. That's entirely possible, considering that Ritzenhein will be pushed by 2006 ING New York City Marathon champion Marilson Gomes dos Santos of Brazil, and 2007 IAAF World Half-Marathon Championships silver medalist Patrick Makau of Kenya.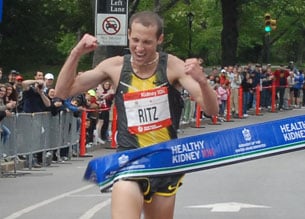 "Marilson has an ownership stake in Central Park himself as an ING NewYork City Marathon champion," commented race director Mary Wittenberg, who is also the president and CEO of New York Road Runners. "He is always a fighter, and we know he'll be in the game. And Patrick Makau comes into New York on fire with a banner season thus far. He appears to be the most race-sharp of them all."

This will be Ritzenhein's first race since winning the USA cross country title in San Diego last February. He had planned to compete in the Central Park Challenge in March, which incorporated the USA Men's 8-K Championship, but a lingering soreness in his foot forced him to withdraw the week of the race.

"When I had to pull out [of the Central Park Challenge] with the injury, I was trying to look to the rest of the year and be smart for the upcoming Olympics," said Ritzenhein who finished second at last November's USA Olympic Trials marathon here. "It's taken me longer than I thought to come around, but I hope to be ready to face the great competition that's been assembled for the Healthy Kidney."

Ritzenhein is not the only top American who has committed to the race. Reigning USA 15-K champion Andrew Carlson of Bloomington, Minn., is also in the field along with Ritzenhein's Eugene training partner Jason Hartmann (third at the U.S. 8-K Championship), and Josh Moen of Readlyn, Ia., fourth at the recent USA 10-K Championship in Richmond, Va.

With a favorable mid-May date, this race has grown steadily since being established in 2005 when 4,139 runners crossed the finish line adjacent to Tavern on the Green. Australian Craig Mottram won the first two editions, before finishing second to Ritzenhein last year. Last year's race saw a record 5,413 finishers.

PHOTO: Dathan Ritzenhein wins the 2007 Healthy Kidney 10-K (photo courtesy of New York Road Runners)

ENDS
Comments, suggestions? Email us at [email protected]

---
Runner's World &
Running Times



Combined Only $22
a Year
Save $87

---

Running & Track and Field Posters
---

Great Running Shoe Deals Nike Lunar Glide $79.99 A very popular innovative Nike shoe on sale now.
---