Lollipops: The Key to Success?
Feb 27, 2008

By LetsRun.com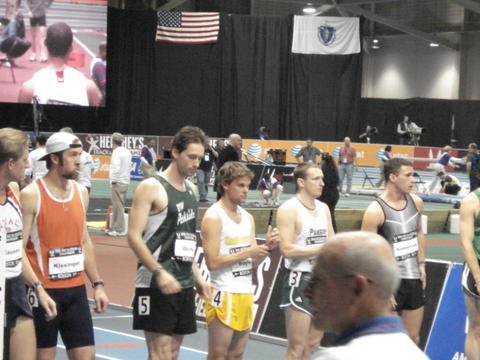 (

click to enlarge,

Theron Kissinger,

the guy in

orange has the lollipop. Much better

lollipop pictures from

an outdoor walk here
Photo by Mike Randall

In our weekly review, we made fun of a race walker for racing with a lollipop in his mouth at the 2008 AT&T USA Indoor Track & Field Championships. Apparently his name is Theron Kissinger. If you want to see more photos with him and lollipops, please click here. To see a larger image of the picture to the left, please click on the image (Note: The $25 for the first person to send us a photo has been given out).

But maybe we shouldn't have mocked him. Apparently, Kissinger may be ahead of the curve. While we're not sure if it's possible to run with a lollipop in your mouth, if it was, it might actually help your performance. Check out the email that we got from the Senior Scientist for Performance Nutrition for PowerBar, Trent Stellingwerff (who is the husband of Canadian 1,500 star Hilary Stellingwerff ). Very interesting stuff:

---
A possible explanation on the lollipop: One of the areas that I have done research is in carbohydrate oxidation to enhance physical performance. Now, I do not necessarily think that sucking on a lollipop during a race is the best way of accomplishing what I am about to describe, plus it actually might be bit dangerous, as I would think that having a lollipop in your mouth during exercise could lead to a higher chance of choking. And perhaps, this race walker was doing this for 'feel' or for whatever reason. But, there has been a study published a few years ago now looking at the effect of just carbohydrate mouth washing, and not actually drinking the sports drink, where the carbohydrate can be used for fuel in the muscles (see paper and abstract below). And this very established research group, lead by Professor Asker Jeukendrup (physiologist/nutrionist for Rabobank Cycling Team, author of a few books including High Performance Cycling) found a significant positive effect on 1 hr cycling time trial performance, without actually swallowing a drop of sports drink. Continuing on this it has been shown that sweetness receptors in the mouth, have a close link with the brain (reward and pleasure centers), and with CHO mouth washing during shorter (less than 1 hr of exercise, when muscle glycogen certainly would not be limiting) could stimulate the brain and allow athletes to focus more. And this can happen very rapidly, even before the sugar/carbohydrate has a chance to leave the stomach and enter the bloodstream. I am sure, many people on here have run out of sports drink and 'bonked' during a long run or ride, only to find a coke machine or buy some sports drink at a variety store and have felt that nearly instant rush of feeling better—nearly as soon as the carbohydrate hits your lips.
Now, if this race walker was specifically attempting this mechanism via the lollipop, in support of this study, I would be surprised. But, if he/she was, then perhaps he/she is ahead of the game and trying to ensure the most optimal nutritional situation for performance? Highly unlikely, but perhaps? Nevertheless, more studies are need.
(To be honest, most times the opposite occurs—in that the science lags behind what is actually being done in practice. As it is very easy for a coach or athlete to do a series of trial and error and over time very quickly get a 'feel' for that type of training and/or nutrition works. It can take over a year to do a single well controlled study. For example, already in the 1970's many marathoners used de-carbonated cola during races. All they knew was that it 'worked', and indeed it wasn't until about 30 yrs later that a study came out showing the combined effects of carbohydrate and caffeine on performance (ie. what is found in cola). Now this has been refined a bit with properly formulated sports drinks, some of which have caffeine, as cola is pretty highly concentrated in sugars and can cause some stomach upset).
All the best,
Trent
---------------------------------------------------------------
Dr. Trent Stellingwerff, PhD
Senior Scientist- Performance Nutrition: PowerBar
Physical Performance and Mobility Group
Nestlé Research Center

Got an opinion, news, info, or results? Email us at [email protected]

---
Runner's World &
Running Times



Combined Only $22
a Year
Save $87

---

Running & Track and Field Posters
---

Great Offer: Nike Lunar Glide Sale Multiple colors of this shoe available.

*Nike Air Max Moto 7 Get 2 Pairs for a Crazy $112
---