1500m World Champs Preview: Alan Webb Goes for History
by: LetsRun.com
August 23, 2007
*Start lists
Prelims are at 10:25 pm Eastern Friday
Semis 7:40 am Eastern on Monday
Final 9:05 am Easter on Wednesday
The only way to watch the meet live in the US is on WCSN on the internet $4.95 for a 30 day membership
This is the event of the championship for us (and many LetsRun.com visitors - particularly the Americans). The anticipation for this race has been building all summer. In reality though, it's been building for a lot longer than that. Certainly for 20 plus years, as LetsRun.com message board poster Jim Spivey was the last American to medal at Worlds (bronze 1987) and American Steve Scott was the last American 1,500 man to enter Worlds as a favorite for gold (silver in inaugural 1983 World Champs).
Forget about Jim Ryun, who was one of the top milers in the world in the 1960s, but never got the gold. America hasn't had a gold medallist in the 1500 since 1908 (hell, we haven't had a medallist at 800 to 10k since 1997). 99 years of waiting. Could it possibly end in 2007?

Yes.
Alan Webb has certainly had the best outdoor season of all the entrants.6 for 6 outdoors in the 1,500 or mile. Fastest time of the year in the 1500 (3:30.54) for the win in Paris; American record and fastest time of the year in the mile (3:46.91). 2nd fastest time in the world in the 800 (1:43.84). What's there not to like?

Not much from a stats perspective. Look at the guys ahead of him on the mile list. Certainly impressive company. 1. El Guerrouj - Olympic gold at 1,500 and 5k. 2. Ngeny - Olympic gold at 1,500. 3. Morceli - Olympic gold at 1,500. 4. Cram - Wchamp gold at 1,500. 5. Komen - World champ gold at 5k. 6. Niyongabo - Olympic gold at 5k. 7. Aouita - Olympic gold at 5k. All Olympic or world championship gold medallists.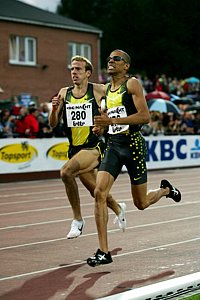 Moreover, the 2nd fastest runner of all this year at 1,500 this year - Adil Kaouch (Hicham El Guerrouj's training buddy - cough cough) isn't running due to a recent drug suspension. The defending champ at 1,500 and 800 Rashid Ramzi is reportedly only at 75% fitness and is not running the 800 this year. Someone has to win and Webb has the best stats for sure.
That being said, Webb is far from a sure thing. We have two big concerns. Is he past his peak? and can he win a truly tactical race?
Webb ran a 3:51 mile at Drake in April 28. That's 3 months prior to the WC final. When he ran 3:51 at the time, we were like "My god, he'll be burned out come world champs. No way one can keep a peak that long." Now that we realize he's a 3:46 miler, one can imagine that maybe he ran 3:51 off base, so we're less worried about it, especially given his light European racing schedule, but it's still a concern.
Webb's ability - or really any top miler for that matter- to perform in a slow tactical race is hard to predict. The fact of the matter is that he and most top milers rarely ever really run races (if you are a major track promoter and wonder why no one goes to meets anymore, you might want to actually put on a race once in a while instead of a time trial). They just run boring time trials most of the time - nothing like the tactical affairs you see all the time at US collegiate conference championships.
Think the elite don't fear tactical races? You are wrong. Imagine training your whole life for worlds or the Olympics and then getting there and realizing the race might be run totally different than all of your other races. As a result, the top stars often make one of their countrymen do the dirty work for them.
El Guerrouj teamed up with the now disgraced Adil Kaouch time and time again on his way to world championship gold after world championship gold. El Guerrouj won 4 world championship golds from 1997 to 2003 and his winning times were 3:35.83, 3:27.65, 3:30.68 and 3:33.68. Only the first of those could be considered even remotely tactical.
Webb teamed up with Lagat at the USA champs this year for crying out loud.
Over the last 15 years, the most tactical of all the 1,500s came at the 1992 Olympics and we don't think it was coincidence that it featured the biggest upset of all - won by Spain's Fermin Cacho in 3:40.12, while heavy favorite Noureddine Morceli was 7th.
So while Webb can win it, the question is will he?

We have to say no.
He's the favorite, but we don't think over 50% of the time he wins the race. A betting man would have to bet against him. There are a number of credible challengers.
Certainly the popular press will give Webb's compatriot Bernard Lagat a lot of publicity - deservedly so. It would be great to see the 2nd fastest ever at 1,500 and a two-time Olympic medallist finally get a gold after being in El G's shadow for so long. We just don't think he's a strong candidate. Most of the summer, he ran like an aging star - which he is - versus the 2nd fastest man ever. He did win a slowish 1,500 in Britain before running a 2:16 pr in the 1k in his last race so his form is improving (Webb reportedly ran a 2:15 1000m time trial last week). But we don't think he'll be a factor for the win.
Kenya's Daniel Kipchirir Komen was on fire early in the year (3:48 to win Prefontaine) but his form of late has really been off as he was 7th in Rome and 3rd at the Kenyan Trials. We'll discount him as well as his compatriot in Shadrack Korir. Korir is a strong candidate for a medal but unlikely to win as he hasn't won a 1,500 all year. Plus he's a bit old by Kenyan standards (28) and has never competed as worlds outdoors before. But note, he did run a PR in Rome (3:31.18) before getting 2nd at the Kenyan Trials.
Of all the Kenyans, it's the Kenyan champ, Asbel Kiprop, who most entices us. A true prodigy. At 17 years of age (he's not 18), he won the world junior xc champs in March. A win there proved without a doubt that he was a big talent but most assumed he was at least a year away from the big time. They were wrong. A gold medal in the All-African Games at 1,500 in 3:38.97 over Algerians Antar Zerguelaine and Tarek Boukensa, who have 3:31 and 3:30 prs to their names and are both medal contenders in Osaka, certainly raised eyebrows. When he followed that up with a win in the Kenyan Trials, this young man officially had created a huge buzz in track and field circles. "Is he the next great one?"
Time will tell.
But if Webb doesn't win, we certainly want to see Kiprop do it (oh wait, journalists aren't supposed to cheer for people). It would create an unreal amount of excitement.
But before you get too excited and jump on the bandwagon, you must realize two important facts. First, Kiprop has run two races outside of Africa in his life and both were disasters. 12th in Athens and 11th in Lausanne. In Europe, he certainly looked more like an 18 year old American than an 18 year old world beater (well that's a big exaggeration as he did have to run 3:35 to get 12th in Athens. Manzano's pr is 3:35). Those two races were before his two big wins in Africa. Secondly, his pr is 3:35.5 which is at least 5 seconds off of most of the gold medal contenders.
The biggest threats to Webb on paper come from France's Mehdi Baala and Bahrain's Ali Belal Mansoor. Baala is a proven championship runner (two European 1,500 golds, a world championship silver and an Olympic 4th), who has a better PR than Webb (3:28.98 in 2003), and he has been running well this year. He gave Webb a real good run for his money in Paris when he ran 3:31.01 to Webb's 3:30.54. He is fresh as well as he hasn't raced since Paris (July 6th). A huge threat for gold.
Mansoor has shown the best recent form of anyone. Mediocre performances in May and June were followed up with 3 straight wins in July including a 3:31.49 pb. To prove he was really ready to go, he ran a sizzling 2:15.23 to win the 1k in Stockholm on August 15th. More impressive than the time, were the scalps he took in that race and the margin of victory. He smoked the fastest half-miler of the year, Mbulaeni Mulaudzi, by .62 and Lagat by 1.02. He's clearly ready to go.
In our minds, a number of other runners could sneak in for a bronze particularly in a tactical race.
Who takes it?
LetsRun.com Prediction: 1) Ali Belal Mansoor 2) Alan Webb 3) Mehdi Baala
Webb Mania:
*Wasington Post Profile on Webb
*Sports Illustrated Profile on Webb
*USA Today Profile on Webb
Podcast: Webb Talked About his Season in Early July at Length with LetsRun.com on Track Talk Radio