Nike is So Good at Marketing They Can Make You Believe Anything
by: LetsRun.com
November 30, 2007
When it comes to marketing, Nike is king. The folks in Beaverton, Oregon know what they are doing. The good news is they have an advertising display up in stores with World Champs bronze medallist Kara Goucher. The bad news is apparently the truth (or this photo) isn't good enough anymore for marketing.
Check out the email below from letsrun.com reader Dan in Syrcause, NY.
Wejo - not sure if you'd be interested in this, but a couple weeks ago, me and a friend were in the Sports Authority in the Carousel Mall in Syracuse, checking out some running gear. I have seen some running posters in there before, but this one immediately jumped out at me. Something was wrong, and it only took me a second to figure it out. My first thought was, "When has Kara Goucher raced XC for the USA?" (editor's note: Kara did run World XC for the US in 2006, but here is the photo for her qualifying for the race and photo in the race) Deena, Shalane, and Kate McGregor stand out in my mind, but I couldn't place where/when Kara had run. Then I looked at the bib - someone at Nike obviously photoshopped Kara in an "XC" uniform, and fabricated a background. I have yet to match it to the actual picture of her, but if you zoom in on the bib you can see it's from USA outdoor champs. The quality is crap because I took it on my cell phone, but you get the point. We talked about how the average passerby wouldn't have a clue who it was, or that the photo was ever modified. Anyways, I figured you'd get a laugh out of it.
Taking a look at the photo we assume Nike, took a photo of Kara running XC (hence the long sleeves) and then superimposed her track singlet from USATF outdoors onto the photo. Any other ideas? Give us them here. (You can click on the photo to enlarge it)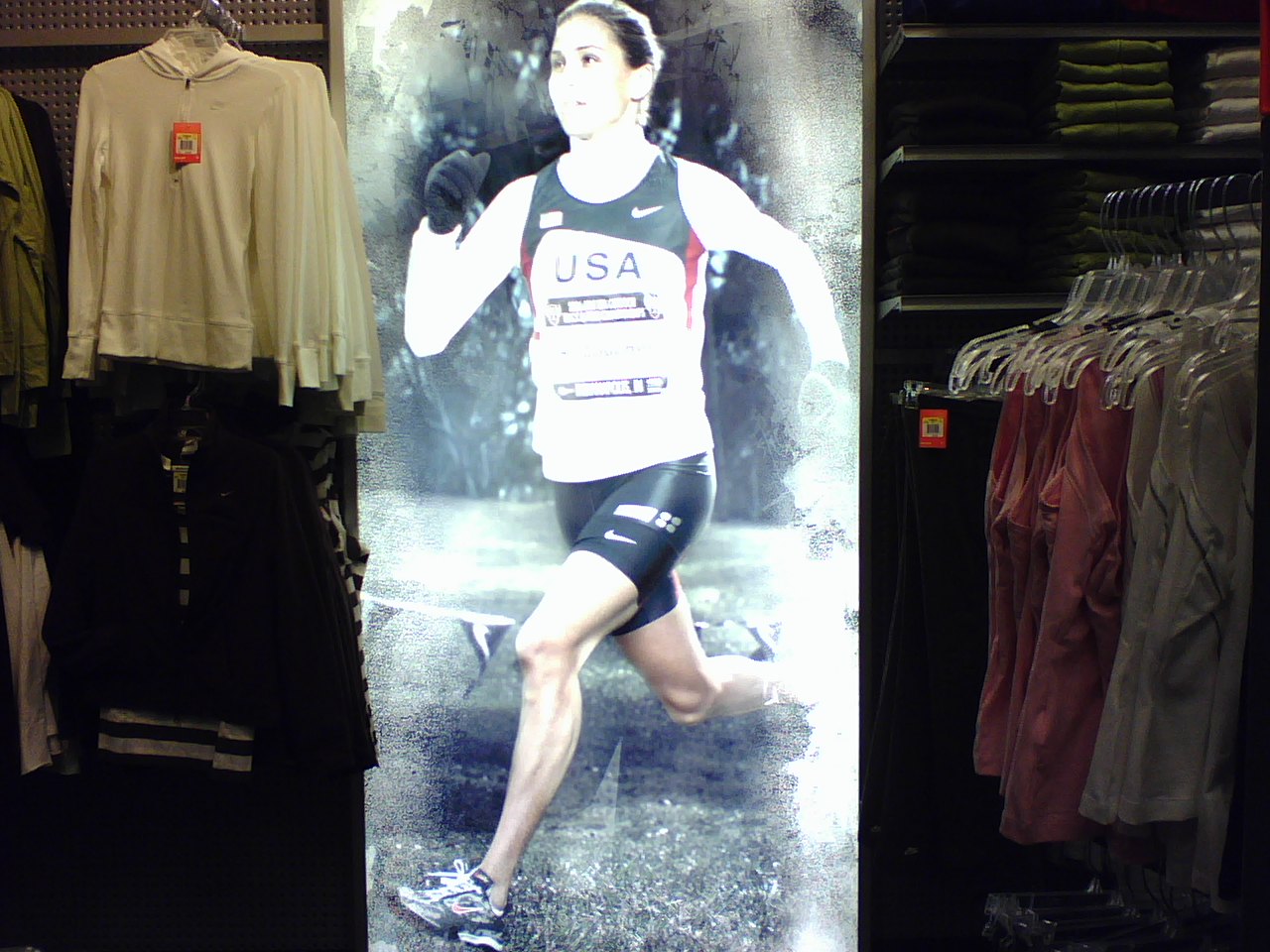 Got any news you'd like to share email us at [email protected]
---

Running & Track and Field Posters
---
Unbelievable interest
ING Orange Savings Account
Sponsor of the NYC Marathon


5 Minute Process to Open an Account
No Minimum Deposit
---
---