Inagural Kip Keino Mile To Be Held On May 13, 2007 In Ithaca, NY
by: LetsRun.com


Editor's Note: An updated list of the Elite Fields, featuring Nick Willis and Anthony Famiglietti can be found here

March 9, 2008 - LetsRun.com is pleased to announced that Ithaca, NY, the current home of LetsRun.com,will be hosting the first ever Kip Keino Mile on May 13, 2007. Legendary Kenyan runner Kip Keino came to Ithaca in December of last year and was so warmly received that the community is having him back and holding an elite professional race in his honor. The race will be part of a two day health and fitness weekend that will feature the Borg Warner Fitness Expo on May 12th as well as a sponsor/elite athlete dinner featuring Kip Keino on the 12th. Everything will culminate of course with the elite miles on the 13th. Funds will be raised for the Kip Keino Foundation and the Kip Keino School. (For more info on the Kip Keino School visit the Kip Keino Training Center webpage)
We're helping (well actually we're basically in charge at this point) attract the elite field to Ithaca and are trying to get the word out there to see who might be interested in racing. There will be an elite, professional men's mile and women's mile. (In addition there will be master's miles, an open mile and quite a few corporate and club relays. Email us for more info on these races) The prize money for the Kip Keino Miles is as follows: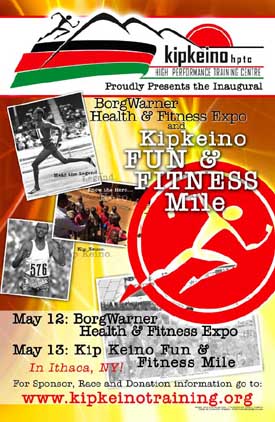 1st - $1250
2nd - $750
3rd - $500
4th - $300
It's likely that there will be a sub-4 bonus for the winner (and possible for those who break 4 but don't finish in the top 4) and there might be a sub 4:25 bonus (or slower, maybe 4:30) for the women as well.
Kip Keino Dinner Open to the Public
In addition to prize money, athletes will be treated royally when they are here. They will be given tickets to the Kip Keino VIP/Sponsor dinner on Saturday evening ($125 per person is the normal rate for that we think) where they will be able to mingle with Kip, other dignitaries, other athletes and sponsors. (If you're interested in coming to the dinner and want to buy a table or a seat email us as well). They also will receive free meals while in Ithaca as well as an Ithaca goodie basket. Hotels will be provided and travel costs will be covered (or a portion thereof).
Details of the individual athlete packages will obviously be negotiated on an individual basis but we're mainly trying to get the word out there as the race is fast approaching and to see who might be interested. The timing seems to be pretty good as it's the weekend before the adidas Track Classic in Carson, CA. If you are interested in racing the elite miles, please . If you are interested in anything else with the event or even want to just donate a check to the foundation let us know as well.


Editor's Note: An updated list of the Elite Fields, featuring Nick Willis and Anthony Famiglietti can be found here

---
---

Running & Track and Field Posters
---
Unbelievable interest
ING Orange Savings Account
Sponsor of the NYC Marathon


5 Minute Process to Open an Account
No Minimum Deposit
---
---