2004 Olympic Trials: Men's 1500m: Alan Webb Awesome
LetsRun.com
Sacramento, CA
July 18, 2004

Alan Webb in a few brief years had nearly experienced it all in his running career. He had highs, shattering the high school mile record running 3:53.43 in 2001, and then lows (two very mediocre years by his standards in 2002 and 2003), and then redemption- this year running the fastest time in the US by nearly 4 seconds (3:32.73) and picking up his first win (Ostrava) versus a top notch international field.

But he had never raced an Olympic Trials before or performed well in a US championship, so some doubts lingered to how he would handle the pressure. After Sunday, there are no more doubts, as Webb destroyed the rest of America's milers, making a decisive move with 700m and then going on to a victory that was not as close as the 2 second margin may appear.

Heading into the race local favorite, Michael Stember, had looked great in the prelims and was talking a good game as well so many had begun to believe perhaps Alan Webb could be challenged. Alan Webb put that talk to rest with one decisive move on Sunday.

The field opened with a blistering first 100 meters (sub 13 seconds) and then the pace slowed down so much the next 200m that some in the crowd started to boo, but the 300m mark was still reached in 44.11 and the quarter in 59.11 with Webb in the lead, Said Ahmed of Arkansas and Charlie Gruber in 2nd and 3rd respectively, with the co-favorites expected to challenge Webb, Michael Stember and Jason Lunn, in 3rd and 4th respectively.

Webb slowly increased the pace the next 200m (28.8) and then reached 2 laps to go at 1:42.84 (58.73 for the lap from 300 to 700). Webb reached 800m in 1:57.05 and then with the blink of an eye put on a tremendous burst to blow the race wide open. He quickly opened a 10 and then 20 meter gap on the field. Michael Stember was not immediately behind Webb and was slow to react. He didn't totally commit to covering Webb's move, but did move up a little bit from the pack. Ahmed was in 3rd at this point, but what mattered was that Webb continued to power on and move away from the field. 1000 meters was reached in roughly 2:23.8. With 400 meters to go (2:37.71) the race was over unless Webb fell apart in the over 100 degree heat on the track,

Webb reached 1200 in 2:52.48 (55.43 for the 400). The other guys were way back as they never tried to cover Webb's move. Stember's will had been broken and he appeared to give up and the others blew by him on the back stretch. Webb coasted home for the win in 3:36.13 (58.51 last lap) The race was on for 2nd between Charlie Gruber and Rob Myers and Gruber would come out on top. Georgetown's Christopher Lukezic, who didn't make the NCAA final moved up nicely late to finish 4th (he was last during the first 800).

Webb is guaranteed of being on the Olympic team with his win and Olympic "A" qualifier. None of the other athletes are guaranteed of being on the team. Due to new Olympic rules, only the 4 athletes who are put on a list tomorrow will be able to be considered for an Olympic spot. These athletes are the athletes with "A" qualifiers, Webb and Grant Robison (who did not make the final). Then, USATF in what is now viewed as a controversial decision decided to nominate athletes who have hit the "B" standard (3:38.00) over athletes' order of finish at the Olympic Trials. The 2nd place finisher, Charlie Gruber has the "B" standard and will be on the list and will go to the Games if he hits the "A" standard before the deadline. However, 3rd placer Rob Myers does not have the "B" standard and his Olympic dreams are over for this year. Instead 5th placer Jason Lunn will be on the list since he was the next highest finisher with the "B" standard. If Lunn and Myers, both hit the standard, Robison is off. If only one (or none) of them hits the "A" standard then Robison, and the one who hits the standard, and Webb will be on the team.

Afterward Webb discussed his tremendously strong move with 700m to go: "I made my move when I had a felt I had enough left in me to go the whole way...It was going to take a really decisive move to break away from these guys... It was a great feeling with about 200m to go when I was pretty confident I had the race won."

His coach Scott Raczko concurred with Webb, saying the plan was to make a very strong move 700 to 800 meters out. "He wanted to move decisively. I don't what their (the other athletes') mindsets are, (but) the move is wholly for him (Alan Webb). All his races are done for what is best for him". Raczko went on to add that they were not going to let the pace be slow because "it allows everyone (else) to be in the race."

The two candidates most likely to challenge Webb, Michael Stember and Jason Lunn both had shoe problems in the race. Stember said his spike got "ripped open" early on but said the biggest problem was when Webb jumped the field with 700m to go opening up a big gap before Stember had time to get in position to counter the move. Stember said, "I gave it my best shot...Webb got a jump, and that was the jump I was trying to avoid by getting up early. I knew if he got the jump it would be frustrating... I wasn't trying to get 2nd or 3rd, I was trying to get the 'W'. I probably bit off more than I could chew. I probably should have made some audible and gone for the qualifying position (instead of the win)."

Stember said he wasn't surprised by the winning time, as he expected it to be around 3:35-3:36. But the 2000 Olympian is now ineligible to be named to this year's team and indicated this could be the end of his career. He said, "I have no idea what's next for me. I may take a break for a while, maybe a year, who knows... the sacrifices are so great. At this point I've got to make some money, got to put some money away. It (This race) may be my exit. I'm not ashamed of my career."

Lunn damaged his shoe just 200m into the race and ran in pain the rest of the way. Lunn said, "My shoe was like this (see photo at bottom of page). I couldn't even push off my foot. From 1300m out I could hardly run...Right then I thought I was off the team. I couldn't push off this one foot, so it was like I was running on one leg."

Lunn however realized getting spiked or having whatever happened to his shoe is part of the sport, "It doesn't matter, it happens in races." But fortunately for him, he found out after the race he still has a chance to make the Olympic team if he hits the 'A' standard. "If it's true I have a bid, that's awesome, I will hit the 'A' standard. It just is a weird selection process... I know that I'm fit, I'm ready to run fast. I know if I have a place on the Olympic squad I'll do the United States proud, (but) it's hard to be elated (after his subpar performance)".

The man in perhaps the toughest position after the race was Rob Myers. The indoor US champion ran a great race to place third but will not be able to chase the qualifying spot as he is not one of the 4 athletes to be named tomorrow simply because other athletes who finished behind him have the "B" standard and he does not. Myers was unaware of the rule after the race, and did not believe it was a good rule, but said if that was in fact the case he would follow the rules.

More Quotes from USATF, Results, Photos, Below:

ALAN WEBB, Nike

"I knew it was going to take a really decisive move to break away from those guys. I knew if someone came with me, they were going to be hurting just as much as I was."

Regarding the lack of U.S. success in this event: "Why can't U.S. milers do better on the international scene? The answer is for Alan Webb go out, run, and try to beat as many guys as I can. Not just in the U.S., but in the rest of the world."

LetsRun.com's Interview with 4th placer Chris Lukezik of Georgetown. Lukezic didn't make the NCAA final this year but is a 2 time US junior champion. He regularly trains with Webb.

How do you feel? You must be prety happy especially considering how NCAA went.
I had a pretty bad NCAAs and bounced back from it well. The first two days (at the Olympic Trials) I just ran from the back and I've never done that before. I was able to kick really well off of it. Today I just did the same thing but I just got too far off the pace at 700 and that kind of put me kind of out of the race. I spent the last 800 just passing people, making up ground. But overall it went well, I guess I'm happy with fourth.

What was the difference between here and NCAAs?
I went into NCAAs a lot more tense. I wasn't very relaxed in the race. I just wasn't running with my head. I was kind of out of it and trying to force myself to run well. Here I just came into it and tried to run as relaxed as possible and keep my head clear and just go with it and that helped a lot.

How do you feel about Webb's win since you train with him?
It was awesome. I went into (the final) thinking I could maybe beat him if it was a nice situation. The way he ran today from what I could see in the back, he won pretty convincingly. He definitely deserves it.

How often do you guys workout?
I've been working out with him since the fall - about 3 times a week in the fall. Twice a week in the Spring. When he went over to Europe, I was kind of on my own. When he came back, we had some really good workouts. Even when we weren't doing the same stuff, we would still be on the track together. I think at the end of the season that hoped us both out a lot to kind of have someone there. We sort of became teammates. I'm very proud that he did so well.

Then there was a question about Alan's decisive move at 800.
I was in dead last and he took off and kind of blew everyone apart.

Compared to DC, if anyone was ready for (the weather), it was Alan as it's been pretty hot there.

Did you know what Alan's race strategy was coming into the race?
I had no clue. We've been worming up together and hanging out before both the (preliminary) races. But today he really tried to get away from everyone and everything. He showed up about 10 minutes before we had to be in the call tent. I didn't really get to talk to him about the race. I really thought he'd kind of lay low and then push it from about a thousand out and I think that's about what he did.


CHARLIE GRUBER, Nike

"When Alan (Webb) made his strong move at 800 meters, that was one of the hardest, strongest moves I've ever seen in a race. African runners treat it like "Africa against the world", we need to do that too. We need to treat it like "Americans against the world", and not me against Alan. In the U.S., we need to come together to see how we can run against the world."

ROB MYERS, Unattached

"When Alan (Webb) made his move, I tried to keep as much contact as I possibly could. At 400 meters, I went as hard as I could to try and catch him and it got me to third, so I'm happy with that."

CHRISTOPHER LUKEZIC, Unattached

"I felt really good and bounced back after NCAA's. I've never run from the back before. I was too far off the pace up front with 700 to go, and was making up ground the whole way until the last 800. I was a lot more tense at the NCAA's and out of it mentally. I kept my head clear here, Alan (Webb) deserves it. We worked out three times a week in the fall, and then again in the spring when he got back. He's like a teammate."

MICHAEL STEMBER, Nike

"My spike ripped open on me, but I dealt with it. I knew if Alan got a jump, it would be hard to catch him. When he is four seconds better than the rest of the field, it was basically two races and I should have tucked in early and focused on winning the battle for second. It's too bad I couldn't run well for the hometown crowd. I'm not sure if this is it for me, I have to make some money some time and start saving. Regardless, this sport has meant a lot to me and my life, in high school and college, and it still does. Being able to work out on a Wednesday with Coach Gagliano is a special thing and what this sport should be about."

JASON LUNN, Nike

"I was having problems with a shoe today and I was changing my stride to try and fix it, but couldn't quite get it worked out. I came in fit and was ready to go. It's too bad I didn't get the "A" standard a few weeks ago in Europe. I'm the defending champion, but all I could do was run for second today. I didn't expect Alan (Webb) to open up such a big gap, even though everyone knew he would make a move. I figured it would be after the 400 or as late as 600 to go. I haven't seen a move like that since Gabe Jennings did it in 2000."
Men 1500 Meter Run
===============================================================
       World: W 3:26.00  7/7/1998    Hicham El Guerrouj, MAR
    American: A 3:29.77  8/25/1985   Sydney Maree, Puma
     Stadium:   3:35.90  7/16/2000   Gabe Jennings, Stanford
    Name                    Year Team                    Finals
===============================================================
Finals
  1 Alan Webb                    Nike                   3:36.13
  2 Charlie Gruber               Nike                   3:38.45
  3 Rob Myers                    Unattached             3:38.93
  4 Christopher Lukezic          Unattached             3:40.05
  5 Jason Lunn                   Nike                   3:40.81
  6 Nathan Robison               Unattached             3:40.99
  7 Donald Sage                  Stanford               3:41.26
  8 Said Ahmed                   Arkansas               3:42.77
  9 Christopher Estwanik         Nike Farm Team         3:43.03
 10 Zachary Griffin              Nike Farm Team         3:43.38
 11 Michael Stember              Nike                   3:47.42
 12 Scott McGowan                New Balance            3:49.50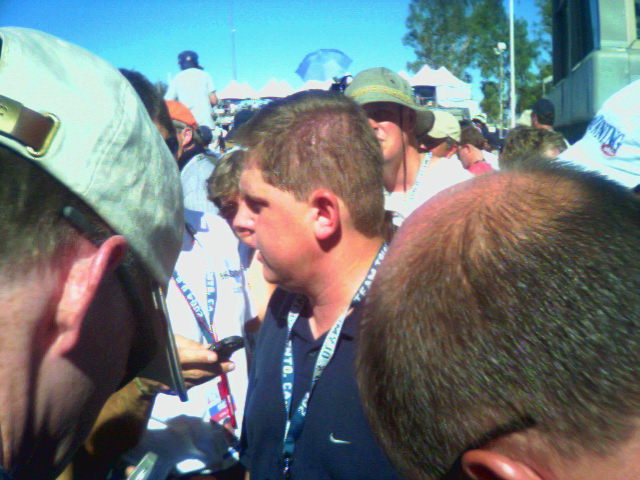 Scott Racko, Alan Webb's coach surrounded by reporters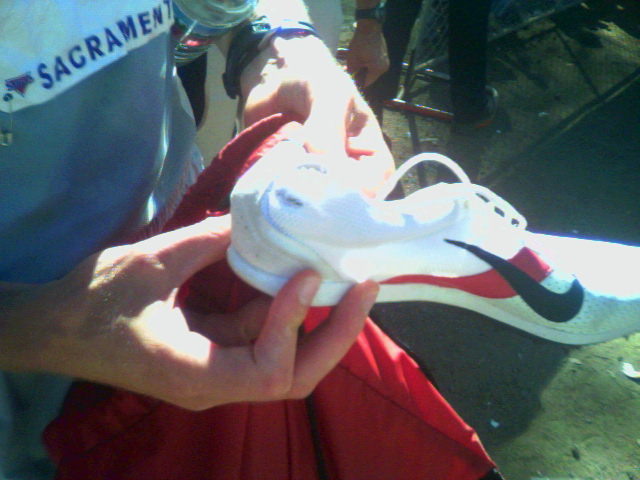 Jason Lunn's Shoe Problem