The Balco Indictments and How They Relate to the Track and Field World
LetsRun.com
Feb 13, 2004
The mainstream press has reported extensively on the indictments yesterday of Victor Conte (head of Balco labs), Greg Anderson (Barry Bond's close friend and personal trainer), James J. Valente (VP of Balco), and Remi Korchemny (coach of Kelli White and Dwain Chambers) with most of the focus now being on how this scandal will effect baseball.
This scandal has definitely shifted from just being a track story to one with national implications as Attorney General John Aschcroft had a press conference on the matter yesterday.
But the mainstream press seemed to neglect some of the juicy tidbits that came out in the documents released yesterday with the indictments and how they relate to track and field. So we briefly wanted to alert you on what were some of the most important things we learned from the documents.
If you want to read the documents yourselves here they are:
*31 Page PDF File of Actual Indictment That Talks of EPO, HGH, THG, Baseball, Football Players and Track Athletes
*Fascinating Read (PDF File of Affidavit in Support of Request for Search Warrant of Balco, Talks about Gold Medallists, World Record Holders, and People on the Inside Tipping of Victor Conte, Conte taking nearly half a million in cash from his bank account)
No athletes were specifically named in the documents as their names were blacked out. It is likely that some of these athletes names will come out at trial. We haven't done much in terms of speculating who the athletes are (and interestingly the affidavit mentions 5 athletes at USATF nationals screening positive for THG, but only 4 have been reported so far) but are sure there will be some good info on the message boards by the end of the day. The documents are a fascinating read because although they don't name the names of athletes, they do refer to them as "world record holders" and Olympic Gold medallists. Here's just one example of Victor Conte depositing a check from an Olympic gold medal athlete just weeks prior to the Sydney Olympics (page 26)

All of the documents with excerpts pasted above and below are from the affidavit in support of request for a search warrant of Balco Labs and Victor Conte's home.
IRS agents had been observing Victor Conte, digging through his trash, tapping his emails, and following him to the bank since the summer of 2002, so they have a wealth of information that is in the documents. Conte in his emails warns people about being careful of being watched and uses codewords to describe the drugs, but little did he know the Feds were already monitoring him. We try and summarize the major points we learned below:
1) Victor Conte Had Contacts on the "Inside" of the Drug Testing/Track Movement
2) The Greeks were doping
We'll take these things one by one, but they all can be deducted from the one email pasted below which is from Victor Conte to a top international track coach (The only coach indicted yesterday was Remi Korchemny, but Conte could be writing someone else) in 2002. The email discusses how Conte and the cheats reportedly had people working for them on the inside of the anti-drug movement giving them the heads up on when a new test was coming out for a new drug. "I have someone on the inside that recently gave me the heads-up regarding the matter" This evidence of a possible conspiracy within the sports movement has not been reported elsewhere to our knowledge.
Conte claims an unidentified group of people (Redacted) sent a sample of a previously undetectable drug (hence the name "Clear" since it can't be "seen" by the testers.) to drug testers in 2002. The affidavit assumes this is the drug Norbolethone which Dr. Don Catlin first came up with a test for in 2002. Published reports have said that Catlin came up with the test for the drug without being sent a sample. So Conte could be wrong on this information, but clearly was tipped off by someone that a test was coming out for the drug (or at least wanted to create the appearance he had someone on the inside). Perhaps it was at some time after this that Conte and his crew switched to the new "clear" drug, THG, which is the drug behind the current drug positives. And Conte doesn't seem too surprised that someone might try and give drugs to the testers. Also, note how the redacted names refer to "multiple world record holders" and an "Olympic champion".
And finally #2. Many have suspected that some of the Greek athletes who have had notable international success of late (in particular Konstadinos Kederis, Olympic and world 200m champ), but raced very little on the world circuit outside of the major championships, may have been doping. Since the athletes were having incredible performances at the World Champs, but not racing much on the circuit where they could make a lot of money (but would be drug tested more often), the theory was they might be possibly doping. This theory seems to be supported by the email below where Victor Conte warns an unidentified track coach to warn the Greeks that a test has been developed for the previously undetectable drug (page 15):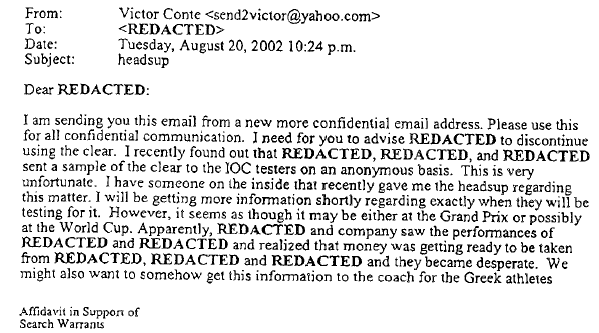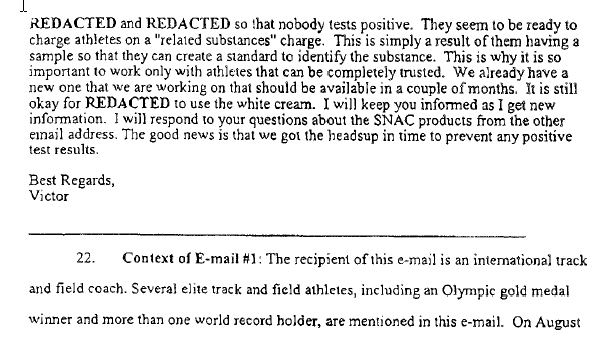 Athletes and Coaches Knew Modafinil Was a Potent and Banned Drug
Many notable athletes of late (including the double world champ at 100 and 200m Kelli White) have tested positive for the new wonder stimulant modafinil. Their defense has been a) that this drug was not on a banned substance list and b) they were taking it just to overcome jet lag. This email below seems to show that both of those excuses are total bs like we all suspected (page 17 of affidavit):
.

Victor Conte Isn't the Source of the Drugs (and likely didn't develop THG)
The document talks of Conte withdrawing over a period of time $480,000 in cash from his bank account, presumable to pay for drugs he is buying on the black market so there is no paper trail (page 28). Plus there is talk of shipments from a pharmacy and a bodybuilder going to Europe to procure steroids.
A Reporter Might Know Who the Coach Is Who Sent the Syringe to USADA
Previous reports said a coach contacted USADA and then sent them a syringe with THG. However, in reality a reporter first contacted USADA saying he knew of a coach with this info. Hopefully, this reporter will come forward. Excerpt below is from page 38 of the affidavit.




The Probe Started Earlier Than We Thought
Much of the popular press has reported that the probe began in the summer of 2003 when an anonymous track coach sent a syringe with an illegal drug (THG) to the US Anti-Doping Authority and said they thought it came from Victor Conte. The search warrant affidavit confirms that a coach did do this, but also indicates that the probe began a year before in August 2002. Starting at that point IRS agents began monitor Victor Conte, Balco Labs, and going through the trash to see what they could find.
Athletes Love Their Drugs
This note needs little explanation and was found in Victor Conte's trash (page 10):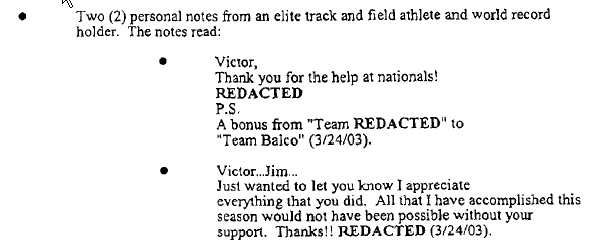 Conte Talks about an Athlete Who He is Giving EPO Doing Well at the Brussels Golden League Meet in 2002
An email from Wednesday August 28th by Conte to an unnamed athlete who appears to be on EPO ends with these words (page 19):

The major meet on that day was the Brussels Golden League meet. A high hematocrit level would likely mean EPO usage and thus he is likely writing to a distance runner. The only distance runner mentioned so far in association with the Balco probe is Regina Jacobs and she did run 4:01 for 3rd at the Brussels meet, but this email of course has not been conclusively linked to her.