by: Generation UCAN (SPONSORED POST)
October 29, 2013
Three-time Olympian Meb Keflezighi will return to the city he calls "a second home" this week to run the New York City Marathon and connect with his fellow runners in what's sure to be an emotional weekend. "It's an honor for me to interact with my fans and try to encourage people to keep doing what they're doing," says Meb. "I wish I could give people more time."
Meb's favorite nutrition, Generation UCAN, is giving you two chances to hang with the marathon legend and get the inside scoop on his race, how he trains, how he fuels, and how he stays fit.
Meet Meb in NYC November 4th From 8:30-10 am
Join Meb at the Penn Club in New York City on Monday, November 4 from 8:30 AM – 10 AM for a special meet & greet along with Sugarland guitarist and Ironman triathlete Thad Beaty. Register at generationucan.com/ucannyc to attend.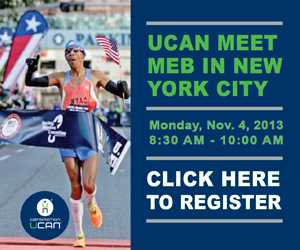 Meet Meb, Julie Culley and Kim Conley in NJ November 4 from 7-8:30 PM
You'll meet a trio of 2012 Olympians in the evening, as Meb is joined by 5000m teammates Julie Culley and Kim Conley at Life Time Fitness in Berkeley Heights, NJ from 7 PM – 8:30 PM. Register at generationucan.com/ucanmeb to attend.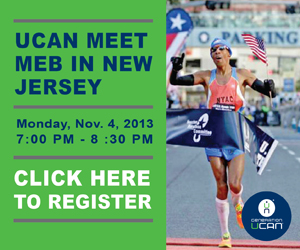 Meb Running 1st Marathon Since London Olympics
When Meb toes the line in New York City on Sunday, it will be his first marathon since finishing 4th at the London Olympics last summer. Hurricane Sandy and a calf injury caused Meb to miss out on New York last year and Boston this year, delaying his return to the 26.2 mile distance.
It was almost delayed further after an injury to his soleus muscle in mid-September forced him to consider pulling out of New York. "It was definitely a concern," says Meb. "It took me out for a while."
Ultimately, a combination of creative training based on a variety of workouts up to 4 times a day and Meb's desire to compete in a city he says is "like a second home" is what has him ready to give the race he won in 2009 a shot. "What happened in New York last year was really unfortunate and it's going to be very emotional. I want to do it not just for me, but for the people."
Nutrition a Key to Meb Maintaining His Fitness
Having missed a key block of marathon training due to his injury, Meb relied on his nutrition to help him maintain his fitness while he was sidelined. "We're all motivated to eat healthy and well when we're running and everything is going smooth," says Meb. "When things are sour it's tough."
Generation UCAN has been Meb's go-to nutrition for training and recovery for the last few years, but he's also added it into his daily diet outside of training.

"Sometimes when you're not running you feel like you need more food because you're just around the house," says Meb. "I've used Generation UCAN as a snack to maintain my weight and not overdo it with food. Nutrition is the biggest factor when you're not doing what you're used to in terms of training."
Generation UCAN is a unique carbohydrate that delivers steady energy without spiking blood sugar and the hormone insulin, allowing the body to remain in fat-burning mode.
"Controlling blood sugar is the name of the game when it comes to controlling your nutrition," says former U.S. Olympic Sports Dietitian and nutrition coach Bob Seebohar. "It doesn't matter the age, athlete or sport. Using Generation UCAN to control blood sugar and teach your body to burn fat is the real deal for any athletic or health conscious individual."
"I've been using UCAN ever since I won the New York City Marathon in 2009," says Meb. "I haven't used anything else for my recovery since. After winning New York when I was doing a lot of appearances and wasn't able to train as hard, it helped keep me lean."
UCAN helps manage calorie intake throughout the day, but it's also the ideal pre-workout fuel to avoid the highs and lows in energy from sugar-based products.
"We've always thought of energy as being like we need sugar, we need it now, we need it rapidly," says Dr. Cathy Yeckel, PhD, a researcher at Yale University. "This turns everything on its head. UCAN gives little bits of energy over time and keeps the system stable, preventing the need for frequent re-dosing."
For runners using UCAN, taking the worry out of fueling allows them to focus on their performance.
"With UCAN, I no longer have to resign myself to settling for unpredictable good and bad days due to fueling issues," says Kim Conley.
"Generation UCAN is the most effective fuel I've found for pre-race, post-race, and workout efforts," says Julie Culley. "I'm no longer crashing on my long runs."
From Olympians like Meb, Kim, and Julie, to everyday athletes trying to stay fit, Generation UCAN is the nutrition that will help you get the most out of your body.
*Get a 15% discount on Generation UCAN nutrition with the coupon code LETSRUN
---
Like LetsRun.com on Facebook!