Yared Nuguse, Cole Hocker Make 1500 Final, Timothy Cheruiyot Out
By
LetsRun.com
BUDAPEST, Hungary – The stage is now set for an exceptional men's 1500m final Wednesday night, as the semi-finals were completed on Sunday. There were a few shock casualties that failed to make it through to the final. Those include 2022 1500m bronze medalist Mo Katir, 2019 1500m world champion Timothy Cheruiyot, and 2023 Spanish 1500m champion Adel Mechaal. The two Americans remaining, Cole Hocker and Yared Nuguse, both advanced to the final, finishing third and first in their respective heats. 
Heat 1: Yared Nuguse takes it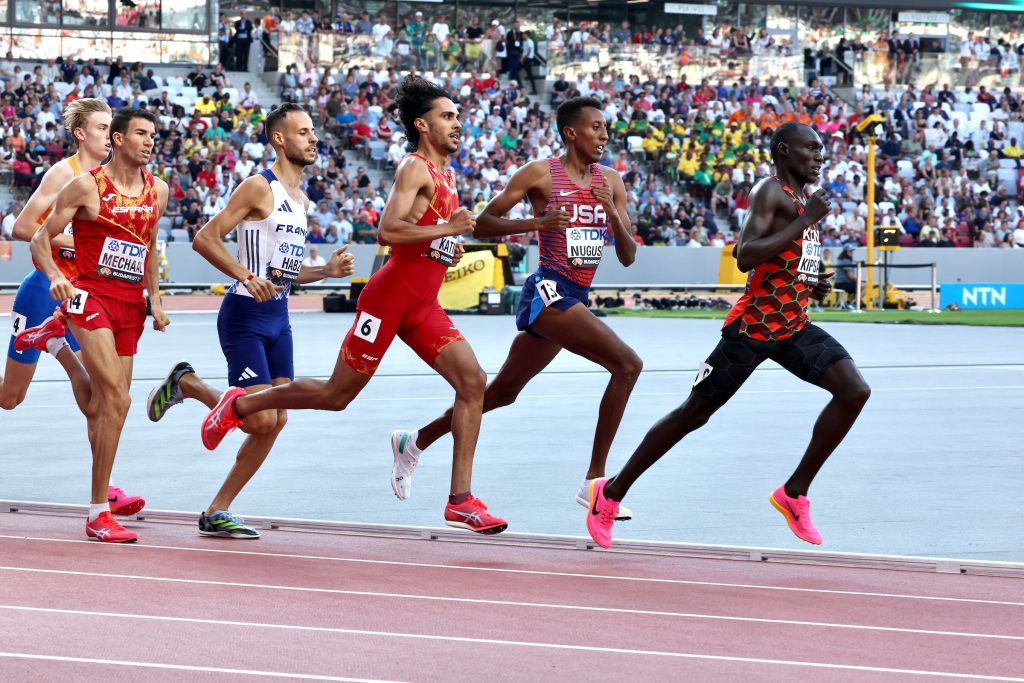 The first heat went out quickly thanks to Kenya's Abel Kipsang, who led the first heat of 12 men through 400m in 55.9 and 800m in 1:54.8. The lead changed at about 1,000m as many men came up on the shoulder of Kipsang. With a lap to go Nuguse was in the lead with the entire field within 2 seconds of the lead. Nuguse held his lead from the bell to win in 3:32.69 but lots of people came up close late battling it out for the final 5 spots. Nuguse told us he only realized it with 5 meters from the line which caused him to lean but the win was his as Kipsang finished second.
Teenage sensation Niels Laros was terribly boxed but he made a nervy inside move for third in a new Dutch national record of 3:32.74 for third. The scoreboard mistakenly gave him the win which resulted in a nice celebration from the 18-year-old. France's Azeddine Habz and Norway's Narve Nordås both had strong final laps to finish 4th and 5th respectively. Medal contender, Neil Gourley, had some work to do in the final 100m as he was in 8th and needed to move up to at least 6th to qualify for the final. Luckily, he out-leaned South Africa's Tshepo Tshite to get 6th by 0.01 seconds. Katir, who bowed out in this race, was second to Nuguse with 200m to go, and could not hang on the final 100m as he was 4th at 1400m and fell backwards to 10th. His countryman, Mechaal, was never really in it, and moved backwards from 5th at the bell to finish 9th.
Heat #1 Results
| POS | ATHLETE | COUNTRY | MARK | DETAILS |
| --- | --- | --- | --- | --- |
| 1 | Yared NUGUSE | USA | 3:32.69 | Q |
| 2 | Abel KIPSANG | KEN | 3:32.72 | Q |
| 3 | Niels LAROS | NED | 3:32.74 NR | Q |
| 4 | Azeddine HABZ | FRA | 3:32.79 | Q |
| 5 | Narve Gilje NORDÅS | NOR | 3:32.81 | Q |
| 6 | Neil GOURLEY | GBR | 3:32.97 | Q |
| 7 | Tshepo TSHITE | RSA | 3:32.98 | |
| 8 | Pietro ARESE | ITA | 3:33.11 PB | |
| 9 | Adel MECHAAL | ESP | 3:33.33 | |
| 10 | Mohamed KATIR | ESP | 3:33.56 | |
| 11 | Ruben VERHEYDEN | BEL | 3:33.96 | |
| 12 | Emil DANIELSSON | SWE | 3:34.16 PB | |
| 13 | Matthew RAMSDEN | AUS | 3:36.83 | |
| 14 | Andrew COSCORAN | IRL | 3:37.39 | |
Heat #2: Jakob gets boxed and still has time to celebrate
The second heat did not have anyone that wanted to set the same hot pace as Kipsang, as Cole Hocker took the lead through 400m in 60.1. Jakob Ingebrigtsen got off the line extremely slowly as he often does but he didn't make his signature move to the front between 100 and 250. There was not any action through 800m as 2021 Olympic bronze medalist, Josh Kerr, led the pack through in 2:00.3 with Jakob still at the back. 
Article continues below player.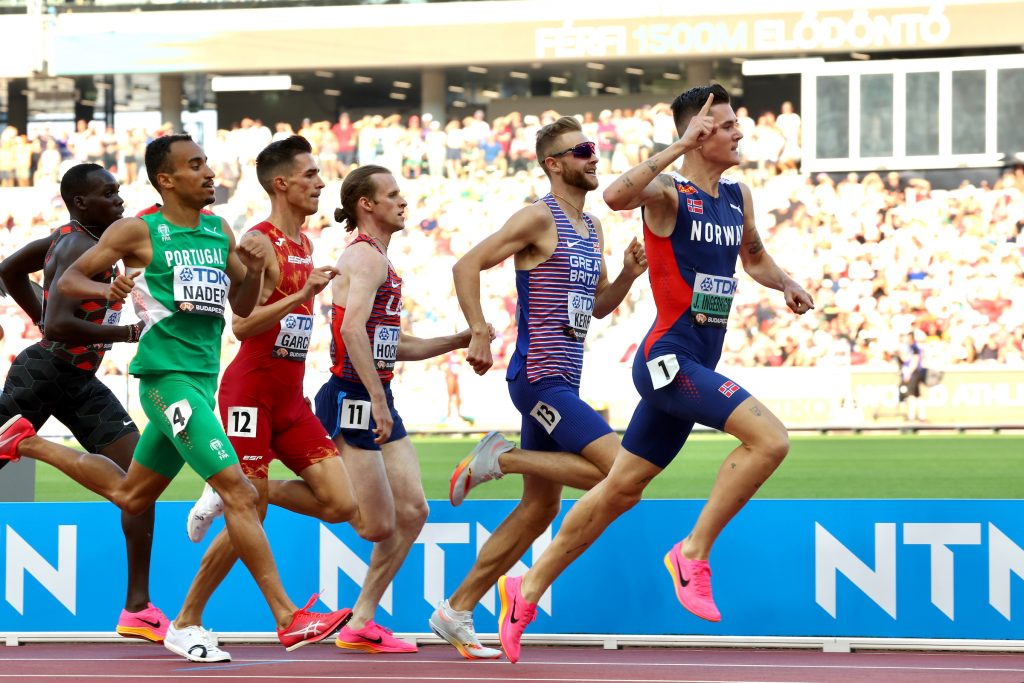 Hocker started to move backwards a little bit in the third lap, and went through the bell in fifth as Kerr and 4th place finisher in Eugene last year, Mario Garcia Romo, were behind Kerr. More surprisingly, Jakob was still last and boxed in on the rail at the bell, with Timothy Cheruiyot, the 2021 Olympic silver medalist, in second to last at the bell. However, on the back stretch, Jakob saw an opening to the outside lanes and threw in a huge surge that lasted around 150-200m, seeing him go from last to first as the pack came into the home stretch and he won in 3:34.98. 
Jakob even engaged with fans as he did last year in Eugene, motioning for the fans to cheer on the athletes with 100m to go. The top six stayed the same from 200m out until the finish. Kerr, Hocker, and Garcia all finished in that order behind Jakob as Portugal's Isaac Nader and Kenya's teenager Reynold Cheruiyot both qualified for their first outdoor 1500m final at a major championship. Kenya's other Cheruiyot, Tim, the 2019 World Champ, finished in 9th and failed to qualify for the final in a major championship for the first time in his career. 
ARK
DETAILS
1
Jakob INGEBRIGTSEN
NOR
3:34.98
Q
2
Josh KERR
GBR
3:35.14
Q
3
Cole HOCKER
USA
3:35.23
Q
4
Mario GARCÍA
ESP
3:35.26
Q
5
Isaac NADER
POR
3:35.31
Q
6
Reynold Kipkorir CHERUIYOT
KEN
3:35.53
Q
7
Charles GRETHEN
LUX
3:36.18
8
Samuel TANNER
NZL
3:36.58
9
Timothy CHERUIYOT
KEN
3:37.40
10
Charles PHILIBERT-THIBOUTOT
CAN
3:37.41
11
Tom ELMER
SUI
3:38.33
12
Elliot GILES
GBR
3:39.05
13
Adam SPENCER
AUS
3:42.10
Jakob Ingebritsen said he celebrated early as the crowd was asleep and he wanted to wake them up. He also said he's feeling really GOOD.
Or at least that's what we think he said. For the second straight day, Ingebrigtsen spoke at length with the Norwegian media but not at all with the US media. A Norwegian guy told us that's what he said but if you speak Norwegian, enjoy:

Yared Nuguse is happy to have two days off as he wants to run super fast in the final
Despite Ingebrigtsen running from behind today, Nuguse is expecting a fast final.
When we asked Josh Kerr about Ingebritsen's surprising tactics and his early celebration, he said, "I was doing the same thing last year and everyone was giving me shit."
When asked about Ingebrigtsen's mid-race celebration, Kerr after pointing out that he didn't see it as he was ahead of Ingebritsen at the time, said, "He's enjoying himself out there… I was doing the same thing last year and everyone was giving me shit. I'm sure it will be a glory story now. But i had a good time, he had a good time and the crowd had a good time so what's there to complain about?" 
As for the final, Kerr said he's not tied to a certain type of race saying, "We can make exciting from the start or from 600 out."
Cole Hocker is not playing it safe this time
Two years after finishing 6th at the Tokyo Olympics, Cole Hocker is back in a global final. Much of the two years between have been frustrating. Hocker was eliminated in the first round at USAs last year after battling a stress reaction in his foot and missed much of the first half of 2023 with an Achilles injury. But he made the US team in early July and has not just stayed healthy since then – he's logged some terrific training.
"Workouts between USAs and now have probably been the best workouts I've ever done in my life," Hocker said, citing a recent session that included a 2:20 1k rep.
In a very fast race in Tokyo, Hocker hung back early but was able to pick a few people off and finish 6th. Wednesday's final in Budapest figures to be very fast as well, and this time, Hocker is not going to be content just moving up and picking people off.
"I count on my kick a lot, especially that season, and that got me 6th," Hocker said. "I want more than 6th this year, so definitely taking into account that experience."
After a brutal national championships, Spain only has one athlete in the final
Spain was the only country with three World Championship finalists last year, going 3-4-11 with Mo Katir, Mario Garcia Romo, and Ignacio Fontes. This year in Budapest, however, Spain will only have one man in the final: Garcia Romo, who was 4th in the second semi. That's something of a surprise as Garcia Romo was a distant 3rd at the Spanish championships on July 30.
"Making the Spanish team right now, you [have to be] one of the best in the world," Garcia Romo said.
We didn't talk to Spanish champ Adel Mechaal, but the Spanish federation's media officer said Mechaal told media that he had to peak for nationals just to make the team and felt that meant he could not be at his absolute best in Budapest. There's not much the Spanish federation can do, though. The gap between the Spanish champs and Worlds was three weeks last year – the same as 2022, which produced such a good result in Eugene.
Neil Gourley admitted he felt terrible today but said he's always wanted to get to a point where he could make the final on not a good day and he's there now
The women's 1500 semis were also Saturday and we break them down here.