Matthew Centrowitz, Now Self-Coached, Returns to Racing at Saturday's Merrie Mile in Hawaii
MERRIE MILE WILL GIVE CENTROWITZ FIRST TASTE OF RACING IN OVER A YEAR
By David Monti, @d9monti
(c) 2023 Race Results Weekly, all rights reserved
HONOLULU (06-Dec) — Sitting in a comfortable sofa on the pool deck of a Waikiki Beach hotel here yesterday, Matthew Centrowitz looked relaxed as he checked his Uber app to see how long it will take to get to his track workout in a nearby town.  Clean-shaven and wearing a black baseball cap (backwards, of course) the 33 year-old looked down at his left knee and began to tell the story of why he hasn't run a race in over a year.
"I had surgery on this knee in 2012, I would say several weeks prior to the Olympic Trials," the 2016 Olympic 1500m champion began.  "I've kind of had a history with this left knee before.  Both times scopes so nothing, like, super-super major."
But this time it would be different, and a lot more worrying.
Article continues below player.
"Back in December I went on a hike in Zion (National Park)," he continued.  "No pop.  Nothing.  Weekend was great. I come back (and) that Monday I go for a run.  First half of the run, fine.  Second half it just started getting progressively worse and worse.  So I was like, I'm at the point I'm not going to do the full 10 miles, I'm going to cut it short.  I went about my day, and by the end of the day I was limping around the house.  I ended up limping for, like, ten days."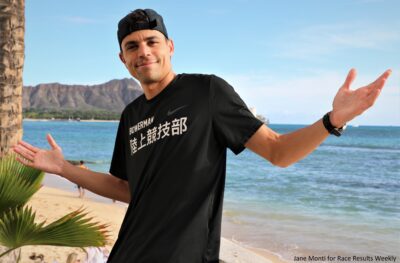 Getting a definitive diagnosis proved difficult, and not for a lack of trying.
"I got ultrasounds, MRI's, two reputable doctors –one in Portland and even one in Chicago– were like, yeah there's a small meniscus tear but nothing crazy enough to do surgery.  So I'm like, great.  I don't want to have surgery anyway."
But things did not improve for the three-time Olympian who is now self-coached and takes one day off from running each week.  He grew more and more frustrated.  He was not improving.
"Somewhere in April or May in Park City I was still messing around with it," said Centrowitz, who is now a Utah resident.  "I finished a run in Park City and it was really sloppy.  I felt like I was I was in a worse place than I was back in December.  I was like, OK, I can't keep doing this."
Centrowitz went to another doctor who thought that something was wrong with his anterior cruciate ligament (ACL).  Nobody had said that before.
"This is the first time I'm hearing about this," Centrowitz recalled.  "I was a little frustrated, not at anyone in particular.  I was kind of frustrated that this didn't get resolved earlier."
On May 26 Centrowitz got surgery in Portland.  There was nothing wrong with his meniscus.
"Surgery went great," Centrowitz said.  "It was my ACL, not meniscus.  They didn't even touch my meniscus."
But the recovery would be long.  He was not able to run on land until August 18, when he posted on his Instagram: "My knee and body felt like shit."
During his recovery, Centrowitz not only rehabbed his knee but also tried to broaden his skill set for the future.  He took an internship in Chicago.  He had taken a few business courses at the University of Oregon a decade ago.
"It was in finance and business," Centrowitz explained.  "It was at a hedge fund.  So, it was completely different than I was used to in my whole career."  He continued: "It was great. It took my mind off running.  It was a competitive environment.  It was a nice distraction when I couldn't run."
Since August, Centrowitz has slowly ramped up his training.  He said his knee feels good, and he's excited to get in a competitive effort at Saturday's Kalakaua Merrie Mile here, the out-and-back road mile which serves as the warm-up event for Sunday's 50th Honolulu Marathon.  He has no specific goals, but is excited to go through a race day preparation and feel what it's like to compete again.  He hasn't raced in 13 months.
"I've got some pretty good workouts in," Centrowitz said with obvious gratitude.  "It's given me a new perspective.  I'm not sitting here bitter that I had to have ACL reconstruction at 33.  It's almost like doing things for the first time again.  I've enjoyed –I don't want to call it a comeback– but progressing every day, seeing huge improvements week-in and week-out."
For Saturday's race, the elite women get a 29-second head start, the elite men give chase, and prize money is paid on the overall order of finish.  Centrowitz will have strong company as he heads down Kalakaua Avenue adjacent to Waikiki Beach, including 2019 USA 1500m champion Craig Engels, 2021 USA 5-K road running champion Drew Hunter, and 3:50 miler Sam Prakel.  He's not worried about hitting any particular time; he just wants to compete.
"Coming here, it's just fun," Centrowitz said, looking up at the sun.  He continued: "I've been under-raced this past year, so I thought this would be a great idea, great opportunity, to come out, get some great training in, and also re-introduce my body to a race atmosphere without putting too much pressure on myself."
Looking ahead, Centrowitz plans to build steadily towards the outdoor season, skipping indoors.  He said he would probably race in Australia in the spring, as much as he loves indoor meets like the Millrose Games where he won the Wanamaker Mile in 2015 and 2016.  It's important for him to make a fourth Olympic team, he said, and he doesn't plan to move up to the 5000m.
"The big goal for me is the (2024) Olympic Trials," he said, "however the pieces fall this year with the World Championships and the U.S. Championships.  I don't want to have to put too much pressure.  I don't want to have six months when I've got to get to making this team. I'm just going to see how the year unravels.  The big goal for me is to just make that fourth Olympic team and returning to Paris."
Centrowitz got engaged a month ago to Lyndsay Provencio, a physical therapy doctor.  He stressed that he did not meet her during his rehabilitation, nor does she work on him as a patient.
"We like to keep this separate," he said.
PHOTO: Matthew Centrowitz on Waikiki Beach in advance of the 2022 Kalakaua Merrie Mile (photo by Jane Monti for Race Results Weekly)